Mary Beth Paulson of House of Landor vintage
Photo: Walter Magazine
Shortly after being approached about opening a retail shop for her interior design business in December 2013, Mary Beth Paulson laid in bed thinking, "What do I love most? What do I really want to do?" As much as she had a knack for interiors, she couldn't help cheating on Eames chairs with cocktail dresses and embellished caftans.
"Finding vintage, wearing it, feeling the fabric and seeing my friends in special vintage pieces I find really makes me happiest."
Mary Beth clarified that the kind of vintage she seeks and sells is not the "I'm gonna go get my Halloween costume" kind of vintage. "I'm not into the 1950's dowdy housedress thing. I'm all about drop-dead sexy vintage dresses that make you feel like a woman."
Dresses currently for sale from House of Landor
Shortly after her epiphany, Mary Beth called a woman in Los Angeles who owns an online vintage business called Zuburbia.com and asked her if she could share some insight on starting a vintage clothing business. "She got me fired up about it. She couldn't believe there wasn't already a high-end vintage shop in Raleigh!"
Six months after launching House of Landor in Raleigh, Mary Beth says she is "finding (her) way!" She admits she had a lot of luck from the very beginning starting with walking into an estate sale where she purchased 50 high-quality vintage pieces. Another integral part of her success has been teaming up with Evie Dixon of Finds, a vintage furniture store in Raleigh, the home base of House of Landor.
Fashion designer Trina Turk recently found her way to Finds to see the House of Landor collection. She was in Raleigh briefly for a Junior League benefit fashion show and being an avid vintage collector herself, started asking around about where she could do some vintage shopping. Mary Beth received the call 9am on a Monday morning from Trina before meeting her at Finds, where she purchased a few dresses and later shared one of her House of Landor finds on Instagram, resulting in close to 100 new House of Landor followers.
Guests at the Fall Fashion Preview presented by Wilmington Dermatology Center and hosted by Jess James October 28th at the Cameron Art Museum will have a chance to meet Mary Beth and shop her vintage finds. Check out her FASHION FIX Q&A below:
L: Bob Mackie dress from House of Landor with statement necklace from Ziabird, deco bracelet from Lula Balou and crystal drop earrings from Island Passage.
R: Late 60's / early 70's fur print silk chiffon dress from House of Landor with green felt hat from Second Skin Vintage and crystal drop earrings from Island Passage.
Photos: Ethan Gaskill for Fall Fashion Preview / Styling: Jess James / Hair: Ramsey Tobey + Makeup Maari
Wohlhueter from Beauty Bar Boutique / Model: Lauren / Location: SALT Studio
ff: When did your love affair with vintage begin?
"My mother would drive me to auctions almost every weekend when I was growing up. I HATED it! The only thing I looked forward to was getting my Pepsi and donut from the concession. Regardless, this must have been the origin for my love for antiques, design and later, vintage clothing. The first vintage dress I purchased was in 1994 while I was visiting my sister in New York. I bought a Pat Sandler for Highlight dress that I wore to a rehearsal dinner. Everyone loved it and wanted to know where I got it. Thought I might be on to something!"
Mary Beth wearing one of her vintage 1960's dresses with matching stole
in Walter Magazine. Dress + stole is for sale now in her Etsy shop.
ff: One of your all-time favorite finds?
"With some pieces, I cannot even describe the happiness I felt when they came into my life! Quite a few of my favorite finds I sold to a dealer and made a lot of money on them. There is one jacket in particular – my Malcolm Starr "Romantica" beautiful blue and gold brocade jacket – that I will never part with. I've worn it as a dress, as a jacket with jeans, over a little black dress, etc. I will probably even wear it to the Fall Fashion Preview."
Mary Beth taking a selfie in her closet wearing her
all-time favorite Malcolm Starr brocade jacket/dress
ff: What are your favorite tricks for modernizing a vintage dress?
"My number one must is that I never mix vintage with vintage. It's just not me. Tonight I went to an event where I met one of my favorite chefs, Vivian Howard of Chef and the Farmer. I wore a vintage jacket, but with my favorite GAP skinny boyfriend jeans."
Vintage maxi dress with gold foil print for sale now at House of Landor
ff: If there is one iconic vintage dress you could own, what would it be?
"Well, I did own it for a minute! You know the gold dress Marilyn Monroe wore when she sang "Happy Birthday, Mr. President" to JFK? I purchased a Mollie Parnis dress at auction that looked practically identical to Marilyn's. I sold it to the woman who is editor of Walter Magazine here in Raleigh. It's a dead ringer for that dress. I found it again in San Francisco at Torso Vintage and it was $1,000!"
ff: Please share a few of your favorite places to go treasure hunting.
"Goodwill, yard sales and flea markets locally. Online, I like to browse Tinroof Vintage, Bustown Modern, Decades and 1stdibs."
ff: What fall clothing or accessories are you on the hunt for right now?
"Leather and fur. Sorry, I just love it. I know it's not politicially correct. However, I do believe there's no point in buying a new fur when you can recycle and re-use what's already here."
ff: When are you most inspired?
"All the time. I just went to a Lela Rose trunk show at Vermillion today. A lot of the new collection looks like vintage to me. It comes down to $1,500 vs. $200. Don't get me wrong. I love some new designer pieces. Ahem, I'm a sunglasses addict. But, I do like to encourage everyone to incorporate some vintage into their wardrobe and stress that vintage does not equal stinky, smelly or boring. It can be sexy, different and literally head-turning."
Flapper inspired cobalt vintage dress for sale now at House of Landor
ff: Describe your favorite outfit.
"Jeans, shirt and vintage sequin jacket or an incredible cocktail dress."
Model Kelly Tada wearing a full sequin graphic print jacket from House of Landor with a black silk halter dress from Style Girl Vintage at Aqua Fedora Lumina Station with a statement necklace from Ziabird and heels from SOUL Shoetique.
Photo: Ethan Gaskill for Fall Fashion Preview / Styling: Jess James / Hair: Ramsey Tobey + Makeup Maari
Wohlhueter from Beauty Bar Boutique / Location: SALT Studio
ff: Which piece in your collection right now do you think is perfect for the women in Wilmington?
"If I lived in Wilmington, I would be wearing this navy blue caftan with gold lame that I have hanging here in front of me to my next cocktail party."
FALL FASHION PREVIEW
Tickets for Sale
NOW – Click HERE!
Photograph by Ben Minor
MEET THE MODELS
To see the local beauties who will walk the runway October 28th
at the 7th Fall Fashion Preview,
Click HERE !
(more to come)
Click Above + Below Invites for More Details + Ticket Link!
Click HERE for $10 discount on your ticket!
promo code: STYLEGIRL
Looking for your photo from the
4th annual Great Gatsby Gala?
Click HERE
to see ALL of Bella Rose's Gatsby photos
+ to purchase your favorites!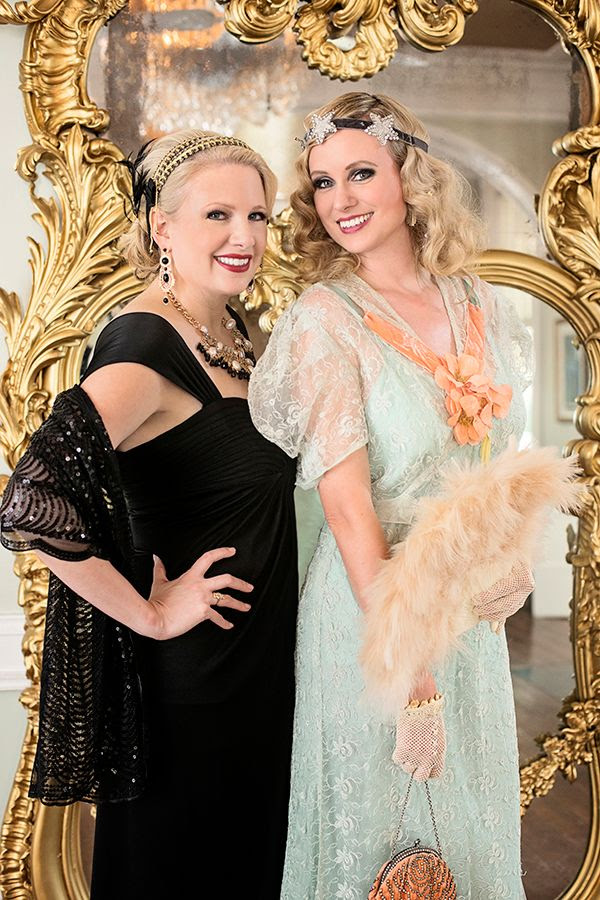 Photographer Lisa Brown of Bella Rose Photography (left)
Till next time, Jay! xo
WHO:
Historic Wilmington Foundation is pleased to host their fourth 'Vintage' Event,' which enables the foundation to realize their mission to protect and preserve the irreplaceable historic resources of Wilmington and the Lower Cape Fear Area.
WHAT:
At this year's Prohibition Night, guests will spend an evening among friends and enjoy cool jazz from the Doug Irving Trio, a great auction, lively conversation, delightful food, an open bar and a special signature drink with a commemorative glass (available for purchase).
WHEN:
Friday October 24
6:30pm
WHERE:
St. Thomas Preservation Hall (now owned by City Club of Wilmington)
is one of Wilmington's architectural gems with a storied past.
208 Dock Street, Downtown Wilmington
WHAT TO WEAR:
Think Gatsby era (yay, again!), Boardwalk Empire,
Speakeasy style!
WANNA GO?:
There's a Secret Password to gain access to this speakeasy party!
A special 20% discount will be in effect until October 3rd.
TICKETS: Click Here!
WHO:
Nominated Best Party of 2013 by the Charleston City Paper, The Red Party celebrates the educated artisan, increases awareness about traditional building and artisan craft in today's society while raising funds for the college's programs.
WHAT:
This year we take the romance of 18th century Rococo, the opulence of the Palace of Versailles and the excitement of an approaching mob, put it in a shaker, mix it all together and – voilà – a masquerade ball a la Versailles. It's France in the 1790s, there's more gilt than the eye can behold and the spirits flow like water. Does Louis XVI and his queen, Marie Antoinette realize the Revolution is approaching and the royal House of Bourbon is about to see a whole lot of RED?
This annual costumed fundraiser event includes:
Live performances by Entropy Ensemble, Dance music by DJ C. Nile, Auction, Signature Red Party Cocktail, Delicious food prepared by top restaurants + for VIP ticket buyers – The Royal Treatment! Exclusive food and fine wine in the private outdoor lounge, Le Salon VIP inside the jail with games of chance and special entertainment.
WHEN:
October 24 at 7pm
WHERE:
When you arrive at the Old Charleston Jail,
will it be the Palace of Versailles or the Bastille?
Charleston, SC
WANNA GO?:
$90 in advance / $100 at door
VIP: $180
WHAT:
Join WHQR for an evening of fun –
a carnival-themed birthday party
celebrating 30 years!
Save $10 with STYLEGIRL code!
Click HERE
WHEN: Saturday October 25th 7:30pm-11pm
WHERE: CFCC's Union Station Ballroom
502 N. Front Street, Downtown Wilmington
Includes:
* Live Music From Blivet and Dancing
* Carnival Entertainment and Games with Great Prizes
* Open Bar (Beer / Wine / Specialty Cocktails Designed by Manna)
* Elaborate Specialty Desserts and Coffee Bar
* Free parking in CFCC deck
WANNA GO?:
$65 per person ($10 off with code)
Use Promo Code STYLEGIRL
Use this Link -> Click HERE!
Wilmington Dermatology Center presents
7th annual FALL FASHION PREVIEW
Hosted by: Jess James
Selected artwork from CAM's State of the Art exhibit
will inspire the looks on the runway featuring season essentials
on local celebrity models + fall fashion & beauty trends, shopping + fun!
HOSTS:
"Style Girl" Jess James, FASHION FIX and Style Girl LLC events founder, wardrobe stylist and Focus on the Coast Fashion Editor & Dr. Rosalyn George of Wilmington Dermatology Center
BEAUTY TEAM:
Hair + Makeup by Beauty Bar Boutique.
Creative Direction by Owner Hannah Lynne Milojevich
ENJOY:
Must-have looks for fall inspired by selected works from the State of the Art exhibit
at the Cameron Art Museum modeled by local celebrities in their 20s to 80+, style and beauty season essentials & deals you won't wanna miss from your favorite boutiques & designers!
* Shopping for fall essentials
* Delectable tasting curated by Catch + sweet treats from One Belle Bakery
* Signature Midnight Moon cocktails by Mixologist Joel Finsel
* Music by DJ Brian Hood
* Coveted silent auction prizes for Make a Wish of Eastern North Carolina
STORES + DESIGNERS:
Aqua Fedora
Beanie + Cecil
Bloke.
Cabi / Jamie Marston
Chloe + Isabel / Jeanie Baker
Front Street Optometric Care
Girls Style Boutique @ Tickled Pink
House of Landor
Island Passage
Lula Balou
Mitzy Jonkheer
Monkee's
Oliver
Second Skin Vintage
Soul Shoetique
TL Workshop
Ziabird
WHEN: Tuesday Oct 28 at 7pm
WHERE: Cameron Art Museum
TICKETS:
$25 – Limited Space. Get your tickets today – Click HERE!
First 25 guests to purchase tickets online will be entered
to win the "FALL FABULOUS" grand prize.
SPONSORS:
Wilmington Dermatology Center
Cameron Art Museum
Beauty Bar Boutique
Catch
One Belle Bakery
Ben Minor Photography
Ethan Gaskill Photography