Super Sized: Forever 21 sizes up to 22
I discovered Forever 21 shortly after I turned 21. It sounded as if shopping in this store might have an expiration date. The atmosphere and the clothing felt of-the-moment and that moment was fleeting.
I got stuck on the name and began tossing around the sentiment that perhaps one day, I just may want to be "forever 21."
Dancing into the wee hours of the night on bar tops at IUP, spending hours developing film in the darkroom, discovering London and living a relatively carefree existence. At least that's the way 21 looks in hindsight.
The store was in an upscale mall in Baltimore. I remember circling the store at least three times before settling on a red and white asymmetrical striped, poly-blend clingy skirt. Something about the way the material felt on my skin made me hesitate, but my boyfriend sensed my indecision so he went back in and surprised me with it anyway. Let's just say the boyfriend lasted longer than the skirt.
That's the thing with this "fast fashion" phenomenon. You want it today but tomorrow is another day. It may look good at first glance playing to your desire for instant gratification, but it often feels scratchy on my skin and shows signs of decay after only a few wears. Because you pay so little for it, it becomes "disposable," as its detractors say. Have you ever noticed how much Forever 21 there is at your local Goodwill or Salvation Army? It won't take long to see their tags on your next visit.
Knowing this store is the bane of existence for almost every independent designer and boutique owner I know, I try not to support their ever-expanding empire, which is now close to 500 stores and bringing in over 3 billion every year. However, I made an exception this week.
During a visit to the salon, I couldn't help but overhear someone discussing Forever 21's new plus-size mannequins on display in their front window.
"They have a big-girl mannequin. Not fat…but I mean, a BIG girl."
My journalistic curiousity was piqued. After my color and cut with Cheryl Kent, I headed to the mall with my Canon to see for myself. On the right side of the entrance to the store in Independence Mall, there were four "regular" mannequins and to the left, two plus-sized mannequins with "Forever 21+" signage and a photo of a plus-size model.
I could see how it could be a bit surprising if you were not expecting to see them. Ironically enough, I was distracted by the smell of Auntie Anne's pretzels strategically located across from Forever 21 so I had to wait to finish my pretzel "nuggets" before heading inside. As I washed me pretzel bites down with sweet lemonade, I observed the passerbys. Most people did not skip a beat, but I saw at least one teenage girl point out the plus-size mannequins to her friends.
Once inside, one of the employees told me they debuted this new section about three months ago dedicating the entire back section closest to the dressing room to their plus-sized customer. Apparently, F21 had tried launching a plus-sized line in 2010 but it was not embraced due to fit and quality. Another employee in the dressing room shared their concern over limited space for the new collection since they are still waiting for plans on their expansion. They considered a stand-alone store at Mayfaire, but are leaning towards keeping their spot at the mall while taking over not only one but possibly two other storefronts next door.
So it seems there are quite a few women of all ages and sizes who keep coming back long after blowing out their 21st candle.
As for the plus-sized offering, what does it mean? Changing silhouettes? Fast fashion size equality? Perhaps a little of both.
But, what grade do you give this single serve? My take is it depends on the flavor. Plus or Minus?
L: My vote would be "Minus" for this overly trendy, not-so-flattering "Selfie" Muscle Tee ($15)with Acid Wash Skinny Jeans ($25)
R: On the other hand, this ikat print Scuba Knit Dress ($25) gets a "Plus" since it looks pretty amazing and really highlights her curves in a very positive way.
Looking forward to hearing your thoughts!
xo
Hippie Ball
Kids Making It Fundraiser
6.20.2014
@ Brooklyn Arts Center
Kids Making It hosted their 3rd annual Hippie Ball last weekend at the Brooklyn Arts Center and everyone had a groovy time! The Hippie Ball is the annual fundraiser for Kids Making It, an entrepreneurial & vocational skills program to help youth stay in school, graduate and transition into college or the workplace. I had the pleasure of judging "Best Dressed" and "Best Dancer" for the third year running!
The event was catered by Bon Apetit', live music by The Steady Eddies with amazing silent auction items, including a week on the oceanfront in a house in Belize, an autographed guitar from James Taylor, surfboard, beach cruiser & more.
For more info on Kids Making It, visit kidsmakingit.org
Kids Making It Executive Director Jimmy Pierce and "Best Dressed" Judges Jess James (wearing a C&C California tie-dyed silk top from Bargain Box, vintage daisy necklace from A Second Time Around – still for sale – and floral crown by Kristy Carr Holt of Eco Chic Blossoms, brand new to North 4th Street!) with our "Best Dressed Female Hippie" Dotty Freedland along with Co-Judge John Sharkey
"Best Dressed" Hippie Winners Dotty Freedland and Clancy Thomas
L: Kasey Valente showing her flower power!
R: "Best Dressed" Winner Clancy Thomas with his wife
L: Tricia Miller
R: The Steady Eddies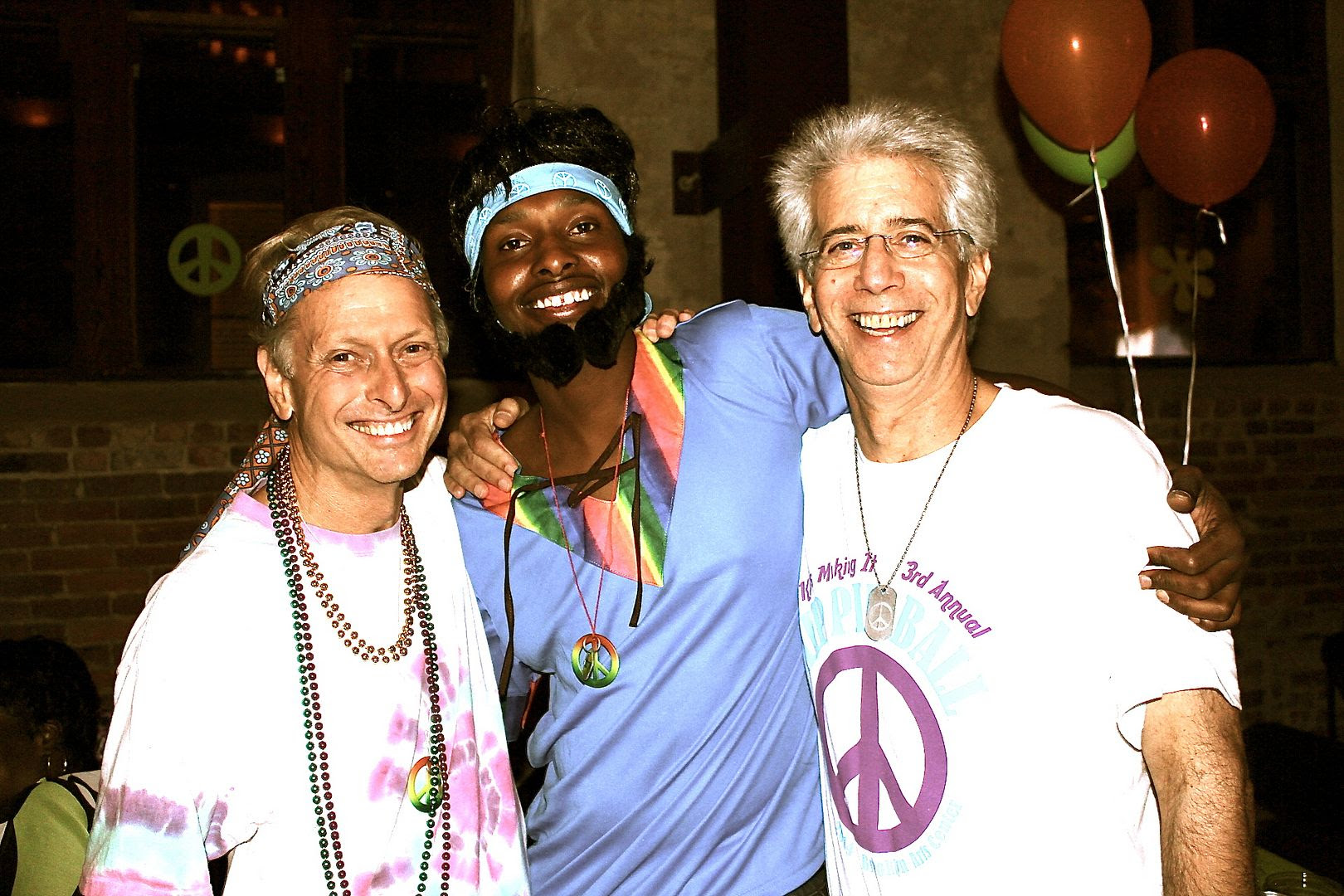 Chunky shows us Hippie Before & After
(and how to look cool holding your wife's purse!)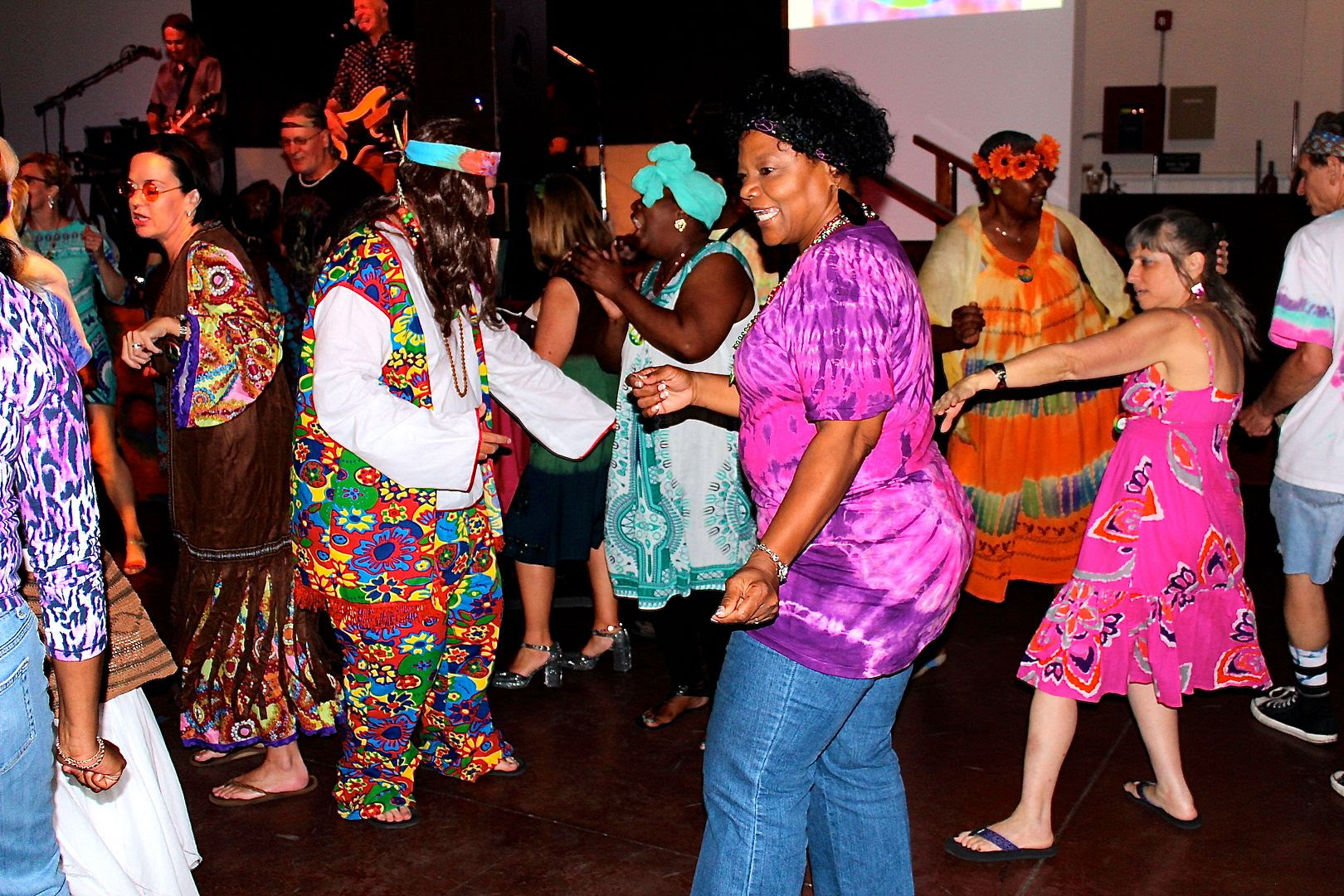 Our pick for Best Dancer, Rose Costin
L: Terry Espy and John Sharkey
R: Our "Best Dancer" of the evening, Lee Crouch (below w/ his award)
I had the honor of wearing a gorgeous floral crown to the Hippie Ball designed by Kristy Holt of Eco Chic Blossoms. Makeup by Sam Gay at at Sephora, opening TODAY inside JC Penney. Can you believe it, Wilmington? We now have Sephora!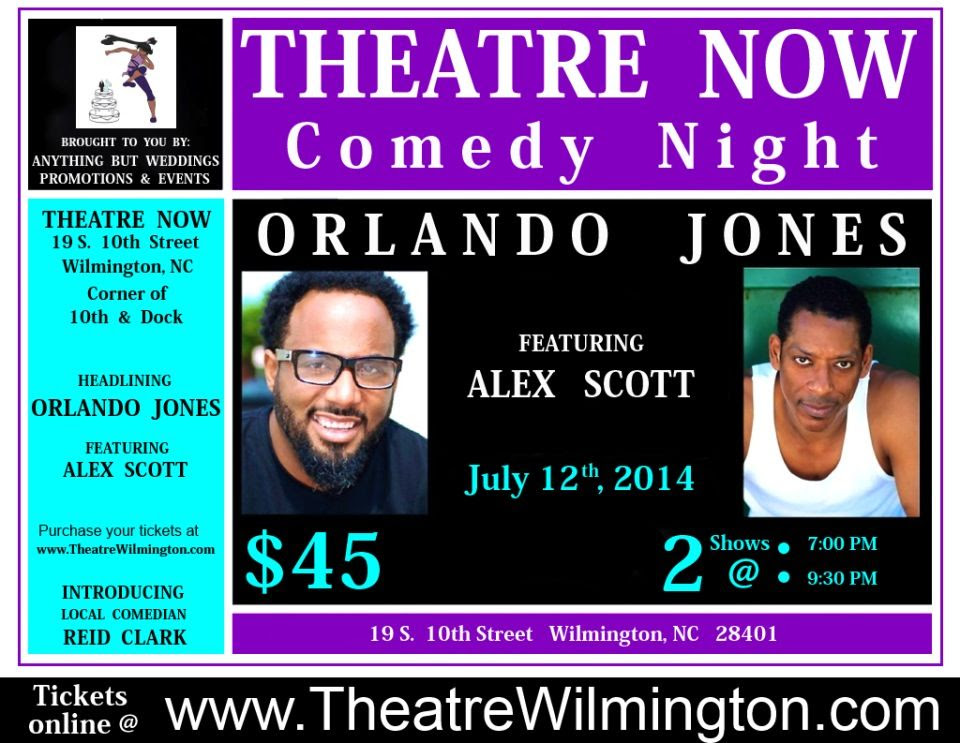 4th Annual
Great Gatsby Gala
9.18.2014
presented by Kusek Financial Group
returns Thursday, September 18th
at City Club of Wilmington
More details coming soon!