One of my favorite vintage haunts on Castle Street
I'm going to let you in on a secret. Some of you may already be in-the-know but I have a feeling quite a few of my lovely readers have yet to discover Francine's Castle & Cottage Antiques on Castle Street.
I found my way into Francine and her husband Jim's first shop on Castle Street shortly after I moved to Wilmington nine years ago. I recognized right away that we shared a common bond – a nostalgia and love for treasures from the past.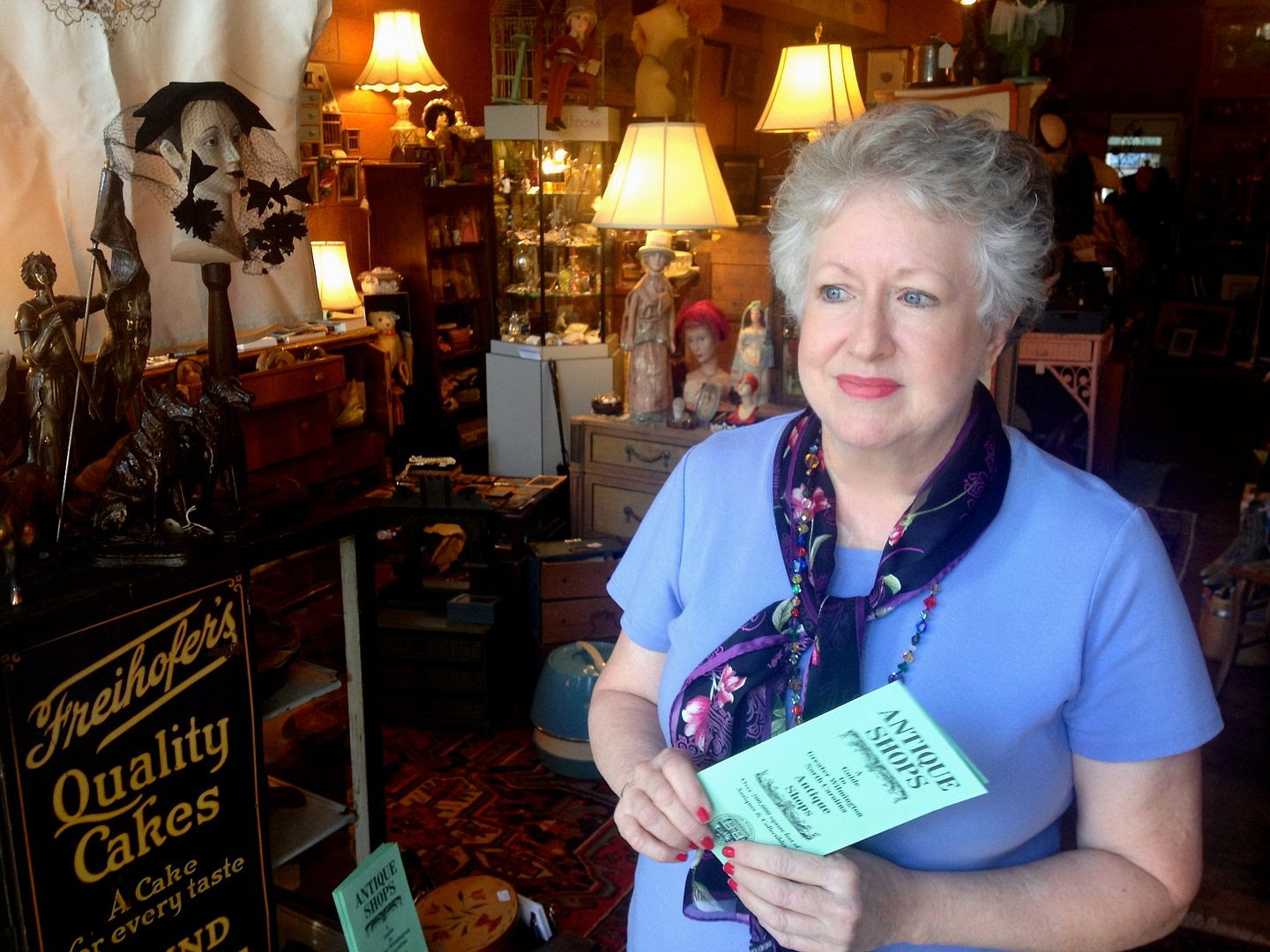 Francine inside her shop, Castle & Cottage Antiques, on Castle Street
There have been three incarnations of their shop on Castle Street the past nine years (Francine's is now housed in their original Castle Street location) and I have found some of the vintage dresses I adore most in my wardrobe from Francine's collection, most memorably my 1930's cranberry floral dress that came from the closet of an ambassador's wife and most recently, my late 20's / early 30's lace dress that I wore to the Great Gatsby Gala, which was preserved in the drawer of an old steamer trunk Francine recently purchased.
Here's a gallery of some of my favorite pieces I've purchased from Frances over the years:
L: "Daisy dress" from the early 1930's worn at this year's Great Gatsby Gala
R: 1930's floral dress and jacket worn to the Garden Party
L: Vintage Battenburg lace dress worn to the Junior League Derby party
R: Trying on one of Francine's Victorian dresses at their former location inside the church on Castle Street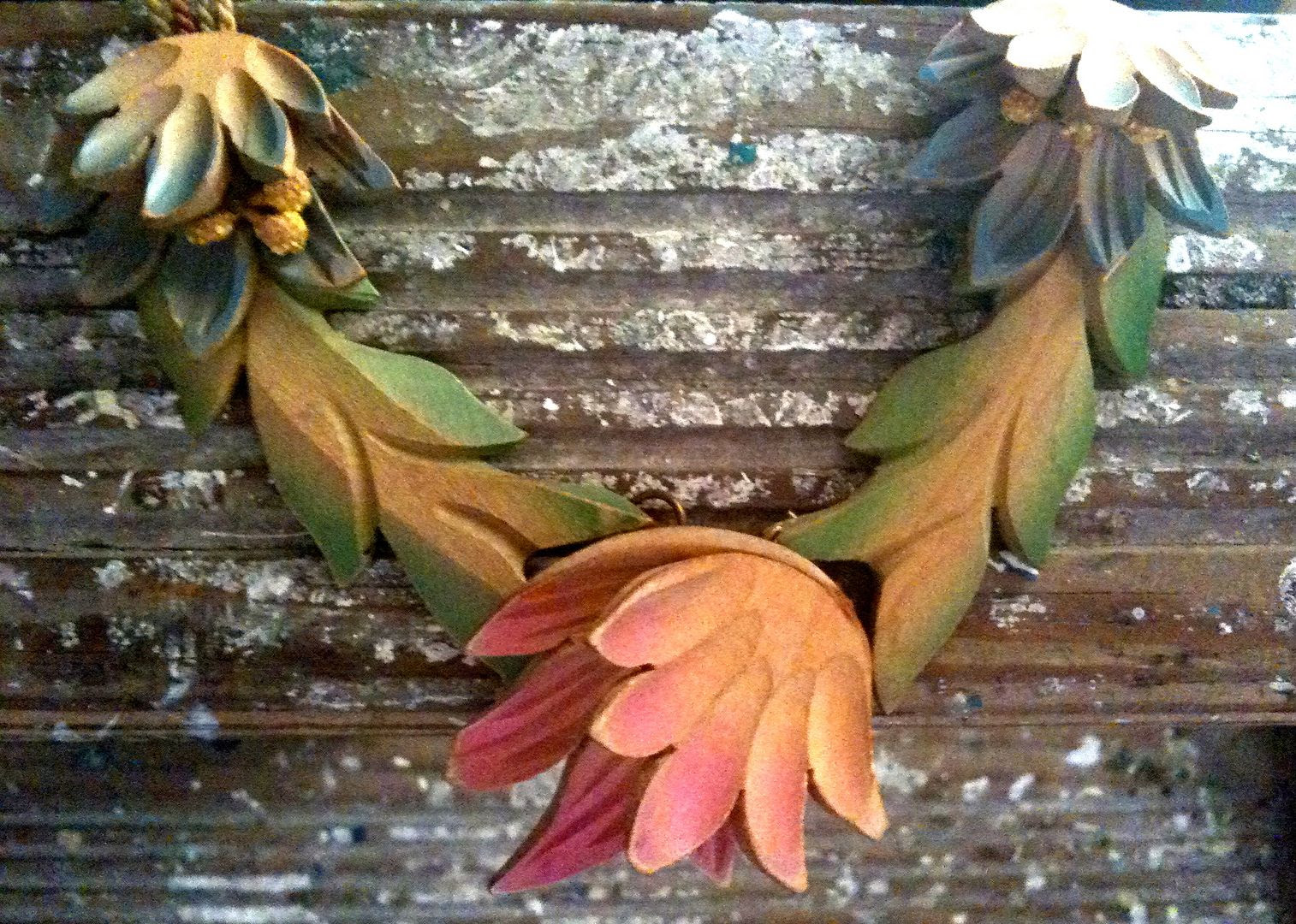 A 1930's floral wood necklace I scored at Castle Keep Antiques
L: My 1930's dress previously owned by an ambassador's wife (altered for a high-low effect) recently worn at Charleston Fashion Week (with my friend Brooke).
R: A Victorian era little white dress I wore while hosting one of my early Wilmington Style Swaps at Lumina Station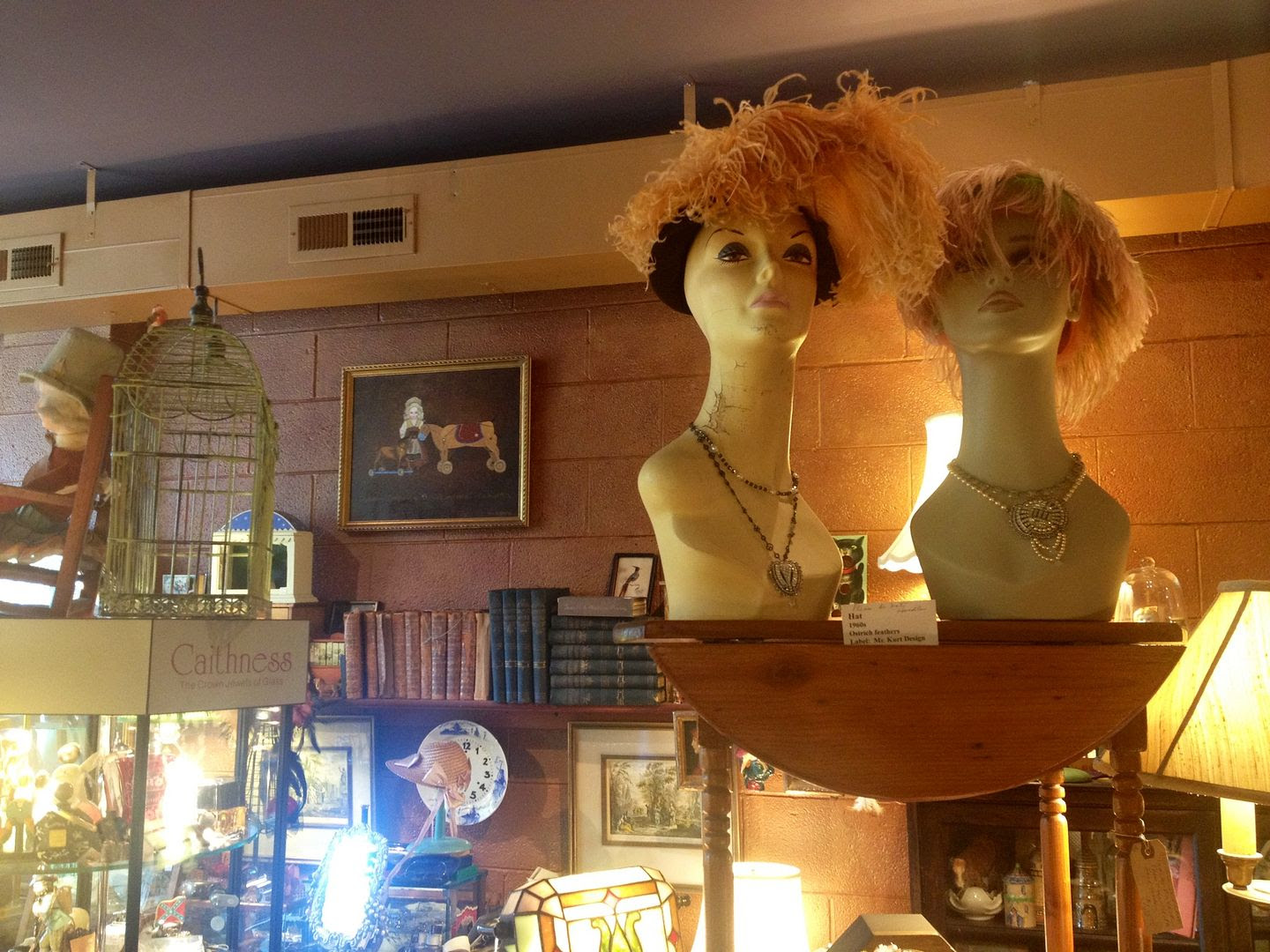 Early 1930's ostrich feather hats previously owned by a museum, for sale now at Francine's
Typically, these special dresses have emerged from the back of the store or in a hidden closet. I always get excited when I walk in and hear Frances say, "Oh, I have just the thing I think you'll love!"
My best friend Shannon Dunne, also a fan of Francine's shop through the years, recently took her daughter Sadie by the shop for the first time. Frances said Sadie's eyes got "as big as saucers" when she came across a tiny 1930's gold chain mail purse with peach lining in mint condition. Frances promised her she would hold it aside for her while Sadie saved her allowance, hoping to get her bag just in time for the Fall Fashion Preview (we promised Sadie she could attend this year!)
Frances is more than familiar with the rush a treasure hunter experiences when they spot something that strikes their fancy. As a full-time executive officer of the board of realtors and then a mortgage banker with six children, Frances said she began her foray into this business as a "side thing" in 1976 with a mail order business. She would publish a small ad in one of the trade papers where folks could pay $1 to receive a list of her items for sale, plus one dollar per polaroid and a self-addressed envelope.
Needlepoint handbag featuring a Parisian scene (for sale)
L: I have my eye on these Victorian boots. Swoon.
R: Love how Frances highlighted this vintage dress's waistline with a pretty printed scarf. I think Diana Vreeland would approve.
"Why Don't You?"
Eventually when their older children got to the age where they could look after their younger siblings, Jim and Frances started spending their weekends setting up as dealers to sell at big antique markets in Atlanta, Maryland, Virginia and Orlando.
In the 90's, when the children left home, they decided to open a a retail store first on Oleander and later two different locations on Princess Street.
Michael Moore (of Michael Moore Antiques on Castle) encouraged them to give Castle Street a try. Concerned about potential crime on the street, "Michael told us he used to have a store on Front Street and they threw bricks in (my) window, but he said he never had any problems on Castle Street."
They spent several years on Castle Street before taking a hiatus when Jim encountered some serious health issues. And in 2008 , when the real estate business crashed and Frances lost her day job, she was determined "it wasn't going to get me down. I turned our guest bedroom into an office for my eBay store, clocking in everday at 8am and clocking out at 5pm – eventually clearing $85,000 my first year."
Although the money was good and her eBay store was flourishing, Frances desperately missed the face-to-face interactions with her customers too much and decided to return to Castle Street (with eBay on the side!) As fate would have it, their first location sat vacant for two years before Frances took over the lease in June 2012 with John McNair, who has the vintage prints in the backside of the shop.
Vintage frames + lockets galore
Necklaces made by local artist Susan Guy using salvaged vintage brooches
and dress clips from Frances' collection
And Jim is now the manager of Antiques Pickers Mall right next door. "Couples come in here and the guys start shuffling around. When the heavy sighing starts, I suggest they go next door and see the military stuff, vitntage toys, Civil War memorabilia, etc.
After they're gone, the wife always says, 'Oh good, now I've got a chance to actually shop!'"
And, since there is always a "side thing," Frances continues to host estate sales, which she has done for the past 20 years. After her client's family goes through the estate, Frances typically has first pick at what she wants to buy for the shop before she manages the sale. (For updates on new estate sale finds, check in on her Facebook page here.)
"I really love doing the estate sales because I really feel like I'm helping people. They get so overwhelmed by 'stuff' so I help them dowsize while also getting them the highest prices."
Frances says the best thing about having a brick & mortar is not only the people she gets to meet, but she also loves when "people bring me stuff." From antique dolls, to Victorian white wear, antique linens, jewelry, handbags and hats, she welcomes it all. Just don't bring anymore glasswear!
As we neared the end of our interview , a customer came in asking if it was okay if she browsed even though she noticed from the sign the shop closed at 4pm. Frances replied in her signature, sincere way, "I'm open as long as you need for me to be."
Go see her & tell her Style Girl sent you.
Happy treasure hunting!
xo
Jess
L: French crown and books top a case full of beaded purses.
R: My favorite collection of 1920's ladies.
FALL FASHION PREVIEW
Tickets for Sale
NOW – Click HERE!
Photograph by Ben Minor
WIN IT!
Facebook Contest
MEET THE MODELS
To see the local beauties who will walk the runway October 28th
at the 7th Fall Fashion Preview,
Click HERE !
(more to come)
Click Above + Below Invites for More Details + Ticket Link!
Click HERE for $10 discount on your ticket!
promo code: STYLEGIRL
Looking for your photo from the
4th annual Great Gatsby Gala?
Click HERE
to see ALL of Bella Rose's Gatsby photos
+ to purchase your favorites!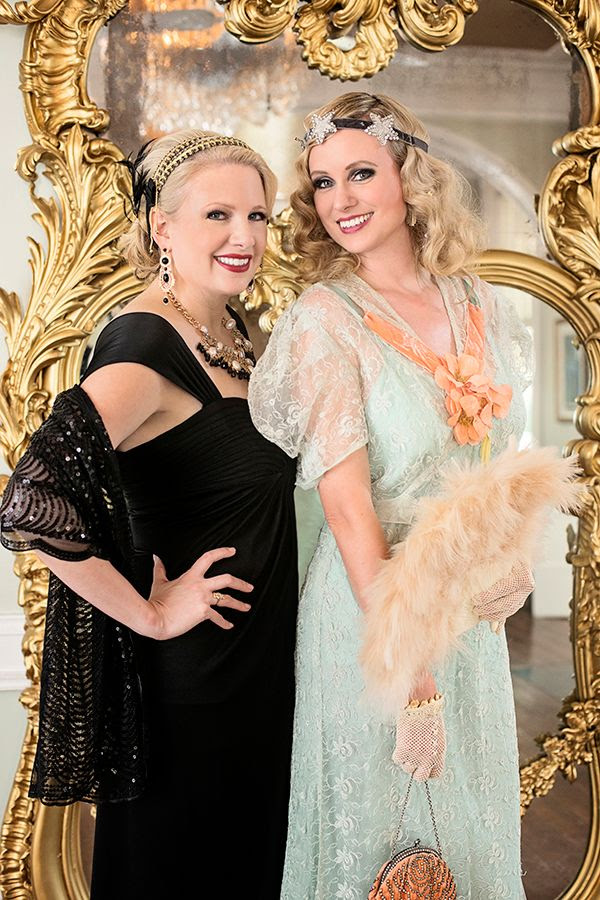 Photographer Lisa Brown of Bella Rose Photography (left)
Till next time, Jay! xo
WHO:
Historic Wilmington Foundation is pleased to host their fourth 'Vintage' Event,' which enables the foundation to realize their mission to protect and preserve the irreplaceable historic resources of Wilmington and the Lower Cape Fear Area.
WHAT:
At this year's Prohibition Night, guests will spend an evening among friends and enjoy cool jazz from the Doug Irving Trio, a great auction, lively conversation, delightful food, an open bar and a special signature drink with a commemorative glass (available for purchase).
WHEN:
Friday October 24
6:30pm
WHERE:
St. Thomas Preservation Hall (now owned by City Club of Wilmington)
is one of Wilmington's architectural gems with a storied past.
208 Dock Street, Downtown Wilmington
WHAT TO WEAR:
Think Gatsby era (yay, again!), Boardwalk Empire,
Speakeasy style!
WANNA GO?:
There's a Secret Password to gain access to this speakeasy party!
A special 20% discount will be in effect until October 3rd.
TICKETS: Click Here!
WHO:
Nominated Best Party of 2013 by the Charleston City Paper, The Red Party celebrates the educated artisan, increases awareness about traditional building and artisan craft in today's society while raising funds for the college's programs.
WHAT:
This year we take the romance of 18th century Rococo, the opulence of the Palace of Versailles and the excitement of an approaching mob, put it in a shaker, mix it all together and – voilà – a masquerade ball a la Versailles. It's France in the 1790s, there's more gilt than the eye can behold and the spirits flow like water. Does Louis XVI and his queen, Marie Antoinette realize the Revolution is approaching and the royal House of Bourbon is about to see a whole lot of RED?
This annual costumed fundraiser event includes:
Live performances by Entropy Ensemble, Dance music by DJ C. Nile, Auction, Signature Red Party Cocktail, Delicious food prepared by top restaurants + for VIP ticket buyers – The Royal Treatment! Exclusive food and fine wine in the private outdoor lounge, Le Salon VIP inside the jail with games of chance and special entertainment.
WHEN:
October 24 at 7pm
WHERE:
When you arrive at the Old Charleston Jail,
will it be the Palace of Versailles or the Bastille?
Charleston, SC
WANNA GO?:
$90 in advance / $100 at door
VIP: $180
WHAT:
Join WHQR for an evening of fun –
a carnival-themed birthday party
celebrating 30 years!
Save $10 with STYLEGIRL code!
Click HERE
WHEN: Saturday October 25th 7:30pm-11pm
WHERE: CFCC's Union Station Ballroom
502 N. Front Street, Downtown Wilmington
Includes:
* Live Music From Blivet and Dancing
* Carnival Entertainment and Games with Great Prizes
* Open Bar (Beer / Wine / Specialty Cocktails Designed by Manna)
* Elaborate Specialty Desserts and Coffee Bar
* Free parking in CFCC deck
WANNA GO?:
$65 per person ($10 off with code)
Use Promo Code STYLEGIRL
Use this Link -> Click HERE!
Wilmington Dermatology Center presents
7th annual FALL FASHION PREVIEW
Hosted by: Jess James
Selected artwork from CAM's State of the Art exhibit
will inspire the looks on the runway featuring season essentials
on local celebrity models + fall fashion & beauty trends, shopping + fun!
HOSTS:
"Style Girl" Jess James, FASHION FIX and Style Girl LLC events founder, wardrobe stylist and Focus on the Coast Fashion Editor & Dr. Rosalyn George of Wilmington Dermatology Center
BEAUTY TEAM:
Hair + Makeup by Beauty Bar Boutique.
Creative Direction by Owner Hannah Lynne Milojevich
ENJOY:
Must-have looks for fall inspired by selected works from the State of the Art exhibit
at the Cameron Art Museum modeled by local celebrities in their 20s to 80+, style and beauty season essentials & deals you won't wanna miss from your favorite boutiques & designers!
* Shopping for fall essentials
* Delectable tasting curated by Catch + sweet treats from One Belle Bakery
* Signature Midnight Moon cocktails by Mixologist Joel Finsel
* Music by DJ Brian Hood
* Coveted silent auction prizes for Make a Wish of Eastern North Carolina
STORES + DESIGNERS:
Aqua Fedora
Beanie + Cecil
Bloke.
Cabi / Jamie Marston
Chloe + Isabel / Jeanie Baker
Front Street Optometric Care
Girls Style Boutique @ Tickled Pink
House of Landor
Island Passage
Lula Balou
Mitzy Jonkheer
Monkee's
Oliver
Second Skin Vintage
Soul Shoetique
TL Workshop
Ziabird
WHEN: Tuesday Oct 28 at 7pm
WHERE: Cameron Art Museum
TICKETS:
$25 – Limited Space. Get your tickets today – Click HERE!
First 25 guests to purchase tickets online will be entered
to win the "FALL FABULOUS" grand prize.
SPONSORS:
Wilmington Dermatology Center
Cameron Art Museum
Beauty Bar Boutique
Catch
One Belle Bakery
Ben Minor Photography
Ethan Gaskill Photography