FashionFix Newsletter Template


JAMES + DUNNE

Spring Fashion Preview

"Style Girl" Jess James" and Shannon Dunne of James + Dunne Styling hosted their Spring Fashion Preview, presented by Wilmington Plastic Surgery, at Hewitt Thursday, February 25.

TO WATCH THE VIDEO, click

HERE

.

An evening celebrating personal style, Jess and Shannon, along with the beauty professionals at Wilmington Plastic Surgery and Steven Ward Hair,
shared style and beauty secrets, the anatomy of the closet and
age-appropriate essentials for Spring featuring must-have looks
from  aMuse, Aqua Fedora, Beanie + Cecil, Bordeaux Jewelry, Edge of Urge, Hallelu, James + Dunne Collection, Oliver and Personal Touch.

From
30 and thriving to 60+ and sensational, James + Dunne's models showed
how to wear the latest spring essentials in STYLE! Stylish
moms-on-the-go Amy Tyndall (interior designer), Miriam Thompson (lawyer), Mary Barto (philanthropist, wife of Jack Barto, CEO of New Hanover Regional Medical Center)
and 80-year-old Paula Farraday (artist and entrepreneur), modeled
on-trend looks that reflected both their personal style and their
lifestyle, as well as modeling the same dress (from Oliver) three
different ways. Veteran James + Dunne model Knesia Beasley wowed the
crowd in a ruffled pastel mini dress from Aqua Fedora with powder pink
socks and gray heels bringing "Runway to Real Way" to life.

Delectable bites from Private Chef Lori Eaton and The Dessert Divas and wine and bubbly from Caffe Phoenix kept the stylistas smiling and refueled for shopping!


To see more of the evening's fashion-filled fun,
click HERE to view a photo slideshow. All photography by Melissa Hebert.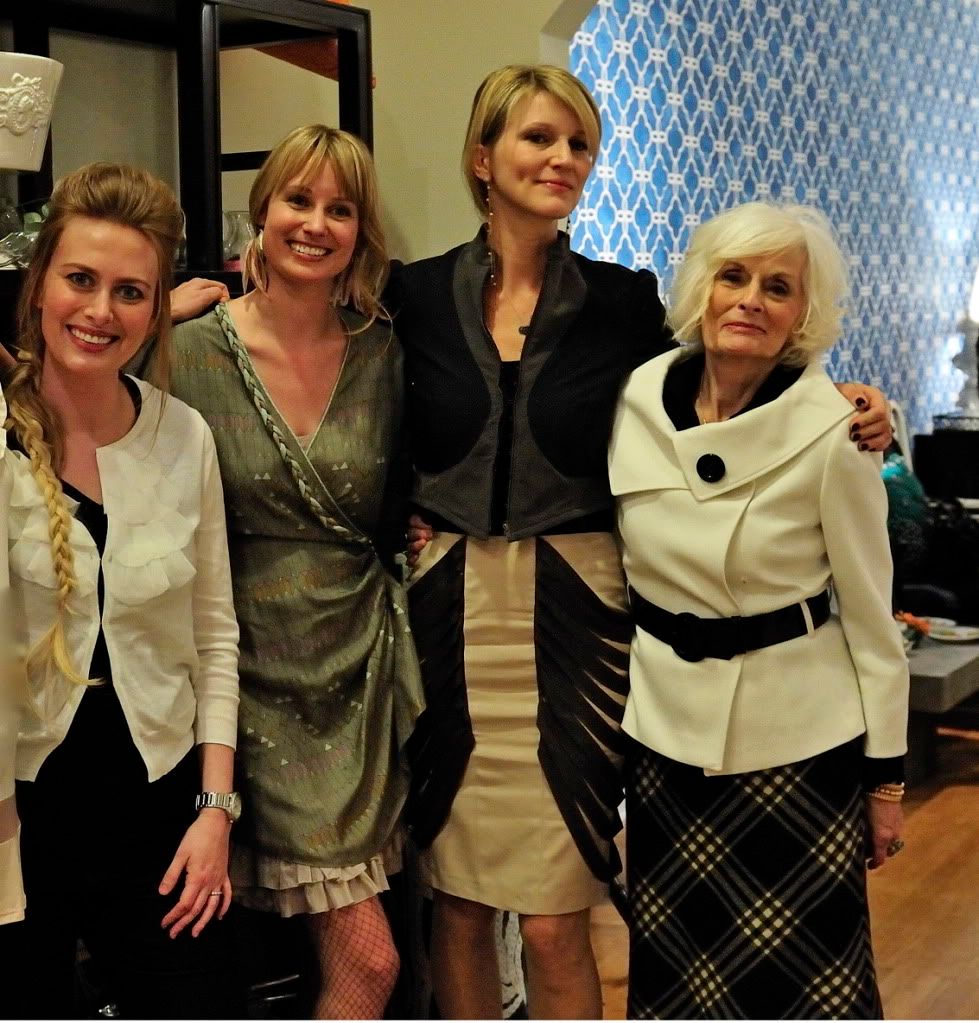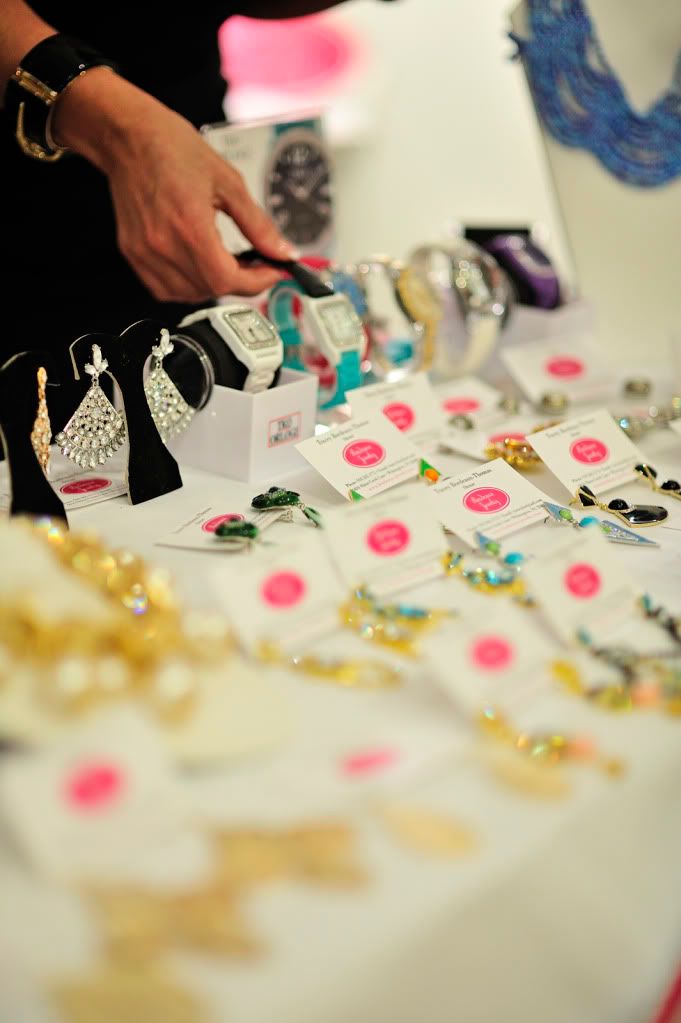 Jess James interviews Stylemaker SCOTT AVETT, lead singer of The Avett Brothers, for MetroMix:
Most
people would agree there is a natural synergy between music and
fashion. As a source of inspiration, they converge to produce both a
soundtrack and a stage presence. Even so, it's rare to interview a
musician on matters of style instead of the meaning behind their songs.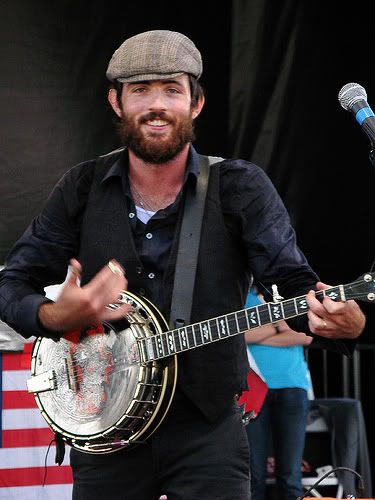 Scott Avett, front man of The Avett Brothers,
often takes the stage in rugged, hard-working threads to keep up with
the band's raw, raucous energy. Take a closer look, though, and you'll
notice the distinctive details — the nuances of someone who puts
careful thought into what he wears.
The day I connect with
Scott on the phone, I immediately take note of the changes since the
last time we spoke in 2007. Instead of receiving an email with Scott's
cell number from longtime label Ramseur Records, our call is connected
by Sony Music. In recording their latest album I and Love and
You,  the trio inked with American Recordings, Columbia's imprint
through super producer Rick Rubin, who has worked with the likes of
Johnny Cash, Jay Z and Justin Timberlake.
Scott, a new father,
juggled the phone and his 16-month-old daughter from his home in
Concord, NC. I could imagine him chasing behind her as he smiled and
said, "It's too cold to be barefoot, child" pulling one sock on after
the other while he told me about the outfit he was wearing for the
Associated Press (AP) photo shoot later that afternoon: a Woolrich red
flannel ("looks like something my dad used to wear"), brown cords and a
henley.
We talked about his fondness for red, and how he tries
to stray from wearing brown pants with brown shirts. But before we
deconstructed his closet, Avett shared his fashion philosophy: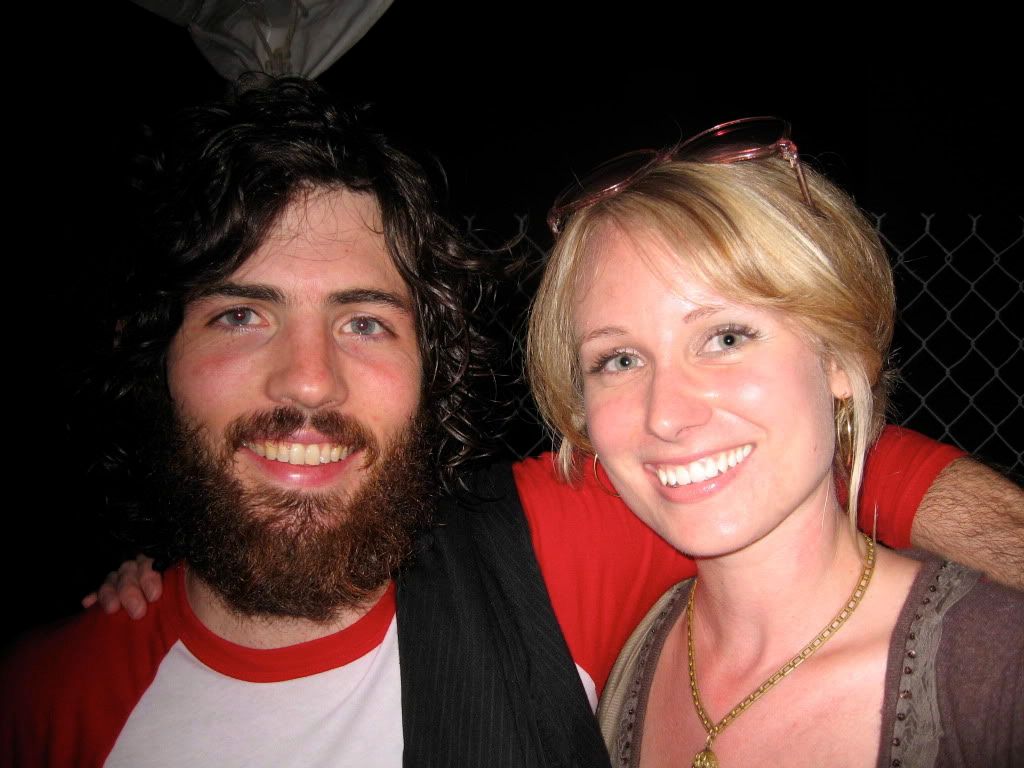 "If
you are confident and comfortable and sure in what you have on, you
convince others. Each person decides what is beautiful for themselves
and that is the bottom line. The cliche is absolutely true. If you feel
beautiful, everyone around you will be convinced the same."
With Scott Avett post-show 2007
To read more on Scott's "ugly brown coat" he can't seem to get rid of and his top 3 style tips, click HERE to read Jess James's article in Indianapolis Star's Metromix Magazine.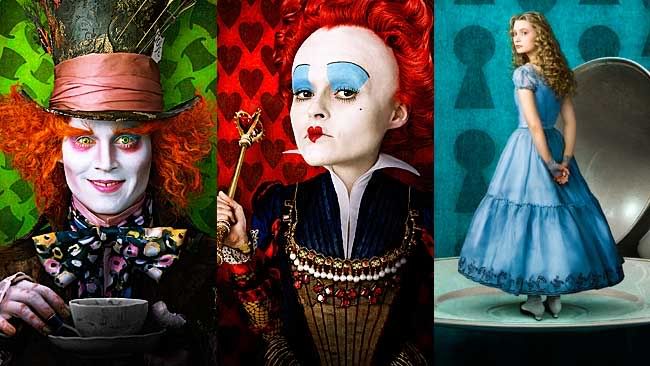 Check out
Refinery 29's Alice-Inspired Picks
:
"Lucky for you, you won't have to escape down any rabbit hole to find
Alice in Wonderland goodies before the movie hits theaters this Friday.
Everyone from Stella McCartney to the good folks at Urban Outfitters
to…Avril Lavigne (yes, seriously) are cranking out Wonderland-worthy
collections."
Check out OPI's "Mad as a Hatter" at BANGZ Hair Salon.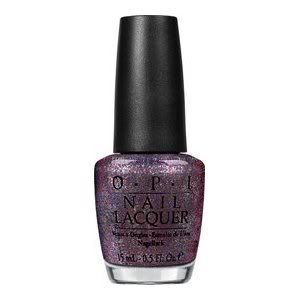 Oscar Style
Draw inspiration from Oscar's most stylish contenders: Inglorious Bastards, An Education and  the blue-hued Avatar.
Click HERE.
Above, clockwise from top left:

Inglourious Basterds

photos via Lights Camera History;

Aquascutum

spring 2010 presentation photo via Style.com;

Stella McCartney

Pumps, $521, available at My Theresa;

Sephora

Rouge Cream Lipstick in Mr. Lover, $12, available at Sephora;

Corta

Chain Fedora, $169, available at Bergdorf Goodman.
"SPRING IN STYLE" PACKAGE
The first 25 guests to get their tickets at jamesanddunne.com for the Spring Fashion Preview were registered to win the "SPRING IN STYLE" package including:
* Style Consultation with James + Dunne
* Custom headpiece from Milliner Jan Wutkowski of aMuse
* Custom garment from Fashion Designer Jessie Williams
* Pearl Statement Necklace from Bordeaux Jewelry
* Chiropractic Massage (30-40 min) + Adjustment (1 hour) from Feel Better Now
* 1 month of Latisse + 30% off skincare line with custom consultation from Wilmington     Plastic Surgery

WINNER: Brenda Hughes, YOU are our winner!
Email us at jamesanddunne@gmail.com to claim your prizes 🙂
MEET:
James
+ Dunne's hot pink mannequin. She used to live at Castle Keep Antiques
and came into her hot pink skin during her stint in Costumer William
Ivey Long's magnificent exhibit at Cameron Art Museum.
Help Jess and Shannon name her!
Email
suggestions to: jamesanddunne@gmail.com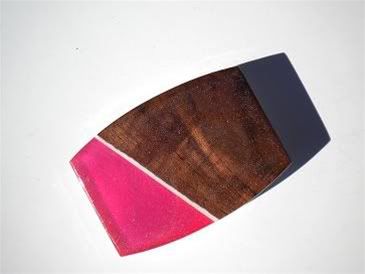 Submissions:
Charlie
Cammy
Perky
Pinkatar
Francine
Aurora
Quirky Lady
WIN IT: Best Name Suggestion WINS – In one week, we will select the winning name! Please send submissions to jamesanddunne@gmail.com before Friday, March 12.
Drifted Hot Pink Fiberglass
Panel and Black Walnut belt buckle with White Resin Pinline ($49 value)
handmade by local husband and wife team Dan and Lisa Nez. To see more Drifted Designs, visit www.driftedstore.com

March 5
Novel Grand Re-Opening Party
CHARLESTON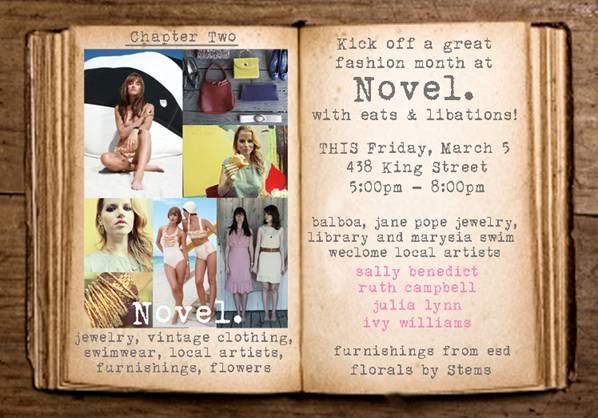 WHO: Library, Jane Pope Jewelry and Balboa and Marysia Swim
WHAT:Charleston's favorite pop-up shop returns for another month of shopping – just in time for Charleston Fashion Week.
WHERE: 438 King Street
WHEN: Tonight! / 5-8pm
WHY: Jewelry, Vintage Clothing, Swimwear, Local Artists, Furnishings, Flowers
March 12
Fashion Is Art II
Novel
CHARLESTON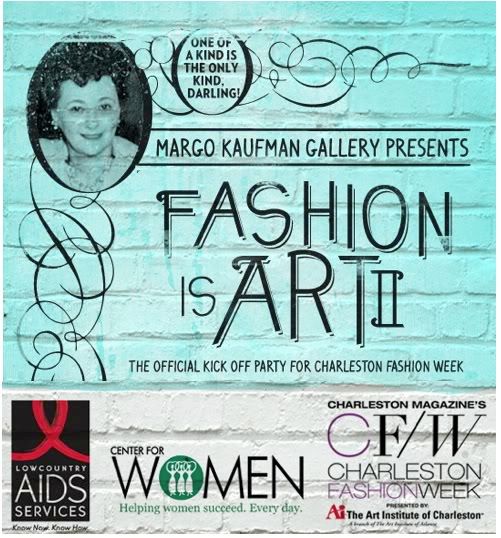 WHAT: MargoKaufmanGallery.com
presents: Fashion Is Art II, the official kick off party for Charleston
Fashion Week benefiting Center For Women and Lowcountry AIDS Services.
Last year it was dresses. This year it's t-shirts. 5 local artists and
4 local fashion designers were given the infamous Margo t-shirts and NO
RULES. DJ CMNDer will be spinning while you sip on champagne and
bid during the silent auction.
Featured Artists: Karin Olah, Kirsten Moran, Lisa Shimko, Leigh Magar, and Matthew Bowers. Featured Designers: Marysia Reeves, Rachel Gordon, Heather Koonse, and Erin Perkins
WHEN: Friday, March 12th / 7-11pm/ Silent Auction starts at 8pm.
WHERE: Novel / 438 King Street
WHY:
A portion of the proceeds from each one-of-a-kind painted t-shirt and
dress sale, as well as a portion of the door sales, will be donated to
Center For Women and Lowcountry AIDS Services.
March 6
aMuse Haute Hats Show
WILMINGTON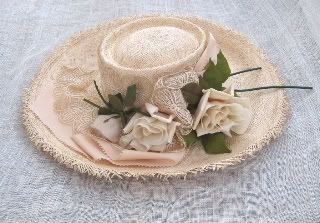 WHO:
Milliner Jan Wutkowski's hats, headpieces and vintage jewelry. Styling
by Jess James.  Hair by Frank Potter of Bangz. Hat Cake by The
Dessert Divas. Floral Design by Island Florals.
WHAT: Vintage
inspired fashion show featuring Milliner Jan Wutkowski's handmade hats:
the must-have accessory for Azalea Garden Party, Kentucky Derby and
Easter.
Cocktails & canapes included.
WHEN: March 6 / 1:30pm
WHERE: Caffe Phoenix – 9 South Front St. / upstairs dining room / private parking lot
WHY: Learn how to bring out your "hattitude," style tips for finding the perfect hat for your face shape and personal style.
WANNA GO?: Tickets are $15 in advance / $25 at the door at aMuse (397.9099) or www.hatshatshats.com
March 7
An Evening at the Oscars, presented by the Cucalorus Film Festival
Screen Gems Studio
WILMINGTON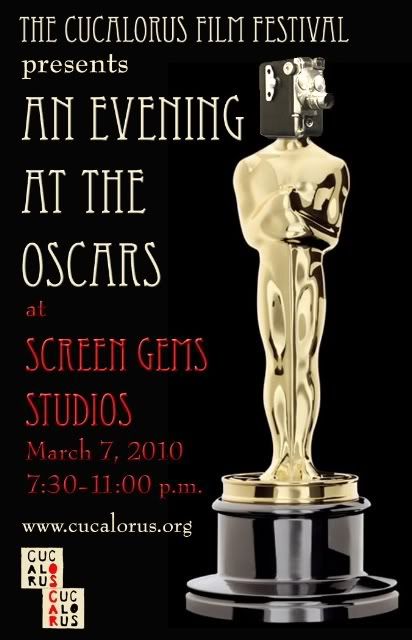 WHO:
Movie lovers!  James + Dunne!  Celebrity Hair Stylist Steven
Ward!  Emcees "Superkiiid" Jonathan Guggenheim and Zach
Hanner!  Bibis Ellison and other Wilmington talent!
WHAT:
The Oscar Party you've been waiting for… Watch the Academy Awards at
Hollywood East's official headquarters: Screen Gems. Giant screens,
delicious food by Port Land Grille, open bar, silent auction, Red
Carpet hostesses James + Dunne, Oscar pool, entertainment and strange
surprises curated by Cucalorus.
WHEN: Sunday, March 7th, 7:30 – 11:00 pm
WHERE: Stage 3, Screen Gems Studios
WHY:
A fundraiser for the Cucalorus Film Festival, Wilmington's largest and
coolest annual arts event, recently listed in "Top Ten Film Festivals
in the U.S." by the Brooks Institute and "Top 25 Coolest Festivals in
the World" by MovieMaker magazine.  Come see the Oscars in style and rub elbows with a bunch of cool people who love movies!
WANNA GO?: Go to www.cucalorus.org for tickets online and more information.  Our blog, with updates, is at http://cucalorus13.blogspot.com/
DRESS CODE: Hollywood Glam. Dress to Impress! "Style Girl" Jess James and Shannon Dunne of James + Dunne Styling, the night's Red Carpet Hostesses, are offering a 15% discount to all Cucalorus Film Festival attendees.
March 13
The Fashion Summit of North Carolina
RALEIGH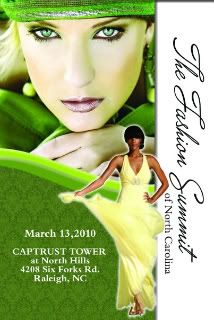 WHAT:A Fashion Industry Conference for fashion mavens of North Carolina
WHEN: March 13, 2010
WHERE: 4208 Six Forks Rd. Raleigh, NC at The Captrust Tower at North Hills
WHY:
To bring together an innovative and inspiring group of emerging and
professional fashion industry experts to share valuable industry
information and stimulating educational content.  The programming
for the summit consists of a fashion panel including speakers
Rachel  Sutherland, Style Editor for the Charlotte Observer; Reco
Chapple, fashion designer recently featured on BRAVO's "The Fashion
Show" and Wilmington's own "Style Girl" Jess James. The summit also
includes fashion education sessions, networking opportunities, and a
fashion showcase.
WANNA GO?: Register for an all inclusive ticket or just for the fashion show and after- party at Solas.  Register at fashionsummitnc.eventbrite.com
or call 919-656-6638.
March 27
Recycle Revival
Legion Stadium
WILMINGTON
WHO: Greater Good Productions and Sponsors: WECT, encore, Green Coast Recycling, WilmingtonYardSales.com, Natural Awakenings Magazine, and Style Swap.
WHAT:
Greater Good Productions & WECT present Recycle Revival, "bringin'
some 2nd-hand salvation to our environment" with a community yard sale,
recycled creations from area artists, 2nd hand & vintage fashion,
Farmer's Market, green living vendors, live entertainment, local food
& more!
WHERE: Legion Stadium
WHEN: March 27 / 11am – 5pm
WANNA GO?: Free Admission
WHY:
Benefitting the Cape Fear River Watch, PenderWatch, and the North
Carolina Coastal Federation and their efforts to keep Southeastern
North Carolina clean, healthy and beautiful.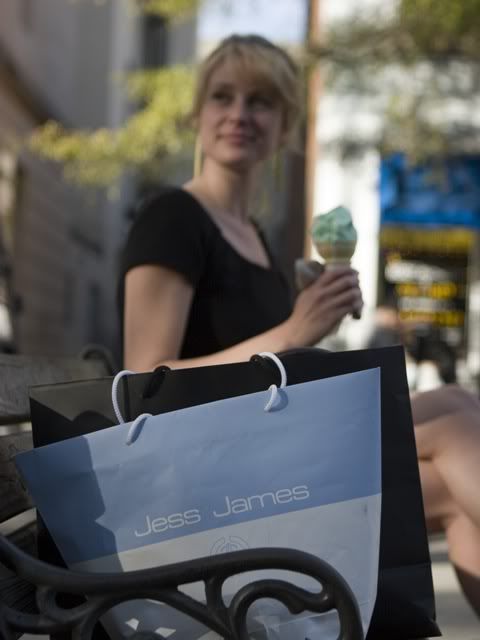 About Fashion Fix
Everyone needs a fashionable friend who knows the
best places to shop. Looking for the insider scoop on the most
sought-after deals?
Once a week (FASHION FRIDAYS), get your fashion fix with Style Girl's
style tips, style on the street + more!

Please forward on to your oh-so-fashionable friends!