I may be practicing my Miss America wave here, but I promise you I have never been a pageant girl. This photo was taken at the 4th of July parade in my hometown of Woodstown, NJ the summer of my senior year of high school. Since I was Woodstown's Prom Queen, I was among several "queens" from the county displayed on vintage cars towards the end of the parade.
This particular 4th of July is one of my favorite Independence Day memories. It could have been because it was my senior year and I had the chance to sort of relive my special prom night by donning my dress again. Being paraded around on a cool vintage convertible in your hometown isn't such a bad gig either. But mostly, this day is etched in my memory because I spent it with Sam, my first love and one of the most influential people in my life.
As my alarm went off this morning, I was vividly aware Sam had been in my dreams. I immediately hit snooze and tried to grasp a visual or some trace of our conversation. A few minutes later around 8:30am, my phone buzzed. It was a text from Bridgett: "Get up, hooker! (you must be a True Blood fan to get that this is a term of endearment) I'm headed to hot yoga." This was followed by our favorite emoticon, the punching fist.
The rest of the day I kept thinking back to this particular 4th of July with Sam and imagined sitting on the curb of Main Street with my parents today, wondering if the annual 4th of July parade is anything close to the way I remember it.
One momentous summer at the Woodstown 4th of July Parade, I decorated my bike and dressed my sister Erica as the Statue of Liberty. I pulled her in the little red wagon on the back of my light pink and gray 10 speed hoping that our patriotic soundtrack we rigged up via tape deck (planted in the wagon) just might make us a shoe-in for first place in their decorative bike competion. From what I remember, it was very hot and that wagon was very heavy.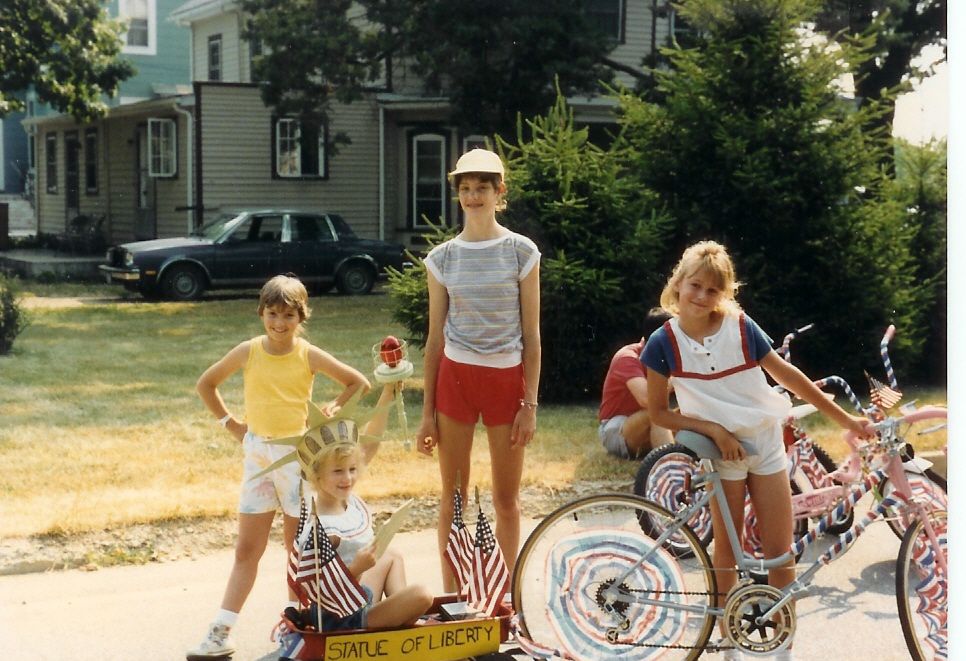 About eight years later, I was happy to make my comeback at the parade but this time with the wind in my hair on the back of a convertible. No more pedaling. My friend Denise (in the front passenger seat below) styled my hair and makeup to look almost identical to the way I looked the night of our prom.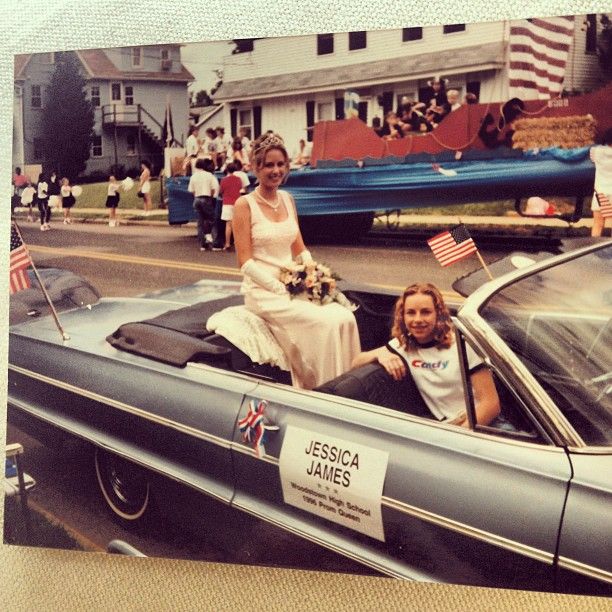 Conveniently enough, Sam's family's home was located at the end of the parade route. I was embarrassed (yet secretly thrilled) when I saw he had gathered a substantial cheering section to greet me as we made our way towards Marlton Field. His overwhelmingly enthusiastic display made me blush as I thought back to our prom night. He jumped up and cheered like he had just slid into homeplate and scored the winning run when the announcement was made that I was Prom Queen. While I floated through high school consumed with my trivial social life, Sam always had his sights set on the big picture: professional baseball, ivy league college, perhaps a Pulitzer. The very first day I came to his house, I noticed a long horizontal poster of a runner where he had taken a pen and drawn a timeline with goals written all the way across. As I got closer, I remember looking up at him in surprise when I spotted "Take JJ to Homecoming" as one of the featured notches. Homecoming led to moonlit dances, surprise dinners under the arbor in his parents' yard, romantic poems hidden in lockers and under pillows, saxophone serenades, movie nights, a magical Christmas service and endless sporting events leading up to the day his dad literally rolled out the red carpet for us when we returned from the prom.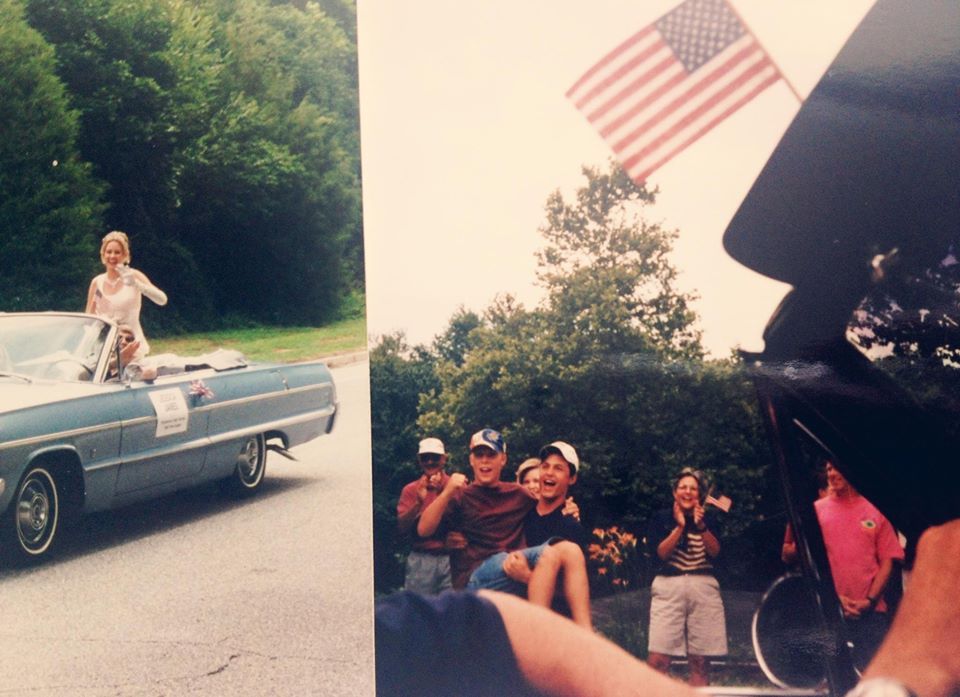 This was another part of the journey. The anticipation was palpable as I changed from my prom dress into my favorite white tank top and jeans and we prepared to head "down the shore," as they say in Jersey. We're not talking the kind of beaches where Snookie and The Situation like to get their "GTL" on. We gathered our group (Sam's two sisters, two cousins along with my friend Denise) and headed to Ocean City, New Jersey where I spent an entire summer when I was five and a week every summer after. We could almost taste the salt in our hair and our favorite – Mac n' Manco pizza – along with the promise of freedom, keys in hand and the open road ahead of us.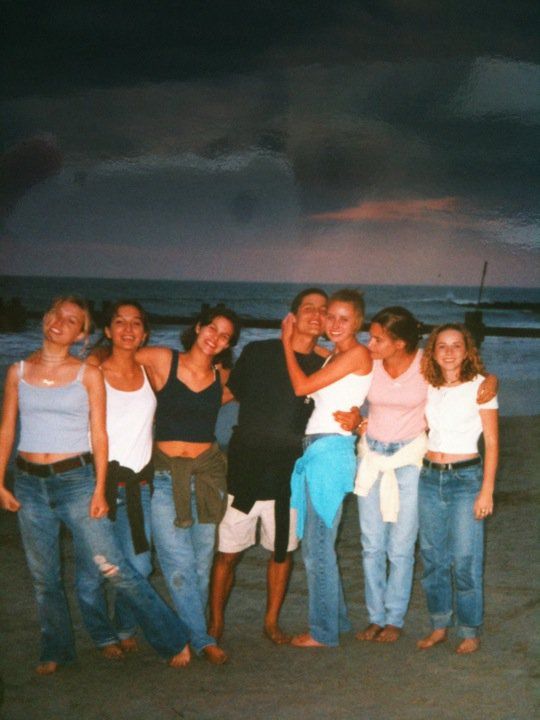 Knowing we would say "goodbye" in a little over a month when I started my freshman year in college eight hours away, every day we had left together took on new meaning. And in time, after losing Sam forever only three short years later, these memories have become some of my most treasured.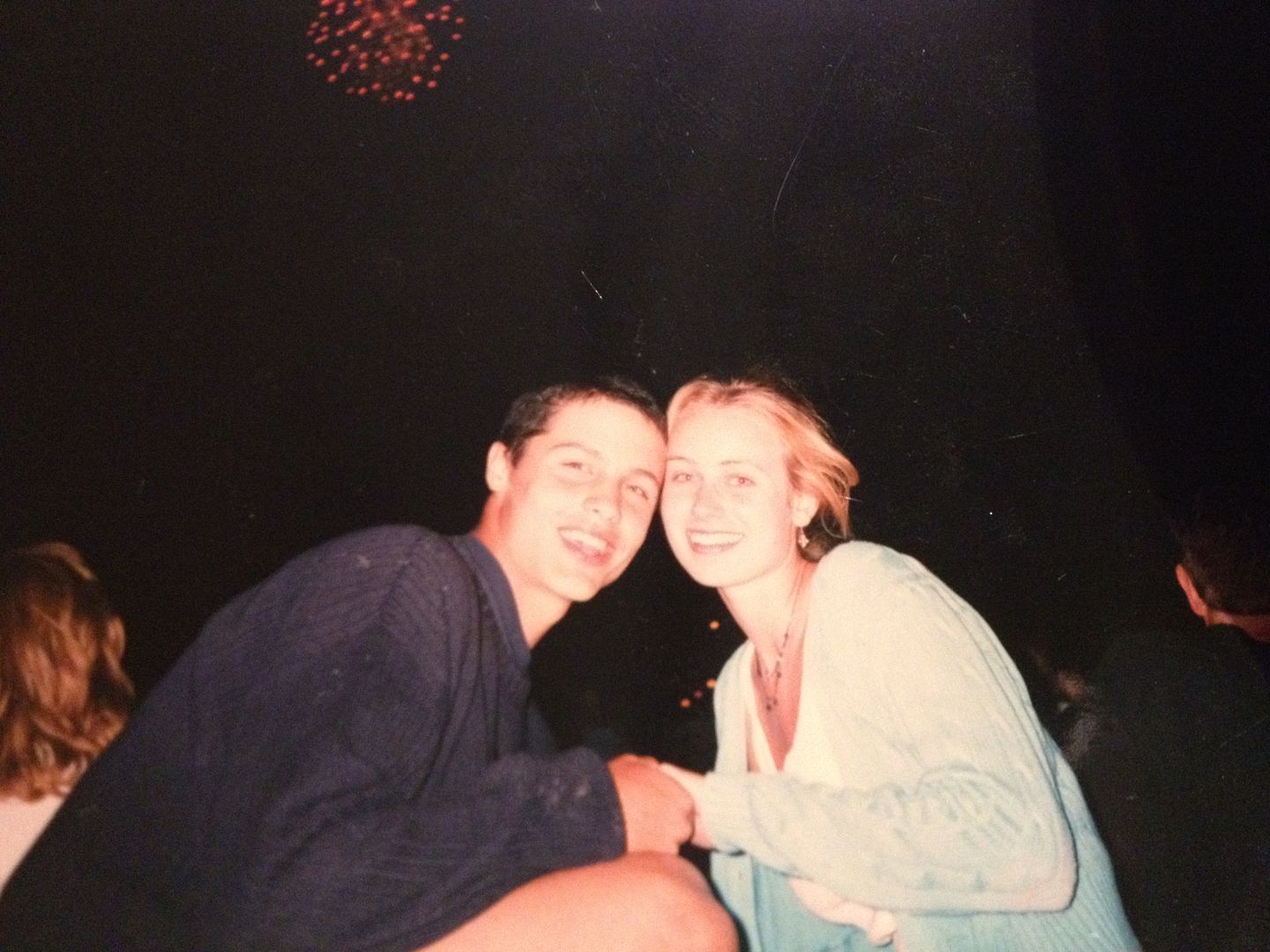 Wishing you & yours a memorable Independence Day weekend
celebrating the Land of the Free!
Today Joel, Dakota and I enjoyed a little red, white & blue
time at Wallace Park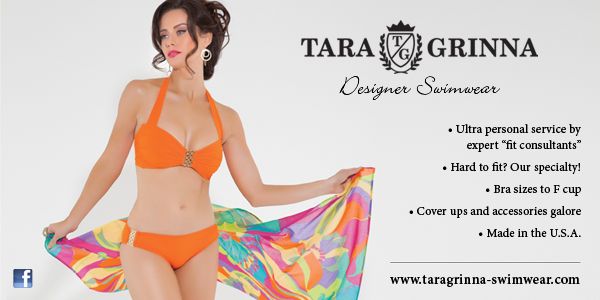 WINNER:
Ross Olson
(submission on behalf of his wife)
MAD MEN
Season 6 Wrap Party
6.27.2013
Hilton Garden Inn
WILMINGTON
Presented by Wilmington Aesthetic /Dr. Deidra Blanks and hosted by Jess James, this high-style Mid-Century inspired "MAD MEN Wrap Party" event was a follow-up to the success of the "We Miss MAD MEN" and "Mad Men Returns" events Jess hosted over the past two years. A celebratory send-off with style, the event featured shopping with Box Office Vintage at The Bargain Box, Tenderlane Vintage, Style Girl Vintage Collection, MAD MEN Models, Finale Episode Viewing, Land Rover Photo Booth Fun, Retro-Inspired Music, Cat Eye Beauty Bar with Makeup by Amy Kennison, Massage Therapy By Hannah, Music by DJ Fred Champion and acoustic sets featuring Justin Lacy and Sophie Amelkin.
MAD MEN models Audrey Myers as Jane Sterling wearing outfit and accessories from The Box Office at The Bargain Box, Jess James as Joan Holloway wearing a vintage inspired dress from Tenderlane with a vintage Christian Dior pillbox hat and Candy Shop Vintage jewelry, Kenzie Schmidt as a "retro pool girl" wearing a bikini top and striped robe from A Second Time Around with stylist's own vintage Christian Dior turban and lace-up hot shorts, Aubree Ardas Betty Draper wearing a rose print dress with coordinating belt and green lace gloves and clutch from Tenderlane, heels from The Bargain Box and floral brooch (on waist) from Precious Gems, Damien Buchanan as Don Draper.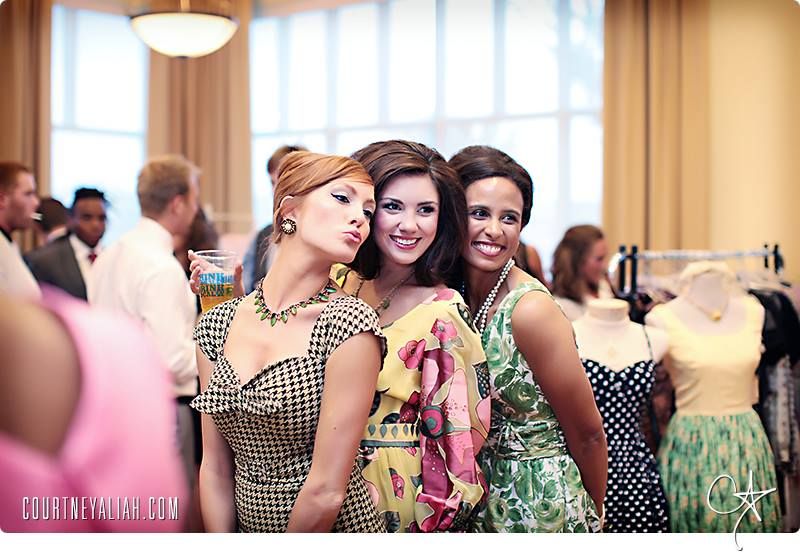 Presenting Sponsor Deidra Blanks (far right)
wearing one of her mom's favorite dresses from the 1960's
with MAD MEN models Michelle Glauber as Joan
wearing a vintage inspired houndstooth dress and floral earrings
from Tenderlane with necklace from Precious Gems and Katie Harden
as Megan Draper wearing a vintage printed maxi from Bargain Box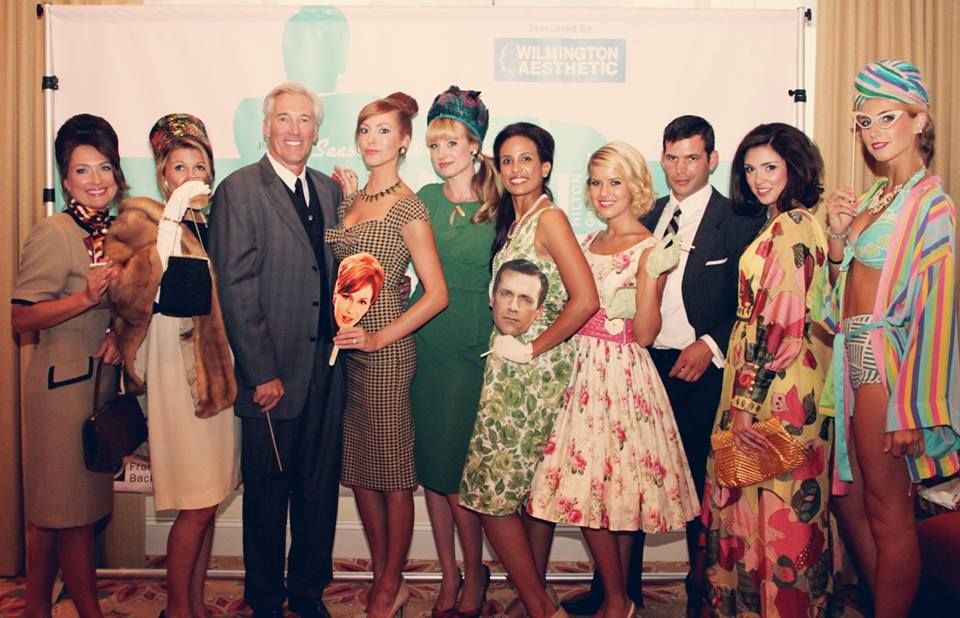 MAD MEN models styled by Jess James
with Hostess Jess James and Presenting Sponsor
Deidra Blanks of Wilmington Aesthetic
Far Left: Crystal Cross as Peggy wearing clothing
and accessories from The Box Office at The Bargain Box
Third from Left: Fred Galle as Roger Sterling in a Burberry
suit from The Box Office at The Bargain Box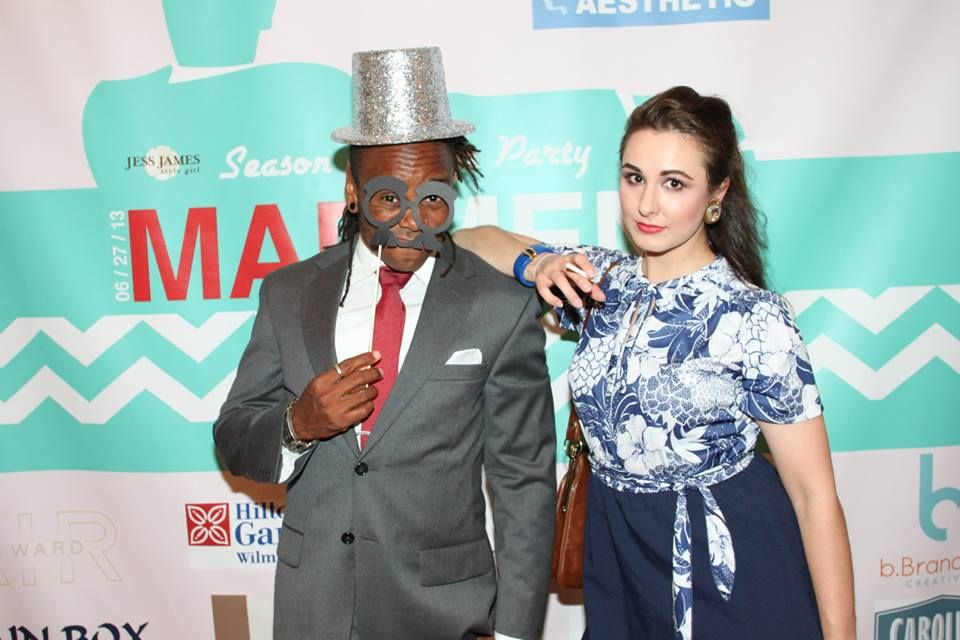 TJ Dunn and Kelly Marie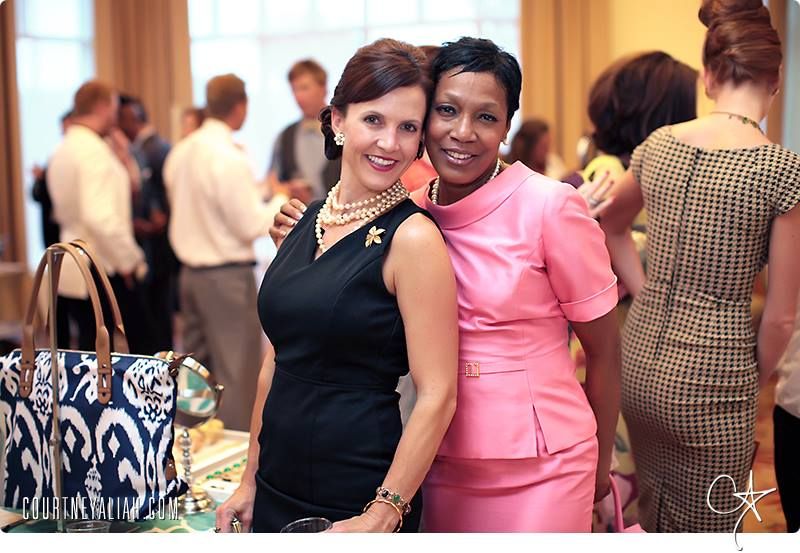 Heather Thornton and Karon Richardson-Tunis  looking Sixties chic!
Rebecca Bell, Bria Durnell and Marty Landau
First dress of the night!
Vintage floral dress from The Box Office
Makeup Artist Amy Kennison
(wearing a Tenderlane dress) giving Madiana
an awesome cat eye!
The Hilton Garden Inn having some fun in the
Land Rover Photo Booth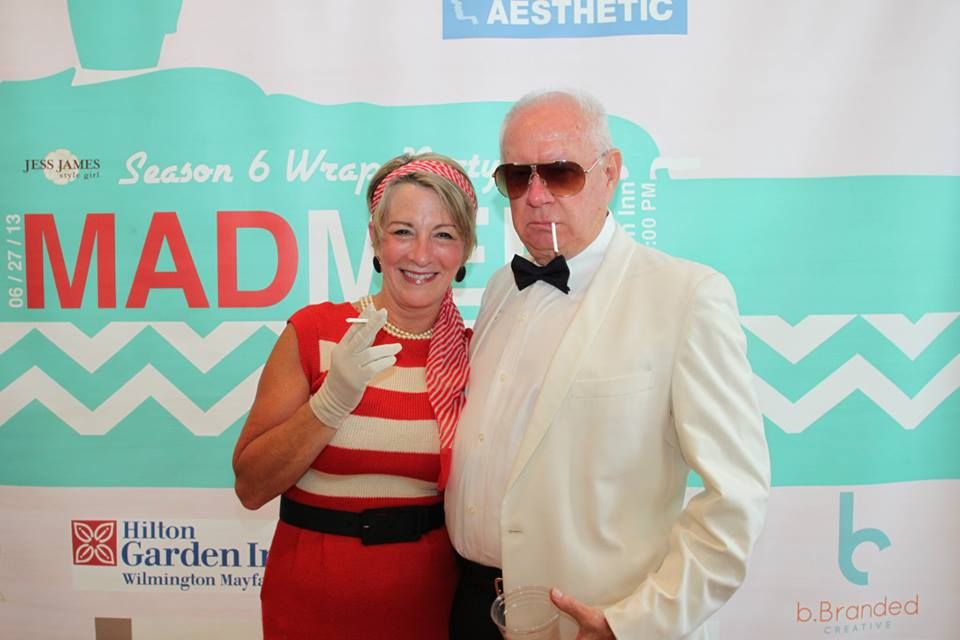 Pat and Walter Kusek – both
looking picture perfect in attire from
The Box Office at The Bargain Box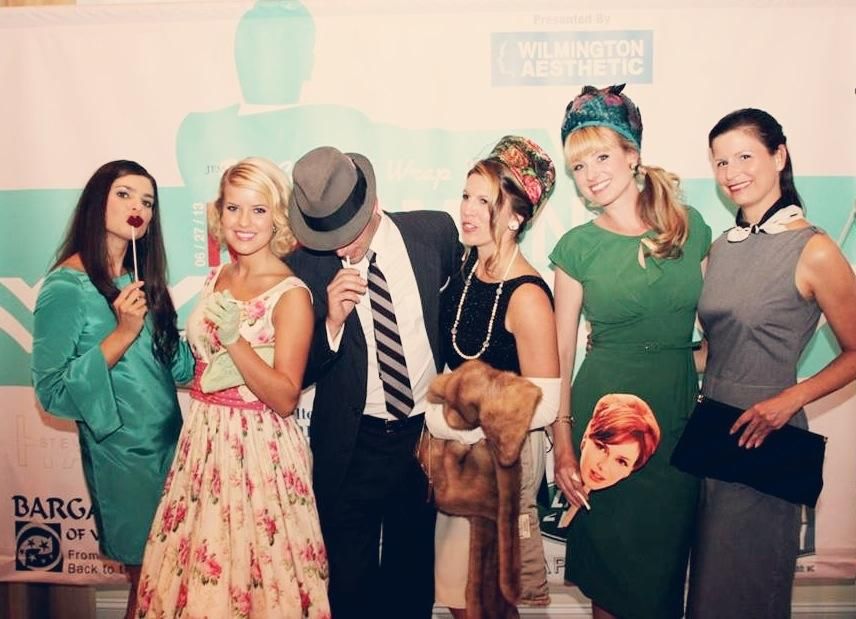 Juliana Williams (far left) and Kelly Starbuck (far right)
Karon takes home the prize (metallic paisley clutch and
emerald earrings from The Bargain Box) for "Best Dressed"
in her Coco Chanel pink skirt suit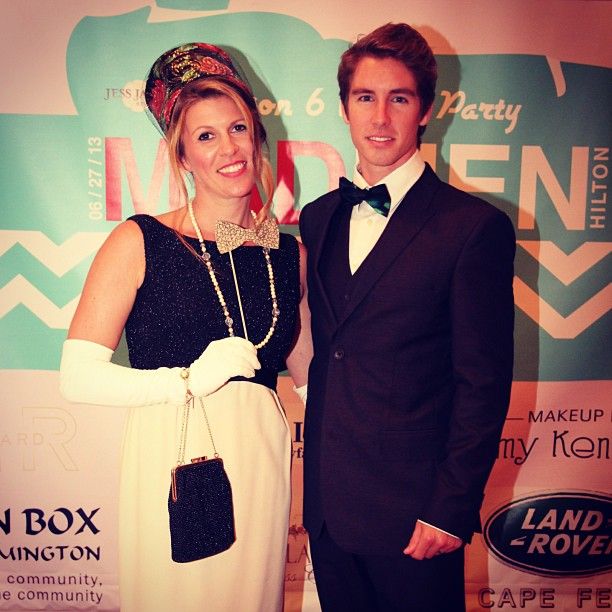 Audrey poses with "Best Dressed"
male Keith Ketchum wearing his
custom-made suit and his Brackish Bow tie
peacock feather bow tie prize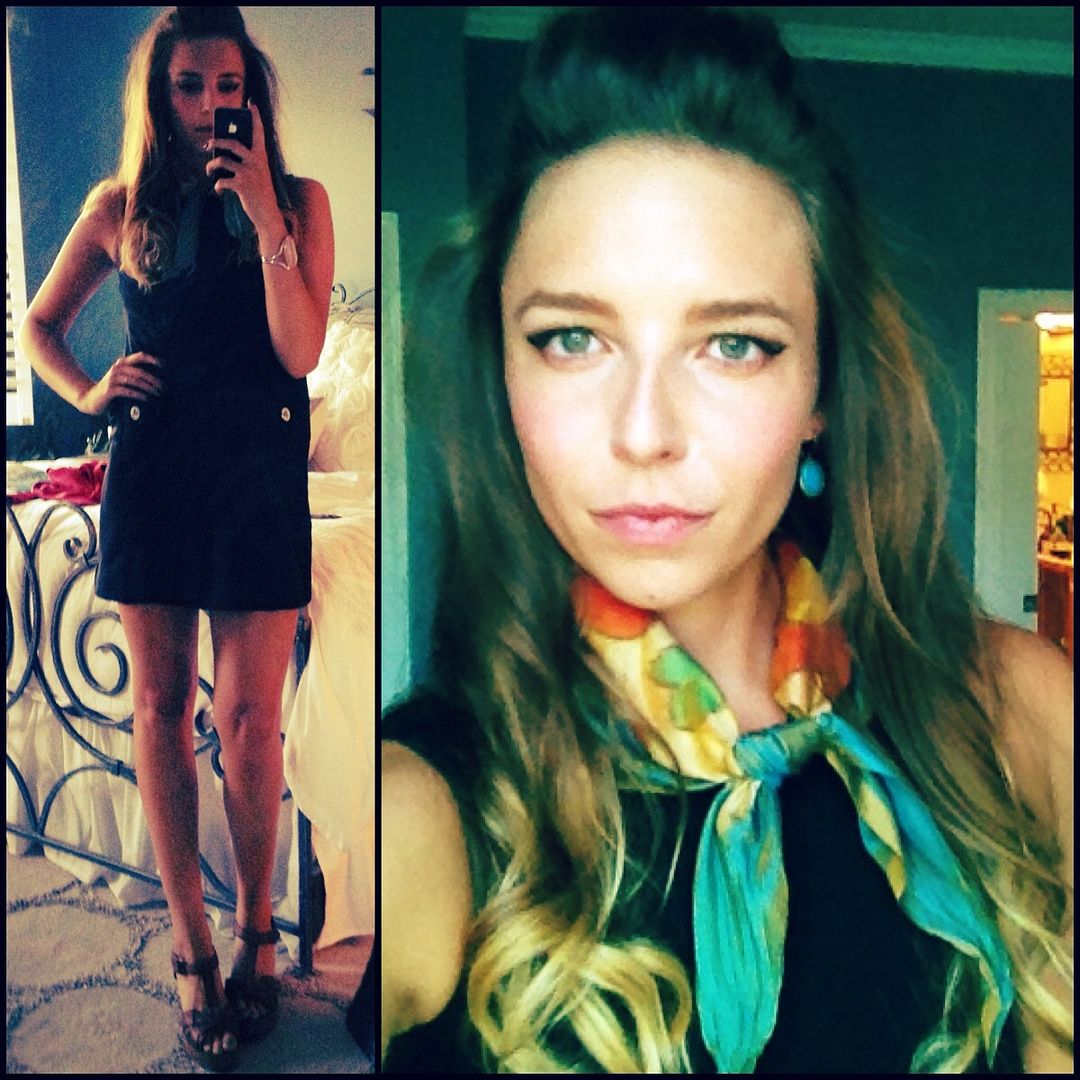 Merewif jewelry designer Savannah Watson
channels "Don Draper's future mistress" –
stay tuned for Season 7!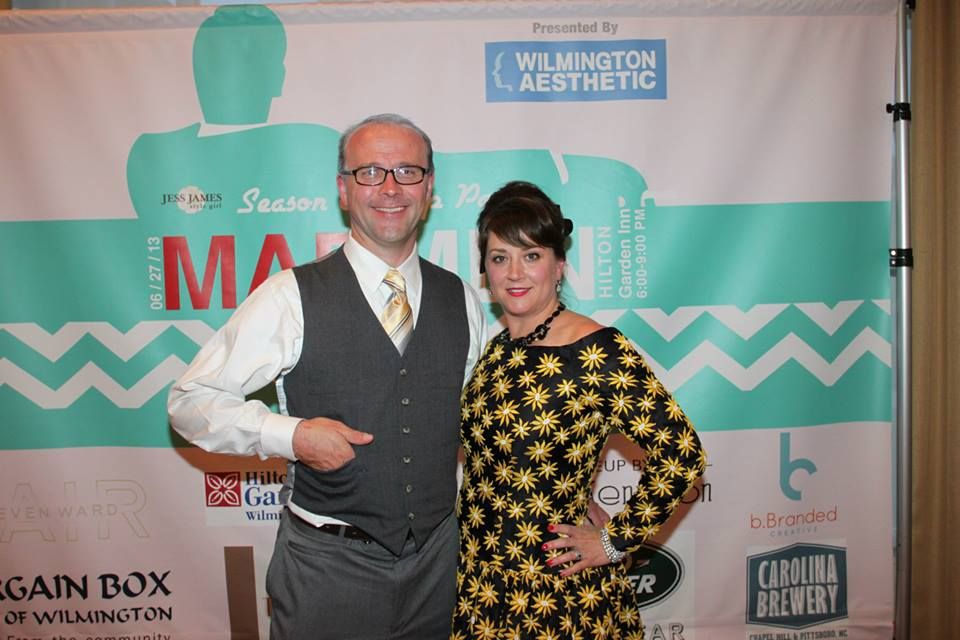 Miriam Oehrlein (wearing The Box Office)
with her Roger Sterling
Miriam is the lucky winner of the
$600 package from Wilmington Aesthetic!
CONGRATS.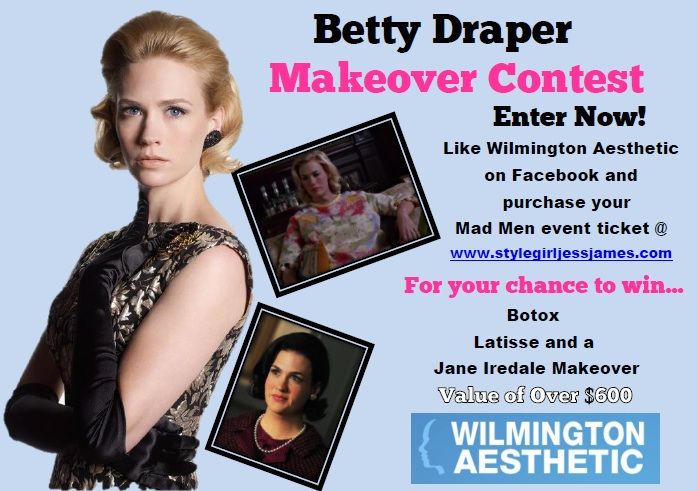 To see more photos from
The MAD MEN Wrap Party
Click HERE
(Photos: Cournet Alia, The Three Divas)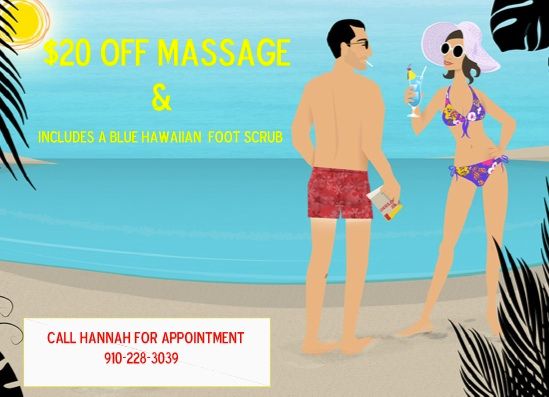 Hippie Ball:
Kids Making It Benefit
6.28.2013
Brooklyn Arts Center
WILMINGTON
On Saturday July 29th, non-profit Kids Making It hosted its 2nd Annual Hippie Ball fundraiser at The Brooklyn Arts Center on the 45th anniversary of the Summer of Love. KMI teaches woodworking, vocational skills, and entrepreneurship to at-risk teens, a long-term mentorship program where every teen has the opportunity to make products, sell them in our retail shop, and earn 100% of the profits from their sales – KMI has a zero dropout rate! The event featured: Music by The Steady Eddies, delicious food from Bon Appetit, Coastal Cupcakes and UNCW Catering, live and silent auction items, hippie Decor (lava lamps, period posters, etc.) from Simply Fabulous Events, prizes for best dressed hippies and best dancers by Judges: Style Girl Jess James and Bo Dean.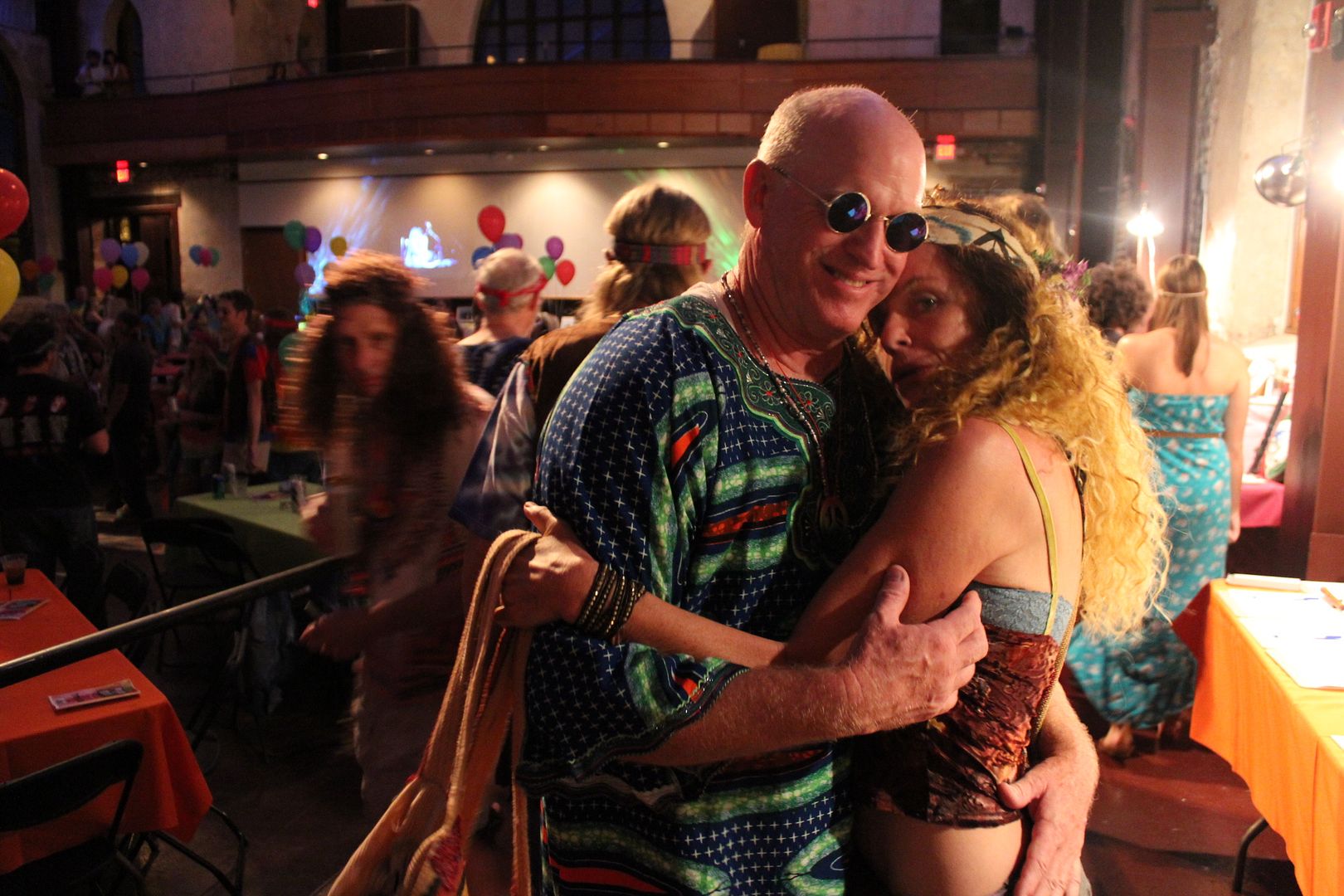 L: Stephanie and Andrew Lanier of Lanier Property Group
(wearing a shirt out of his dad's closet that his mom embroidered)
R: Writer John Jeremiah Sullivan wearing some love beads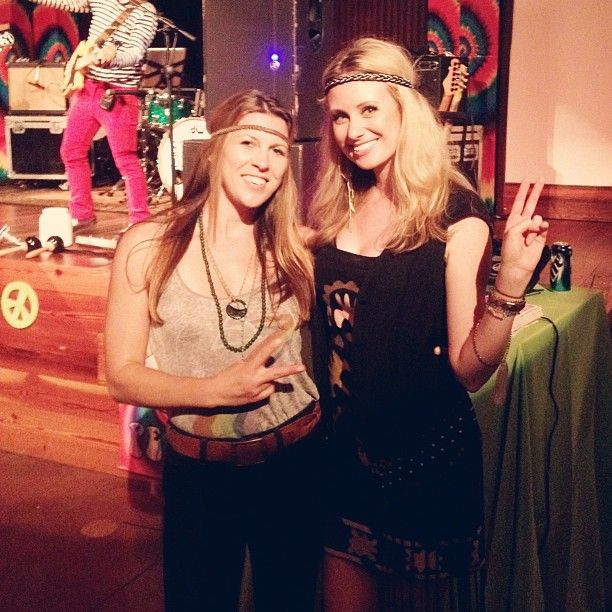 Audrey & Jess feeling groovy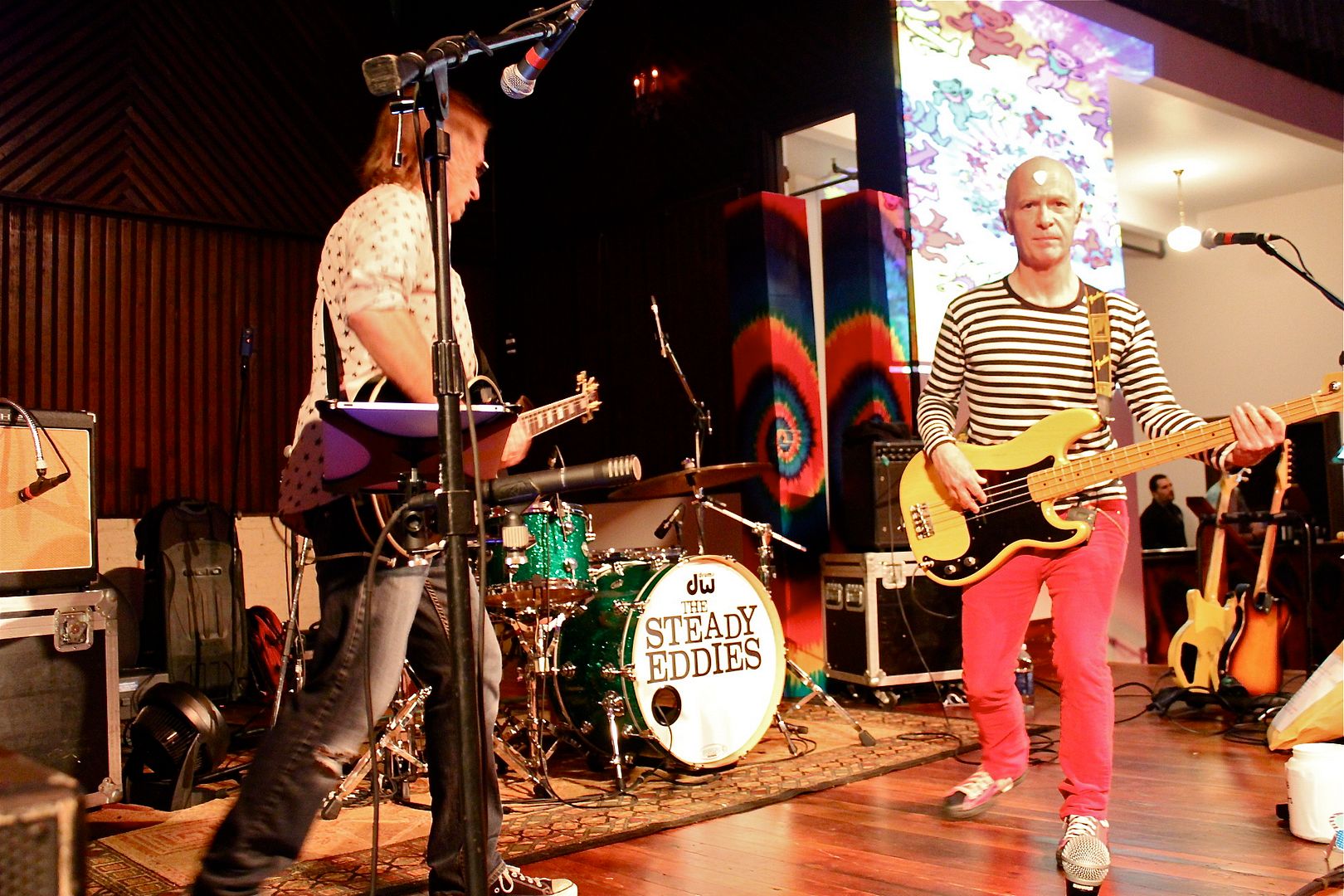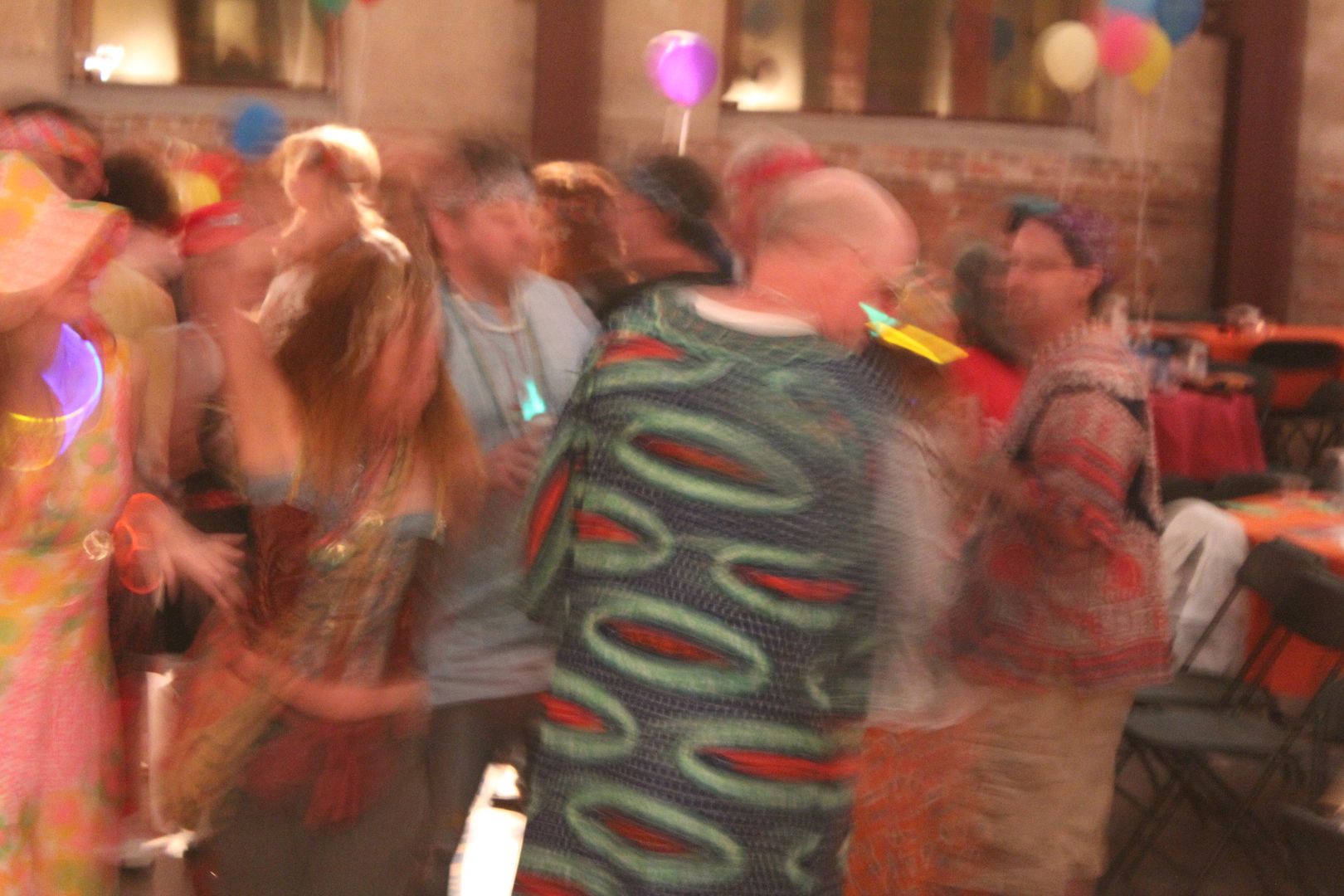 L: Best Dressed Hippie winner Gay Adair
R: Best Dressed Hippie winner – C'mon, tie dyed tails? Love it!
Letting the audience weigh in on the Hippie best at cutting a rug
L: Tini Howard
R: Pre-Hippie Ball makeup with Holly Zacchino of BeUty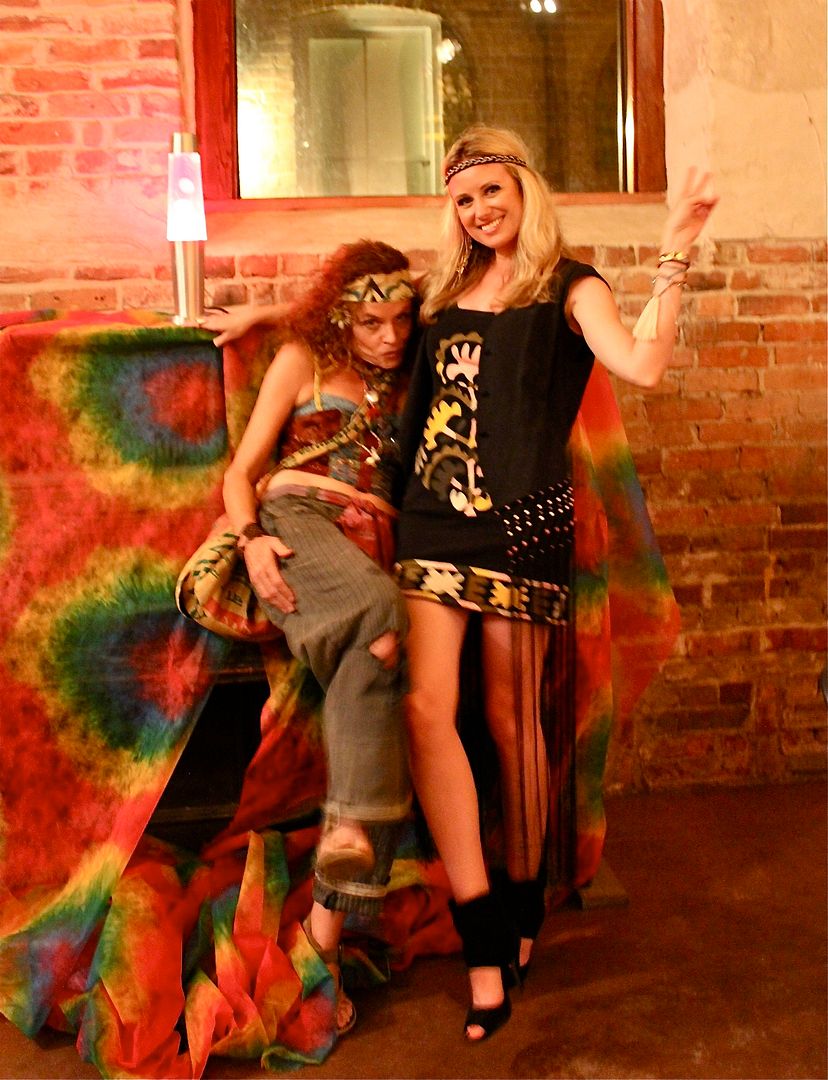 To see more photos from
The Hippie Ball,
Click HERE.
SHOP IT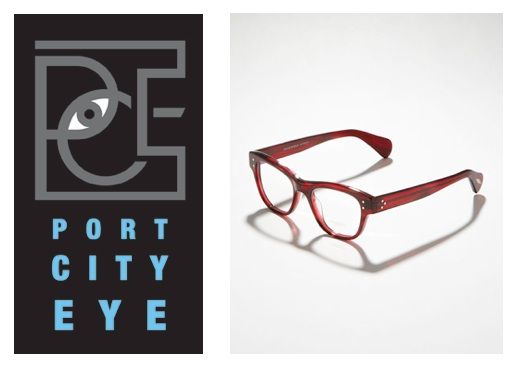 Oliver Peoples "Parsons" $338
from Port City Eye
The heavy design is inspired by the bold styling of the 1950s
and is ideal for the individual who wants to make a statement.
This frame would also make a great pair of sunglasses for summer!
July 5 
    TONIGHT! 
Cory Chisel &
The Wandering Sons Concert
The Soapbox
WILMINGTON
Click HERE 
to get your Cory Chisel Tickets!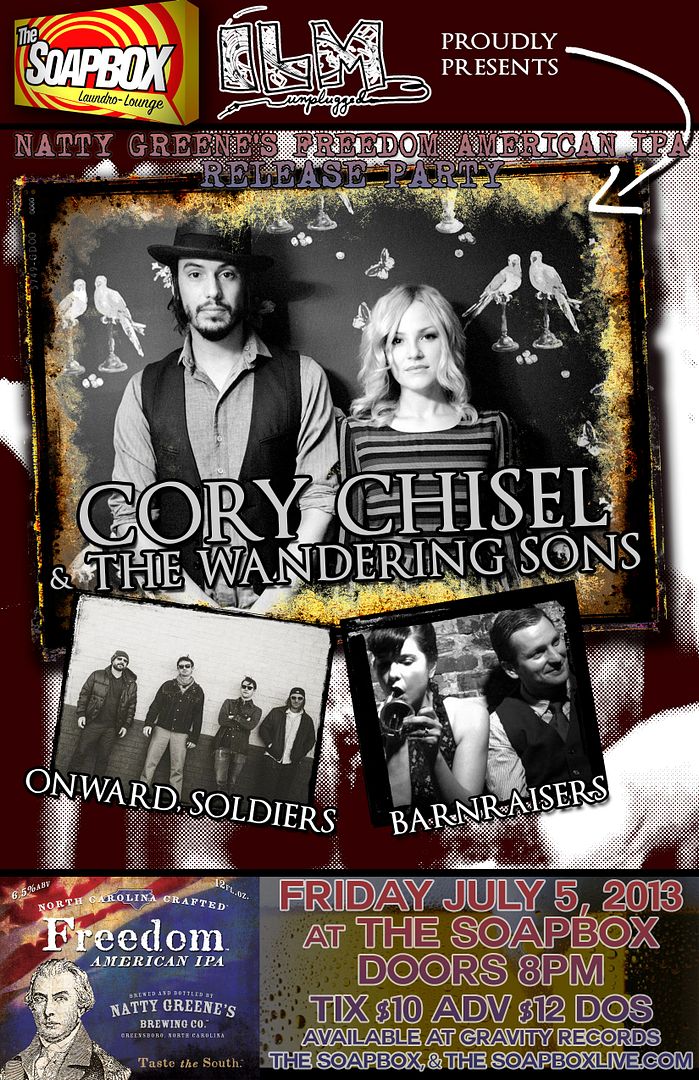 To read (and listen) to my FULL interview
with Cory Chisel on matters of style,
Click HERE.
Don't Miss one of the last shows
at The Soapbox! (closing July 28)

September 19
3rd Annual Great Gatsby Gala
The City Club
GREAT GATSBY GALA
Hosted by Jess James, this style-based event kicks off The City Club's membership drive (with an 80% discount the night of the event) and is inspired by Fitzgerald'sGreat American Novel, the recent Baz Luhrmann film and the joie de vivre of the Jazz Age glamourized by Scott and Zelda Fitzgerald. The Great Gatsby Gala is the City Club of Wilmington's  only event open to the public. You do not want to miss this special event!
Don't forget to mention you saw this amazing
deal in the FASHION FIX!