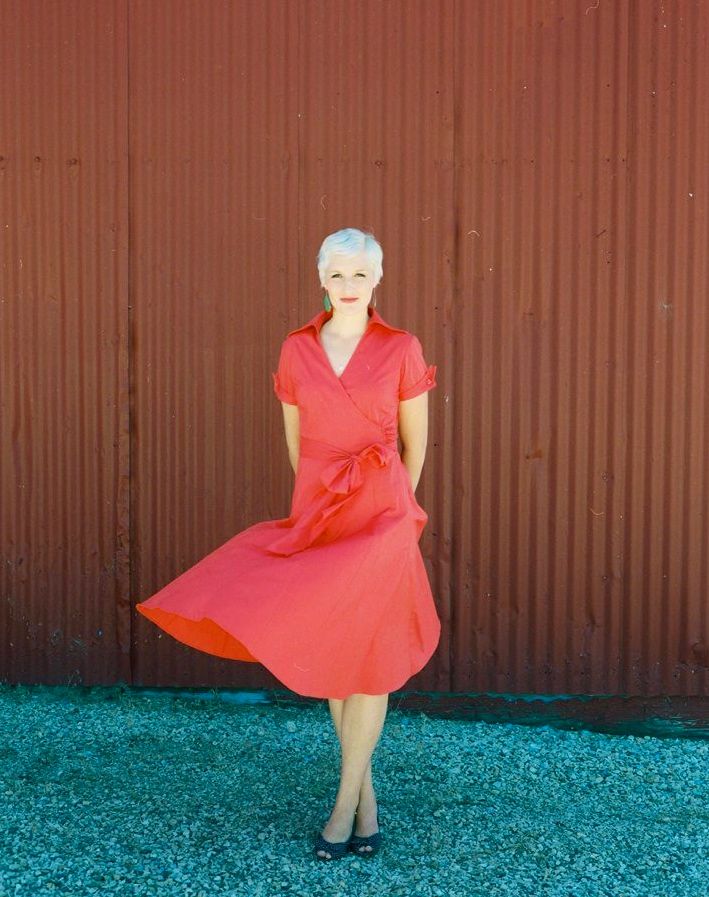 I thought my parents might disown me when I told them I would be hosting the Fashion Fix Royal Wedding event instead of attending their first house concert featuring Sarah Sample, an "Americana" folk singer they became smitten with during her performance on the Cayamo Cruise (a cruise ship dedicated to singer songwriters).
Okay, that might be a bit dramatic but I was anticipating at least a week of the "silent treatment" from my dad. The truth is, I hated to miss it. I loved the idea of my parents hosting an actual concert inside the walls of my childhood home in Woodstown, NJ.
Sometime after retirement and around the time my Dad discovered the film "Once" starring musicians Glen Hansard and Marketa Irglova, my parents found a shared passion for seeking out sentimentally charged singer songwriters (Tift Merritt, The Swell Season, Dala Girls and Liz Longley are favorites alongside Sarah) to follow near (the Tri-State area) and far (Mexico and Belize with Cayamo, Rocky Mountain Folks Fest in Colorado).
Sarah, who has shared the stage with Edie Carey and recently won the Singer/Songwriter award for her song "Calling Your Name" by international group We are Listening, performed songs from her latest release "Someday, Someday" in my parents living room filled with old and new friends and neighbors, most of whom were discovering Sarah's music for the first time. From the crowd's enthusiastic feedback, as well as my parents, it seems the consensus would agree with Marketa of The Swell Season on seeing Sarah perform live: "A lovely memory I will cherish."
While visiting my parents this week, I called Sarah at her historic home in Boise, Idaho, a "small city with a great independent record store" for the first time to discuss how her lifestyle as a working musician informs her personal style. I'm not sure if it was because my parents treated her "like family" taking her to breakfast and on a tour of my hometown or because she spent the night in my childhood bed, but within minutes I felt at ease, gaining a sense of her earnest enthusiasm and gracious spirit that continues to connect her with her audience night after night.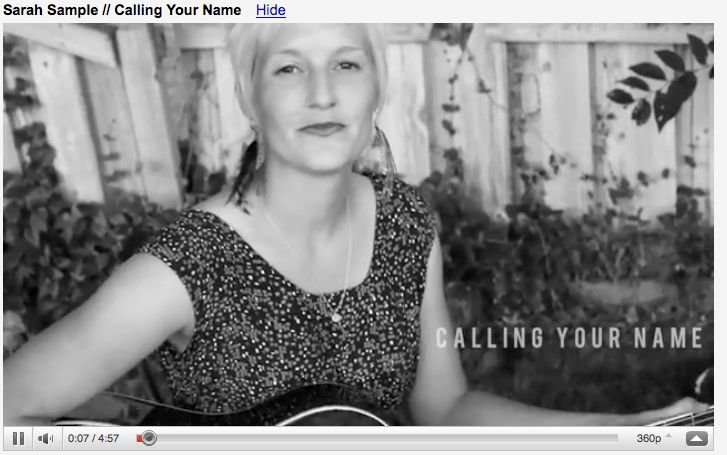 Please click on the VIDEO above to hear
Sarah's award-winning song "Calling Your Name"
ff: How does your music speak to your personal style?
"Let's see. I feel like I don't consider myself a very fashionable person even though I love clothes and dressing up. I try to be authentic in what I create and that extends into what I wear or how I wear it and in choosing what I like. I remember I went through this funny phase in high school when I was attached to  wearing this certain bandana. Not a very fashionable thing to do. I've always thought, if you are brave enough to do it, then you can pull it off. Same goes with music. As long as you are fully invested in it, it works – even if it's not what's popular or on trend. If I'm writing a song and feel I'm onto something and its authentically resonating with me, I will move forward in it.  I haven't had much reservation in my life with what I wear and what I like. I just think, 'Does it feel like me?'" and go from there."
ff: Do you give a lot of thought to what you wear onstage?
"Yes, I do. It's hard when you're on the road to travel with a lot of clothes. So much room in my suitcase is taken up with cords, CDs, etc. It's kind of funny how so many performers are seen wearing the same go-to shirt at so many shows. It's something I try to treat with care. I feel like if you dress up, then people feel like they are getting what they pay for a little bit. Yes, this is a show. I recently played at a cafe in Fairfield, Iowa and after the show, an old woman came up to me and said, 'Thank you, thank you, thank
you for dressing up.'( Laughs) No mention on whether she enjoyed the music but she sure was glad I wasn't in jeans and a t-shirt."
ff: What is  your go-to look while you're performing?
"I love vintage dresses with heels. I've really enjoyed wearing a black knee-length dress I got in Seattle with various belts or ribbons around the waist, a vintage plaid skirt from Chicago with a sweater and a wide belt to pull it all together,  and a 1950's salmon-y pink dress with a full, billowy skirt. I sometimes wear jeans at a show, but always with heels. I don't want to feel like I'm just walking out of Kmart.  As far as signature jewelry, I like to wear a delicate silver necklace with two overlapping circles with my husband and daughter June's names engraved on it."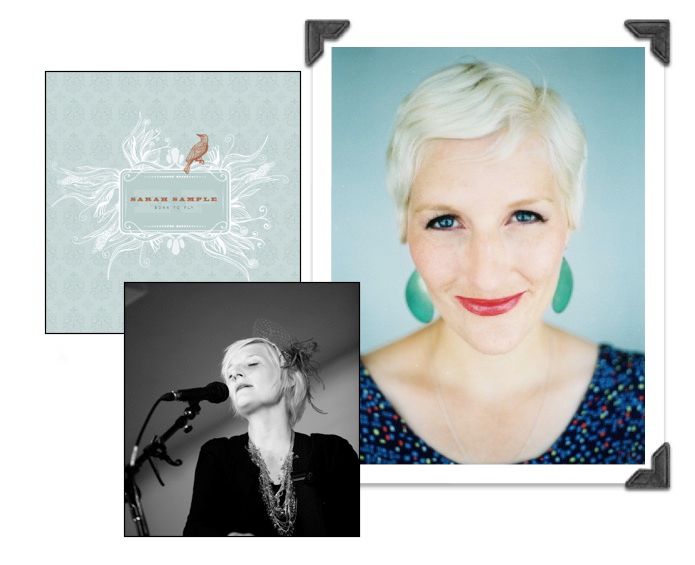 ff: How does your on-stage look differ from your everyday style?
"I have a 3-year-old so I spend a lot of time chasing her around. I wipe grubby hands all day. (Laughs) We both have several outfit changes throughout the day. For everyday, I try to be comfortable. I love wearing black but I'm not afraid to wear bold colors and mix patterns. I've benefitted from having a fashionable sister, who worked at a really cool boutique in Seattle. And, I adore hats – especially ones with netting. Just wish I could wear them more."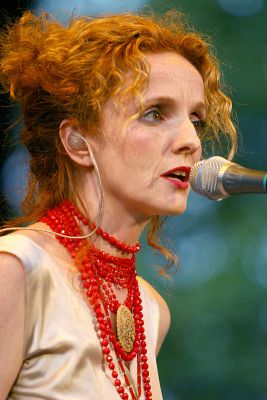 ff: Is there any musician you admire that you also view as a personal style icon?
"Patty Griffin. I love her music. She's based out of Austin (where Sarah's dad lives) and is an incredible songwriter. Everytime I see her live I always love her outfits. Over and over again, I think she's striking on a stage. It's not just her clothes. She always has the most incredible shoes and jewelry. Her taste is a little edgy, but classy. Never cheap. Never conventional. Really love that about her style."
ff: If you could perform with any living artist, who would it be? What would you wear?
"Patty Griffin or Bonnie Raitt. I would definitely want to go shopping for a new dress hallmarked by the feeling like I was really stepping it up."
ff: Favorite part about your time in Woodstown?
"Driving into that atmosphere after being in NYC for several days, it was such a fresh breath of air. It was so green, beautiful with a slower pace. It was really kind of nurturing to be there. Half of my shows are house concerts hosted by people like your parents who really appreciate musicians  and travel to go see them. There is a difference getting to play for people like that. They hear it differently because they care about it so much."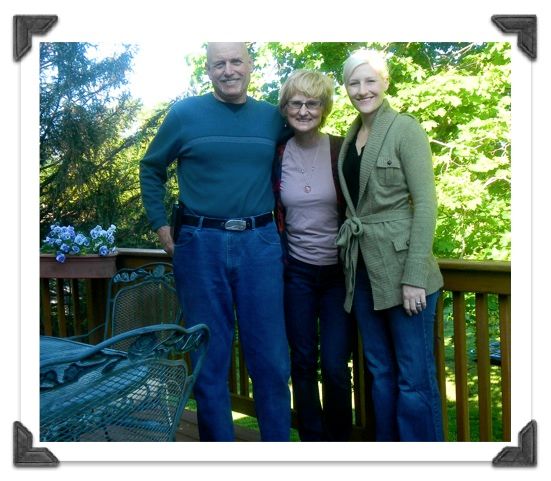 Sarah with my parents in New Jersey
ff: Favorite style mantra or tip?
"I don't always do it but it would be to always wear red lipstick. I have a grandmother from the south who is very aware of manners and what's appropriate. She always says any girl looks great in red lipstick. Everytime we're around her, we're very conscious to slap on our red lipstick. When we've said to her, 'but it doesn't really go with what we're wearing', she responds – 'Red goes with everything, darling.'"
IT'S TIME FOR STYLE SWAP WILMINGTON!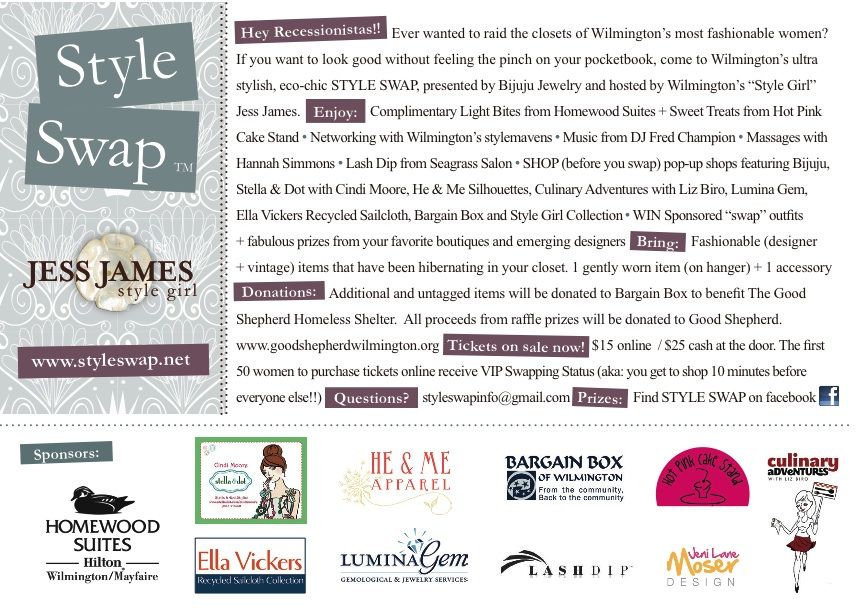 WIN IT at STYLE SWAP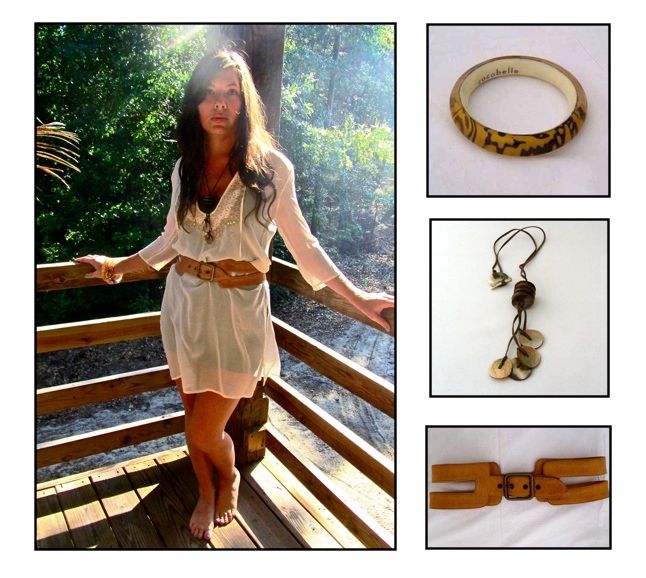 Sponsored Swap Outfit – Accessories from Cocobelle:
French Belt: Genuine leather high-waist belt, $105,
Kate Necklace: Mother-of-pearl on suede, $22,
Paisley Bangle: Paisley batik enclosed in stackable resin bangle, $40 / Total Value: $167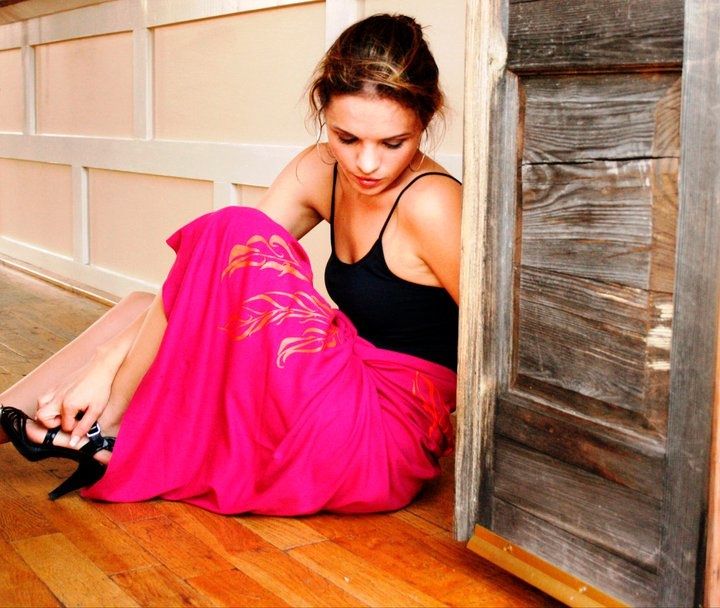 Raspberry Silhouette shown as high waisted skirt, $52 from He & Me
(available at Ziabird)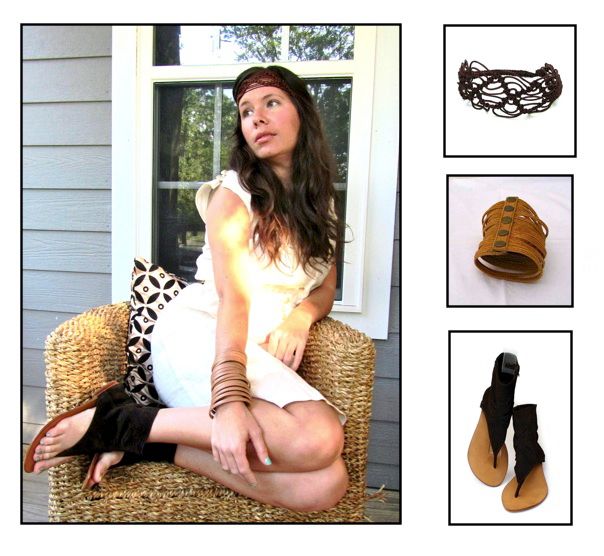 Sponsored Swap Outfit – Accessories from Cocobelle:
Bahiana Sandals: Suede thong sandal featuring cinched front & back, covered heel with zip closure on leather sole, $176,
Thick Leather Bracelet: Geniune leather bracelet with metal snaps, $75,
Satin Headband: Woven satin on elastic, $18
Total Value: $269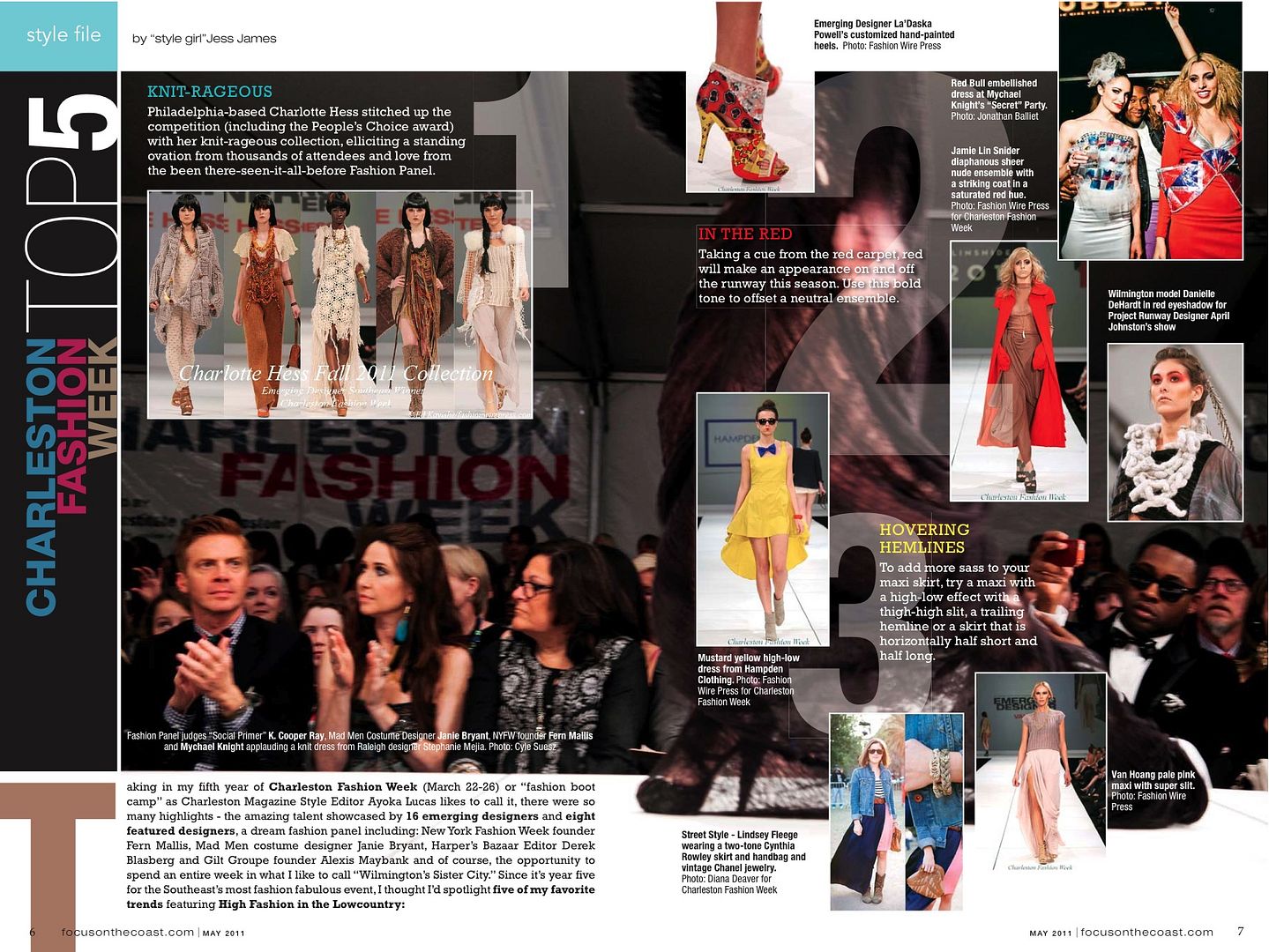 Before it's too late,
pick up the May issue of Focus on the Coast
to see Style Girl's 5 Favorite Trends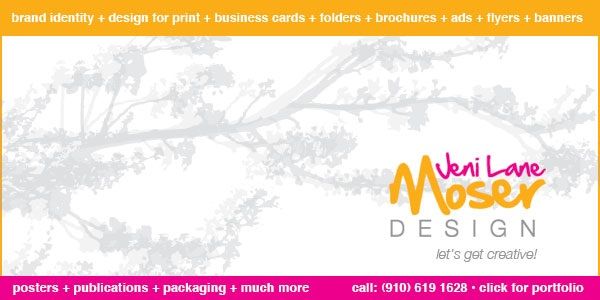 Watch Videographer Adam Gilbert's beautiful VIDEO coverage from the FASHION FIX Royal Wedding Event presented by Wilmington Dermatology Center by clicking HERE.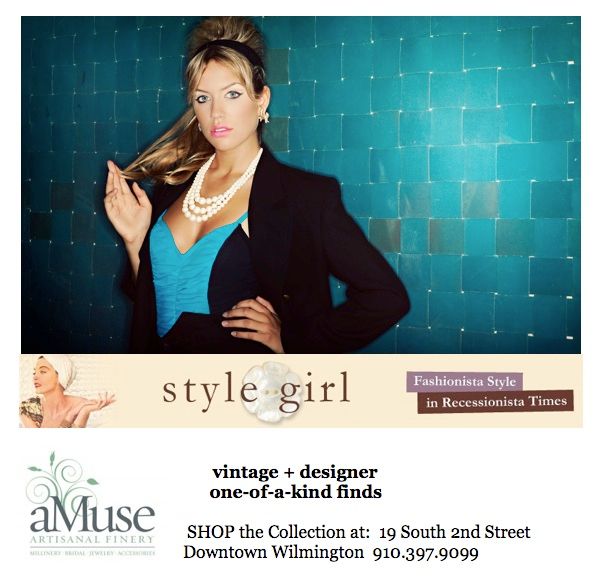 June 9
Style Swap Wilmington
Homewood Suites at Mayfaire
WILMINGTON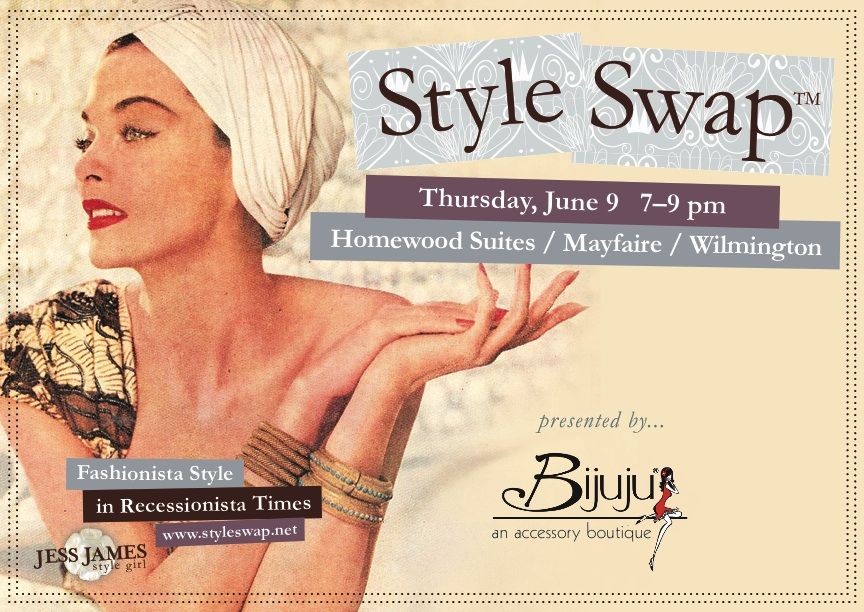 WHAT: Ever wanted to raid the closets of Wilmington's most fashionable women? If you want to look good without feeling the pinch on your pocketbook, come to Wilmington's ultra stylish, eco-chic  STYLE SWAP, presented by Bijuju Jewelry and hosted by Wilmington's "Style Girl" Jess James.
ENJOY:
* Comp Bites from Homewood Suites + Sweet Treats from Hot Pink Cake Stand
* Networking with Wilmington's stylemavens + Music from DJ Fred Champion
* Massages with Hannah Simmons and Lash Dip from Seagrass Salon
* SHOP (before you swap) pop-up shops featuring Bijuju, Stella & Dot with Cindi Moore, He & Me silhouettes, Culinary Adventures with Liz Biro, Lumina Gem, Ella Vickers Recycled Sailcloth, Bargain Box and Style Girl Collection
* WIN Sponsored "swap" outfits + fabulous prizes from your favorite boutiques and emerging designers
BRING:
Fashionable (designer + vintage) items that have been hibernating in your closet.
1 gently worn item (on hanger) + 1 accessory
DONATIONS:
Additional and untagged items will be donated to Bargain Box to benefit The Good Shepherd Homeless Shelter.   All proceeds from raffle prizes will be donated to Good Shepherd. www.goodshepherdwilmington.org
WHEN: Thurday, June 9th 7-9pm
WHERE: Homewood Suites Hotel at Mayfaire


WANNA GO?: TICKETS: ON SALE NOW!
$15 online – Click HERE to get Your Tickets! / $25 cash at the door
The first 50 women to purchase tickets online receive VIP Swapping Status
(aka: you get to shop 10 minutes before everyone else!!)
June 11
STAN JAM III Benefit Concert and Art Auction
Projekte
WILMINGTON
WHAT: Bonnie England of Projekte is pleased to host "STAN JAM III Benefit Concert and Art Auction" a Stop Titan Benefit with musical performances (starring our talented friends Hope & Jamin of My Wonderful Machine) and an art auction by local musicians and artists. The artists and musicians who donate their talents are passionate about uniting their voices to raise awareness to produce vital change.
WHEN: Saturday June 11, 6-10pm
WHERE: Projekte – 523 South 3rd Street
About FASHION FIX
Everyone needs a fashionable friend who knows the best places to shop. Looking for the insider scoop on the most sought-after deals?
Once a week (FASHION FRIDAYS), get your fashion fix with Style Girl's style tips, style on the street + more!
Please forward on to your oh-so-fashionable friends!