Charleston Fashion Week

The style bar was set Tuesday night as Charleston Fashion Week's
glitterati arrived for drinks in the Style Lounge before taking their
seats under the tents.  Here's a look at Who Wore What:





BOLD COLOR

L: Duolan Li in a LWD topped with a statement red coat and amazing lace-up booties. Love her date's unexpected pop of citrus.

R: Nathaniel Reeves in a pink bowtie with flops with wife and fashion designer Marysia Reeves, who turned heads in her saturated tangerine ensemble complemented to a tee by her friend Chassity Evans, LookLinger Love blogger.

NEUTRALS

Two of Charleston's Top 10 most stylish residents (selected through Charleston Magazine) "Vintage Queen" Lori Wyatt and Erin Perkins opted for neutral shades and the more texture, the better.

TRUE BLUE

Angela Finley wears a colorblock dress mixing nude and blue accessorized with a gorgeous pair of heels from Allsaints Spitalfields and boyfriend Tom Yu.



BOWTIES and BUTTONS

Fashion Designer and part-time model Chelsie Ravenell wears a crisp white shirt with gold angels for butons, turquoise bowtie and paint-splattered denim from his Kenneth Beatrice line.

L: Another dapper Charleston bloke working the red carpet.

R: The perfect fringed tie-dyed bag for Coachella!

Photography: Jess James

Style Girl featured in Charleston Magazine's CFW Style Style by Diana Deaver

Wearing a feather print dress by Funktional from Candy Store Collective, Karen Walker sunnies from TenOverSix, handmade clutch from Edge of Urge, 1970's ivory ring from Cape Fear Jewelry, turban from Lori Wyatt Vintage

Photography: Diana Deaver

My two favorite looks from Wednesday night!

L: Lindsay Fleege, Cynthia Rowley store manager

R: Anna Stahl in a 20s-inspired look

To see more of Diana's Street Style photos for

Charleston Magazine, click HERE.

Tickets are On Sale Now!

Style Swap Columbia

March 16

@ Momo's Bistro

Columbia's first Style Swap, presented by Van Jean and Pout, was produced by Flock and Rally, The Shop Tart
and Style Girl Jess James, along with our amazing group of Style
Ambassadors from USC's Fashion Group. Thank you Columbia for giving
Style Swap such a warm, stylish and Southern welcome! Looking forward
to my next visit 🙂


The beautiful women of Van Jean with ABC Correspondant Alicia Barnes

Shop Tart sales associate Carlie Flowers with Shop Tart Anne Postic

L: Raffle Prizes from La Roque and Event Sponsor Pink Sorbet

R: Jess James with Style Ambassador Ashleigh Armstrong – To read

Ashleigh's coverage of Style Swap, please visit The Shopping Savage



Style Ambassadors putting together a Style Swap look

Style Swap sponsor Jenny Thompson from Theodosia Jewelry

with Flock and Rally co-owner Tracie Broom

Fashion Board President Marquis Bias shares the merits on

this fabulous velvet cropped military jacket

On no she didn't! Yes, she did. A lucky winner took home a pair of

never worn Manolo Blahniks!



The lucky winner of a Dolce & Gabbana bustier!

Van Jean Melissa Blanchard's gorgeous Loeffler Randall sandals

Time for Musical Chairs!



Debi Schadel, co-owner of Flock and Rally, tallies up the raffle money raised

($750!) for The Women's Shelter

WATCH STYLE SWAP COLUMBIA ON THE NEWS!

To Watch the 11 o'clock news coverage at Style Swap's

first event in Columbia, SC, please click HERE.

Get feather hair extensions by Cheryl Kent, longer lashes by Ashley Padgett and  fabulous vintage clothing from The Style Girl Collection at the Ward Hair Design booth at The Azalea Festival downtown April 8 – 10. We'll be in the Red Riding Hood-themed white tent!

Style Swap is headed back to Charleston April 12th!

L: Nan Lawson Heart Japan Poster, $10 on Etsy / R: Tory Burch / Rue La La t-shirts

REMEMBERING ELIZABETH TAYLOR

The London Telegraph takes a look back at how Elizabeth Taylor,

who died at 79 on Wednesday, became a Style Icon for her generation.












May 7

Mint Julep Jubilee

Poplar Grove Plantation

WILMINGTON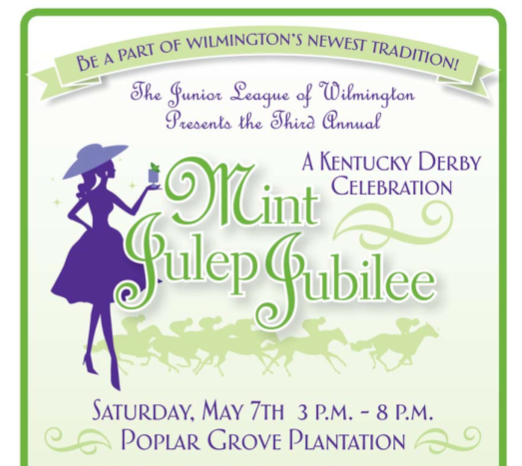 WHAT:
The Junior League of Wilmington will host the third annual "Mint Julep
Jubilee", a Kentucky Derby Celebration. This fundraiser event
encompasses all that makes the Kentucky Derby such a celebrated
American pastime: the excitement of the race, ladies and gents in their
stylish best, great food and drink, all with the backdrop of a
laid-back country setting.
WHEN: Saturday May 7th from 3-8pm
WHERE: Poplar Grove Plantation
WANNA GO?: $50 per person at www.jlwnc.org
(includes beer, wine, mint juleps and a southern fare buffet) / $60
after April 27th. Funds raised through sponsorship, ticket sales, and
silent auction will support community programs supported by The Junior
League, a non-profit 501(c)3 organization whose purpose is exclusively
educational and charitable.
About
FASHION FIX
Everyone needs a fashionable friend who knows the
best places to shop. Looking for the insider scoop on the most sought-after deals?

Once a week (FASHION FRIDAYS), get your fashion fix with Style Girl's style tips, style on the street + more!

Please forward on to your oh-so-fashionable friends!