Style Girl Jess James | Fashion Fix


With the Great Gatsby Gala only a night away, I thought it only fitting I share with you  the deco-inspired Savoy bracelet I just purchased from Jewelmint, my latest obsession. It resembles  a bracelet made from vintage shoe clips by Lulu Frost for J. Crew I coveted last season for over $100. The Jewelmint version, designed and curated by actress Kate Bosworth and Hollywood stylist Cher Coulter, is only $29.99, along with every other piece in their collection (per month) purchased by Jewelmint members. This customized jewelry club starts off with a style quiz determining if your personal style is more edgy Kate Moss, boho Nicole Ritchie or perhaps vintage tomboy like Alexa Chung.
From there, Jewelmint starts to develop your "showroom" where they feature your suggested pieces each month based on your style. There is no pressure to buy. You're free to browse. And if you're in need of inspiration, each piece is accompanied with a video and a tip from Kate or Cher on how to wear it.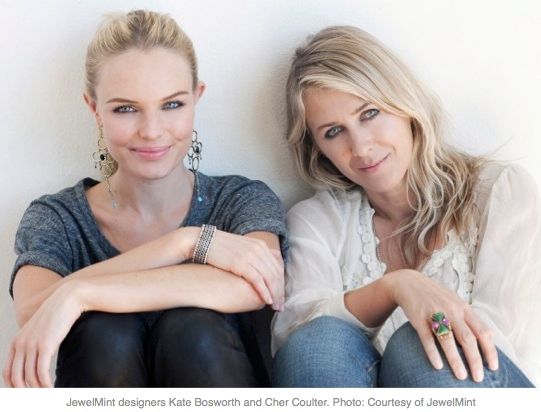 I have to admit, I was immediately intrigued the very first time I heard about this. Kate Bosworth may not have had much screen time since she caught a wave into Hollywood in Blue Crush, but she is a constant on the fashion scene and is always noted for her impeccable style. Plus, she even has great taste in men. Hello, Eric Northman.

My only hesitation was whether you would get quality pieces for such a low price. I decieded to take the plunge after seeing Lindsay Fleege, Cynthia Rowley's Southeast Ambassador and Charleston store manager, wearing the tassled Encore necklaces at the recent Sale Soiree.

Upon receiving each new purchase (and there have been quite a few during my short membership status), I'm always amazed at the beautiful packaging, attention to detail and the value. I could have easily spent double or triple for each.
Two of my favorite Jewelmint purchases

And if $29.99 is feeling a bit steep these days, discount codes abound and are eagerly shared by devoted fans on Facebook, Twitter and even a fan blog dedicated to all things JewelMint. 
 
Rest assured, Joel can attest to my newfound Jewelmint devotion with the series of mint-colored boxes that keep showing up at our doorstep. Hey, at least the shipping is free.
Here's your invitation to SIGN UP: http://jmnt.me/pO5e03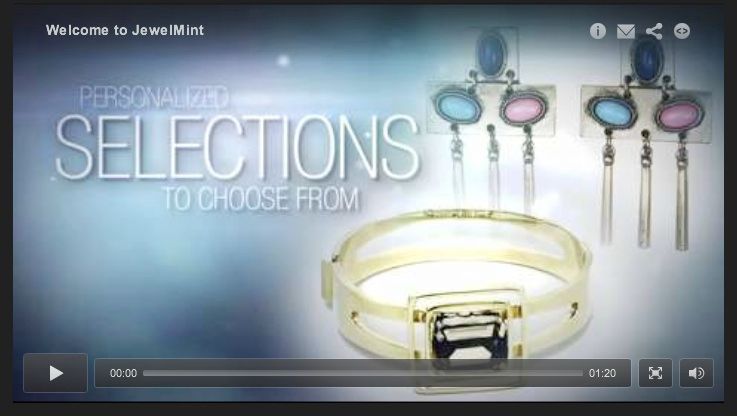 Ever wanted to see models breaking it down on the dance floor? Lanvin gives us a glimpse with a fun-loving video (

click HERE)

 starring Karen Elson, Raquel Zimmermann & Alber Elbaz himself shot by Steven Meisel for their Fall/Winter 2011/2012 campaign. Take a look. It's sure to make you smile – and wanna dance!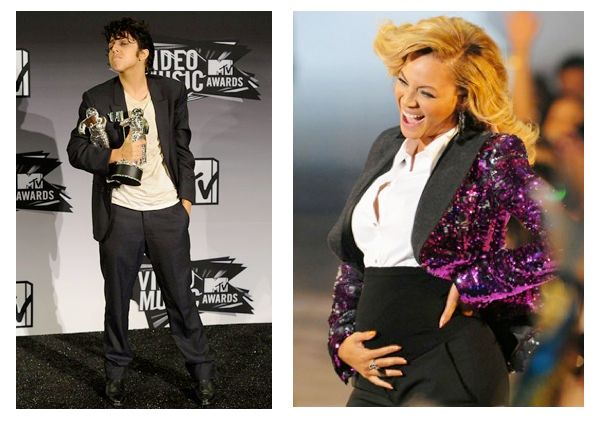 If you missed the MTV Video Music Awards (VMAs), note that Beyonce tastefully showed off her baby bump in an orange Lanvin caftan and later performed in a Dolce & Gabbana tuxedo pantsuit instead of her signature leotard. And, Lady Gaga went Lady Guy Guy dressed as her alter ego Jo Calderone. For New York Mag's fashion highlights,

click HERE.
Get ready for Fall Fashion!

Wilmington Dermatology presents…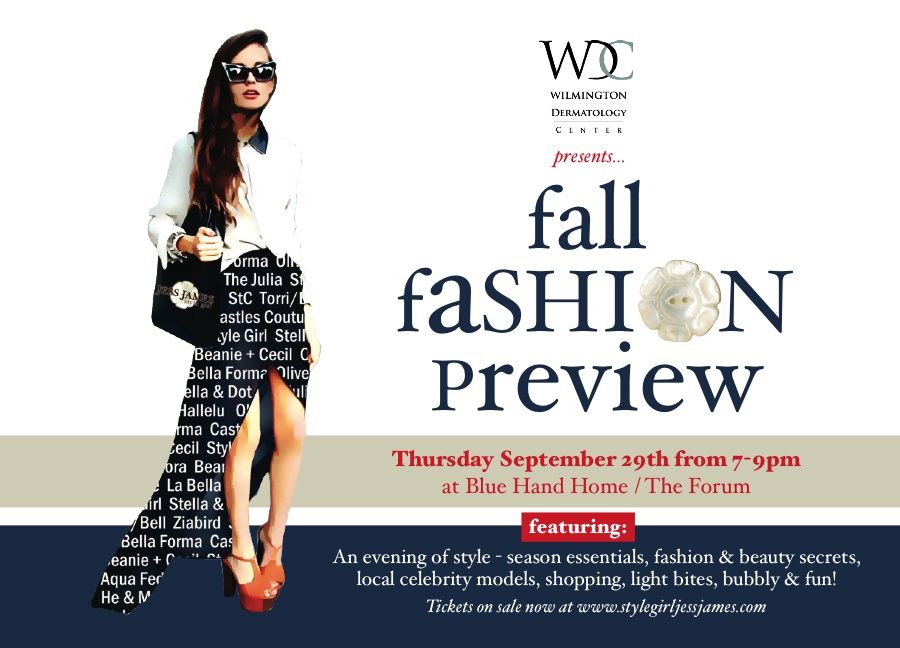 Get Your Ticket NOW – CLICK HERE.
First 25 to purchase tickets are registered to win the FALL FABULOUS package!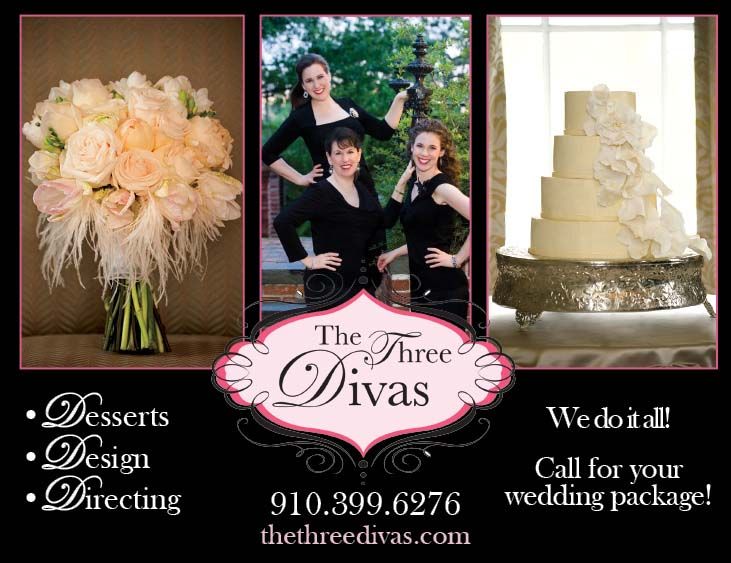 Watch this Wedding Video by The Three Divas!
This "Estee Lauder " bride, Laura, is the sister of Lisa Brown of Bella Rose Photography Wedding reception at The City Club
Event & Floral Design, Wedding Cake and Videography by The Three Divas

Sept 16

The Flea at BAC – Vintage & Fabulous

Brooklyn Arts Center

WILMINGTON

WHAT:

The finest vendors in the region (including Style Girl
Collection and He & Me Apparel!) will present an awesome array of vintage treasures—from antique furniture and chic clothing, to
one-of-a-kind jewelry, glass, and tableware—in BAC'S 123 year-old church. The courtyard will host more vendors, and guests can enjoy fantastic gourmet food as well as wine and other fabulous drinks from
the BAC cash bar.

WHEN: Friday, September 16th from 3-9pm

WHERE: Brooklyn Arts Center – 516 North 4th Street / Downtown Wilmington

WANNA GO?: Admission is $5. For more information, please contact Sarah Murphy at sarah@brooklynartsnc.com or 919-818-6406.

September 23

Pink Fashion Walk

128 South

WILMINGTON

WHAT:

Pink Fashion Walk, presented by Stylist Hair Studio, Britt Motorsport, Lula Balou, Home Again/ LuminaGem and Camille's Closet, benefits the Pretty In Pink Foundation, which recently launched a chapter in Wilmington. Runway models and breast cancer survivors will model clothing from Lula Balou, jewelry from Lumina Gem and hair accessories from Joanne Miranda. Hair and makeup by Stylist Hair Studio, music by DJ Brian Hood and food from 128 South Events & Catering.

WHEN: Friday, September 23 6:30pm – 10pm

WHERE: 128 South / 128 South Front Street / Downtown Wilmington

WANNA GO?: Tickets are $20 pre-sale via Joanne Miranda at joannemirandadesigns@yahoo.com or $25 at the door.

Sept 29

Fall Fashion PreviewBlue Hand Home

WILMINGTON

WHAT: 

An evening of style – season essentials, fashion & beauty secrets, local celebrity models, shopping, light bites, bubbly & fun!

Presented by Wilmington Dermatology and hosted by "Style Girl" Jess James, Celebrity Hair Stylist Steven Ward of Steven Ward Hair, Dr. Rosalyn George of Wilmington Dermatology, Regan Brown of MAC Cosmetics, Blue Hand Home's design team and your favorite boutique owners and designers including Aqua Fedora, Beanie + Cecil, Castles Couture, Hallelu, He & Me, La Bella Forma, Oliver, StC, Style Girl Collection,  Stella & Dot, The Julia, Torri/Bell and Ziabird. Mini-Makeovers, Massages by Hannah Simmons, Delectable bites from Mark Milner Catering, sweet treats from The Dessert Divas and wine & bubbly courtesy of The City Club.

WHEN: Thursday, Sept 29 from 7-9pm

WHERE: Blue Hand Home at The Forum

WANNA GO?: $17 – Limited Space. Tickets for sale NOW at stylegirljessjames.com. First 25 guests to purchase tickets online will be entered to win the "FALL FABULOUS" grand prize!
About FASHION FIXEveryone needs a fashionable friend who knows the best places to shop. Looking for the insider scoop on the most
sought-after deals?

Once a week (FASHION FRIDAYS), get your fashion fix with Style Girl's style tips, style on the street + more!

Please forward on to your oh-so-fashionable friends.
Copyright © 2011 Style
Girl Jess James, All rights reserved.