Style Girl Jess James | Fashion Fix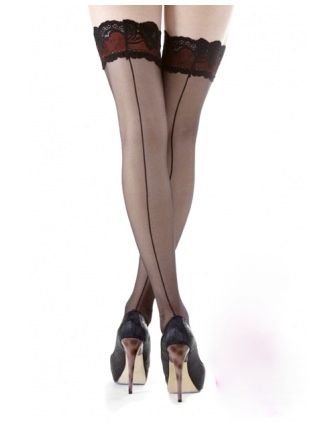 two-toned iridescent lace. $62
Although I'm pretty sure you don't need reminding, Valentine's Day is upon us.
Whether you are sending smoke signals to your special someone,
searching for someone who seems to have it all, or just need some retail
therapy romance this time of the year, I've got a few gifties to share
that are sure to sollicit some swooning.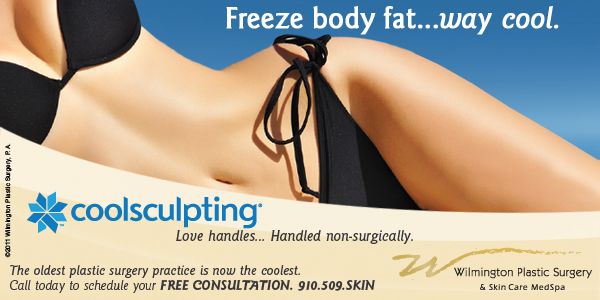 All girls love a bit of sparkle in their life! The druzy stone is sure to mesmerize.
L: Namesake braided druzy bracelet $154 handmade by Heather Long from Oliver
R: Marcia Moran druzy jewelry starting at $88 from Blue Hand Home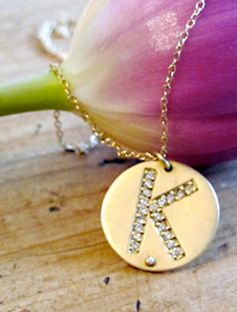 Seen on the likes of Lady Gaga, Britney Spears and Madonna, this is a bra 
that is begging to see the light of day.  With all the sheer blouses on the
runway right now, I'm declaring this the IT bra.
L: Marlies Dekkers Dame de Paris bra $99 from thelittleflirt.com
As you know, diamonds really are a girl's best friend. Paired with 
a little customization, you are golden for at least a month.

R: Diamond Initial Pendants made by local Jewelry Designer Vanessa Jenik 
exclusively for Beanie + Cecil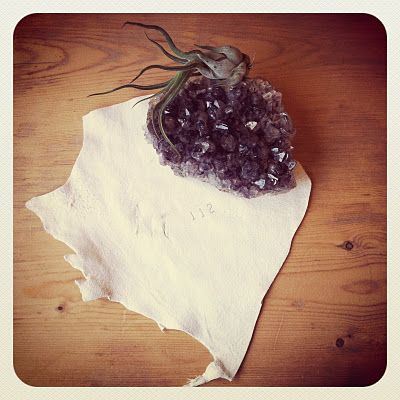 Thought I'd share with you my V-day gift for Joel.
He's nearly impossible to shop for since he never
truly wants anything. But, since the time of his sixteenth birthday
and I surprised him with GAP flannel boxers and a crystal, he's
always had an infinity for rocks and most recently
discovered he's got a bit of a green thumb. Hence, the
perfect combination I discovered via Instagram.
Amethyst with air plant $75
created by Blogger Chloe Touran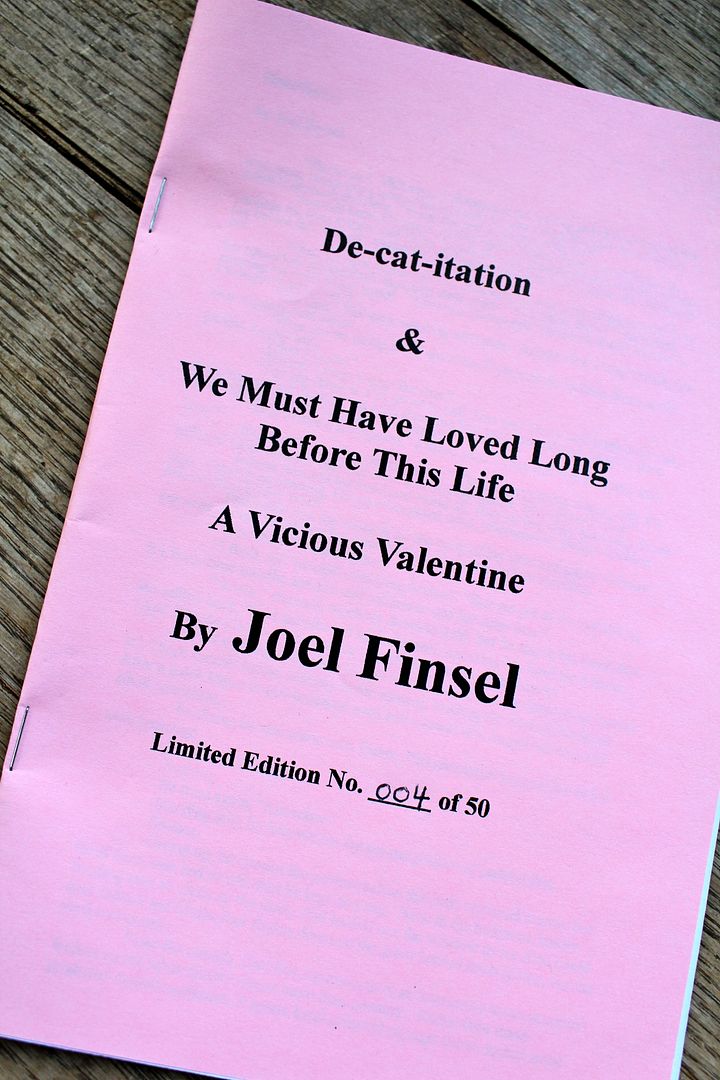 And, I just found out that Joel has surprised me by sharing our
love story in Old Books "Vicious Valentine" edition.
There are only 50 copies (free to Old Books customers)
so you better hurry if you want to read how we knew
"we must have loved long before this life."
Vicious Valentine from Old Books on Front
And, I leave you with James Joyce's Ulysses
(read at our wedding by my dear friend Jane):
And yes when I put the rose in my hair or shall I wear red yes
and how he kissed me under the Moorish wall
and I asked him with my eyes to ask again yes
and then he asked me would I say yes to say yes my mountain flower
first I put my arms around him yes
and drew him down to me yes
so he could feel my breasts all perfume yes
and his heart was going like mad
and yes I said yes I will
Yes.
HAPPY VALENTINE'S DAY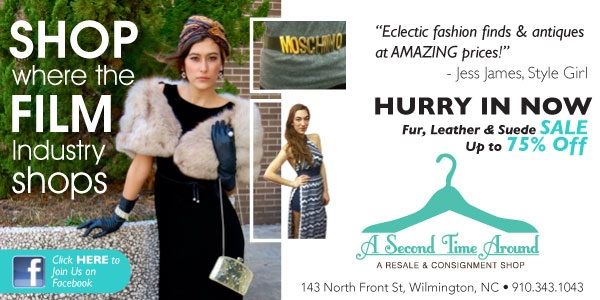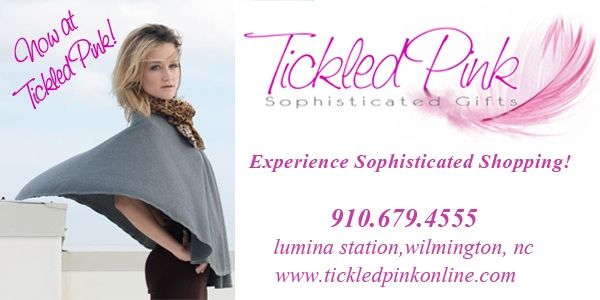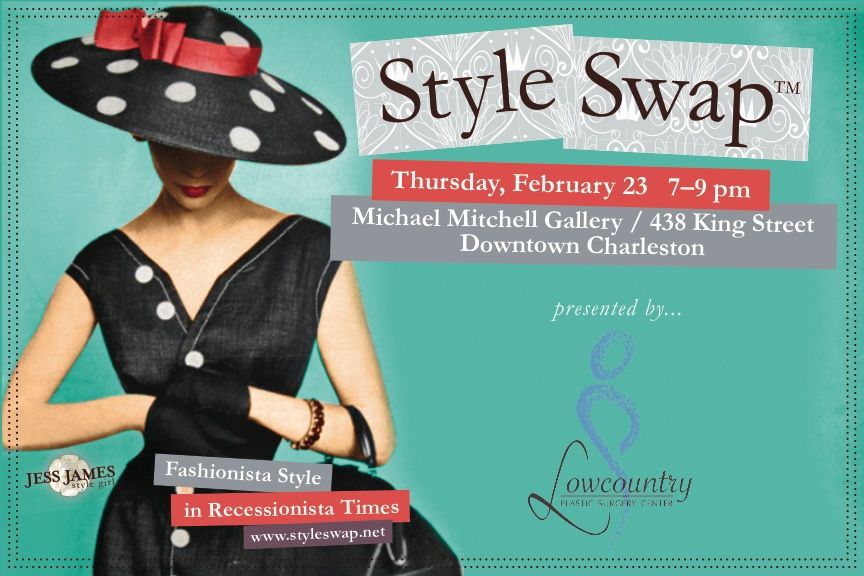 TICKETS: ON SALE NOW!
$15 online: Click HERE to get yours NOW! / $25 cash at the door
The first 25 women to purchase tickets online receive VIP Swapping Status (aka: you get to shop 10 minutes before everyone else) + first 50 will receive exclusive gift bags filled with goodies courtesy of Cos Bar!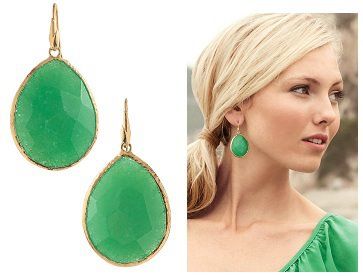 L: Lightweight, leather bifold tiny wallet/cardholder with vintage lining.  Completely sewn and designed by RUBYASSATA in Wilmington, North Carolina. Value: $24
R: Serenity Stone Drop Earrings. Hand cut polished semi-precious dyed jade drops are handset
in a shiny 12k gold plated hammered brass bezel $49 from Crissy Rowell, Stella & Dot www.stelladot.com/crissyrowell
L: Gorgeous sweetheart neckline, blush polka dot tiered dress from Cynthia Rowley, size 4 $89
R: Vintage Diane Freis green dot blouse with flutter sleeves from Rogue Vintage  $68
Mamie Ruth outfit from Fashion Designer Emily Bargeron. You can meet Emily at
Style Swap + shop her collection BEFORE Mamie Ruth hits the runway at CFW in March!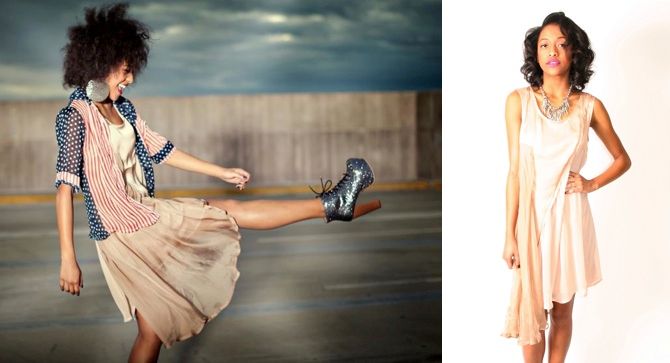 Latte Silk Dress $68 from NEW website
www.shopbones.com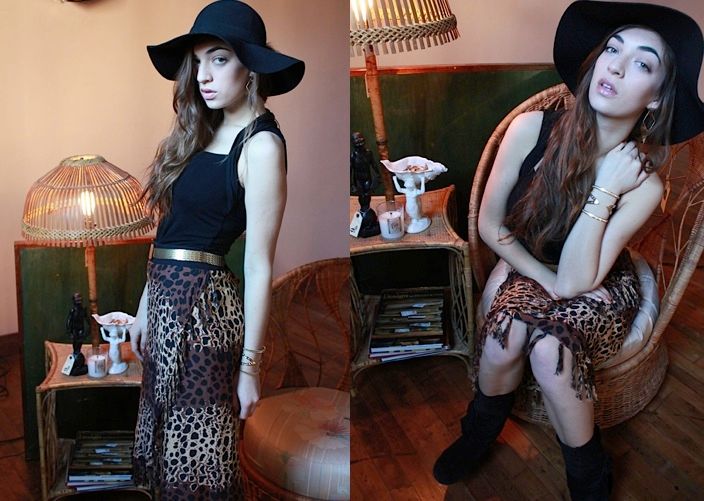 The Boomerang Sarong (no ties necessary!)
Size Small , Value: $38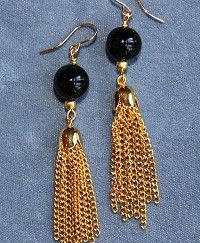 L: Bonham tassel drop earrings from Harper Vintage Modern
So MAD MEN! Value: $42
www.harpervintagemodern.com

R: A custom garment (shirt/top) designed by The Rose Knot.
Design something to reflect your personal style (valued at $100).
To see MORE Style Swap sponsored swap outfits + raffle items

to benefit ART FOR CHARITY, Click HERE.
Spring Fashion Preview is back!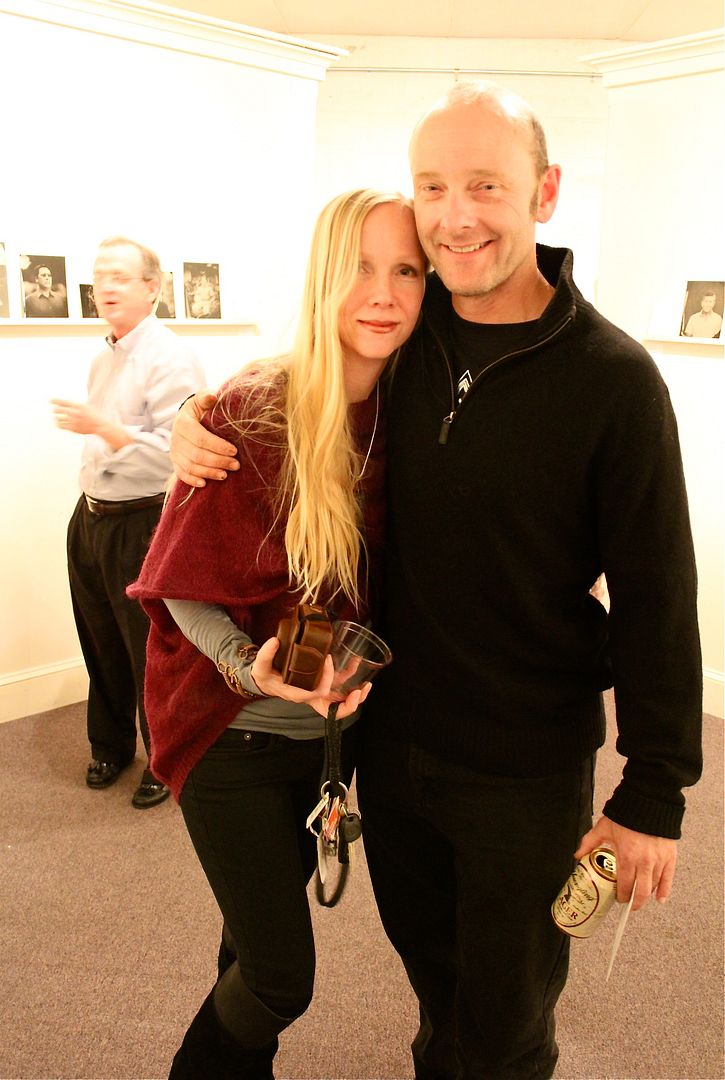 Photographer Harry Taylor (pictured left with his beautiful wife Sonia) hosted his "Rio Jordan" opening last Friday at 621 North 4th Gallery. A collection of photographic artifacts from the Cape Fear region, Taylor has "found his voice" through historic photographic processes (Tintypes) that examine the memory of a river. According to Taylor, "…through its long, Zen-like exposures, bulky cameras and onsite processing, wet-plate makes 'a thing,' a reflection of a different time and space. The wet-plate process comes from a time when the understanding of light was thought to provide insight to the mind of God."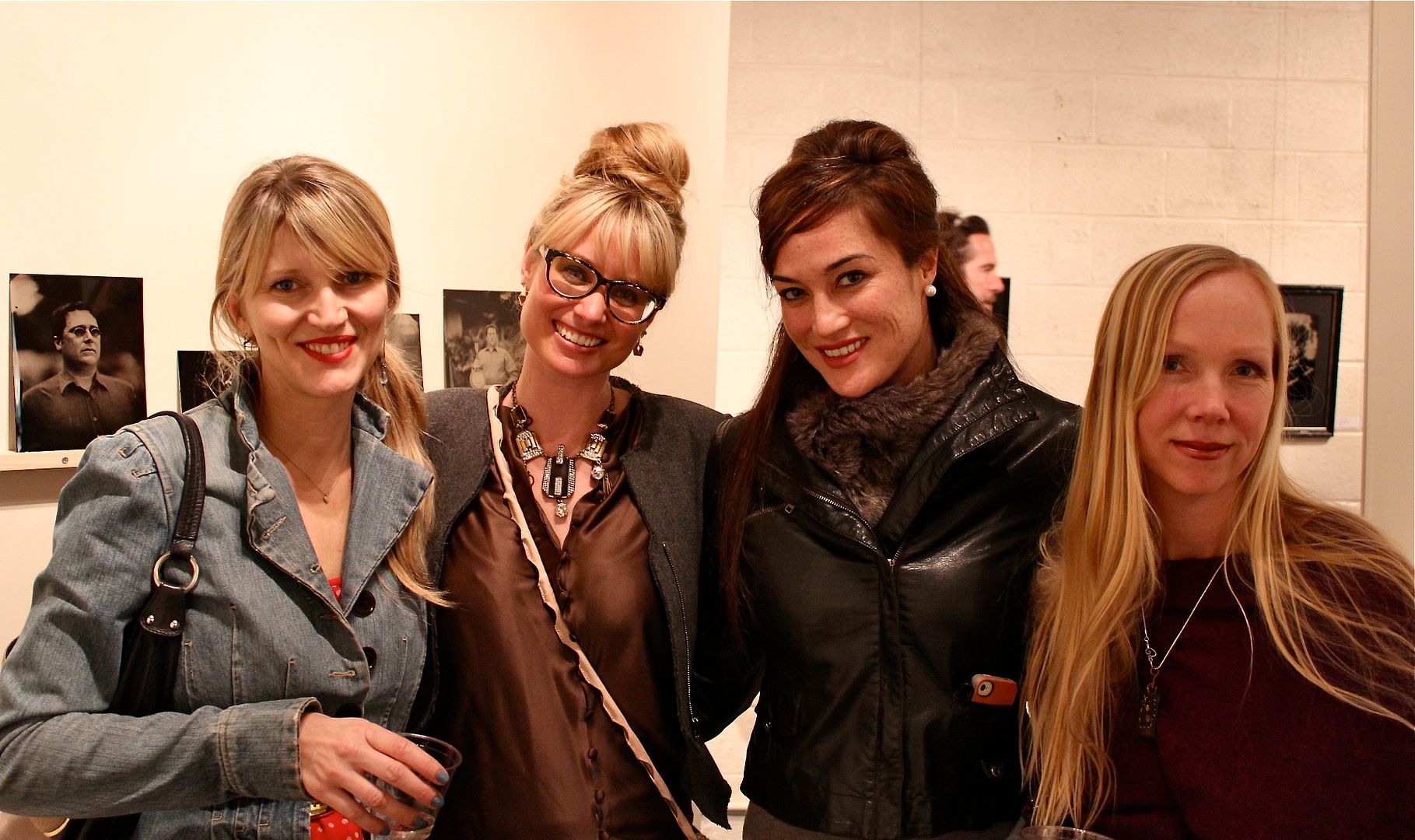 Shannon Dunne, Jess James, Leilani Balaban, Sonia Taylor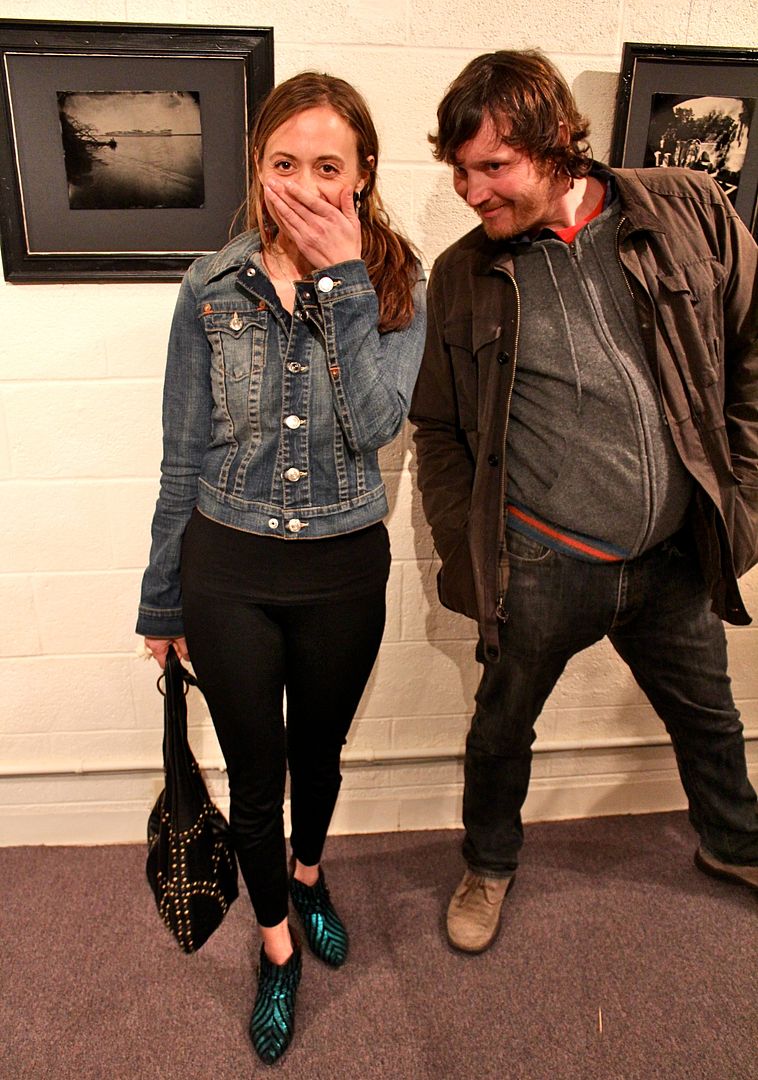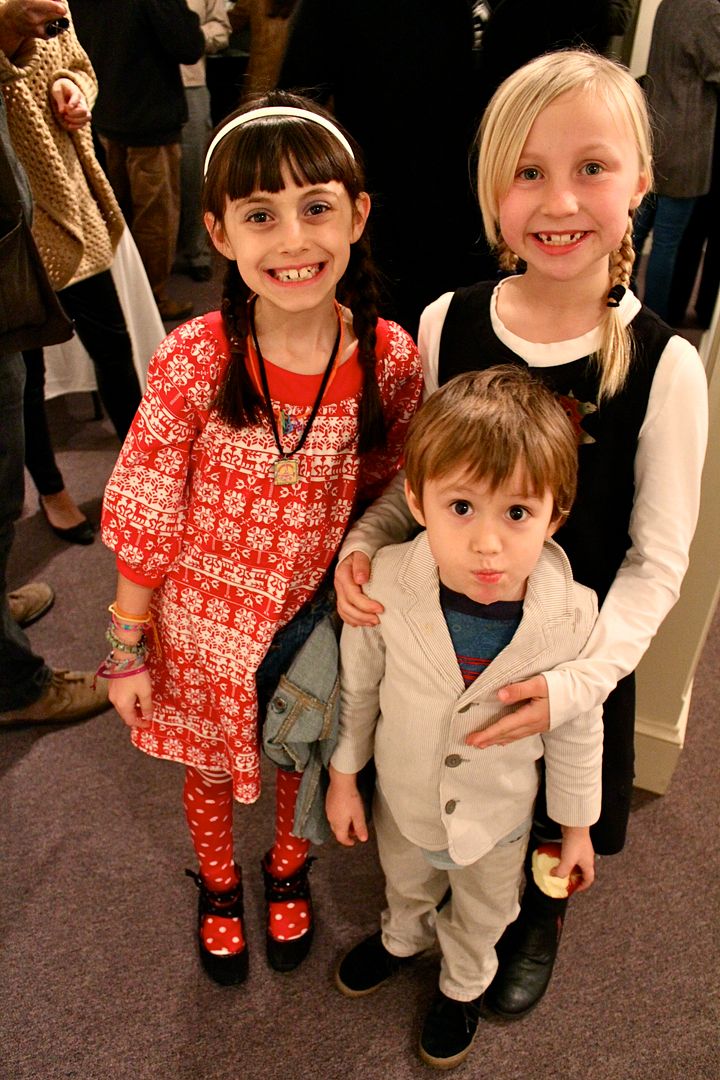 L: Artist Sullivan Dunn and Matt Hosmer getting the giggles
R: Their combined tribe – the cutest art patrons of the night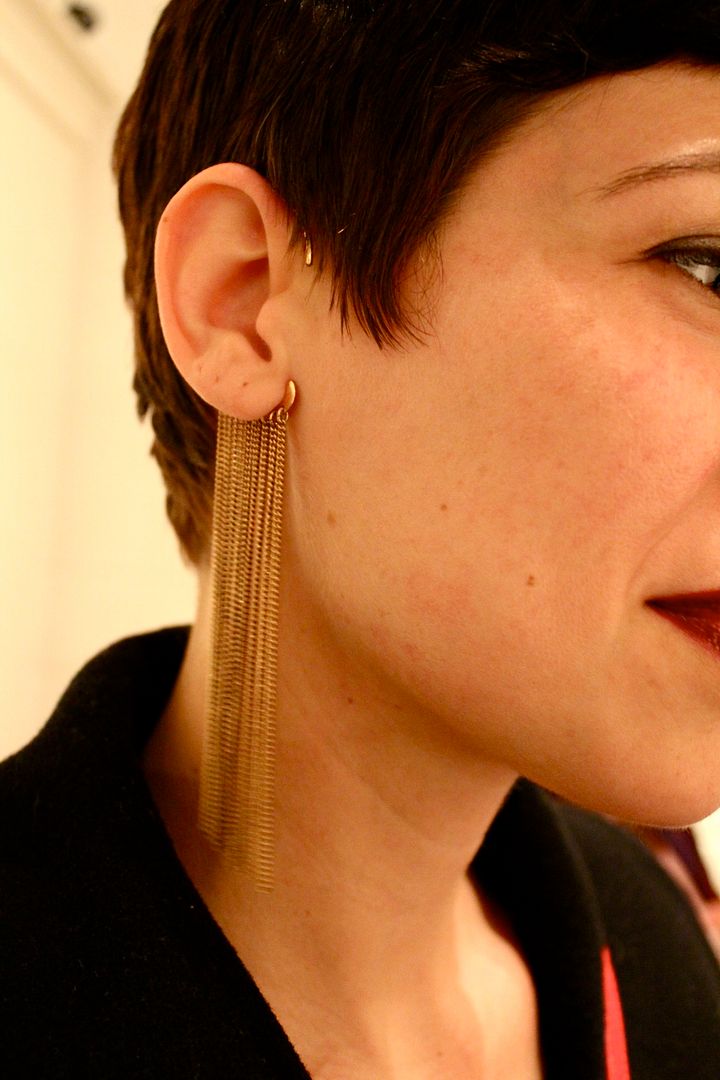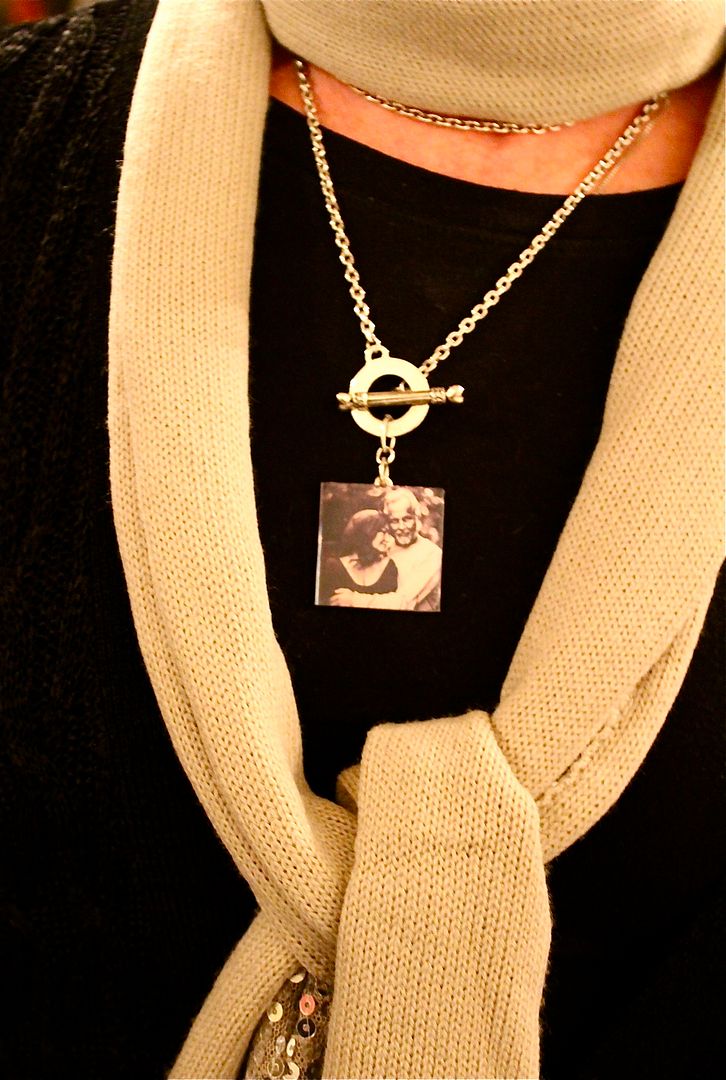 L: Vanessa Lacer's engaging ear candy. She told me she got it "at the mall"(stated as a four-letter-word). R: One of Harry's tintypes worn as a necklace.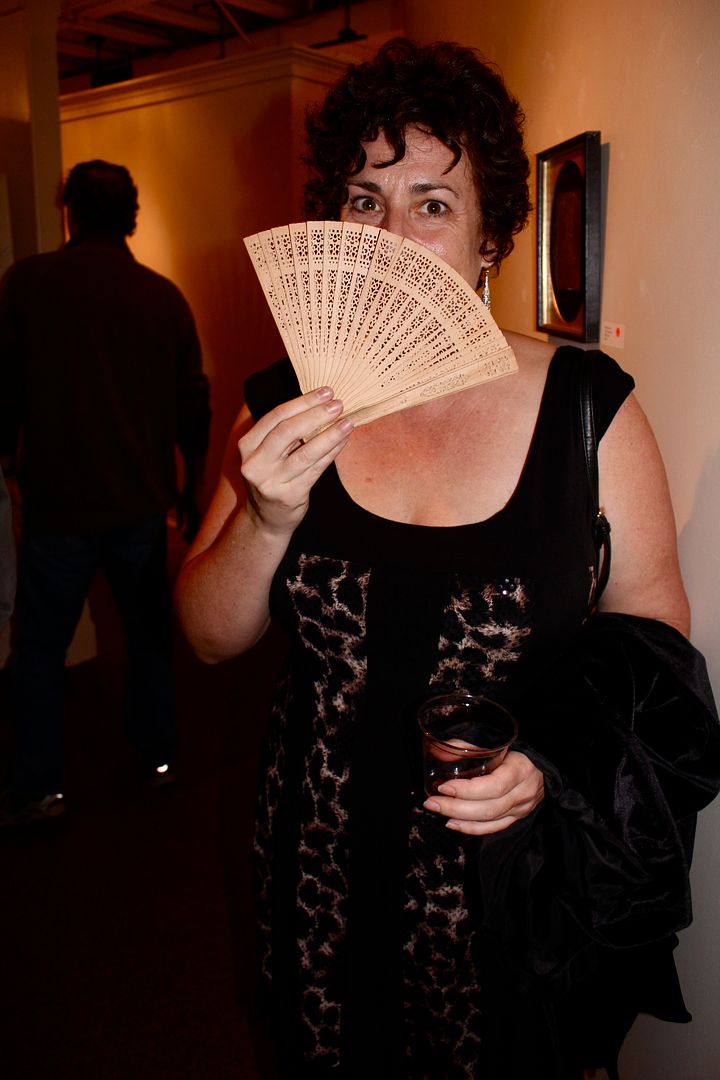 L: Fan-tabulous! R: Artist Gayle Tustin wearing a sharp vintage tuxedo jacket 
with a sculpture brooch made by her late friend Marcia Macdonald.
To see more photos from Harry Taylor's opening,
please visit the style girl FASHION FIX album.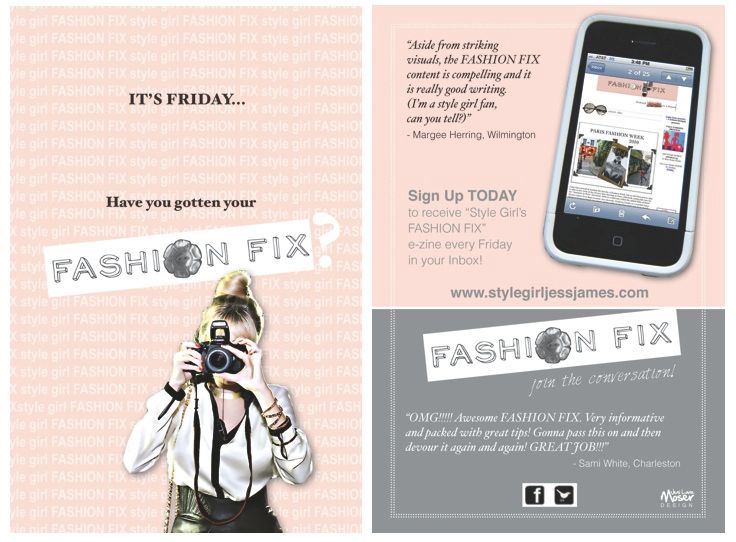 February 11
Bones Launch Party
Satellite Bar and Lounge
WILMINGTON

WHAT: Long-time Hallelu shopgirl, stylista and model Maddie Allen Clothes (men & women), is celebrating the launch of her own online boutique

SHOPBONES.COM and you're invited! Everything will be 20% off the night of the event. Live music by local band Rio Bravo.

WHEN: Saturday, Feb 11th
from 7-9 pm

WHERE: Satellite Bar and Lounge, 120 Greenfield Street Downtown Wilmington

February 15
Local Author Book Club
Old Books on Front Street
WILMINGTON


WHAT: Joel Finsel, local writer, one of Playboy's Top 10 Mixologists in 2010 who works his magic at Manna
four nights a week (and Style Girl's husband), is Old Books on Front
Street's featured local author in their book club series this month. Come out to hear Joel read excerpts from his novel Cocktails & Conversations at The Astral Plane along with cocktail demos of classic cocktails and a few of his originals mixed in for good measure.


WHEN: Feb 15th at 7pm

WHERE: Old Books
249 N. Front Street


For more info, call 910.76.BOOKS (26657)





February 18

1st Annual Indie Pop-Up Shop

Projekte
WILMINGTON


WHAT: Projekte hosts the the 1st Annual Indie Pop-Up Shop for ONE NIGHT ONLY featuring locally made art, photographs,vinyls, records, CD, unique jewelry, scarves, hats along with men's & women's clothing and more from Gravity Records, GEMS4U by Mary Sedcieski, Just Like Honey by Lesley Tamaev, Tiletechnics by Channing Duke, CNVS DESIGN by CN Stewart, Drifted by Dan & Lisa Nez, Designer Ashley Jane Sargent, Sewn To The Bone by Sergey Tamaev, Craftystuffs by Kris Lefler, Homoground by Lynn Casper and Half United. Wine tasting and live music with DJ W.A.M and Bradley White.


WHEN: Saturday Feb 18th from 6-10pm

WHERE:

Projekte / 523 South 3rd Street & Castle

WANNA GO?

: Entry is FREE.
About FASHION FIX 


Everyone needs a fashionable friend who knows the best places to shop. Looking for the insider scoop on the most sought-after deals?
Once a week (FASHION FRIDAYS), get your fashion fix with Style Girl's style tips, style on the street + more!
Please forward on to your oh-so-fashionable friends.
Copyright © 2011 Style
Girl Jess James, All rights reserved.