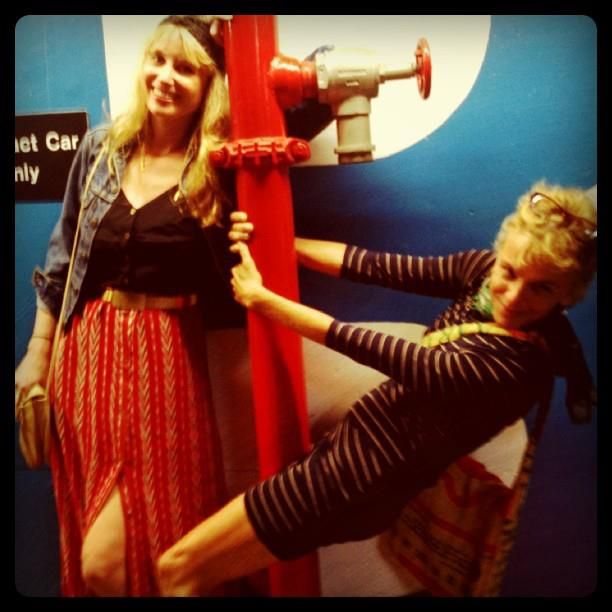 By: Jess James & Gay Adair
Gay:
Let's just get this out of the way..South By Southwest (or "SouthBy as
the locals say), the gigantic music festival in Austin, Texas each spring, is a blast.  I'll go back.  Before we got there, the word all round went like this, "The festival is not what it used to be, ruined."  And, "Way too many people;  go to Austin at another time" and, " Miss the craziness, you can't get food or drinks and the traffic is unbelievable!"
As Jess wryly commented, "Gayyyyy, come on. That sounds like something old folks say."
Jess:
While I struggled to find a last-minute halfway reasonable flight spending hours on Priceline.com into the wee hours of the morning, I imagined singing cowboys, vintage slinging, tacos and a touch of gypsy magic.
I finally settled on a Southwest flight from Charleston so I could be there upon my return for Charleston Fashion Week. An intensive 6-hour packing session ensued, carefully separating my maxi dresses and military boots in my Austin carry-on from the more glamorous studs, sequins and Lucite heels reserved for Charleston Fashion Week.
 See Below for More…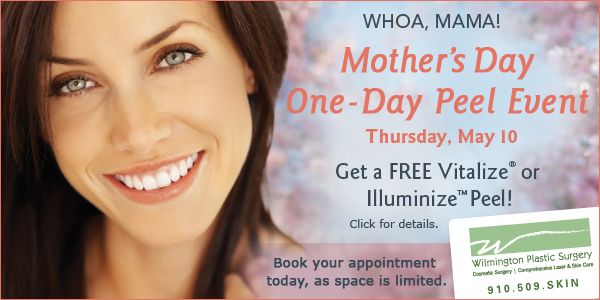 We booked our lodging last minute through
Airbnb.com
and ended up with the perfect house. 
Merri Gale, our hostess, had masterfully decorated her ranch house in 50's and 60's splender and had thought of everything a guest would need. We even had access to her organic garden.






Before Jess's arrival, I rented an electric bike from

Rocket Electrics. Kevin Rhodes, from the band Onward, Soldiers, and I rode around downtown Austin day and night, flying through heavy traffic like delighted birds to parties and venues with Alabama Shakes 

lyrics humming in our ears.

We stuck mainly with free events.  There was no end to music and fun to be had even 

without

a wristband.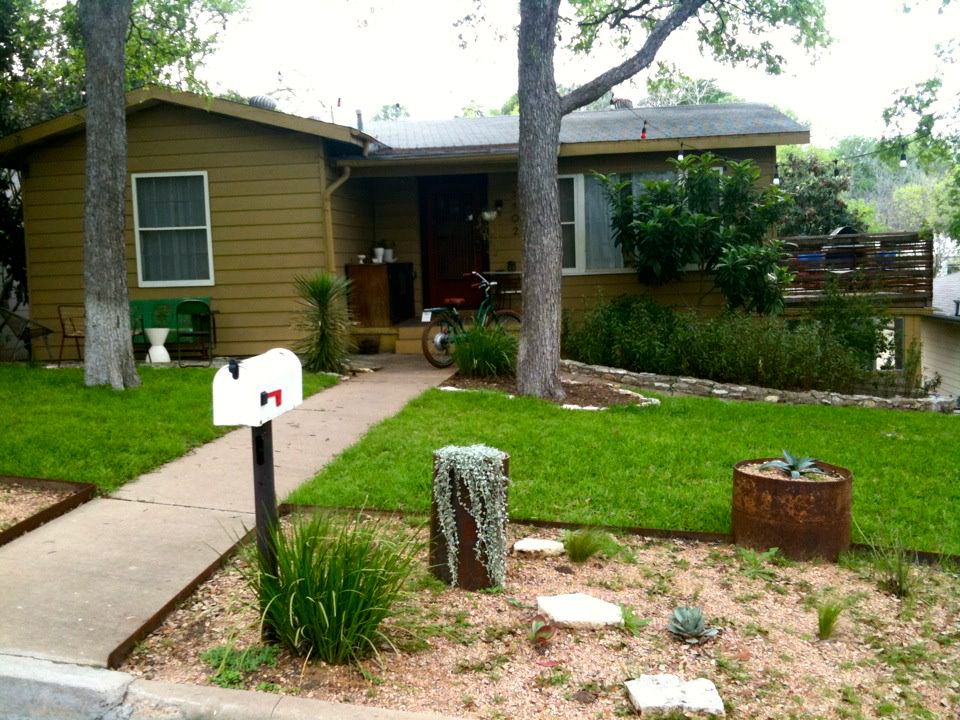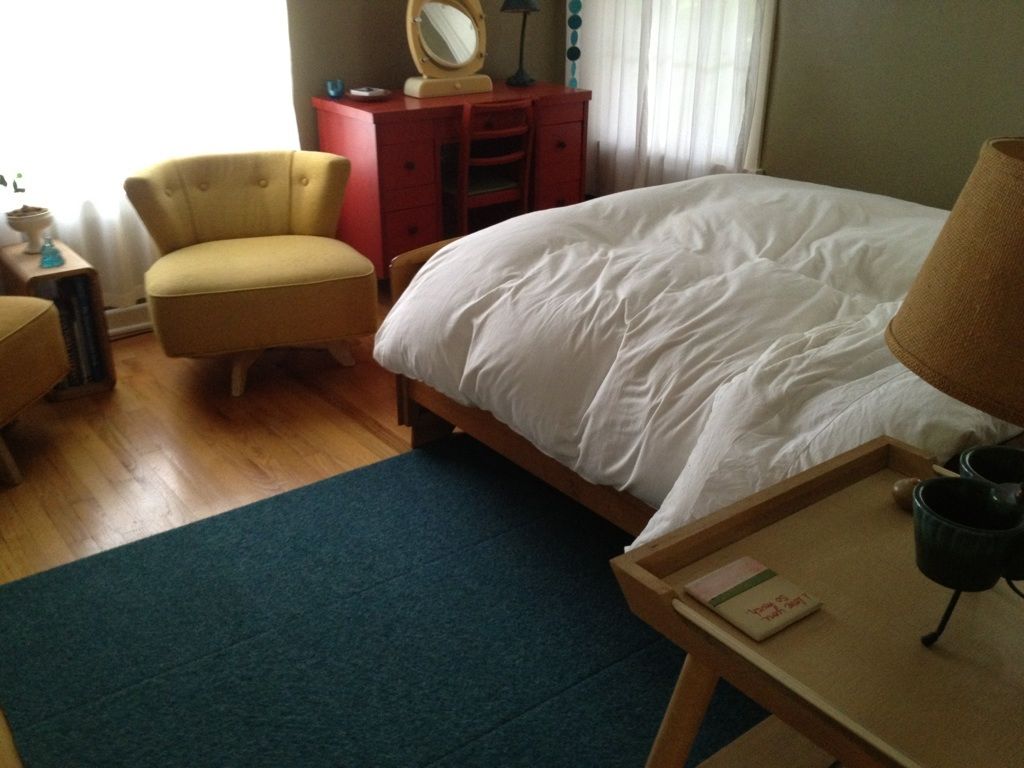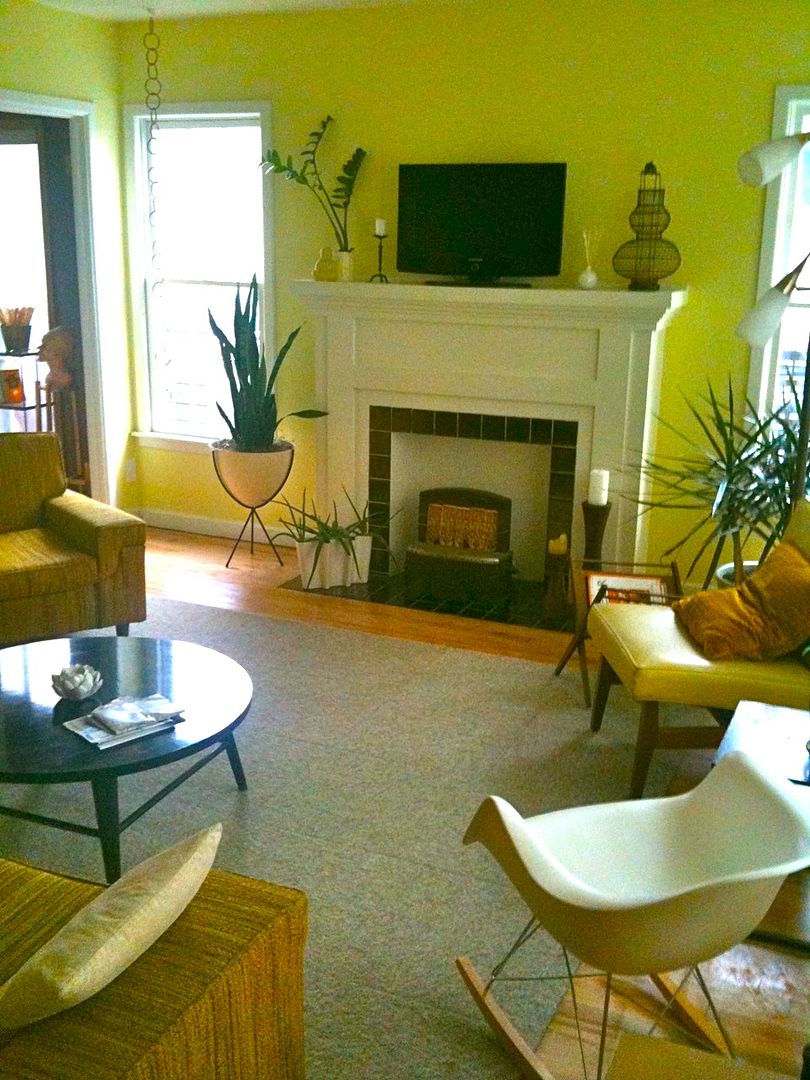 Jess's bedroom, painting in Gay's room, living room
Jess:
I spent my first few hours in Austin at
Style X
where I visited with Wilmington's
Vintage before visting Refinery 29's DIY booth, 
where I made my own turban
(as if I needed another one).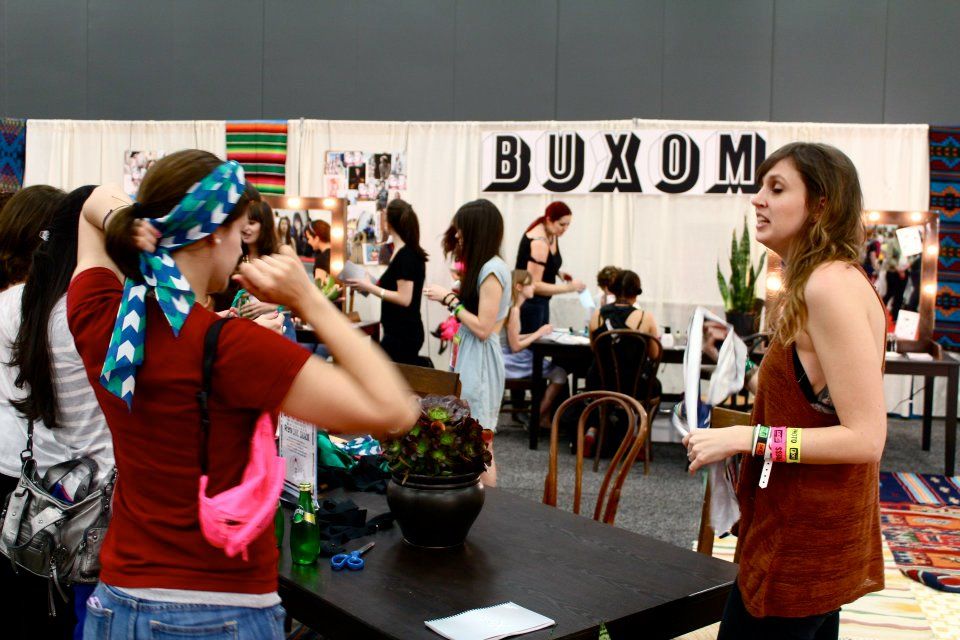 Gay:
Depending who you talk to, there were between 200,000 and 300,000
people there.  Jess and I were there to observe and write about the fashions.  Turned out to be not such an easy assignment.From breakfast concerts at 7 a.m.  at the Four Seasons Hotel ballroom or 2 a.m. at The Continental Club, people were dressed not unlike tourists in the airport.  There were a few exceptions that were way fun or well put together but mostly the music lovers had on the clothes they took off the floor from the night before.
That being said, the skinny hip hugging jean is still the offical uniform of the hipster. The ubiquitous t-shirts are more interesting to read than they have been in the past (Jess's favorite: "I'm with the Band") and plaid is standard issue.  We saw hot pants, minis, maxis, knee socks, and more cutoff jeans (Daisy Dukes and Clam Diggers) than I ever thought I would see again.  Sneakers and boots ruled in the shoe department.
The bands were on the streets, about three to a block, hanging around with all their equipment waiting for their turn at various venues and were, for the most part, dressed the same.  I will say, The Punch Brothers were impeccably dressed in vests and ties, and it felt sensual and exotic amongst all the denim.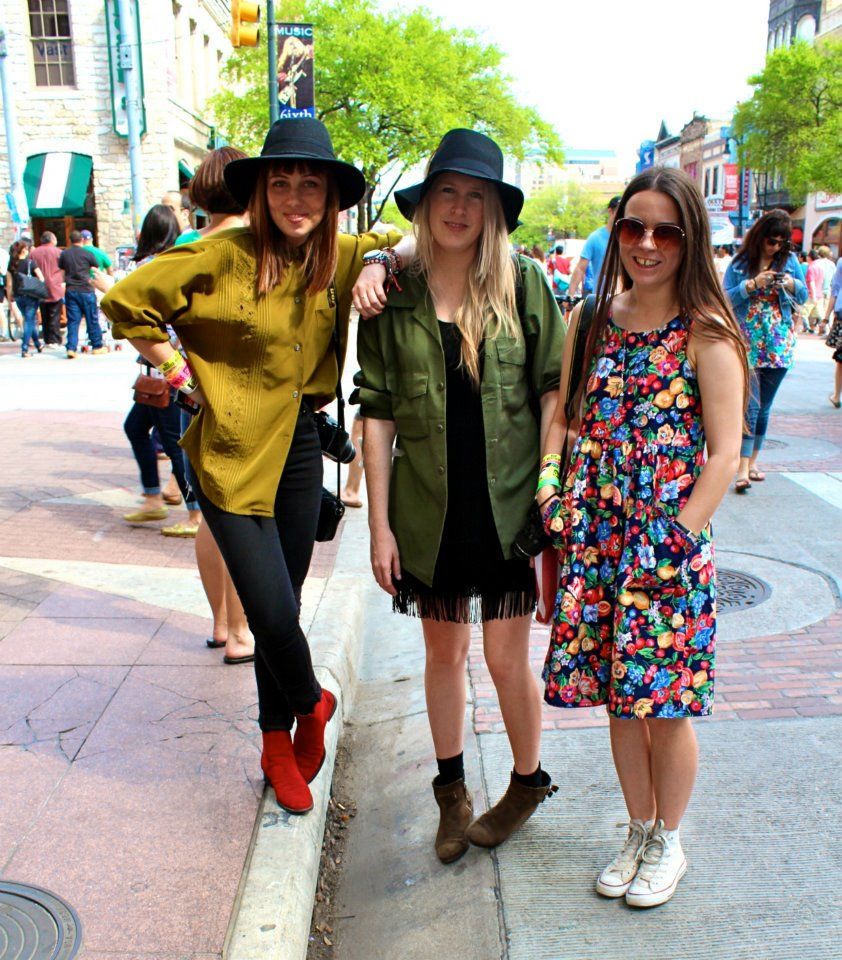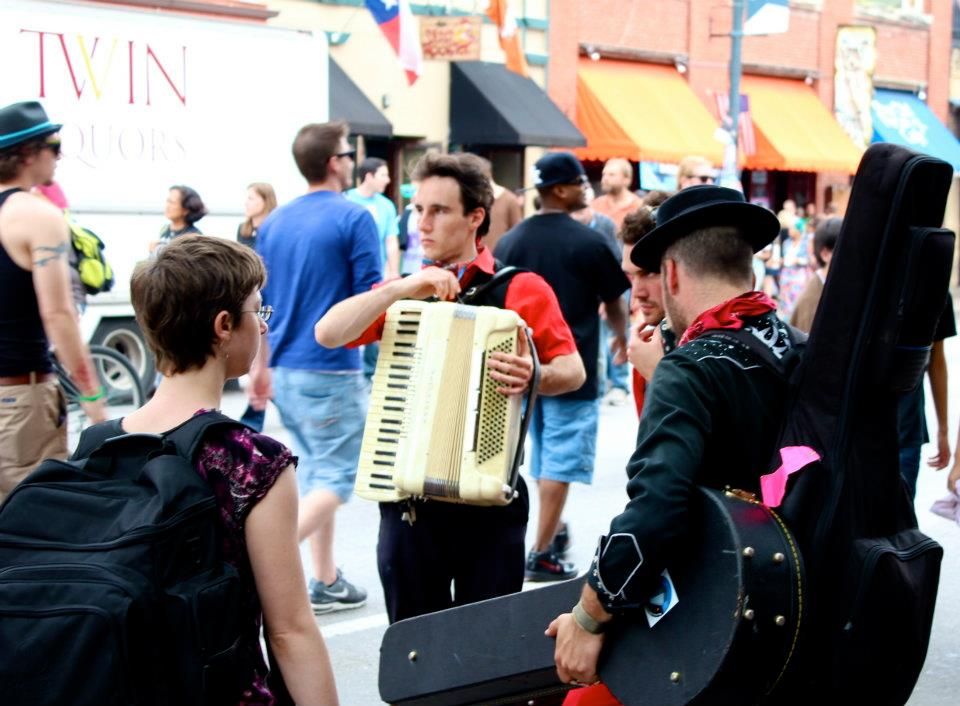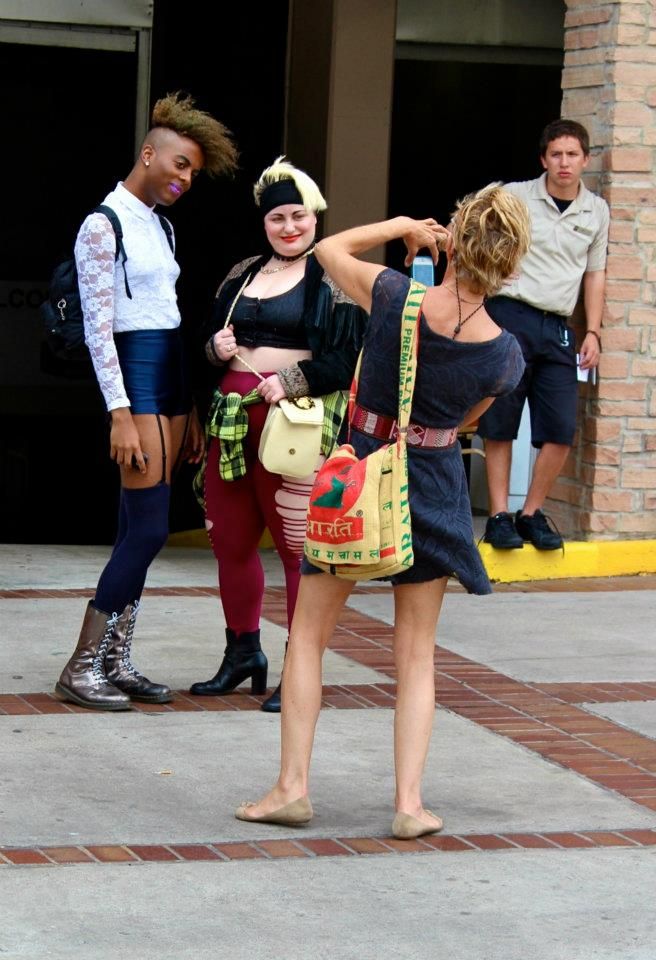 Jess:
The Saturday at Southby happened to be St. Patrick's Day so it gave the
entire downtown landscape a Mardi Gras vibe where bad versions of
American Apparel ads seemed to come to life.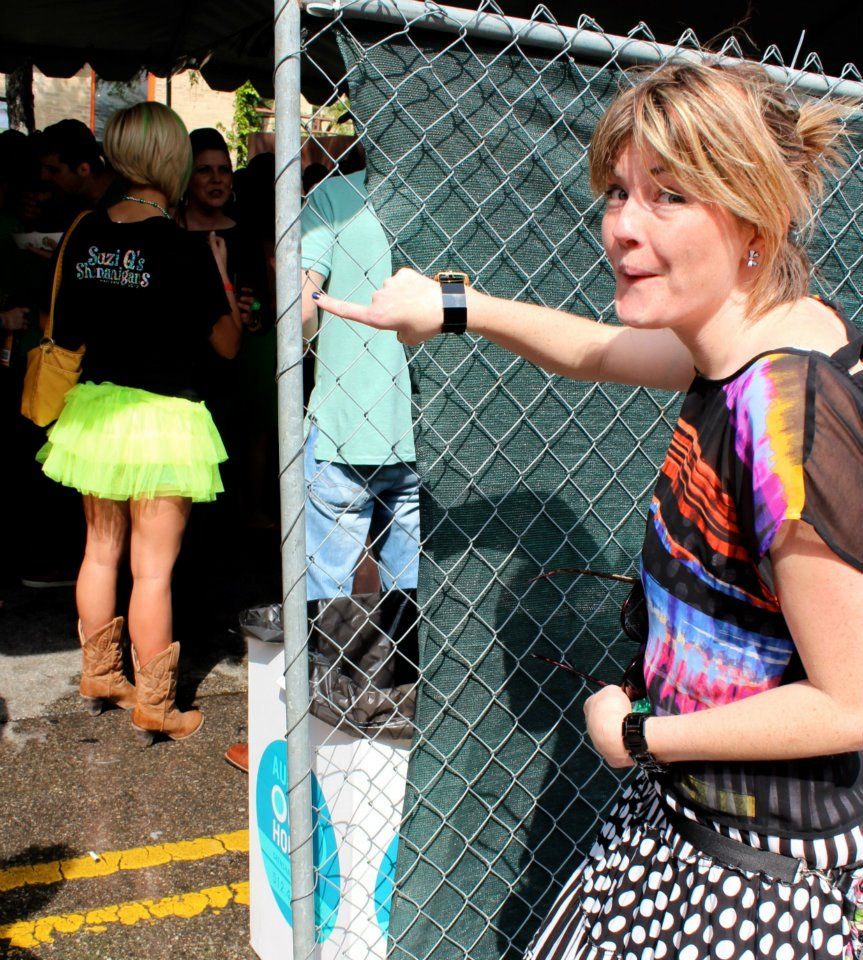 My friend Stella French (who happened to be living in Austin for three weeks leading up to the festival) points out some questionable St. Patty's Day fashion attire
THERE'S MORE!
To read how we escaped by sneaking into an industry party
at The Driskill Hotel, why I ended up at a castle until 5am + more photos,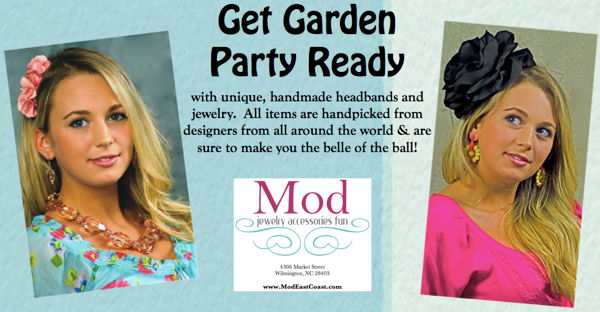 MAD MEN Returns
3.29.2012
The Courtyard Marriott
Jess James / "FASHION FIX" along with Land Rover Cape Fear hosted
a high-style Mid-Century inspired "MAD MEN Returns" event at The
Courtyard Marriott as a follow-up to the success of the "We Miss MAD
MEN" event held in June 2011 at The Hilton Garden. Since the new season
FINALLY premiered Sunday March 25 (after a year-long absence), we gave
fans their Mad Men fix with a celebratory premiere party that would
have  impressed even the likes of Don Draper.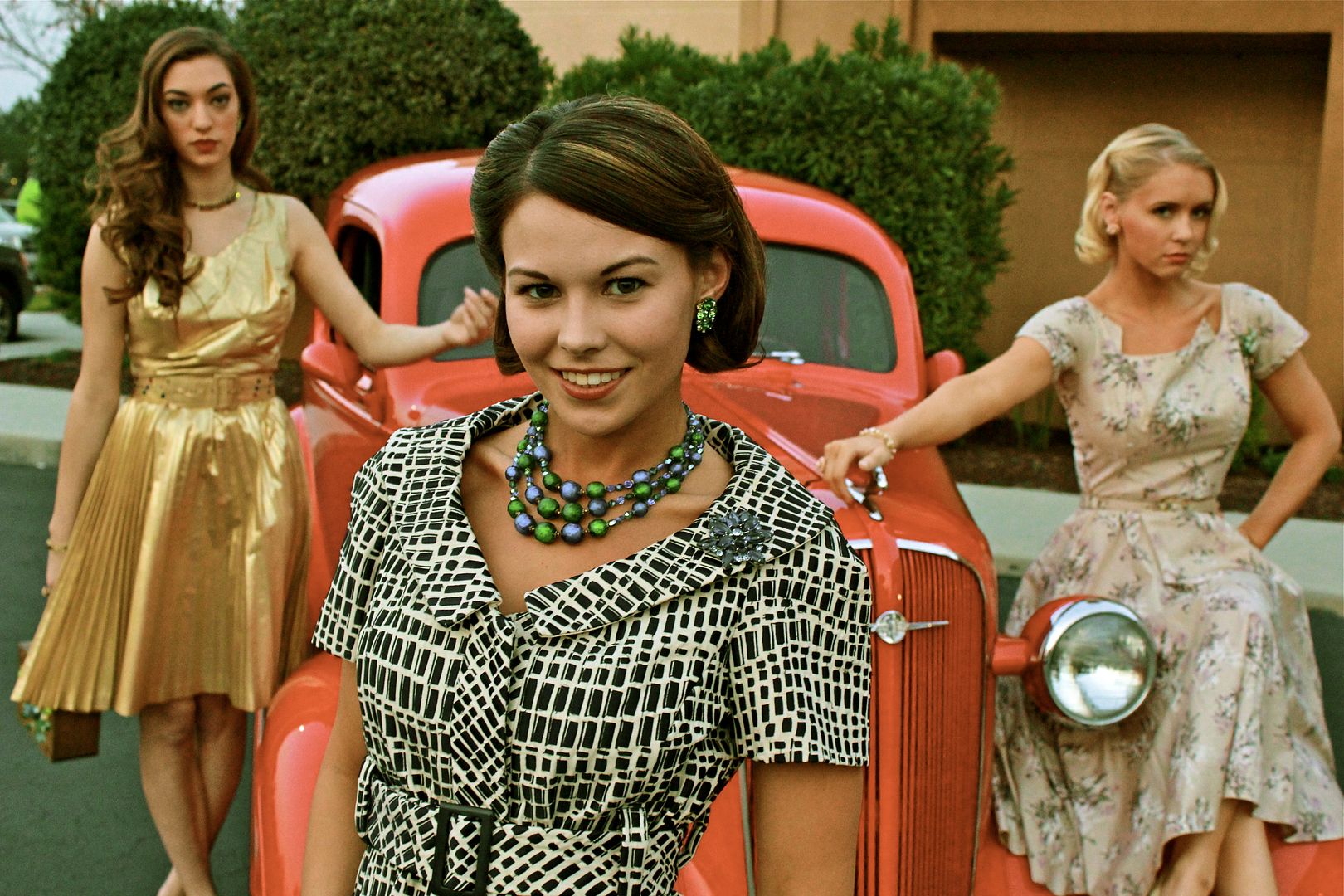 Our MAD MEN models: "Joan" in vintage attire from A Second Time Around and jewelry from Precious Gems. "Peggy" in a Susanna Monaco dress/jacket from Encore! Consignment Boutique and jewelry from Precious Gems and "Betty" in a vintage dress from Rogue Vintage with jewelry from Precious Gems

Photo: Michael Deininger-Bell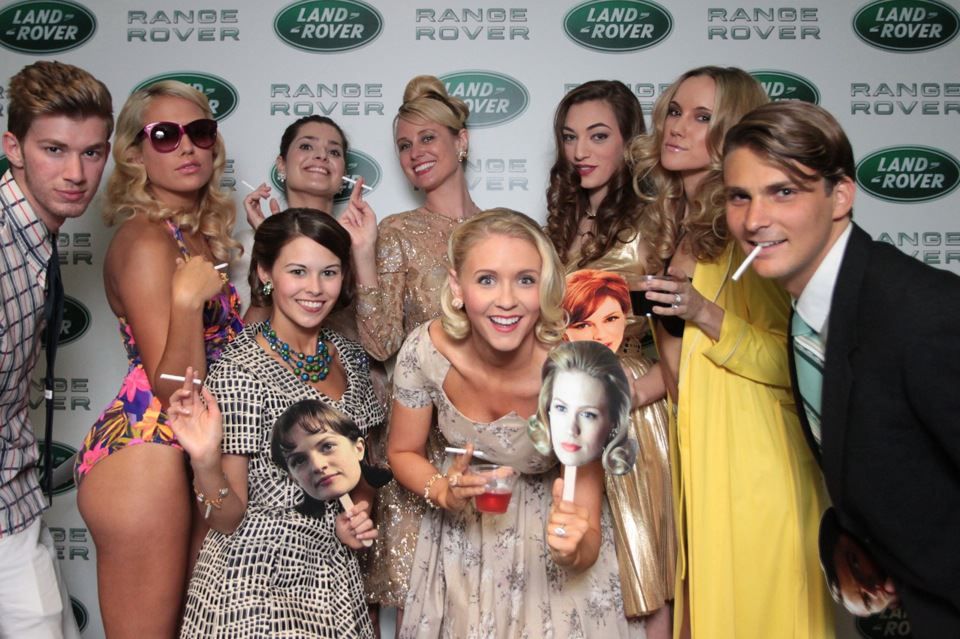 Having fun in the Land Rover Photo Booth with our
MAD MEN masks and candy cigs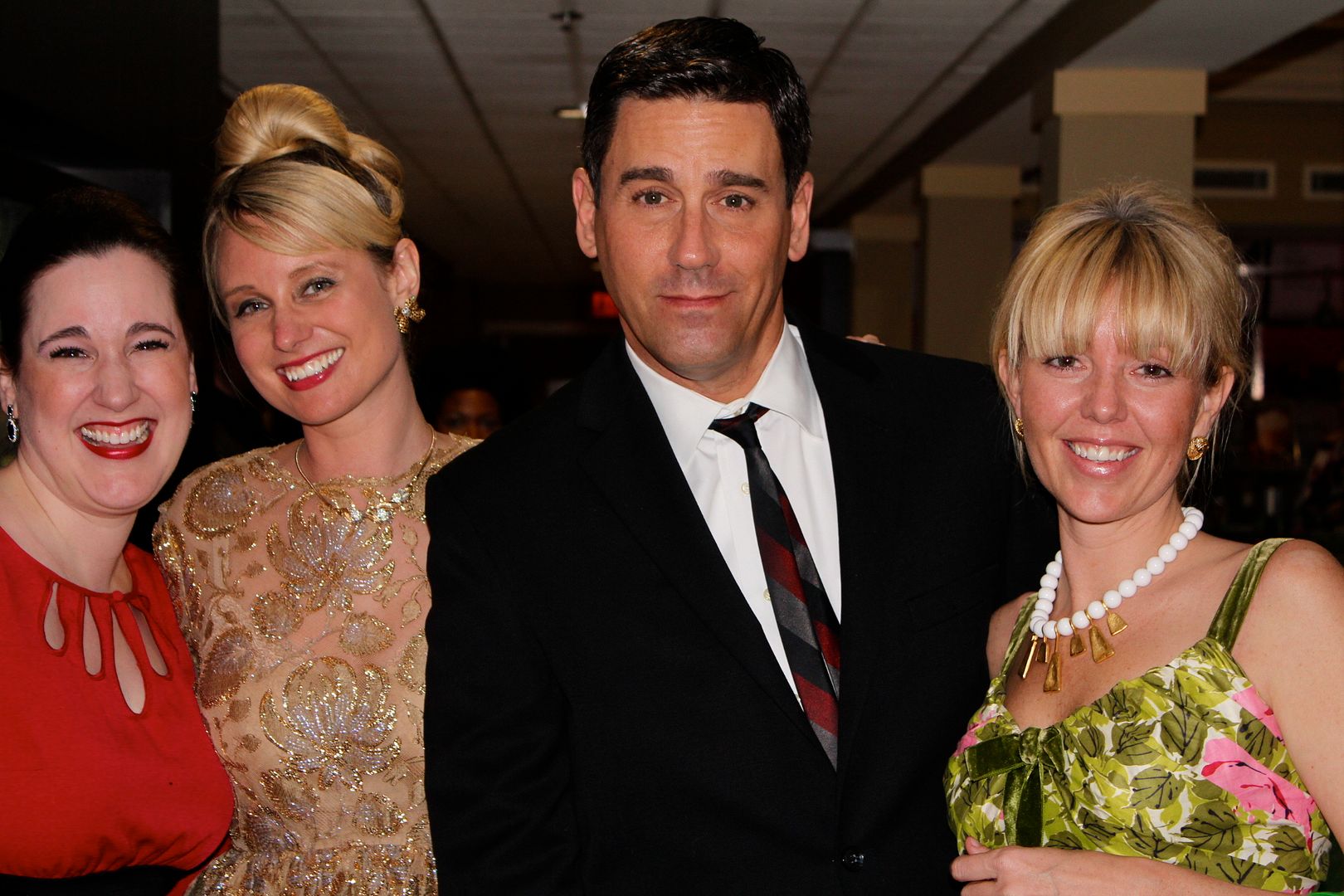 OMG, it's Jon Hamm!

Rebekah of The Three Divas, Jess James and Kristin Wood of Avenue East
pose with Don Draper (Randy Aldridge)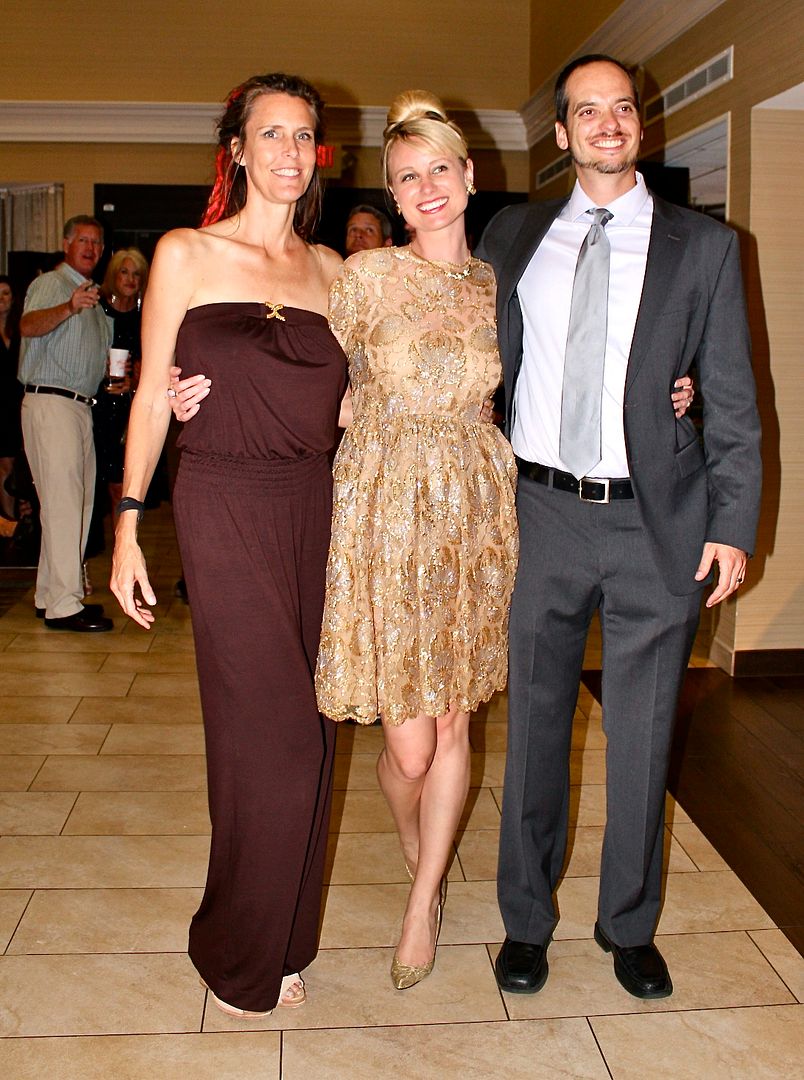 L: Special Thanks to Presenting Sponsor AJ Aliah of Land Rover Cape Fear
 and his amazingly talented wife Photographer Courtney Aliah (with Jess James)
R:Best Dressed (and most humorous "costume") winner Carmin Black, left in pink, as prego Betty (with drink and smoke in hand, naturally) while her friend in the purple Laundry wiggle dress (from Encore!) was our Best Dressed Joanie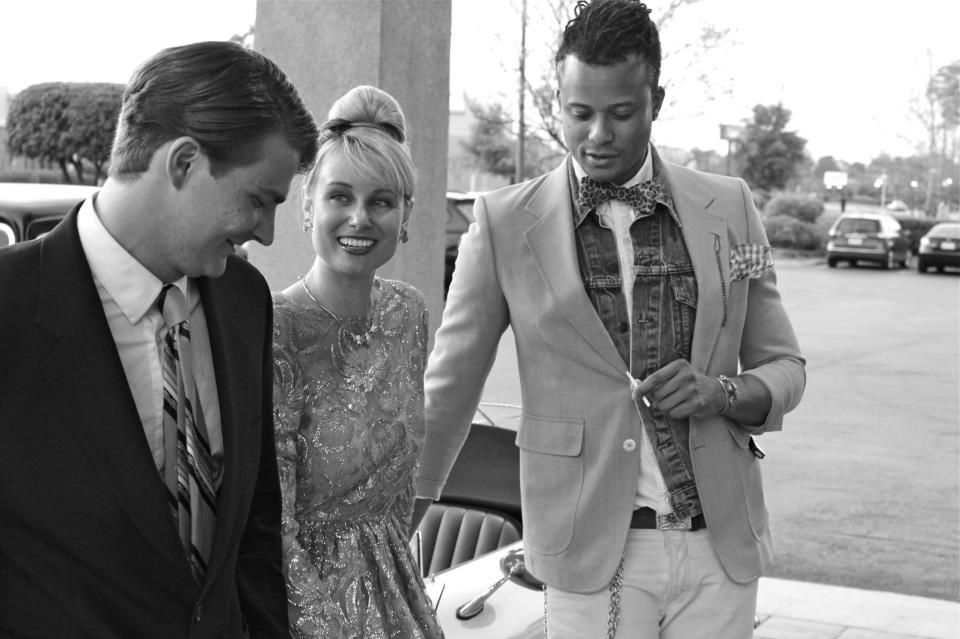 v
Charleston Fashion Designer Chelsie Ravenell (far right) made the drive to Charleston and gave away with one of his bowties as a "Best Dressed" prize (with Simon Vincent Arnold and Jess James)

Photo: Michael Deininger-Bell
MORE MAD MEN Photos + Video

Next Week…

April 8

Easter Promenade

Wilmington RiverWalk

WILMINGTON

WHAT:

Easter Promenade – Come to the first annual Easter Promenade in
downtown Wilmington.  Wear your "Easter bonnet'" (aka: best hat
and finery), bring the kids and their Easter baskets, and stroll down the Cape Fear River. Promenade until Noon, when we'll stop at Le Catalan, Elijah's, etc for an iced tea or a bubbly mimosa.

WHEN: 

Sunday, April 8th, 11am

WHERE:

Wilmington River Walk.  Meet in the lobby of the Hilton Hotel, then promenade down The River Walk towards Chandler's Wharf.

WANNA GO?:

For more info, contact Jan Wutkowski (aMuse: artisanal finery) or Joan Loch (Crescent Moon) for more information.

April 21

Charleston Eco Fashion Event

Michael Mitchell Gallery

CHARLESTON



WHAT:

The second edition of the Charleston Eco Fashion Event, hosted by Circa PR's
Katie Kern, will promote environmentally conscious trends in fashion and applaud and support designers who are shaping these trends including Charleston designer Caroline Baker (Label:Maude Couture),who will unveil her latest bridal collection, 2011 Charleston Fashion Week®
Emerging Designer semi-finalist Hannalei Taylor (Label: 3Thimbles), established  eco-friendly designer duo Antonina Ramsey and Catherine Bello (Label: In Harmony), as well as a much-anticipated closing show and debut runway experience by Mallory Curlee with
CurleeBikini.
WHEN:

Saturday, April 21 7-9pm
WHERE:

Michael Mitchell Gallery at 438 King Street


WANNA GO?:

For more tickets and more info regarding the Charleston Eco Fashion Event, click HERE.

April 26

Wine, Women & Shoes

The Terraces on Sir Tyler

WILMINGTON

WHAT:

The Make a Wish Eastern North Carolina chapter is hosting its first Wine,  Women & Shoes event in Wilmington presented by Wilmington Dermatology Center. There will be shopping, "Shoe Guys," savory bites and a fashion show styled by "Style Girl" Jess James featuring Beanie + Cecil, Monkee's,
Oliver, The Julia, Bloke and Gentlemen's Corner.

WHEN:

Thursday, April 26 / 6:30pm-10:30pm

WHERE:

The Terraces on Sir Tyler (across from Mayfaire)

WANNA GO?:

Tickets ($50) benefit the Make a Wish Foundation. Girlfriend Packages (5 tickets) are $200.  To get your tickets now, please Click HERE.
About FASHION FIX
Everyone needs a fashionable friend who knows the best places to shop. Looking for the insider scoop on the most
sought-after deals?
Once a week (FASHION FRIDAYS), get your fashion fix with Style Girl's style tips, style on
the street + more!
Please forward on to your oh-so-fashionable friends.
Copyright © 2011 Style
Girl Jess James, All rights reserved.