Tess Wheatley  and Tiffany Taylor at The Garden Party after-party at Dockside
I was graciously invited to attend The Garden Party with Dr. Mike Nichols and his beautiful wife Oz, who seduced everyone in her ultra sophisticated almost-antithesis Garden Party look – a black ALC jumpsuit from Beanie + Cecil, a Diane Fort Shagott headpiece from aMuse Artisanal Finery and her amazing Prada handbag just purchased in Vegas.

All day long , women approached her saying how stunning she looked, "just like Audrey Hepburn" before asking her to pose for a picture.


From candy-colored stripes, jewel tones, monogrammed pastels and more orange than Halloween, Wilmington's finest came out to parade their Garden Party panache under the live oaks at Airlie Gardens.


And this did not apply solely to the ladies. The gentlemen arrived clean shaven in seersucker, bowties, polished shoes, printed ties and pocket squares. About the time I crawled into bed that night (shortly after 11pm), I received a text from Wilmington publicist Margee Herring: "As I wrap up this fun day, I find I can't stop thinking how
absolutely wonderful it was to see Wilmington's men so finely attired. The guys just shined today."


Apparently they (along with quite a few perfectly turned out Southern belles) turned into pumpkins after I went home.  A sober bystander at one of the after-parties later weighed in: "Everyone was so drunk it was like a zombie movie.  All they wanted was more alcohol like zombies want flesh. Beeee-rr, more beer!"



Glad I went to bed with fairytale Garden Party visions like Margee's in my head.
FOLLOW

Hair Stylist Cheryl Kent's Hair-spirations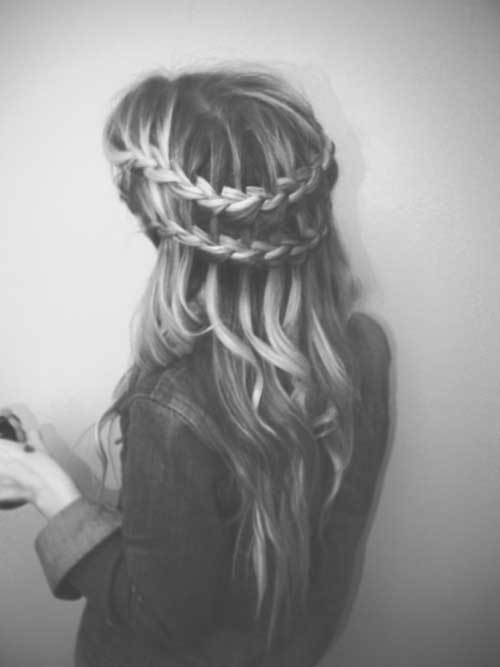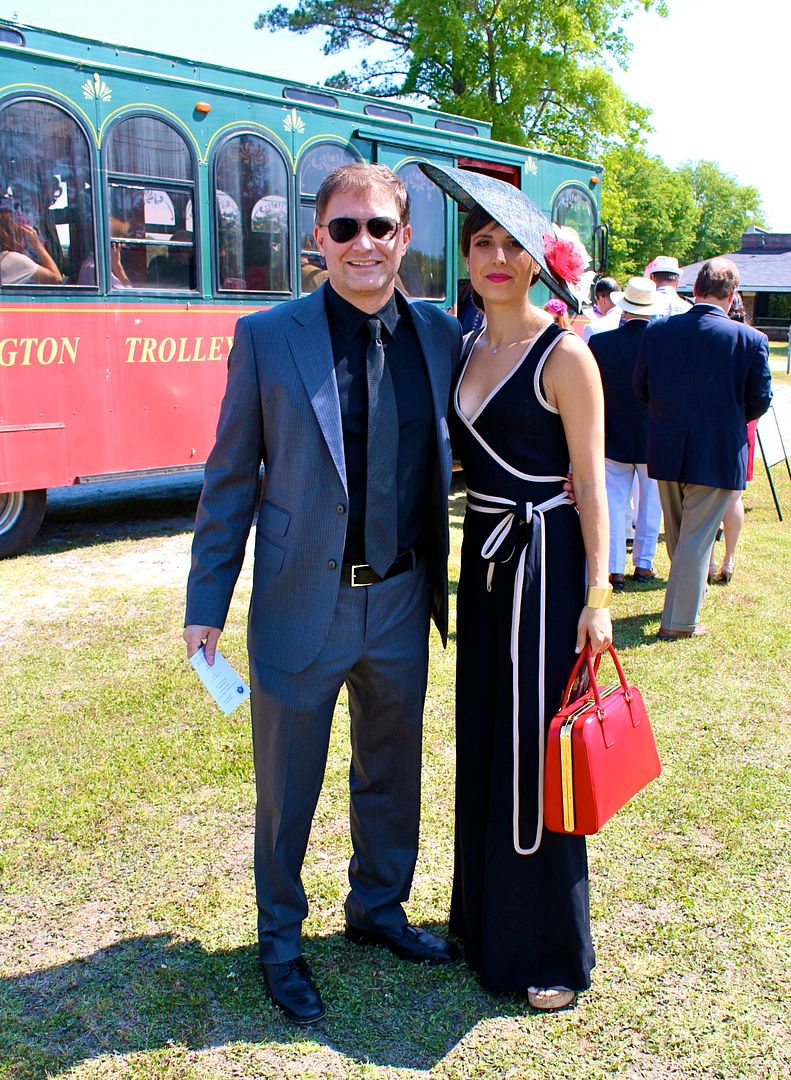 All aboard! Loading up the trolley en route to Airlie Gardens.
Mike and Ozlem Nichols: Oz is wearing a sleek and sophisticated ALC jumpsuit from
Beanie + Cecil, a Diane Fort Shagott headpiece from aMuse Artisanal Finery
and her amazing Prada handbag she just purchased in Vegas


TRENDS: Stripes, Coral and Crochet

Gorgeous gals!
Colleen Venters (second from left) and Rachel Stevens (far right)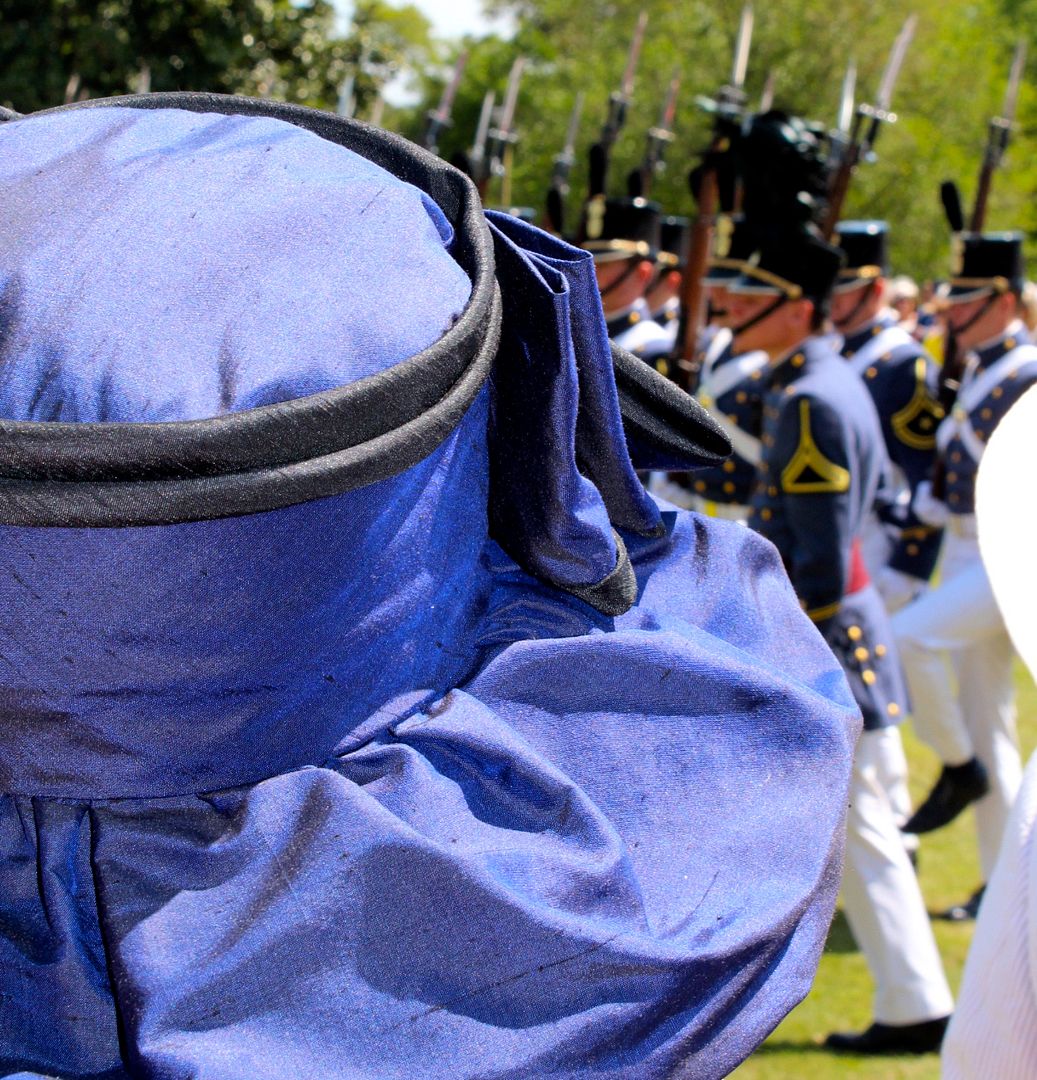 Citadel demonstration
TREND: Pastels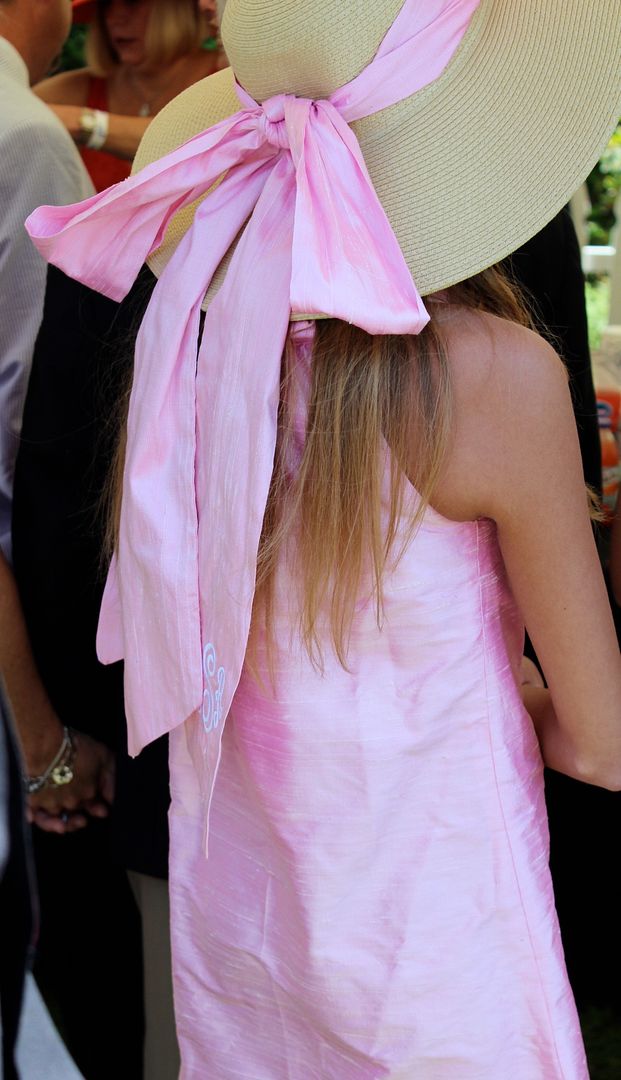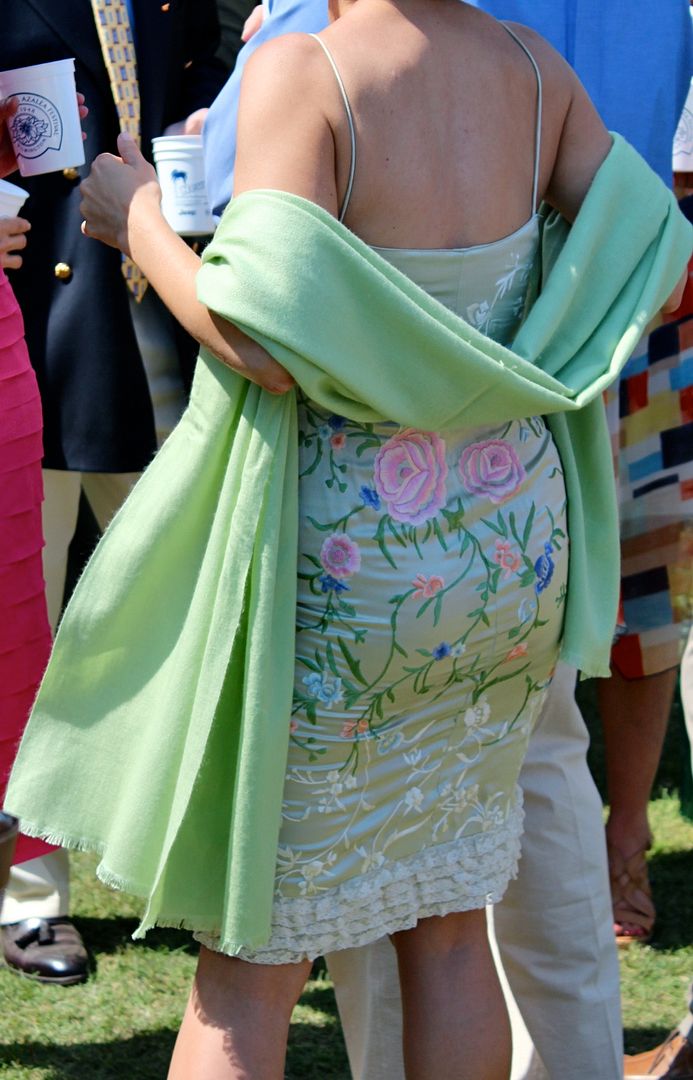 L: Thanks to Margee Herring for pointing out this Southern belle –
she even had her initials embroidered on her bonnet's ribbon!
R: Christine Parrish in embroidered Valentino
TREND: Jewel Tones
L: Beautiful Betsy Jordan's look was inspired by the sea with a Michael Kors dress
and handmade headpiece by Milliner Jan Wutkowski.
R: Kerry Straka Jones and Jennifer Spencer of Wilmington Plastic Surgery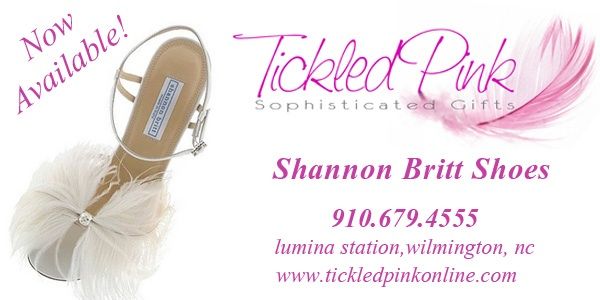 Launch Party TONIGHT!

@ Tickled Pink from 5-8pm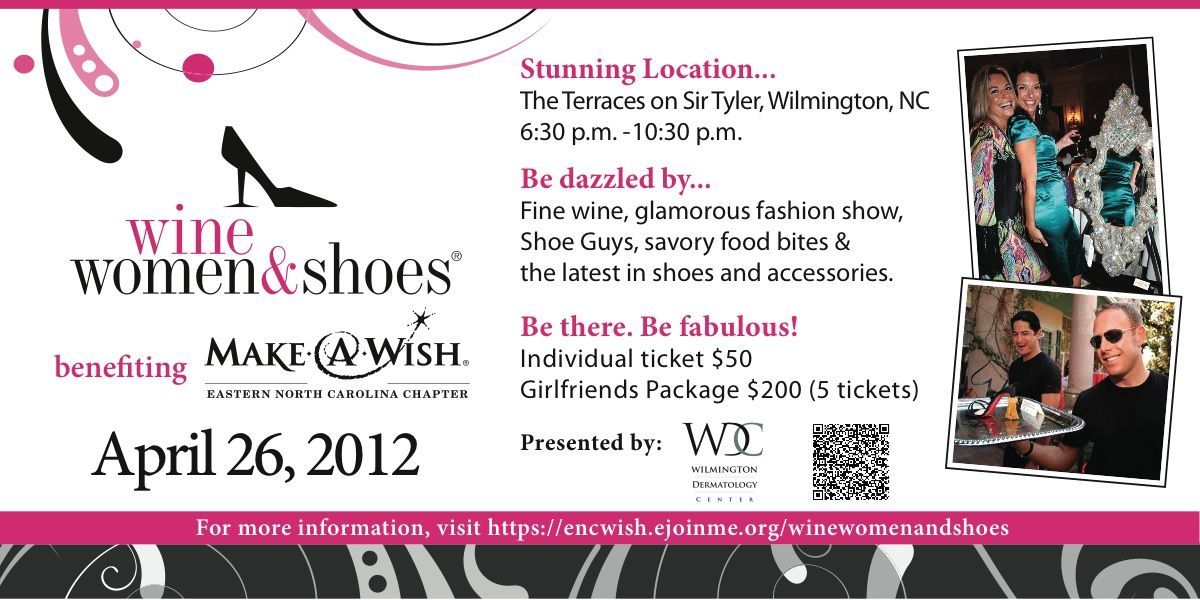 TREND: Neon Green
Now this is a fun look worn by Jody Carmichael.
Neon green with a touch of hot pink (why naturally!
She is the woman behind Hot Pink Cake Stand)
TREND: Stripes



Sweetness! AJ of Land Rover leans in to give his wife, statesque beauty
Photographer Courtney Aliah, a kiss.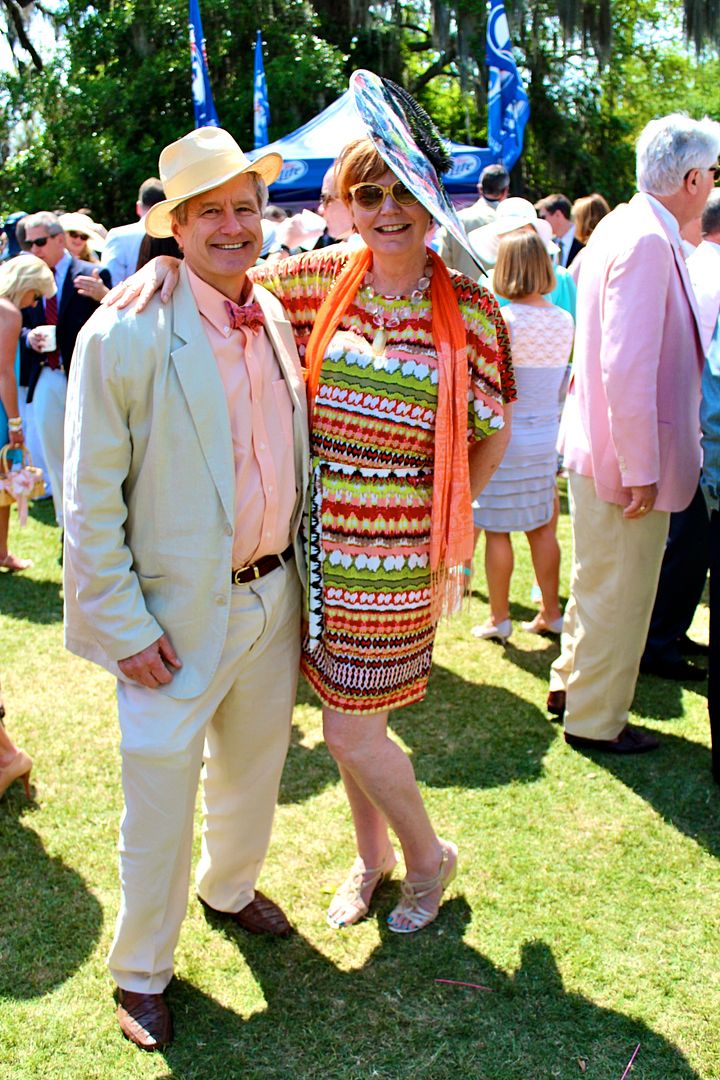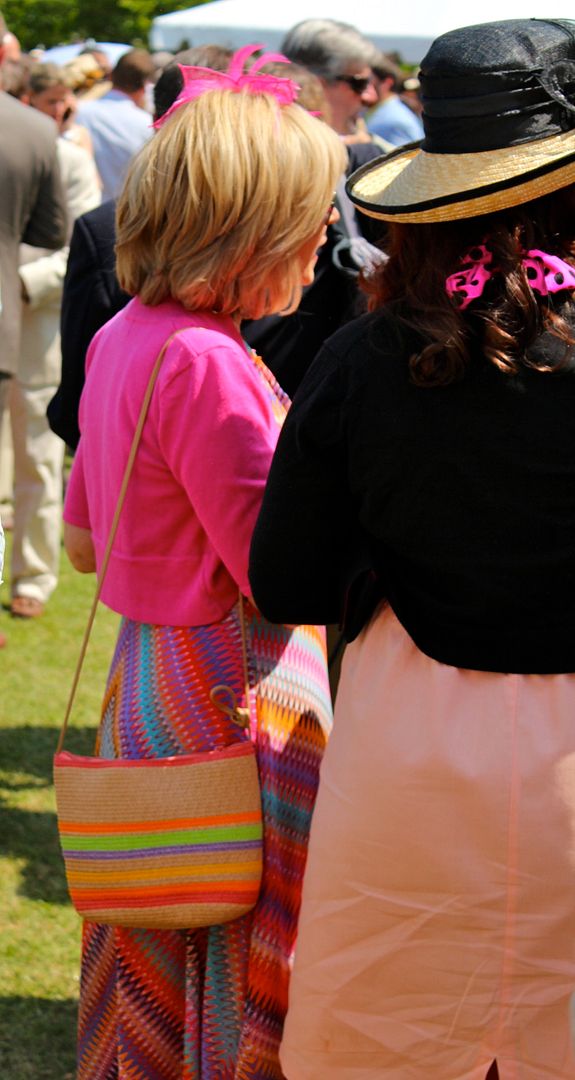 L: Wilmington's favorite Milliner Jan Wutkowski of aMuse Artisanal Finery
with her husband Michael. R: Neon stripes – down to the purse. 
TREND: Orange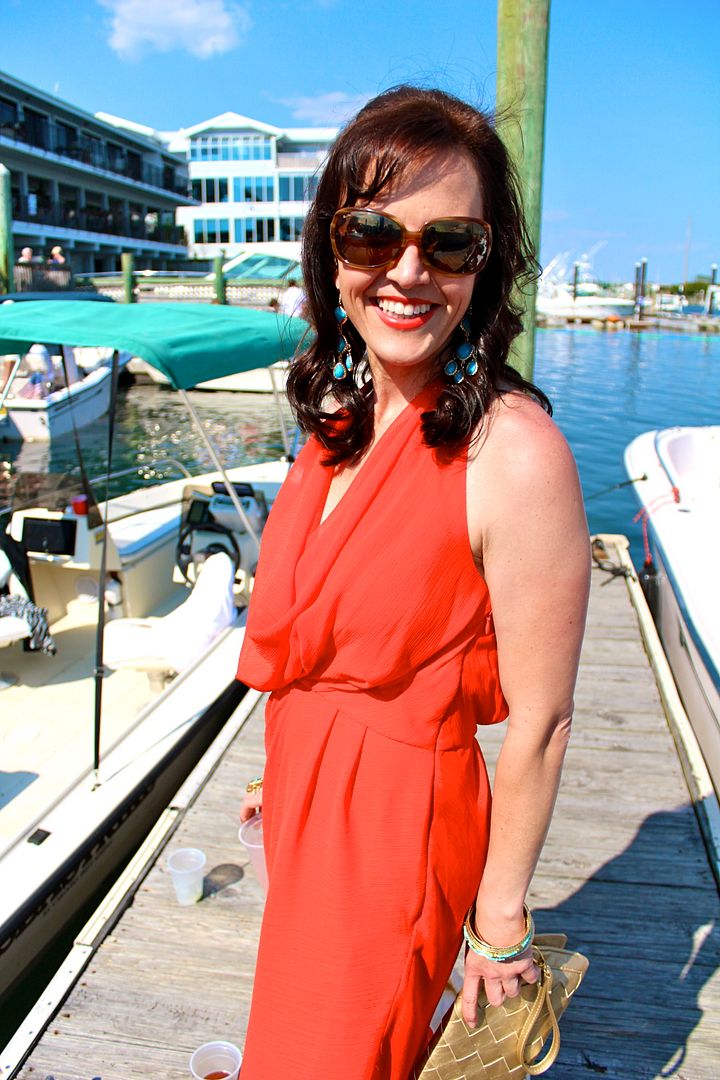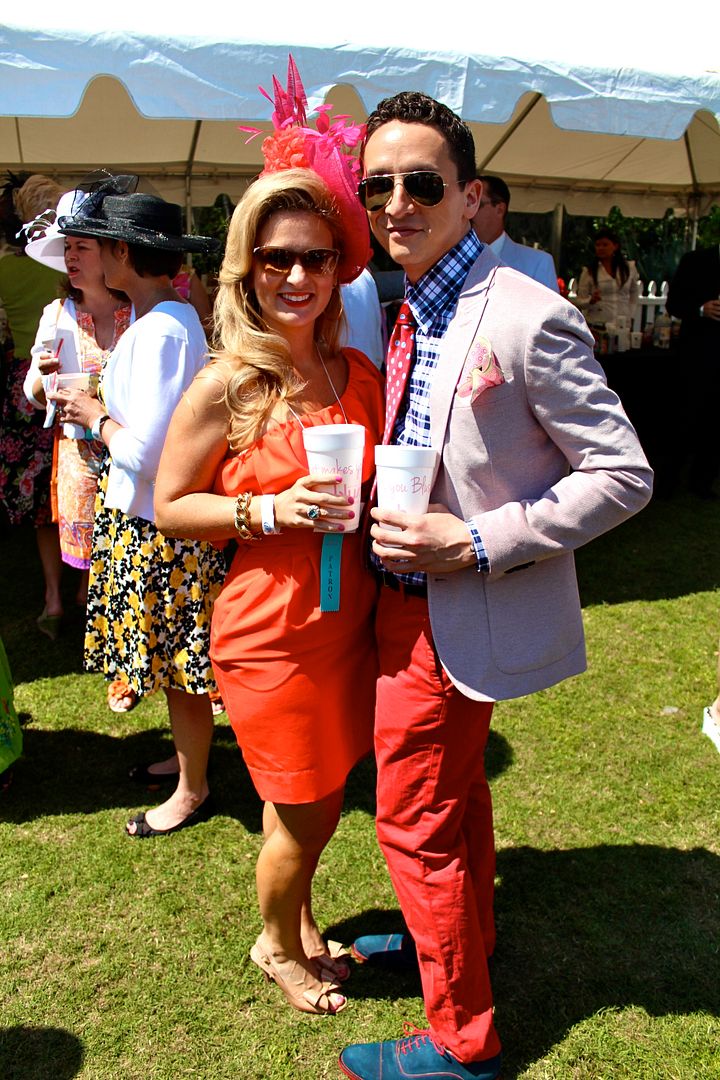 L: Heather Thornton looking smashing in orange.
R: Blush owner Elisha Wendt in orange with a hot pink and orange hat
with Steven Crutchfield in red pants and Donald Pliner blue suede oxfords
with red laces and soles from Gentlemen's Corner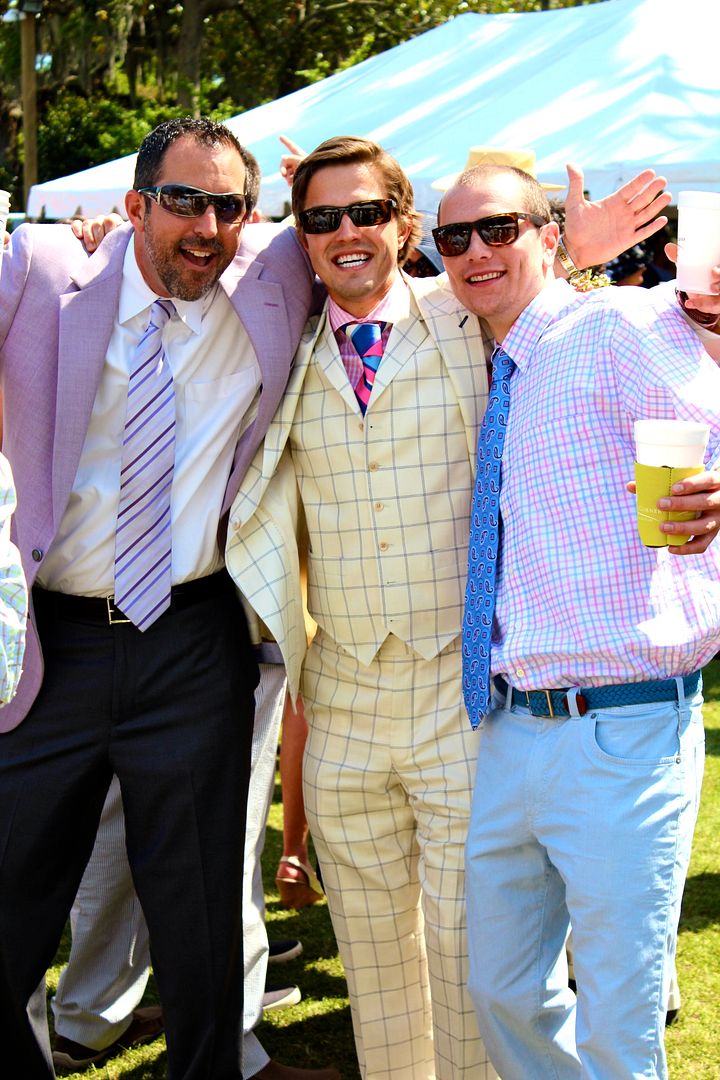 L: Really liking that lavender jacket and of course, Harrison James Sasser
of Gentlemen's Corner (center) had his Garden Party panache in full effect.
R: This year's chairwoman Cyndi McNeill wearing the amazing neon look from The Julia
that we featured on the runway at the Spring Fashion Preview!
TREND: Hawaiian Prints
Nancy Burns brings Hawaiian style to Garden Party!
TREND: ?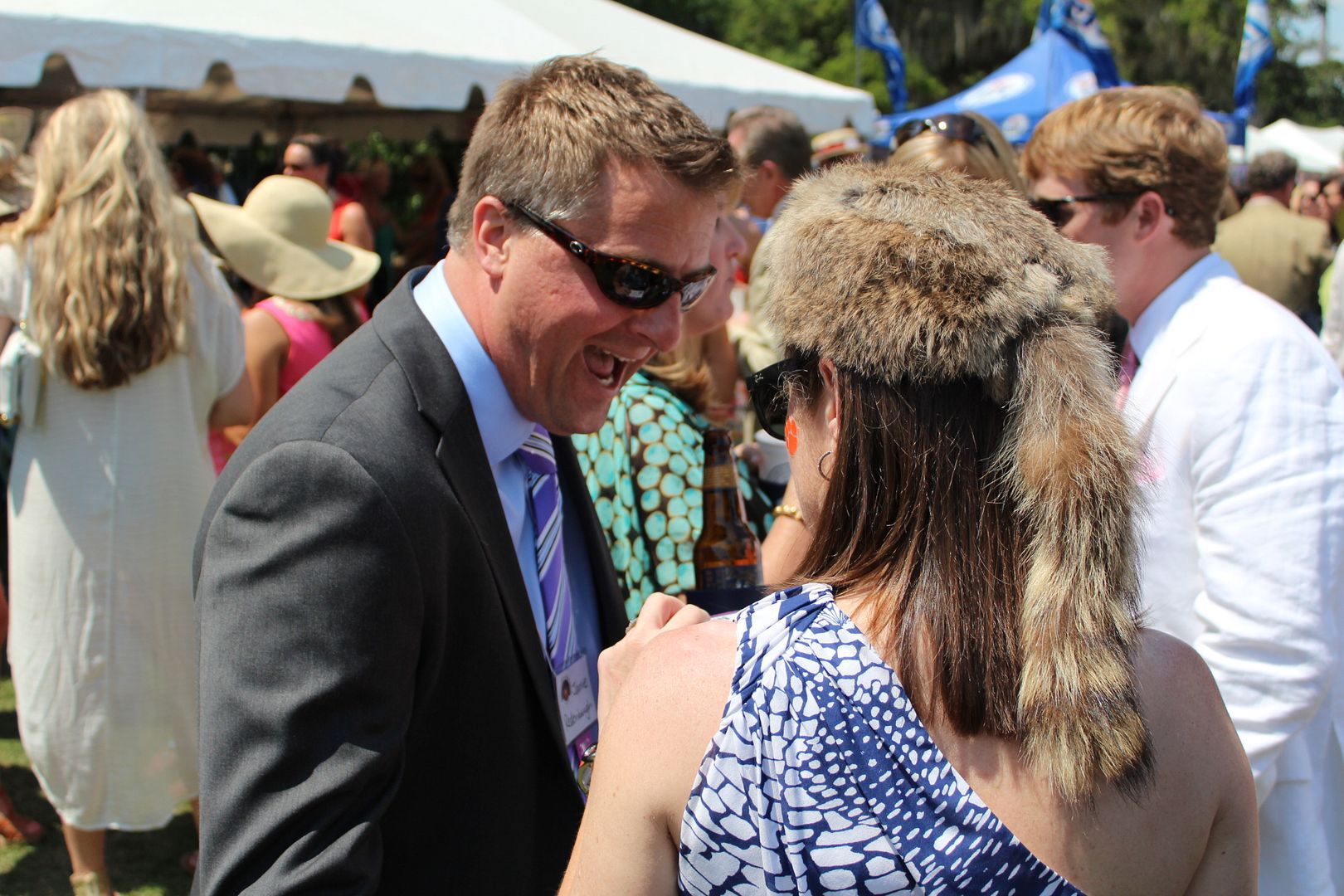 Apparently this woman is wearing this Davy Crockett hat to the Garden Party
because she lost a bet. Hope that's true!
TREND: Mixed Prints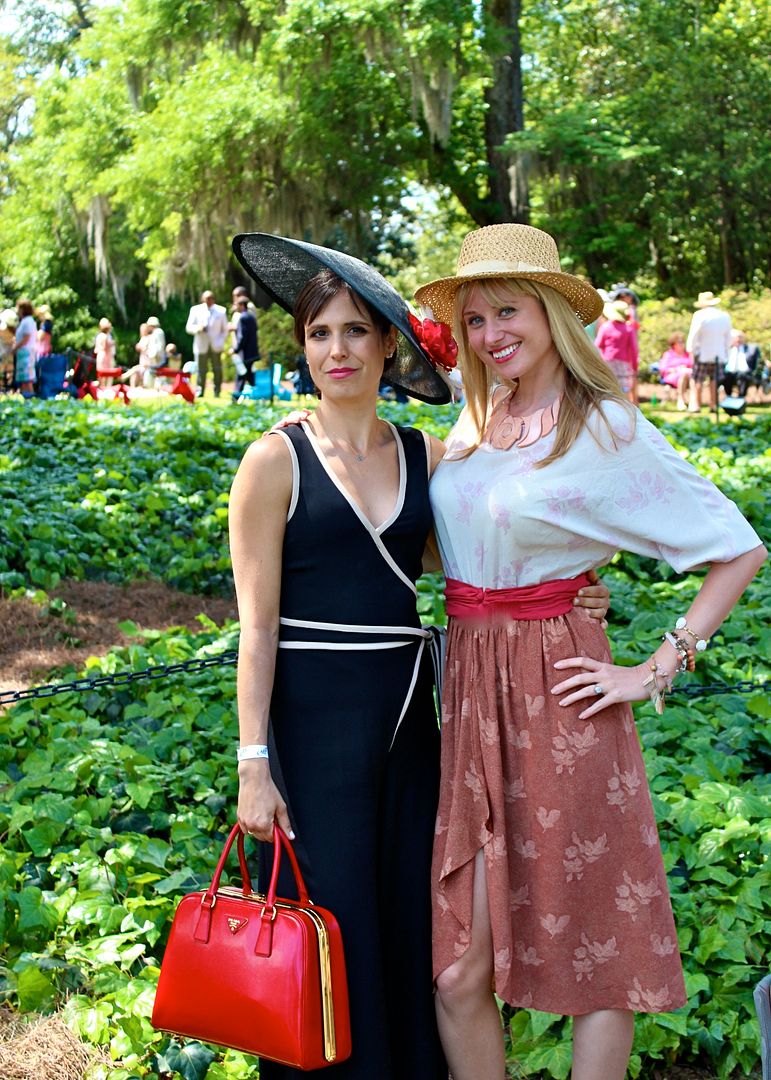 Jess James and Oz Nichols under the ancient Live Oak at Airlie Gardens.
Jess is wearing a vintage Bill Blass dress from Anna Echols' grandmother's collection
with a coral statement necklace from The Wonder Shop.

To see more Style Girl coverage
from The Garden Party,
Click HERE.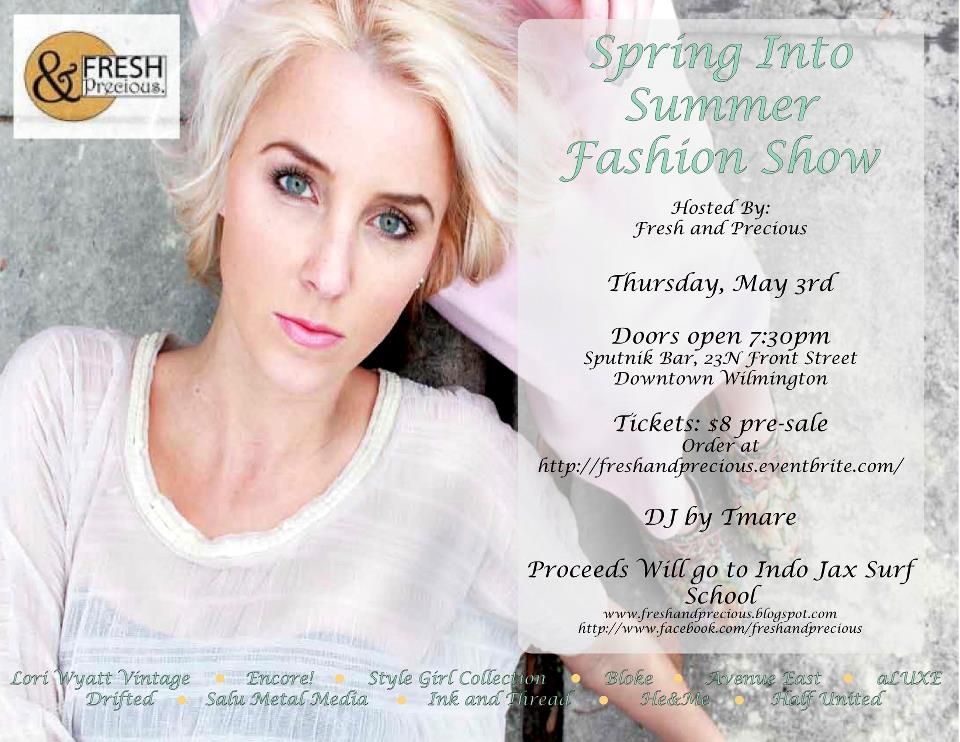 Wilmington Plastic Surgery's Charles
R. Kays, DMD, MD, FACS, has been invited by Allergan Medical to serve
as an advisor for the NOVO: National Council of Leaders in Breast
Aesthetics. Dr. Kays will speak at a NOVO advisory board meeting April
19-21, 2012, in Newport Beach, California. According to the letter of
invitation, Dr. Kays was selected to this distinguished advisory board
because of his "expertise and thoughtful leadership in breast surgery
and his interest in delivering the most innovative, aesthetically
superior treatment options for patients in breast reconstruction." As a
consultant, Dr. Kays will interact with key executives in product
development, medical, marketing and corporate leadership, discussing
with them how Allergan can improve on its commitment to reconstruction
patients.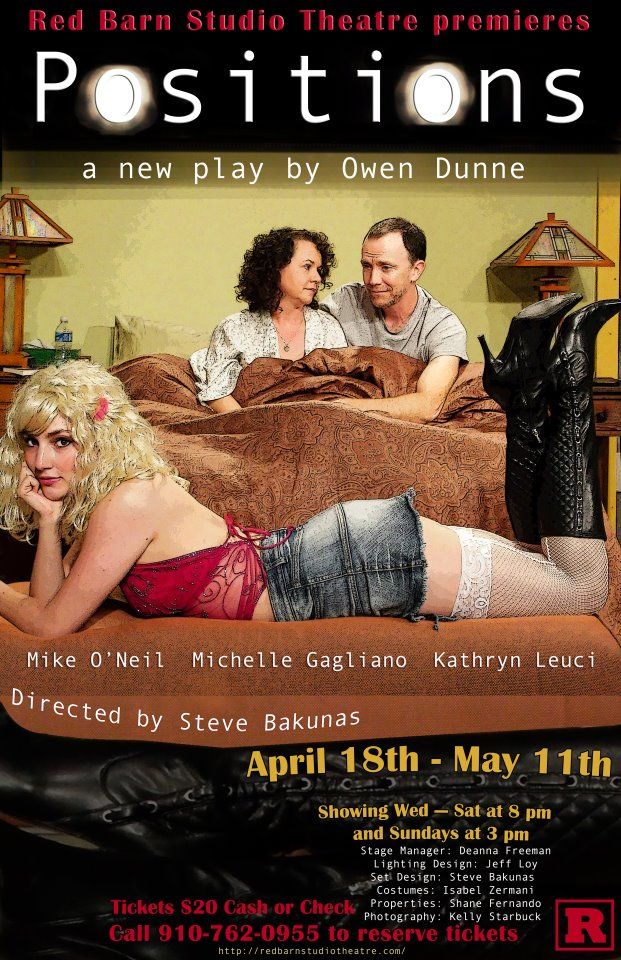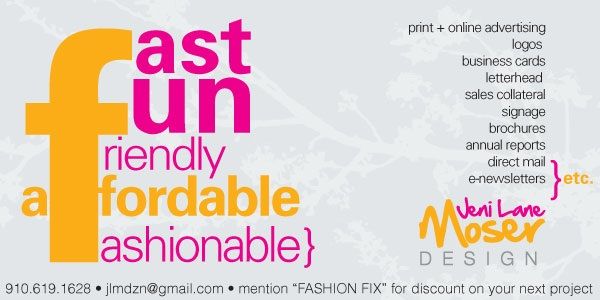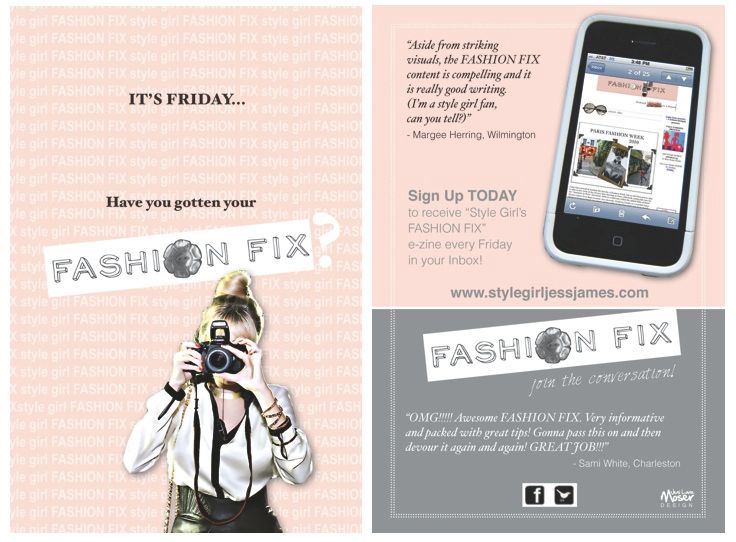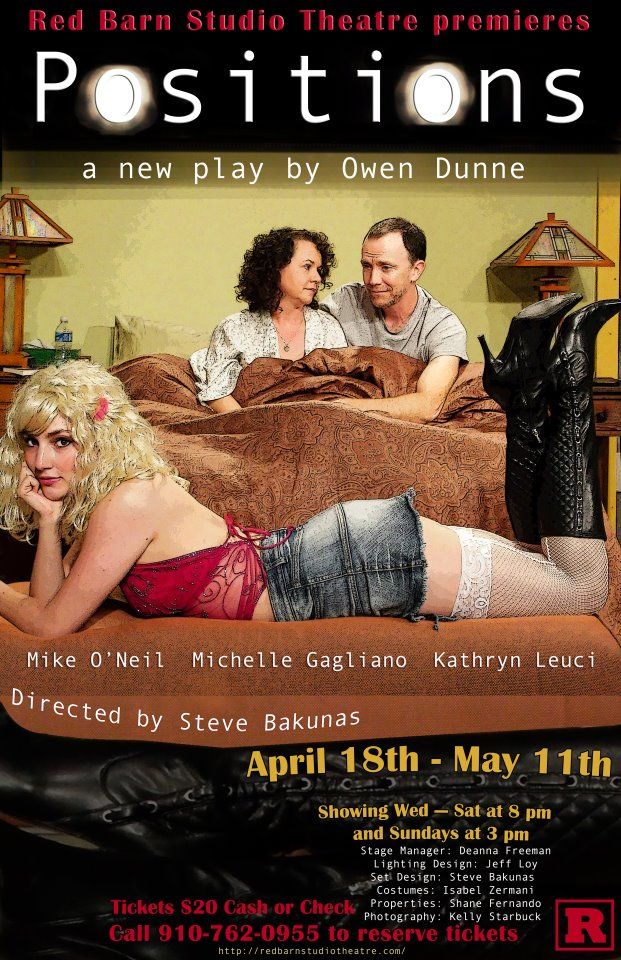 April 20 – May 11
Positions
Red Barn Studio Theatre
WILMINGTON
WHAT: "Positions," written by local Owen Dunne (husband of my BFF Shannon Dunne of James + Dunne Styling), directed by Red Barn co-founder Steve Bakunas and presented by the Red Barn Studio Theatre, Positions is the theater's first original play. See what happens when Leo proposes to his wife of 15 years, Hillary, to fool around more often (she's more focused on the kids than sex), by trying a new position every week for a year – 52 positions in all.
WHEN: April 20-21, 25-28, May 2-5 and May 9-11 at 8pm and April 22, 29 and May 6 at 3 p.m.
WHERE: Red Barn Studio Theatre at 1122 South Third Street
WANNA GO?: $20 cash or check only. For more info, call 910.762.0955 or visit www.RedBarnStudioTheatre.com
April 26
Wine, Women & Shoes
The Terraces on Sir Tyler
WILMINGTON
WHAT: The Make a Wish Eastern North Carolina chapter is hosting its first Wine,  Women & Shoes event in Wilmington presented by Wilmington Dermatology Center. There will be shopping, "Shoe Guys," savory bites and a fashion show styled by "Style Girl" Jess James featuring Beanie + Cecil, Monkee's,
Oliver, The Julia, Bloke and Gentlemen's Corner.
WHEN: Thursday, April 26 / 6:30pm-10:30pm
WHERE: The Terraces on Sir Tyler (across from Mayfaire)
WANNA GO?: Tickets ($50) benefit the Make a Wish Foundation. Girlfriend Packages (5 tickets) are $200.  To get your tickets now, please Click HERE.
About FASHION FIX
Everyone needs a fashionable friend who knows the best places  to shop. Looking for the insider scoop on the most sought-after deals?
Once a week (FASHION FRIDAYS), get your fashion fix with Style Girl's style tips, style on the street + more!
Please forward on to your oh-so-fashionable friends.
Copyright © 2011 Style
Girl Jess James, All rights reserved.