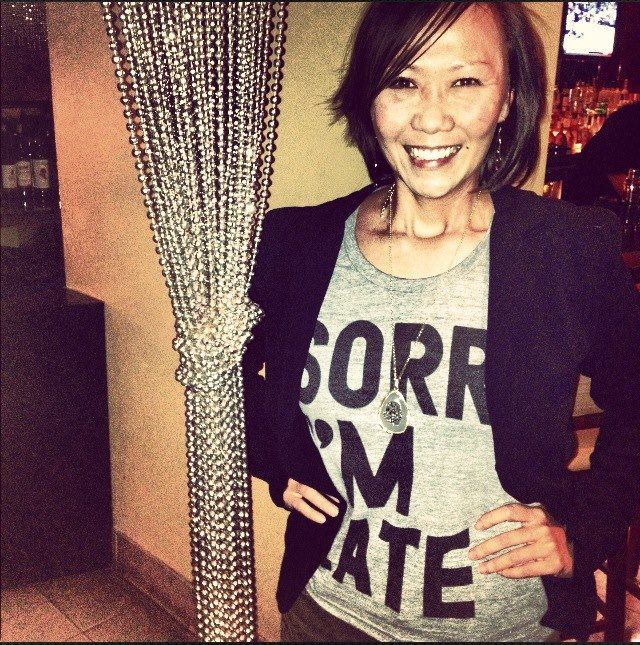 Must-Have Tee: "Sorry I'm Late" t-shirt worn by Tracy Tang
Available this coming week at Blue Hand Home
There seemed to be a theme at Cindy Vach's birthday gathering earlier this week. I predictably arrived late. Perhaps, only in honor of the birthday girl, who also is famous for being fashionably late? Nice try. Then, Tracy Tang (the owner of Blue Hand Home) arrived even later. With one glance at her t-shirt (worn under her chic black blazer), all was forgiven, drinks were ordered and everyone had a new t-shirt to add to their Pinterest or in my case, Instagram feed. Cheers to that!

The t-shirt, emblazoned with the simple message, "Sorry I'm Late" seems to have become a mantra for the current human condition, as evidenced by the emphatic response Tracy's photo garnered on Facebook within minutes.

Susan Johnson admitted, "I really, really, really need one of those. The sad truth is, I probably need one for every day of the week" while Wendy Reavis exclaimed "The story of my life! I must have one too!!"

These time-deprived, punctually challenged women (myself included,
naturally) are in luck! Tracy recently placed a large order of these babies to arrive at Blue Hand Home (arriving early this coming week) but are already taking orders.


To give you a head-start on styling this t-shirt every day of the week
(Susan), I've styled the "fashionably late" tee 3 different ways.

I leave you with one last question from Facebook friend Kristie Liana Pate: "Is that shirt for the woman who is arriving 'fashionably late,' or announcing to her boyfriend that she's pregnant?!"

Uhhh, here's to hoping it looks cute enough to cover all (or almost
all) sins!


xo

Jess


LOOK #1
MINIMAL CHIC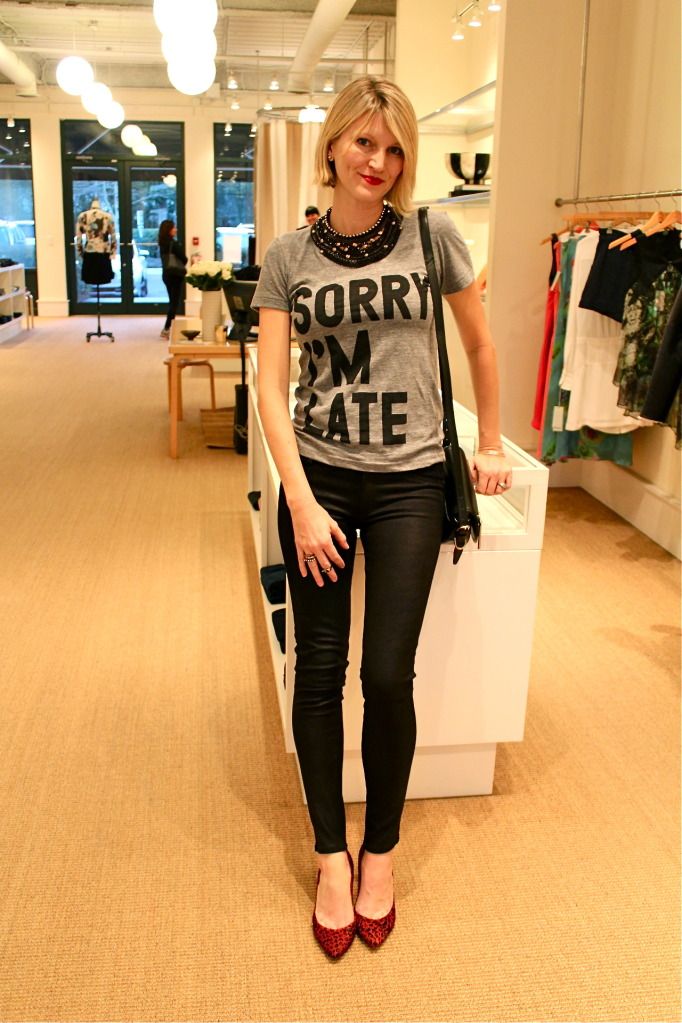 Shannon Dunne wears the "Fashionably Late" tee with:
Rag & Bone "Hyde" leather jean in coal $595
Iosselliani studded statement collar on sale for $499 (1/2 off)
Iosselliani stacked rings on sale for $173
Loeffler Randall "Tamsin" heels in red leopard on sale for $175
All from Beanie + Cecil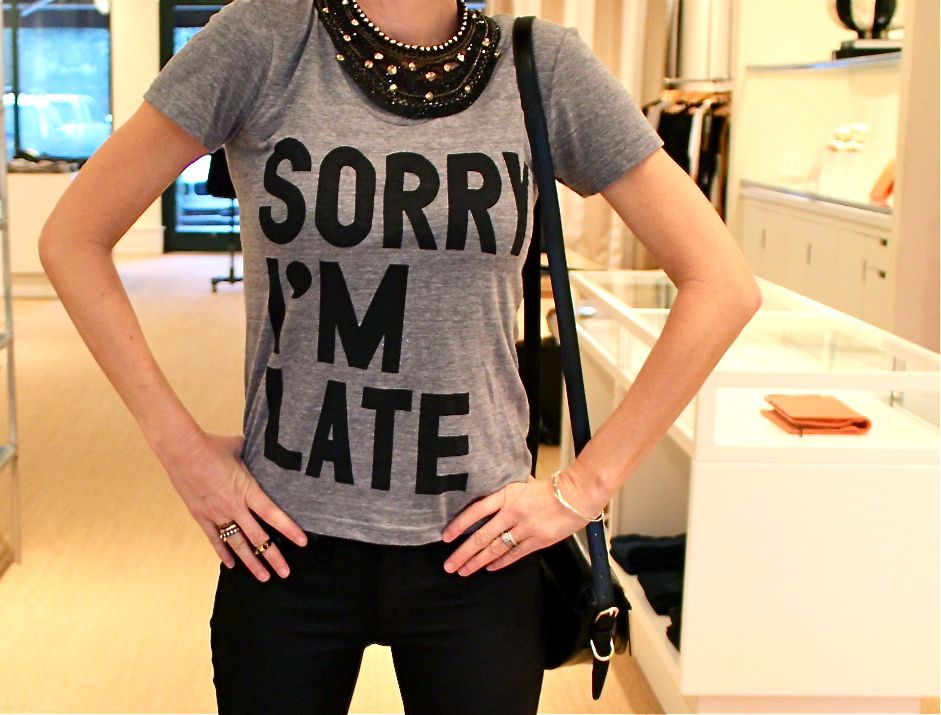 LOOK #2
BOHO GLAM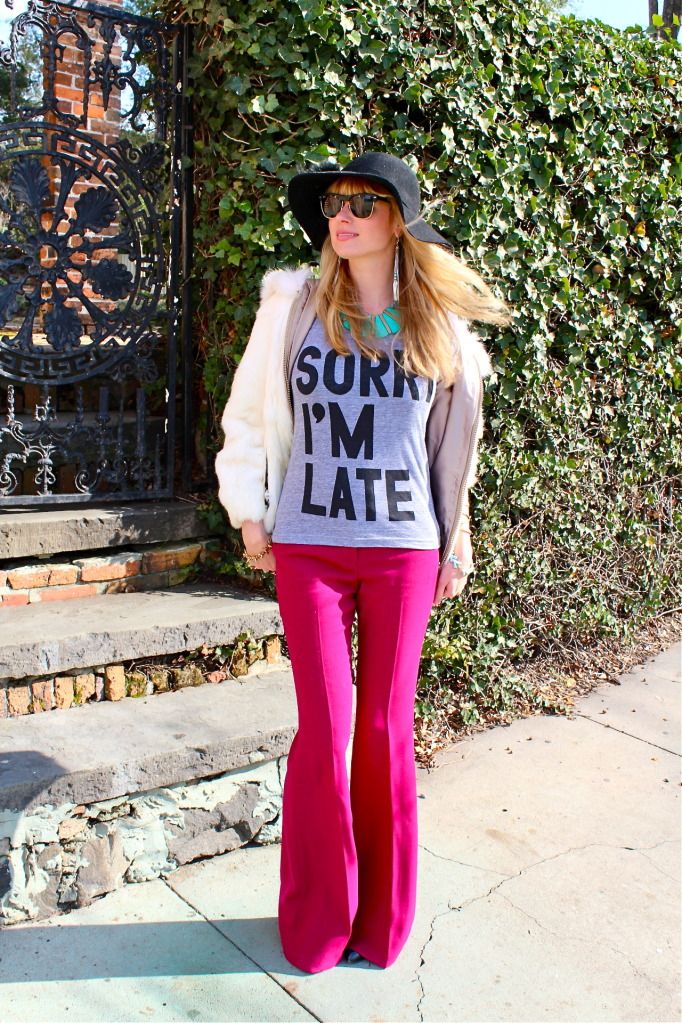 Style Girl  wears the "Fashionably Late" tee with:
Rachel Zoe raspberry hued flared pants from Gilt
Vintage tribal wood necklace from A Second Time Around
Vintage Monet turquoise bracelet from Candy Shop Vintage
Spike with multi-color stone gold bracelet from ASOS
Iosselliani earrings from Beanie + Cecil
Vintage rabbit fur hooded jacket from Nana's closet
Cynthia Rowley floppy hat with fur ball
FOR SALE:
Ray Ban sunnies from Port City Eye
(everything else is from SG's personal wardrobe)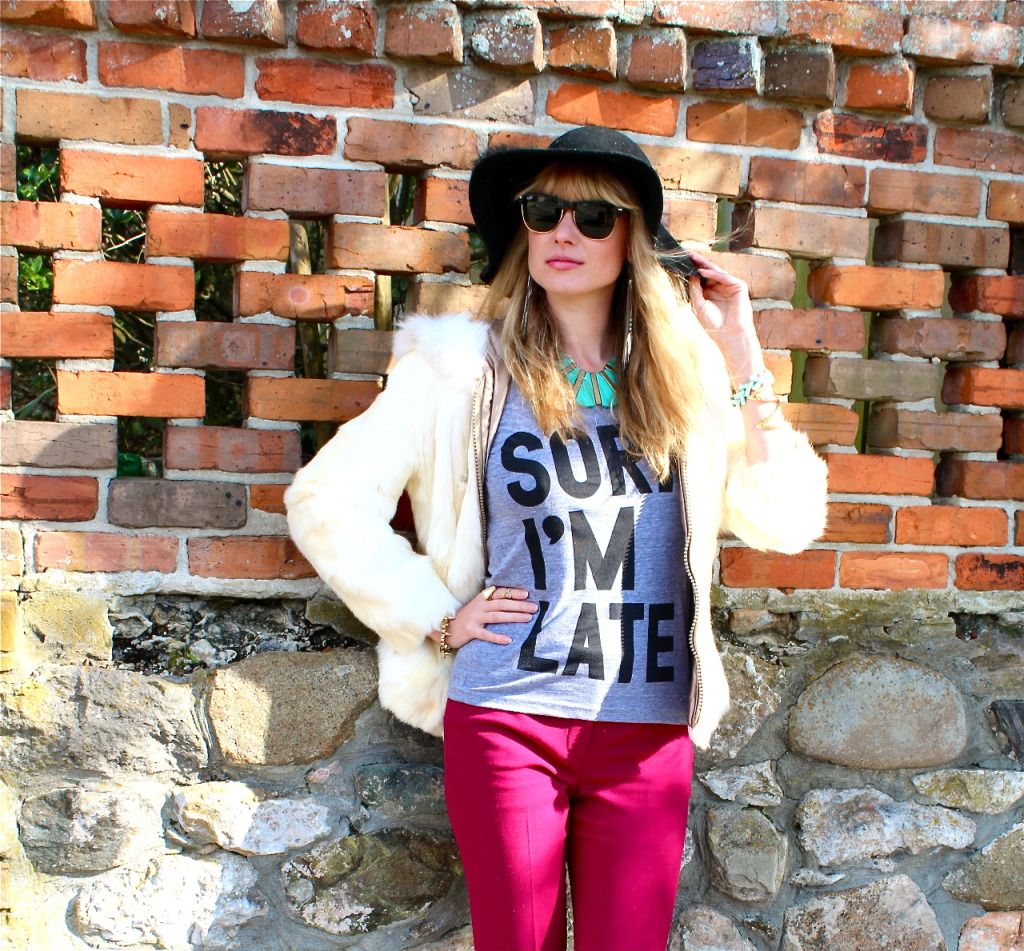 LOOK #3
LADY LUXE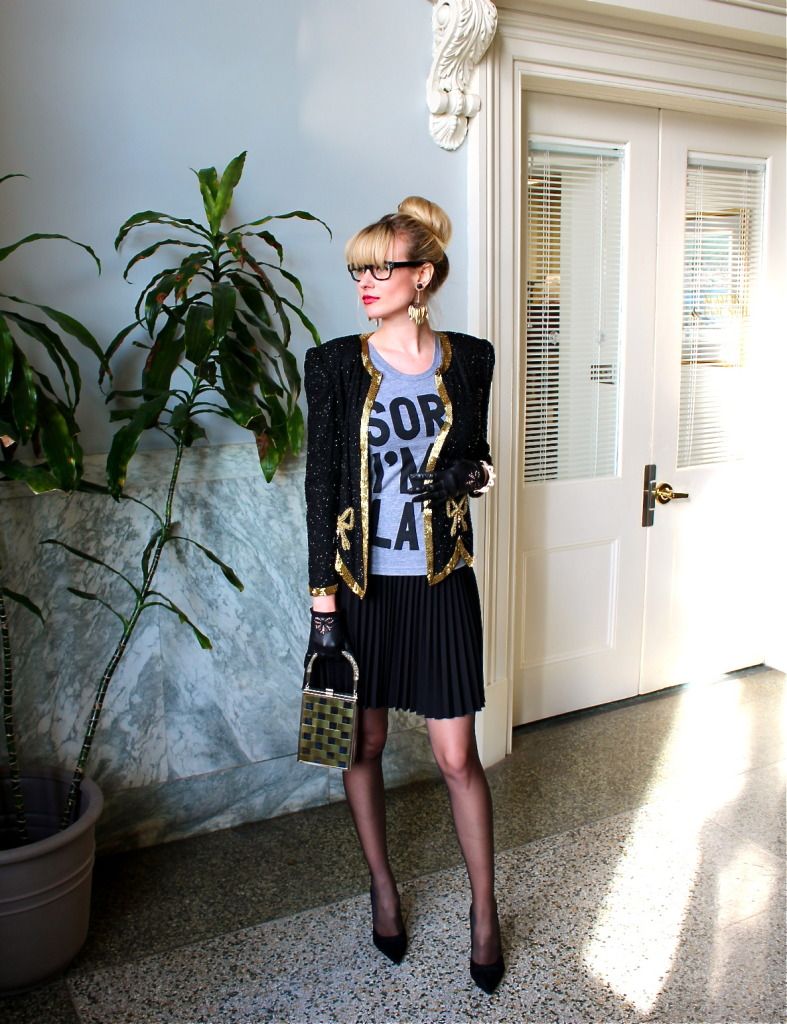 Style Girl  wears the "Fashionably Late" tee with:
Vintage black pleated skirt
Vintage chandelier earrings from aMuse
Vintage black leather bow gloves
Vintage bag with Lucite handle, gift
Geometric bangle from Ann Taylor
FOR SALE:
Vintage beaded bow jacket $50 from Style Girl Collection
(coming soon to aMuse! – email me if you're interested)
Oliver People specs from Port City Eye
(everything else is from SG's personal wardrobe)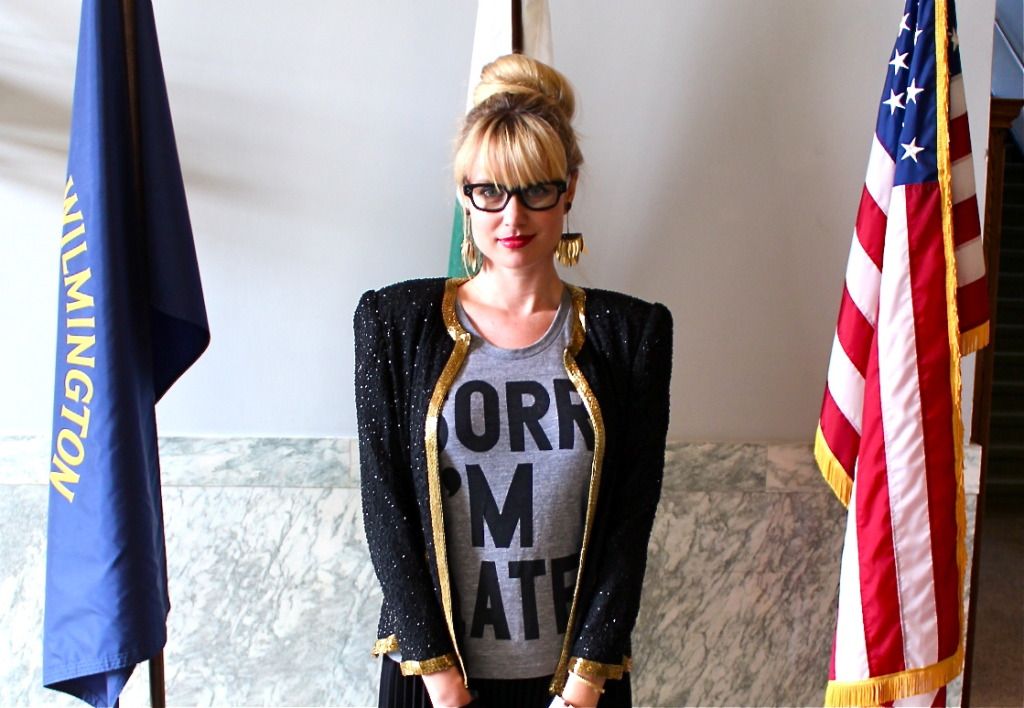 (City Hall, Downtown Wilmington)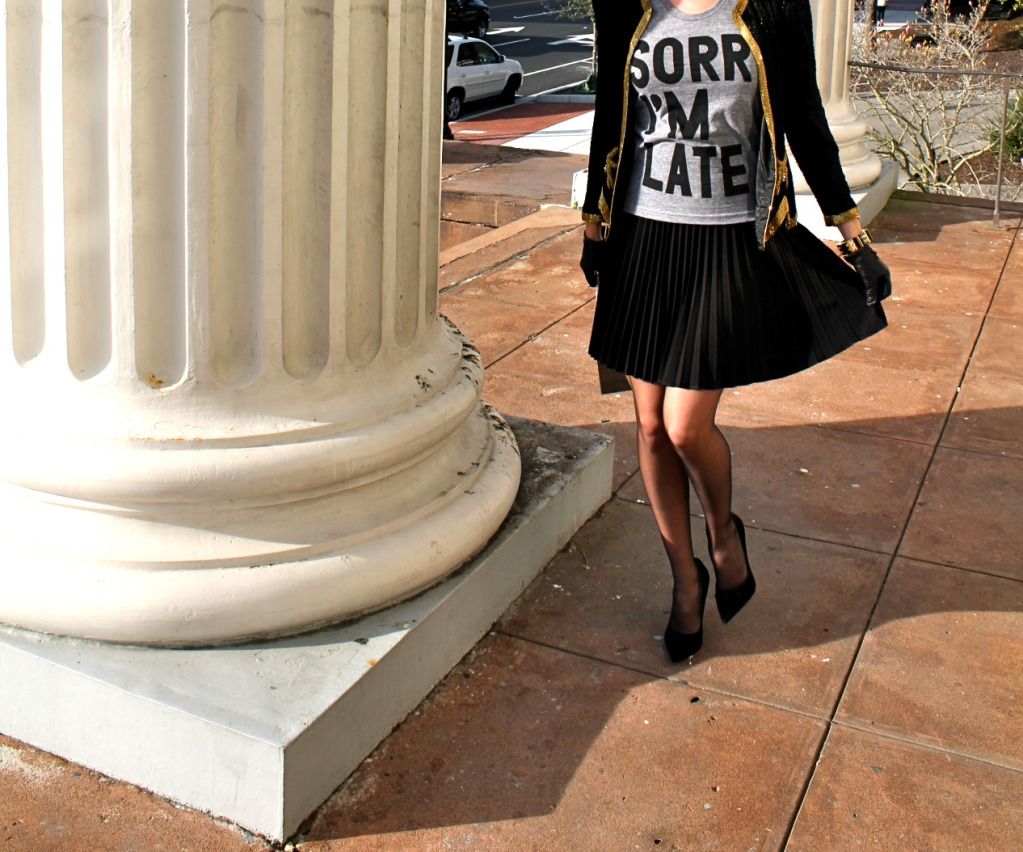 Photos by: Joel Finsel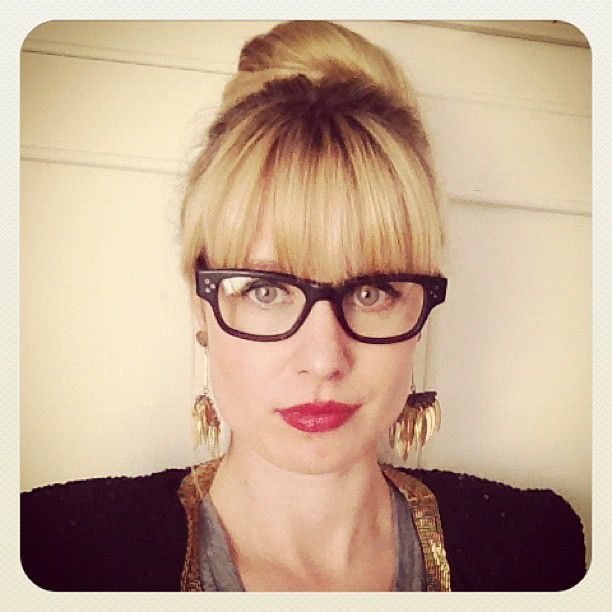 NEW! Oliver People specs from Port City Eye
(perfect for a Zooey Deschanel look)


FEATURED FRAME: Oliver Peoples "The Kiley"
$357 from Port City Eye
This glamorous,  semi-rimless cat eye offers chic style in an ultra lightweight design.
Handcrafted of rolled eye-wire with subtly patterned enamel, this feminine
frame is reminiscent of mod 1960's styling and offered in beautiful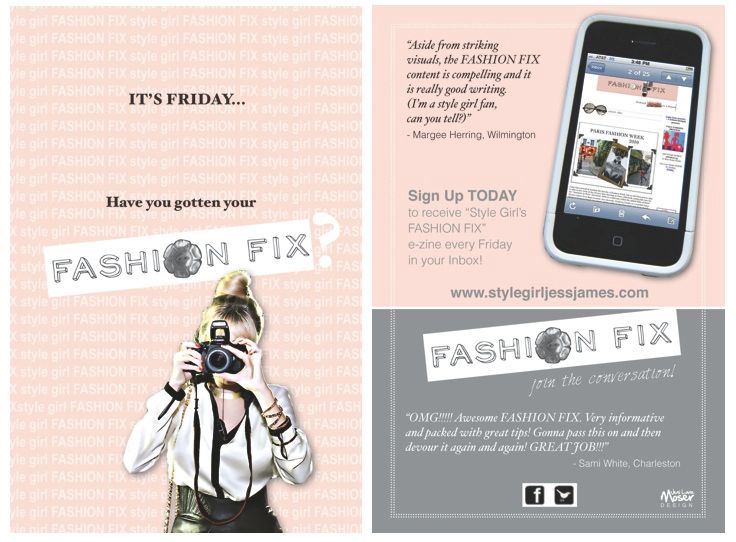 About FASHION FIX
Everyone needs a fashionable friend who knows the best places to shop. Looking for the insider scoop on the most sought-after deals?
Once a week (FASHION FRIDAYS), get your fashion fix with Style Girl's style tips, style on the street + more!
Please forward on to your oh-so-fashionable friends.
Copyright © 2011 Style Girl Jess James, All rights reserved.