Back by popular demand! For my second installment of "Closet
Confessions," I couldn't imagine a better way to spend the afternoon
than getting a behind the seams tour of Charleston's "Vintage Queen" Lori Wyatt's
closet. Her extensive collection, from lavish silk Oriental robes,
embellished party frocks to a barrage of baubles, is enough to make
anyone with a penchant for vintage to go weak in the knees.

Watch the VIDEOS (below) to see Lori's most precious vintage finds as she shares her
favorite style musings on the thrill of the hunt, styling tips and
tricks and her enduring love affair with vintage clothing along with
her stylish sidekick, Natalie Miller.

CLOSET CONFESSIONS: Vintage Queen Lori Wyatt (Part 1)





CLOSET CONFESSIONS: "Vintage Queen Lori Wyatt (Part 2)

* Click on photos above to watch the videos, please! *

Photography of Lori Wyatt's Collection

by: Charleston Photographer Benjamin Williams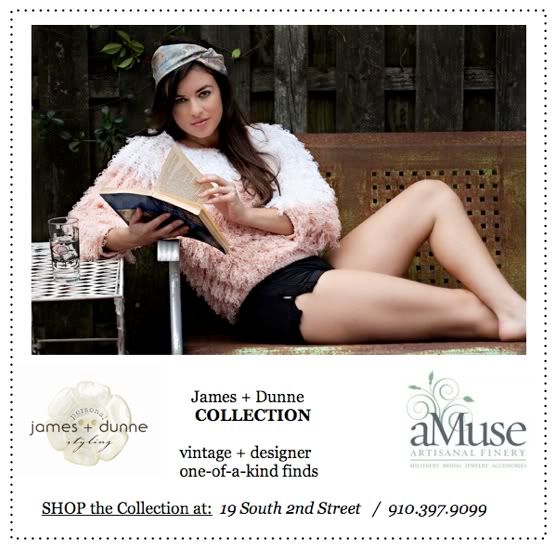 September 17
FashionSPARK
RALEIGH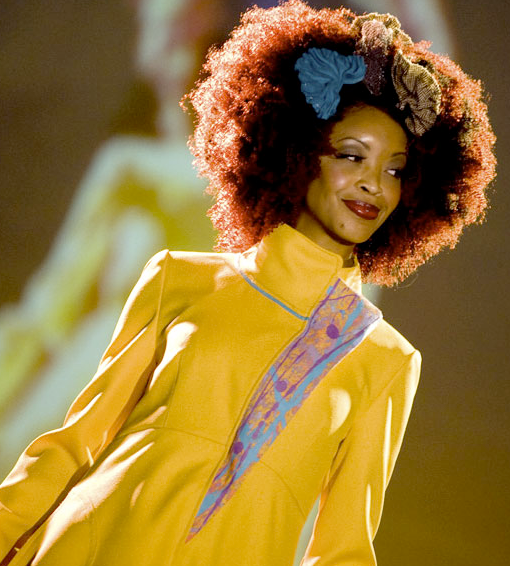 WHAT: The fashionSPARK
Fashion Show, now in its 5th year, showcases the area's top local
fashion talent with fashion shows featuring 25 fashion designers.
WHEN: Friday, September 17th 8pm
WHERE: City Plaza in Downtown Raleigh
WANNA GO?
General admission to the fashionSPARK Fashion Show is free &
open to the public. Standing room is limited. Arrive early.
September 18
Walk a Mile in Her Shoes
WHAT:
The international men's march to stop rape, sexual assault and gender violence, is coming to Wilmington! Calling all boyfriends, husbands, fathers, brothers and sons  – we need YOU to walk a mile in
downtown Wilmington – while donning a pair of high-heeled shoes!
WHEN: September 18
WHERE:
Starts at Elijah's (2 Ann Street in Downtown Wilmington) and ends at
Elijah's with a reception, awards, refreshments and live music.
WANNA WALK?: Contact Ashley Garner at agarner@intracoastalrealty.com today!
More details coming soon at www.walkamilewilmington.com. Need some style tips on where to wear with your heels? Style Girl's got ya covered. Give me a holler.
September 23
Fun in the Fall Runway & Trunk Show
Sonny B / Landfall Center
WILMINGTON
WHAT: Sonny B Boutique presents "Fun in the Fall," a red carpet event featuring A to Z
Clothing, Runway & Trunk Show, Wine, Fun, Friends and Raffle Prizes
benefitting DREAMS Center for Arts Education
WHEN: Thursday September 23rd at 6:3opm
WHERE: Sonny B Boutique at Landfall Center
September 25
Fall Fashion with Flair Luncheon & Fashion Show
The Sanctuary at Kiawah Island Golf Resort
CHARLESTON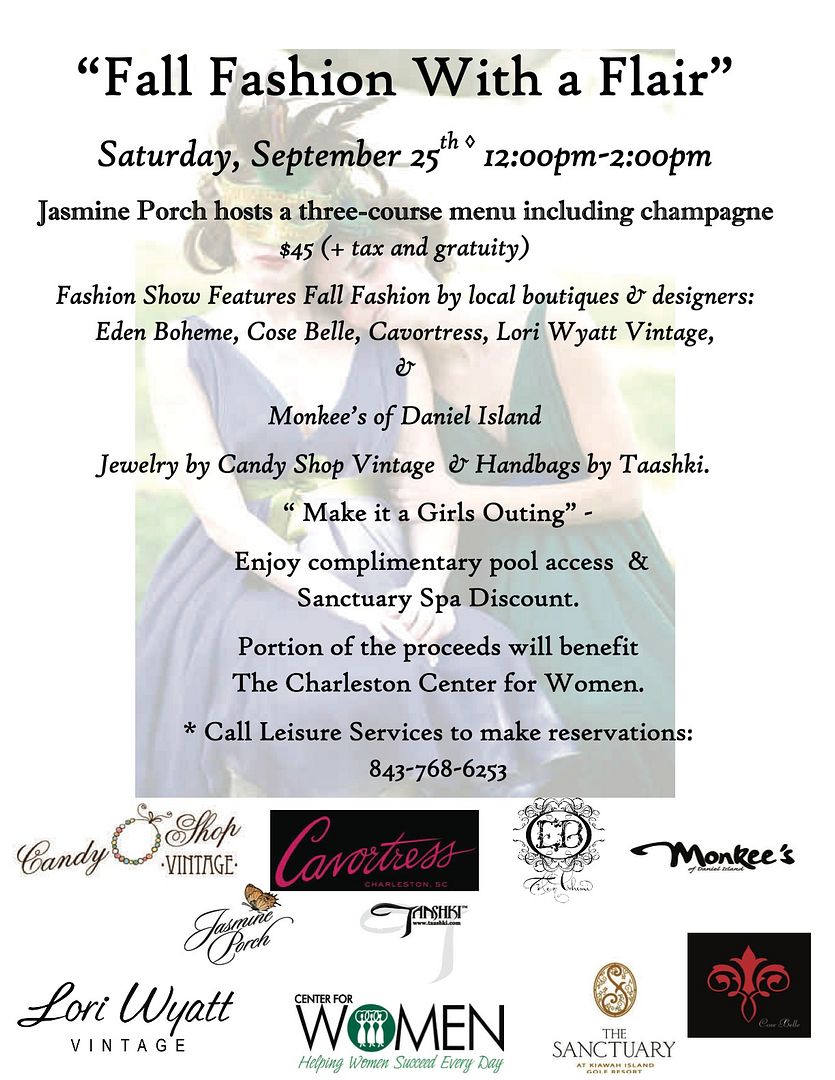 WHAT: The Jasmine Porch restaurant at The Sanctuary at Kiawah Island Golf Resort will host the second annual fashion luncheon, emceed by Charleston Magazine Style Editor Ayoka Lucas and benefiting Charleston's Center For Women, the only comprehensive women's development center in South Carolina.
Models will display fashions from Charleston's top fashion boutiques
and designers, Eden Boheme, Cose Belle, Cavortress , Monkee's of Daniel Island and Lori Wyatt Vintage and accessories from Candy Shop Vintage and Tasshki Handbags. Jasmine Porch will provide a sumptuous three-course menu with bubbly during the show. Shopping pop-up style and gift bags will follow lunch.
WHEN: September 25 / Noon-2pm
WHERE: Jasmine Porch restaurant at The Sanctuary at Kiawah
WANNA GO?: Cost of the event is $45 (+ tax and gratuity) per person
with a portion of the lunch proceeds going to The Center for Women.
Luncheon guests will be offered a discount coupon on treatments at The
Sanctuary's Spa, one of 13 Forbes 5-star spas in North America.
In addition, guests will receive complementary beach & pool access
at The Sanctuary.  For more information or reservations, call
843-768-6253.
Paysage presents "Week of Wow" – October 5, 6, and 7th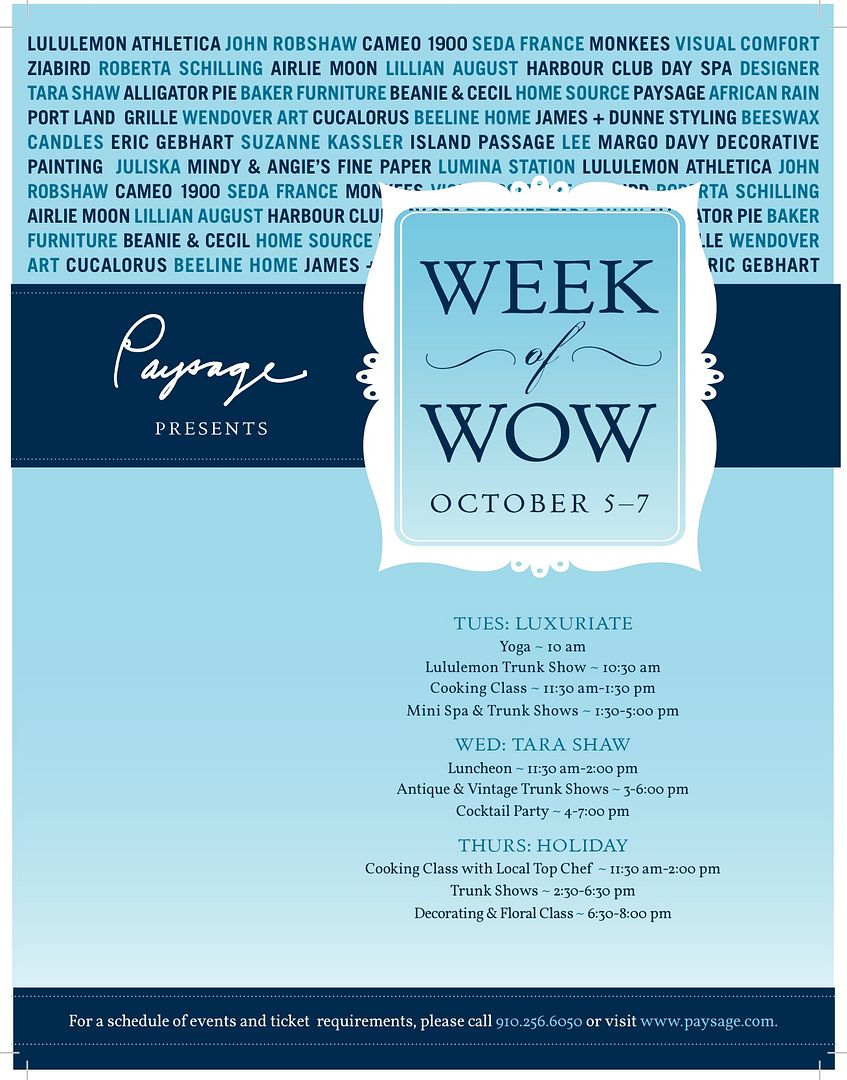 October 5
SPOIL YOURSELF AND YOUR HOME
Complimentary yoga & LULULEMON ATHLETICA trunk show, followed by CAMEO 1900 healthy brunch cooking class, and an afternoon of trunk shows, classes, and workshops offered by PAYSAGE, HARBOUR CLUB DAY SPA, AIRLIE MOON,
ZIABIRD, and many more.
October 6
TARA SHAW LUNCHEON
Join New Orleans' designer, Tara Shaw
at the Landfall Country Club for a luncheon while Tara shares her
antiquing sagas! Shaw specializes in French, Swedish, and Italian
antiques, and will introduce her new furniture line, Maison.
11:30am – 2pm: TARA SHAW luncheon and fashions by MONKEES, BEANIE + CECIL, ALLIGATOR PIE, ZIABIRD, and ISLAND PASSAGE
3pm – 6pm:
TARA SHAW antique collection in the Paysage tent, and a vintage fashions trunk show with "Style Girl" Jess James featuring
one-of-a-kind vintage finds from the James + Dunne Collection and pieces from Lori Wyatt,
"The Vintage Queen of Charleston." End the day with the fabulous sounds
of The Doug Irving Trio, while sipping a glass of wine, compliments of
Paysage.
October 7
HIGH STYLE HOLIDAY PREVIEW
11:30am – 2pm: Eric Gebhart cooking class, learn how to make delicious and festive fall dishes from "Wilmington Top Chef."
2:30pm – 6:30pm: Holiday Gift Preview, trunk shows galore.
6:30pm – 8pm: Holiday decorating and floral class with Jane from Paysage
Please call Paysage for ticket requirements, schedule, and more information. 910.256.6050 or visit www.paysage.com/events
October 9
Dock Side Fashion Show II
Charleston Maritime Center
CHARLESTON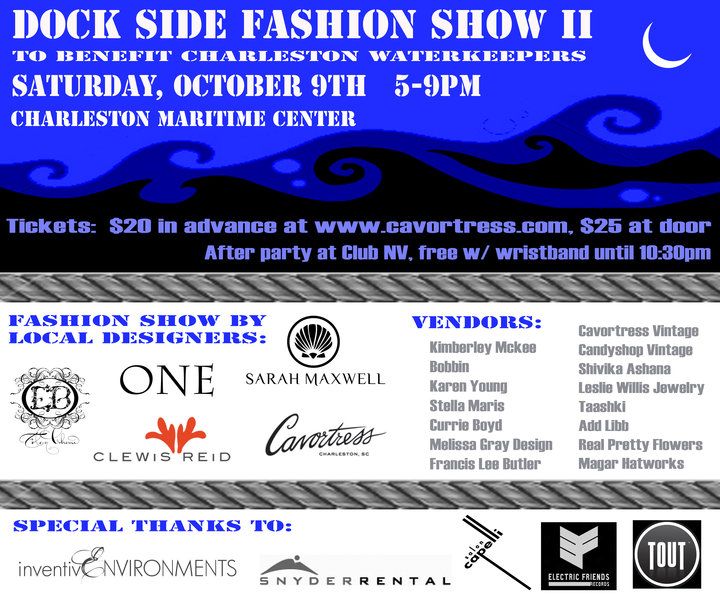 WHAT:
Join Charleston fashion designers Sarah Maxwell, Rachel Gordon of
O.N.E., Ashley Reid of Clewis Reid, Anna Lassiter and Lucinda Robinson of Eden Boheme, and Julie Wheat of Cavortress for a fashion show event to benefit Charleston Waterkeepers. Inventive Environments and Snyder have planned an event to remember under the stars on the harbor at Charleston Maritime Center. Hair by Salon Capelli and models from TOUT. Electric Friends will set the mood. Over 20 Vendors will be onsite in the STYLE LOUNGE, including "Style Girl" Jess James and "Vintage Queen" Lori Wyatt!
WHEN: Saturday October 9th / 5-9pm
WHERE: Charleston Maritime Center
WANNA GO?:  Tickets are $20 in advance and $25 at the door
For more info, contact: info@onecharleston.com
October 14
James + Dunne's Fall Fashion Preview
Blue Hand Home / The Forum
WILMINGTON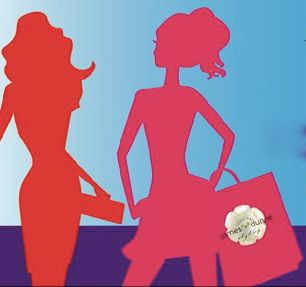 WHAT: Jess James of  James + Dunne Styling is gearing up for the annual Fall Fashion Preview, presented by Cape Fear Jewelry and Antiques and J Nelson Designs Goldsmiths, featuring
must-have looks for fall, style secrets, age-appropriate essentials
& deals you won't wanna miss!  Beauty tips & tricks from Bangz Hair Salon & Spa owner Frank Potter and Amy Kennison of MAC Cosmetics, jewelry trends and custom designs from Pait Skipper and Jonathan Nelson of Cape
Fear Jewelry, as well as de-lish bites from Private Chef Lori Eaton and The Dessert Divas and wine and bubbly courtesy of Art Soup.
MODELS:
Jess will select fall's most fabulous pieces from your favorite local
boutiques and designers (Cape Fear Jewelry, Hallelu, Island Passage, J+D Collection, Lula Balou, Oliver, Paradise Yoga, Personal Touch, Taashki Handbags of Charleston, Torri/Bell, Vintagely New) to create fashion forward, age appropriate "looks" for every
age group with favorite features such as "1 Fall Essential, 3 Different
Ways and "Runway to Real Way." From 20s to 70+, we are looking for local women to "work it!" on the runway. If you would like to recommend a local model (age 25-80), please post a photo and
contact info on the James + Dunne Facebook page. Click HERE.
WANNA GO?: Tickets are on sale NOW at www.jamesanddunne.com
First 50 guests to get tickets are registed to win the "Fall Fabulous" package!
To watch the video (produced by CapeFearTours.com) from the Spring Fashion Preview, please click HERE.
October 15
4th Annual Rock for the Cure
The Reel Cafe
WILMINGTON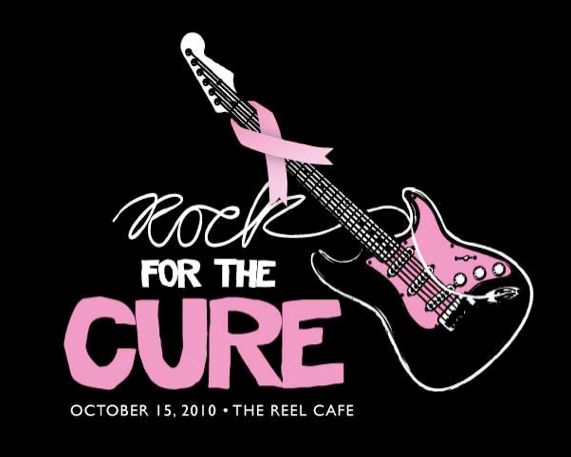 WHAT:
The fourth annual Rock for the Cure breast cancer benefit concert
presented by the UNCW Communication Studies Society will feature The Schoolboys, a local classic and modern rock band. The event is held to support the Pink Ribbon Project and recognize breast cancer awareness month, which is October.
WHEN: Friday, October 15 from 7-10pm
WHERE: The Reel Café in Downtown Wilmington / 2nd floor
WANNA GO?: $5 and all proceeds benefit the New Hanover Regional Medical Center Foundation's Pink Ribbon Project. For more information, please visit student.uncw.edu/rockforthecure.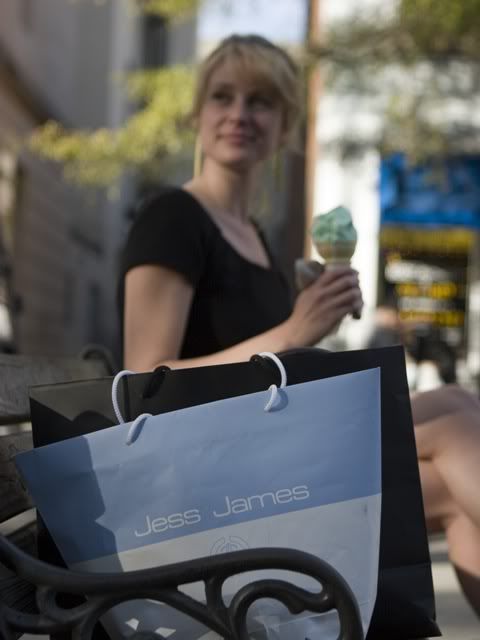 About FASHION FIX

Everyone needs a fashionable friend who knows the
best places to shop. Looking for the insider scoop on the most
sought-after deals?
Once a week (FASHION FRIDAYS), get your fashion fix with Style Girl's style tips, style on the street + more!
Please forward on to your oh-so-fashionable friends!