Once upon a time, there was a ballerina (mini Style Girl, age 5) driven to dance by the pristine pink ballet slippers and the mysterious powers of the tutu. Shortly after exploring the contents of her garden fountain, we'd enter the elegant Miss Nan's ballet studio. Meeting our reflection in the mirror, hair twisted in a sharp bun, we held our balance in first position at the barre as we awaited her instruction -"and plies, and point and…"

I soon lost interest (beyond the fantastic costumes for the year-end rehearsal) and ended a short-lived career as a ballerina (and a new interest in tap and gymnastics). Alas, at first sight of Natalie Portman's star turn in Black Swan, I was once again sucked into the ballet pinkworld of Miss Nan.

On closer inspection seeing that the film was directed by Darren Aronofsky, one of my husband's favorite decidedly dark directors, I had a feeling there would be something more sinister than feathers lurking under Rodarte's Degas-inspired costumes.

Whether you love it or hate it (and there will be no in between), the ballerina (whether you are a white swan or black) will raise the barre for fashion this spring.

Here are a few dancer off-duty essentials:

Collage by: Jess James / Design: Jeni Lane Moser

1. bodysuit / feather skirt / feather headband

bodysuit + feather skirt from Hallelu

To learn how to make your own DIY Feather Skirt, click HERE to see a tutorial from P.S. I Made This (featured on WhoWhatWear.com)

feather headband

Teal $32 from Ziabird

* Or, try feather hair extensions from Cheryl Kent at Ward Hair Salon

2. dance shrug

Sense shrug from Paradise Yoga

3. pink lips

MAC lipstick in Speed Dial $14.50 from MAC Cosmetics

4. wings

Maison Martin Margiela Peacock feather cape $2,765  from Net-a-Porter.com

5. ballet flats

studded Capezio ballet slippers from www.bonadrag.com



6. moody nails

Chanel metallic hologram nail polish in Black Pearl $36 from Amazon.com

7. gray sweatshirt

3.1 Phillip Lim fishtail sweater $350 from Net-a-porter.com

8. bustier

Parker peplum bustier from Oliver

9. feminine black maxi

L'Agence black maxi dress with ruffle and pleated detail from Beanie + Cecil

10. boudoir

Marchesa bustier dress with one-shouldered lace strap and feather skirt

Photo from Camilla W. on LookBook.nu

Collage from BeachChic18 on Polyvore

Tearsheet from Marie Claire

Swan Lake-esque couture featured at Chanel's Spring Show at The Grand Palais in Paris

covered in Andre Leon Talley in VOGUE's December 2010 issue



Edge of Urge just got in the shoes that have been causing a commotion among the glitter-happy goddesses. Jeffrey Campbell's Gold Glitter & Multi Glittery Litas are now available at Edge of Urge. According to their Facebook page, seven pairs were sold within the first hour they hit the sales floor/online store. Get 'em while you still can!




January 27

Spring Fashion Preview Event

Personal Touch at The Forum

WILMINGTON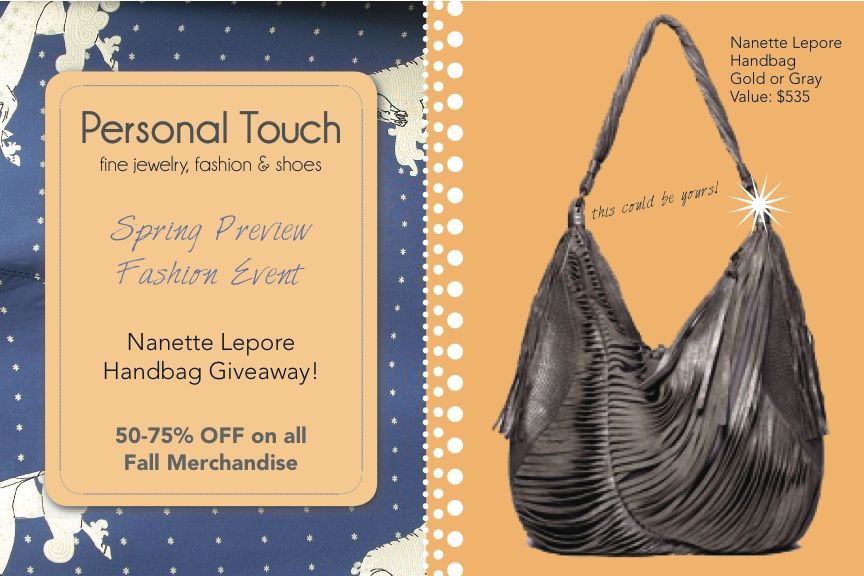 WHAT: Personal Touch is kicking off 2011 with a Spring Fashion Preview Event!
* Win a Nanette Lepore handbag (valued at $535)
* Preview Spring's new arrivals on local models (from their 20's to their 80s):
Carolyn Burns, Shannon Hussey, Caroline Walkup, Ksenia Kudasheva,
Cindy Vach, Melanie Smith, Brook Dorosko, Nancy Madison, Karen McMannis and Paula Farraday – styled by "Style Girl" Jess James with hair by Lavish and makeup by Blush
* Take advantage of AMAZING discounts (50-75% off fall merchandise + 20% off new spring arrivals for one night only!
* Complimentary wine & bubbly from Manna, downtown's newest and most-buzzed   about restaurant and yummy sweet treats from Coastal Cupcakes.
WHEN: Thursday January 27th / 6-8pm
WHERE: Personal Touch at The Forum
WANNA GO? Admission is FREE! Must be present to win the Nanette Lepore handbag!
February 8
FGI Summer Collections Video Presentation
Harbour Club
CHARLESTON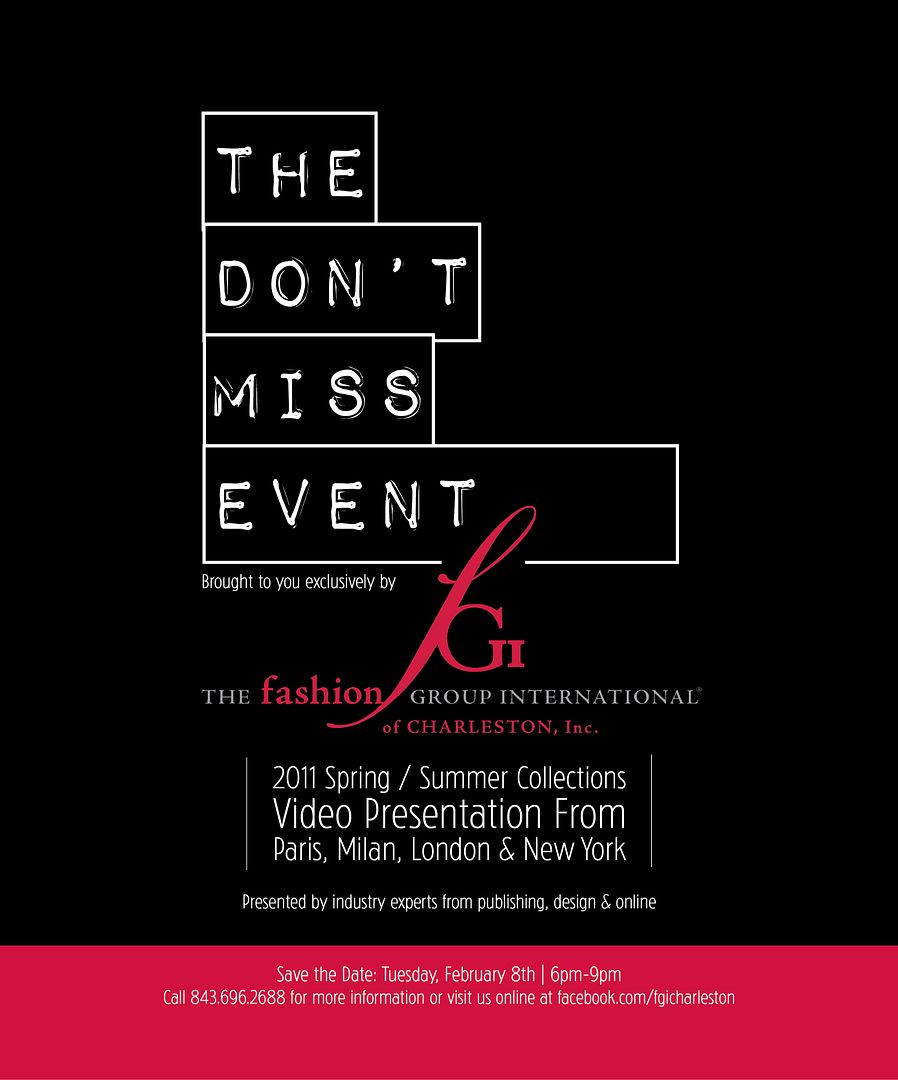 WHAT: Charleston's new Fashion Group International branch is hosting the 2011 Summer Collections Video Presentation from Paris, Milan, London & New York presented by national industry experts from publishing, design and online media. Enjoy insights from industry insiders (speakers to be announced soon),
open bar and heavy hors d' oeuvres.
WHEN: Tuesday, February 8th / 6pm-9pm
WHERE: Harbour Club / 35 Prioleau Street
WANNA GO?:
$65
for FGI members and $75 for non-members. The Fashion Group
International is a global, non-profit, professional organization with
5,000 members in the fashion industry including apparel, accessories, beauty and home. Call 843.696.2688 for more information or visit us online at facebook.com/fgicharleston
February 27
An Evening at the Oscars, presented by the Cucalorus Film Foundation
Hilton Wilmington Riverside
WILMINGTON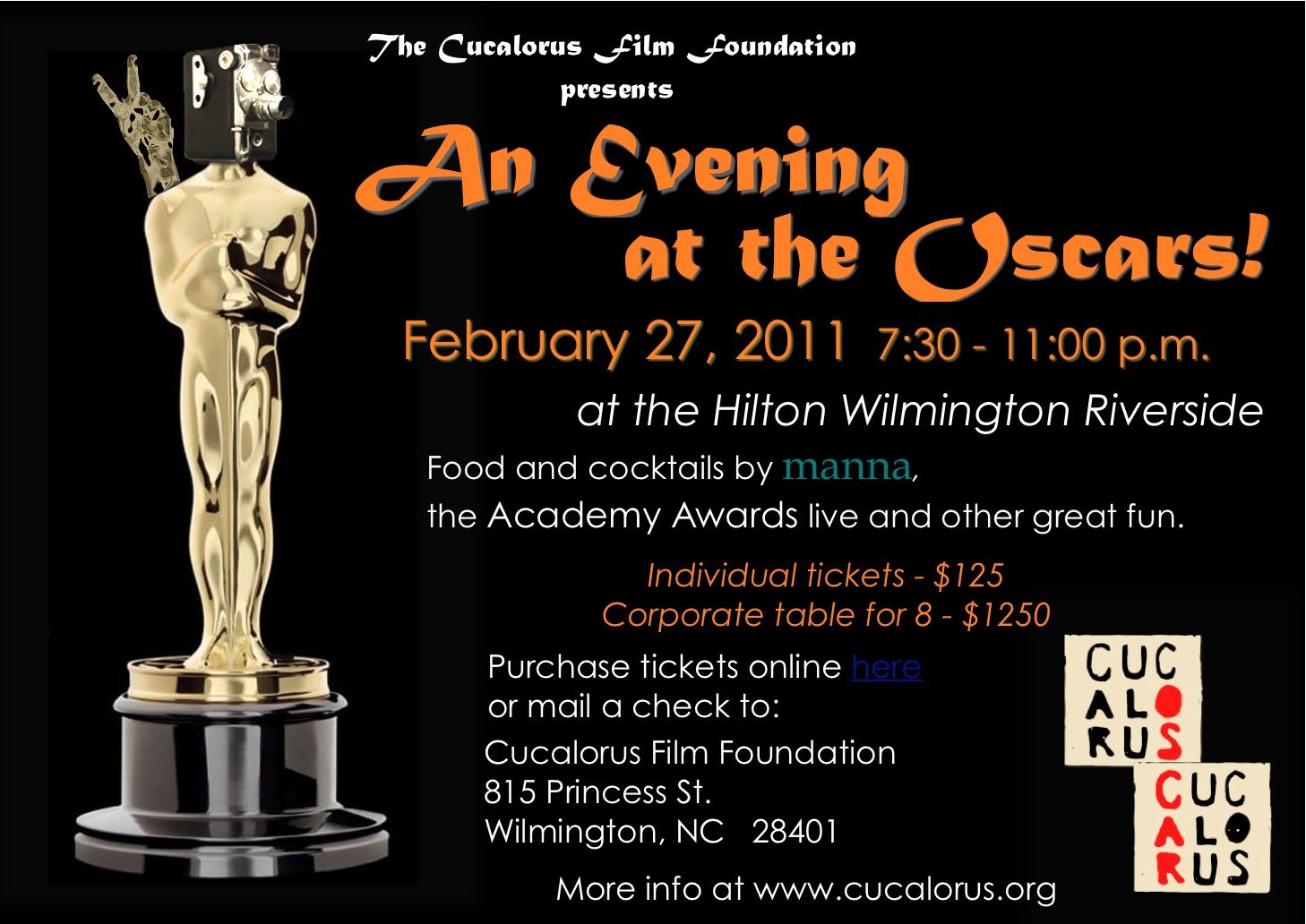 WHAT: Join Cucalorus,
your favorite film festival, as they put on their second annual Oscar Party fundraiser. We'll enjoy the Academy Awards in style on giant screens, with food and drinks by manna, a Red Carpet paparazzi gauntlet hosted by Style Girl Jess James, a curated Silent Auction, a cash prize Oscar Pool and other fun surprises.  Dress to the nines and walk the Red Carpet with Cucalorus at the best Oscar Party in town!
WHEN: Sunday, February 27th at 7:30pm
WHERE: Hilton Wilmington Riverside
WANNA GO?: Tickets are limited, and can be purchased online at www.cucalorus.org.
About
FASHION FIX

Everyone needs a fashionable friend who knows the
best places to shop. Looking for the insider scoop on the most
sought-after deals?
Once a week (FASHION FRIDAYS), get your fashion fix with Style Girl's style tips, style on the street + more!
Please forward on to your oh-so-fashionable friends!