If you wake up with Foz and Jocelyn on "Foz in the Morning" on Z107.5,
chances are you've heard our weekly "chic chat" every Thursday right
before the nine o'clock hour. Due to his "world famous" cheekbones, I
decided to recruit Foz as my "IRL" model showcasing three versatile
looks from Bloke (located at 1427 Military Cutoff Rd) to break the mold in 2011.

Instead of having one set "uniform" (how borrr-ing!), let's mix it up a
bit, guys. With Bloke owner Michael Vinson as my sartorial accomplice,
we started with a pair of straight leg dark denim jeans (Davis Straight
Leg by LTB $87) and put together three distinct looks based on a
trifecta of style personas portrayed by the one-and-only FOZ:

Jeans – Davis Straight Leg by LTB – $87

Button Down – Blue/Black Gingham by French Connection – $78

Tie – Navy Stripe by French Connection – $48

Blazer – Projek Raw – $118

(and don't forget the "Aging Hipster," per Michael Vinson's

depiction of the variety of Bloke customers)

Jeans – Davis Straight Leg by LTB – $87

Tee – No Star – $27

Military Jacket – Commander by Jedidiah – $110

Shoes – Hightops by Bensimon – $78

Fedora Hat – San Diego Hat – $32

Jeans – Davis Straight Leg by LTB – $87

Henley – Alternative Apparel – $48

Plaid button down – Projek Raw – $55

Coat – Plaid Bomber w/ Removable Fur Collar by Projek Raw – $180




All Clothing – Available at

Bloke

– 1427 Military Cutoff Rd

Photography: Jess James







Absolutely love this just-released video from Tom Ford's "top secret womenswear collection debut" Fashion Show featuring model / singer Karen Elson's (who walked in the show) song "Pretty Babies."  Beyonce, Rita Wilson (Tom Hanks' wife) and Julianne Moore also walked in the show this past September. To watch, click HERE.

"Americatown," the quirky shot-in-Wilmington feature directed by Kenneth Price and starring "Superkiiids" Cory Howard and Jonathan Guggenheim is getting some national attention from The Wall Street Journal – "manic comedic brainstorming," The Village Voice – a bit of a harsher review but noting the film (or the Kiiids) "shruggable, huggable amiability" while the Journal concludes, it's "so low-budget you want to give it a quarter."

"Americatown," which debuted as a work-in-progress at the Cucalorus Film Festival in 2009, went on to win the best feature prize at the Atlanta Underground Film Festival. Starting today, it'll have a week-long run at the reRun Gastropub Theater in Brooklyn.

To watch the trailer, click HERE.

Party like it's 2011!

Photos from Manna +

Mandy & Anghus's Roaring 20's NYE Party

Encore Editor Shea Carver and Party Hostess Mandy Houvouras

L:

Festive legwear modeled by Gloria Dyer and Tiffany Reeves

R:

Fire Hula hoops!

L:

Alisha Payne and Chad Keith dressed in their 20's finest

R:

Tiffany Reeves wearing a beaded deco dress from Oliver

Superkiiid Cory Howard and

Zach Crain in a jaunty top hat

Superkiiid Johnny Guggenheim does not disappoint in stripes and spectators

!

L: with girlfriend Courtney Bridgers Coffin wearing a red dress from the Style Girl Collection

R: with his sister – also darling in red

Oliver "flappers" Tiffany Reeves, Gloria Dyer with Jess James

(wearing a Phillip Lim dress from Beanie + Cecil)

Celebrity Hair Stylist Steve Ward with LA-based MAC makeup artist Ashley Pleger

at Manna

L: Nashville singer Rayland Baxter performing a dinner show on New Years in Manna's dining room

R: Manna co-owner Billy Mellon uncorks the champagne

Sara Hardy flashes her dazzling floral bracelet from Island Passage at Manna's bar

TO SEE MORE PHOTOS FROM NYE, VISIT THE

STYLE GIRL " FASHION FIX" FACEBOOK PAGE BY

CLICKING HERE.




Congratulations to Bridget Murphy for winning a Massage with

Hannah Simmons

!!

(Photographed  wearing a vintage Christian Dior lame blouse from

The Style Girl Collection styled as a jacket over the holidays)




January 13

My Wonderful Machine Show

Cameron Art Museum

WILMINGTON
WHAT: My Wonderful Machine (MWM),
the musical duo of Jamin Belmont and Hope Henderson, are bringing their mod folk, experimental indie rock sound to CAM for a special show.  Jamin, an acclaimed musician and the creative force behind atmospheric indie rock band Doly Toro and melancholy country group J Miners and singer/musician Hope Henderson formed MWM
a year ago. With comparisons that range from Blonde Redhead to Leonard Cohen to Nancy Sinatra, this will be an audio/visual performance not to be missed.
WHEN: Thursday, January 13th / 7-8pm
WHERE: Cameron Art Museum (CAM) / 3201 South 17th Street
WANNA GO?:  CAM Members: $5, Non-members: $10
January 27
Spring Fashion Preview Event
Personal Touch at The Forum
WILMINGTON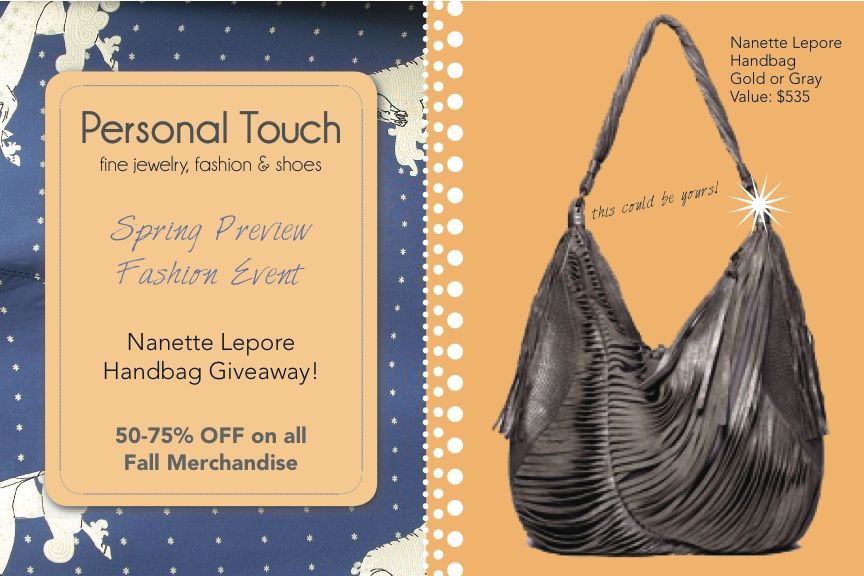 WHAT: Personal Touch is kicking off 2011 with a Spring Fashion Preview Event!
* Win a Nanette Lepore handbag (valued at $535)
* Preview Spring's new arrivals on local models (from their 20's to their 80s) styled by "Style Girl" Jess James with hair by Lavish and makeup by Blush
* Take advantage of AMAZING discounts (50-75% off fall merchandise + 20% off new spring arrivals for one night only!
* Complimentary wine & bubbly from Manna, downtown's newest and most-buzzed   about restaurant and yummy sweet treats from Coastal Cupcakes.
WHEN: Thursday January 27th / 6-8pm
WHERE: Personal Touch at The Forum
WANNA GO? Admission is FREE! Must be present to win the Nanette Lepore handbag!
February 8
FGI Summer Collections Video Presentation
Harbour Club
CHARLESTON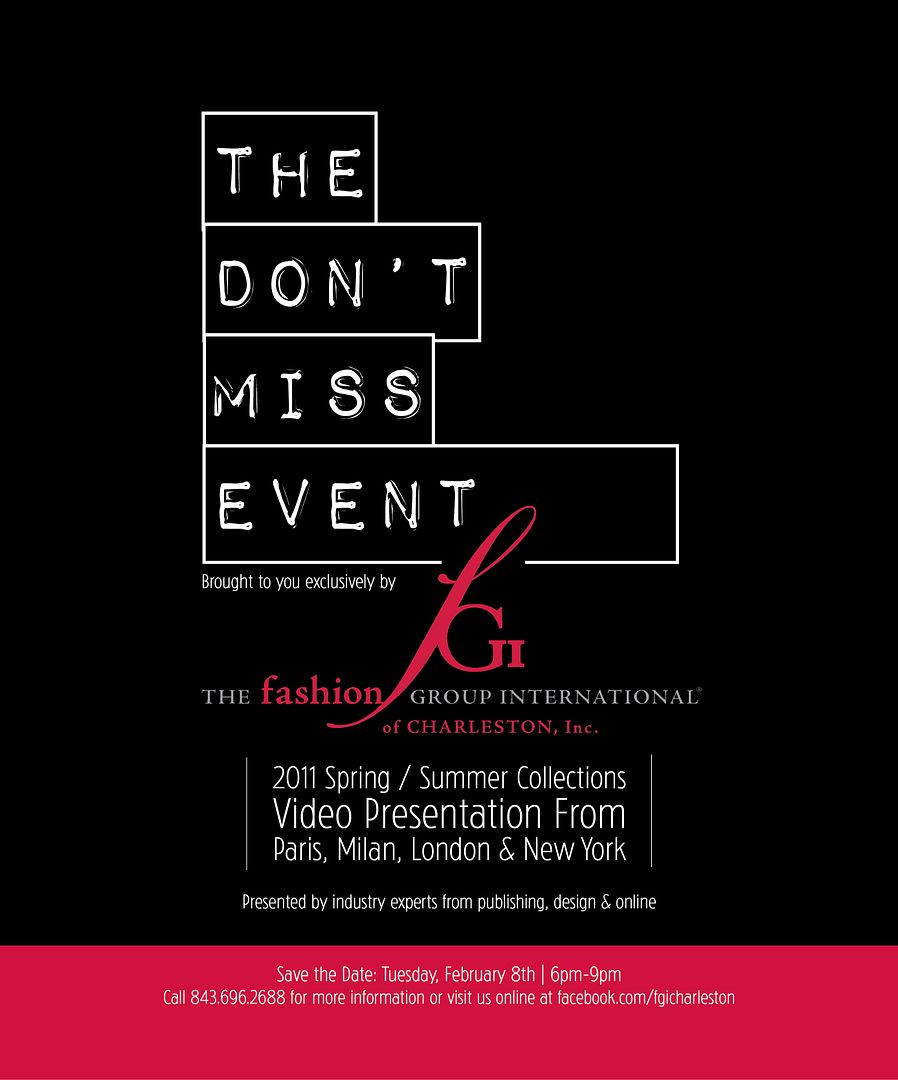 WHAT: Charleston's new Fashion Group International branch is hosting the 2011 Summer Collections Video Presentation from Paris, Milan, London & New York presented by national industry experts from publishing, design and online media. Enjoy insights from industry insiders (speakers to be announced soon), open bar and heavy hors d' oeuvres.
WHEN: Tuesday, February 8th / 6pm-9pm
WHERE: Harbour Club / 35 Prioleau Street
WANNA GO?:
$65 for FGI members and $75 for non-members. The Fashion Group
International is a global, non-profit, professional organization with
5,000 members in the fashion industry including apparel, accessories, beauty and home. Call 843.696.2688 for more information or visit us online at facebook.com/fgicharleston
About
FASHION FIX

Everyone needs a fashionable friend who knows the
best places to shop. Looking for the insider scoop on the most
sought-after deals?
Once a week (FASHION FRIDAYS), get your fashion fix with Style Girl's style tips, style on the street + more!
Please forward on to your oh-so-fashionable friends!