There's the 3rd Annual Wrightsville Beach Holiday Party this Saturday,  New Year's Eve, The Pre-Azalea Festival Party January 21st (did you hear? We are actually getting the Avett Brothers
this year instead of an American Idol castoff. Hallelujah!) – not to
mention the party hopping you'll be doing between open houses, boutique soirees and your neighborhood candlewalk tour. So, you've got to be able to "stretch the dress" as Foz so eloquently put it on Z107.5 this morning.

Over the next few weeks leading up to 2011, we'll feature 1 dress,
styled 3 different ways, reflecting how you might wear it "In Real
Life" by restyling a LBD you already own and purchasing several key on-trend accessories to elevate your look or finding a new, versatile dress to transform with creative layering and statement accessories.

Today, we're starting with this amazing dress I picked up at the Hallelu Fashion Show last night. It's stretchy (comfy), has peekaboo shoulders and crisscross straps (sexy) and reflects one of this season's hottest trends (the maxi). Plus, it's only $68.

Look #1: Danielle wears Mink Pink black maxi dress $68 from Hallelu, Seychelles "Romance" zip-up blk boot $137
from Hallelu, gray braided stone necklace $24 from Hallelu, geometric
cuff $11 from Hallelu, braided black headband $14 from Hallelu, studded
gray purse $44 from Hallelu, taupe ring w/ black stone $15 from Hallelu

Look #2:

Add texture by working this season's must-haves: lace-trimmed crop top, animal print and gold dangle earrings

Mink Pink black lace trim crop top $60 from Hallelu, Vintage Bloomies leopard print blazer $65 from Style Girl Collection (available at aMuse), gold fringe earrings $13 from Hallelu, black leather gold plate cuffs $27 each from Hallelu, gold feather cuff from Hallelu

Look #3:

Shimmer with a pop of red.



Party Princess sequin top

$69 from Hallelu, black + silver braided headband $8 from Hallelu, red

feather earrings $13 from Hallelu, vintage beaded clutch $25 from Style

Girl Collection, silver statement ring from

Hallelu

Photography + Styling: Jess James

Find something special at Lumina Station this Holiday Season!

Check out our Holiday Gift Finder on Facebook with nearly

100 unique gift ideas starting at UNDER $50!

Browse The Facebook Holiday Gift Finder Now by clicking HERE.

PERFECT STOCKING STUFFER

Now your hands don't have to freeze everytime you need to use your phone!

Pick up a pair of iPhone gloves (motorcycle style featured – they also have a ruffled option for a more girlie look) at Sole Searching in Lumina Station! $35



Beanie + Cecil Holiday Soiree

December 2

Rebecca weighs in on Sully's find.

Photography: Sara Morris of GoodNight Gracie Photography

Torri/Bell Holiday Party

December 2

The torri/bell girls in Claus couture!  Marie Butner, Sarah Butler, Pam Brissette, Jennifer Merwitz



Cortney Elmore and Nicole Massimino

Gina Bell in Mark & James by Badgley Mischka, Loni
Schoinger, Libby Rice, Torri Sanford in Mark & James by
Badgley Mischka, Sherry Gardner in Prairie NY, Legare Teynor in Butter
by Nada

Photography: Leslie Koehn of Leslie Koehn Photographic

STYLE SWAP Charleston

December 2

L: Katie Kern of Circa PR and Jess James

R: Deirdre Zahl of Candy Shop Vintage arrives with a sparkly top to swap

Style Swap sponsor The Scarlet Poppy

–

Owners and designers Michelle Fowler & Jennafer Bryan transform antique and vintage pieces into modern necklaces to cherish.

The girls of Seeking Indigo, the Style Swap's hosting venue

–

Thank You!

Tarot Card Readings at Style Swap!

Photo Booth Fun!

L: Event emcee Tara Lynn, co-anchor of News 2 w/ Makeup Artist extraordinaire Andrew Petersen

R: Katie Lee and Najee Wilson

One of Style Swap's luckiest guests!

Jess James, ravishing redhead who took home the cropped moto jacket

from the Style Girl Collection and the stylishly attired Amy Chadwell

The Vendue Inn welcomed us post-swap with raspberry swaptinis at their rooftop bar – yum!

Photography: Valerie Schooling




Racine Holiday Event

Racine Commons Shopping Center

WILMINGTON
WHAT: Racine Commons is hosting a holiday shopping event featuring live
music from a 4-piece band, visits with Santa, yummy treats and
libations along with raffle prizes. Visit any store in the center and
receive a holiday card. Visit each business in the center, get a
stamp on your card and deliver it to Santa (at The Connection
space) to be entered in the Racine raffles. Lula Balou and Froggy Pond holiday fashion shows will go on at 6pm & 7pm, also at the Connection.
WHEN: TONIGHT! 5:30pm – ?
WHERE: Racine Commons / 250 Racine Commons
December 11
3rd Annual Wrightsville Beach Christmas Party
Banks Channel
WRIGHTSVILLE BEACH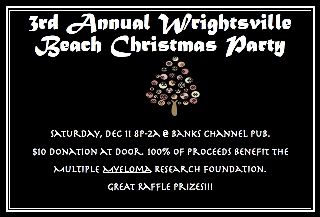 WHAT: Shannon Hussey and Megan Stein are hosting the 3rd Annual Wrightsville Beach Christmas Party to benefit the Multiple Myeloma Research Foundation.
Enjoy catering by Banks Channel, photography by Chris Carlton, DJ, games and raffle prizes all night long from over 30 local businesses.
WHEN: Saturday December 11 / 8pm-2am
WHERE: Banks Channel
WANNA GO?: With a $10 donation at the door, you will receive one raffle ticket. Additional tickets can be purchased 3 for $5 and 7 for $10.
About
FASHION FIX

Everyone needs a fashionable friend who knows the
best places to shop. Looking for the insider scoop on the most
sought-after deals?
Once a week (FASHION FRIDAYS), get your fashion fix with Style Girl's style tips, style on the street + more!
Please forward on to your oh-so-fashionable friends!