You knew it was coming. The Fall Fashion Preview may be right around the corner but we needed one last hurrah for Gatsby mania, right? There is no better excuse for reliving one of the most enchanting evenings of the year at The City Club than the release of Lisa Brown of Bella Rose Photography's gorgeous Gatsby photographs. Poor Lisa is in a losing battle with a major cold right now so Gatsby guests will need to hold tight for one more week until ALL the photos will be released on www.pictage.com.
I've included some of my favorites in the FASHION FIX but it was almost impossible to narrow it down so I added even more to the Gatsby photo album on the style girl FASHION FIX page. Grab a glass of champagne (it IS Friday, after all) while you scroll. Cheers, Old Sport! And, "Happy Gatsby" as the saying went Thursday night.
Before we shut the door on Gatsby for the year, I wanted to mention that the fantastic Red Party in Charleston I covered last year (the Wizard of Oz theme, remember?) has a new theme.
"Gatsby? what Gatsby?"
That's the one! Mark your Calendar for October 25.
The Red Party is going GATSBY. Wilmington nailed deco elegance at this year's Gatsby so why don't we show Charleston how it's done?
WHAT I WORE: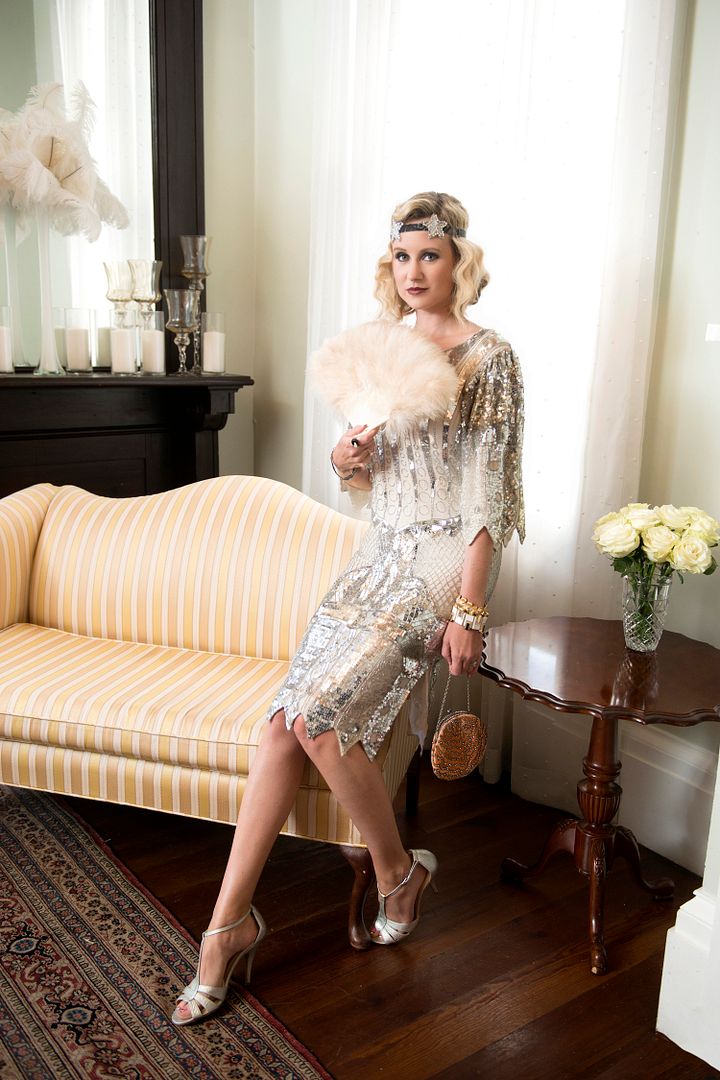 Vintage sparkle-like-a-deco-disco-ball dress from Adored Vintage
Jezebel star headpiece by Esther Jean Designs
Vintage 1920's peach velvet rhinestone bag, silver T-straps and
vintage perfume feather fan, all from Etsy
Diamond and turquoise earrings from Cape Fear Jewelry
Gold and rhinestone bracelet from Candy Shop Vintage
Silver stone deco bracelet from Bijuju
White/gold deco bracelet from Ann Taylor
Makeup: Amy Kennison
Hair: Cheryl Kent at Ward Hair Salon
Deco Art Nails: Nails the Right Way by Maria
The Red Party
Goes Gatsby:
Get Your tickets by
Clicking HERE.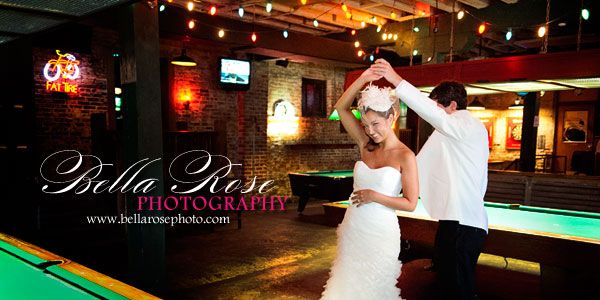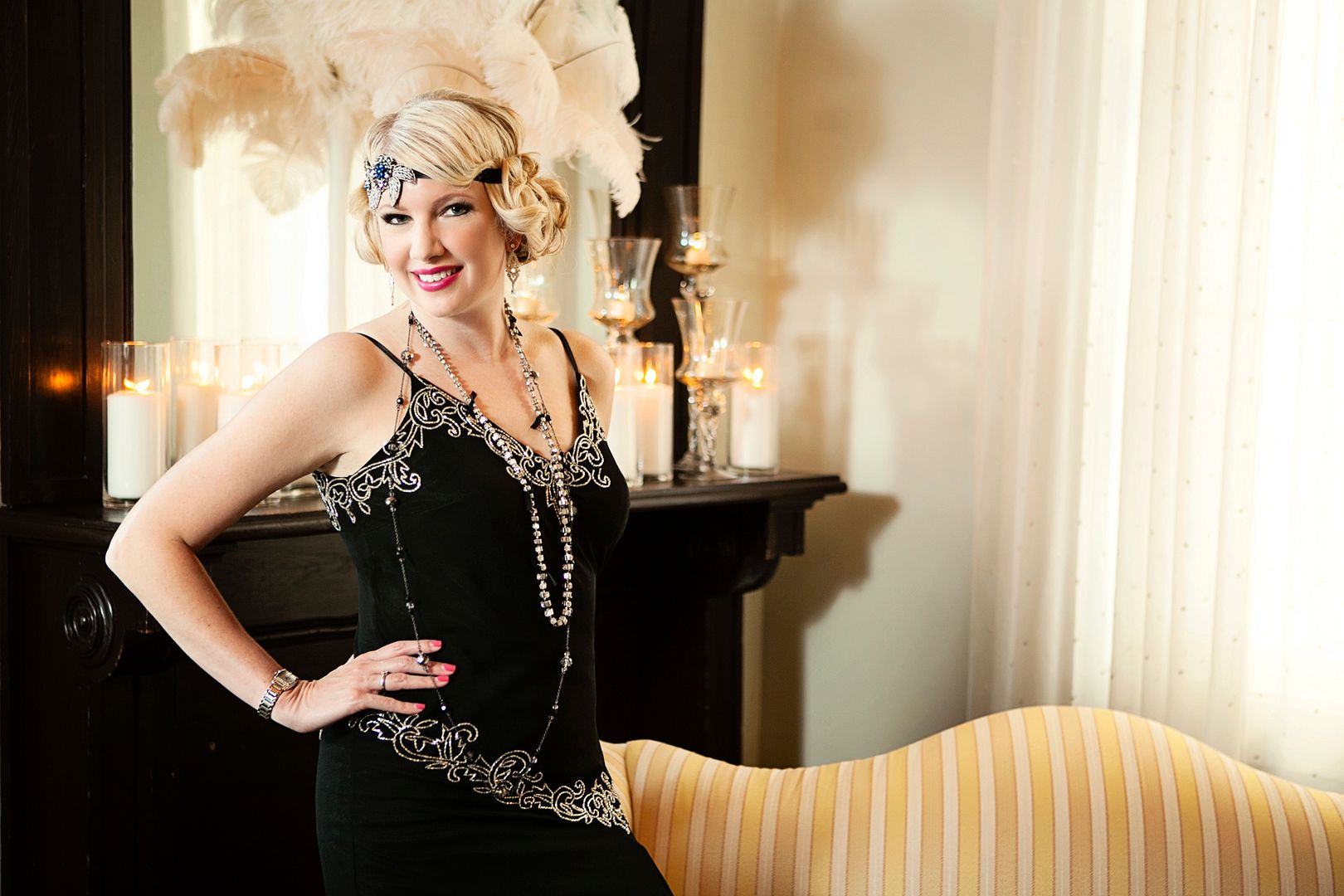 Our incredibly talented (and beautiful) Gatsby photography
Lisa Brown of Bella Rose Photography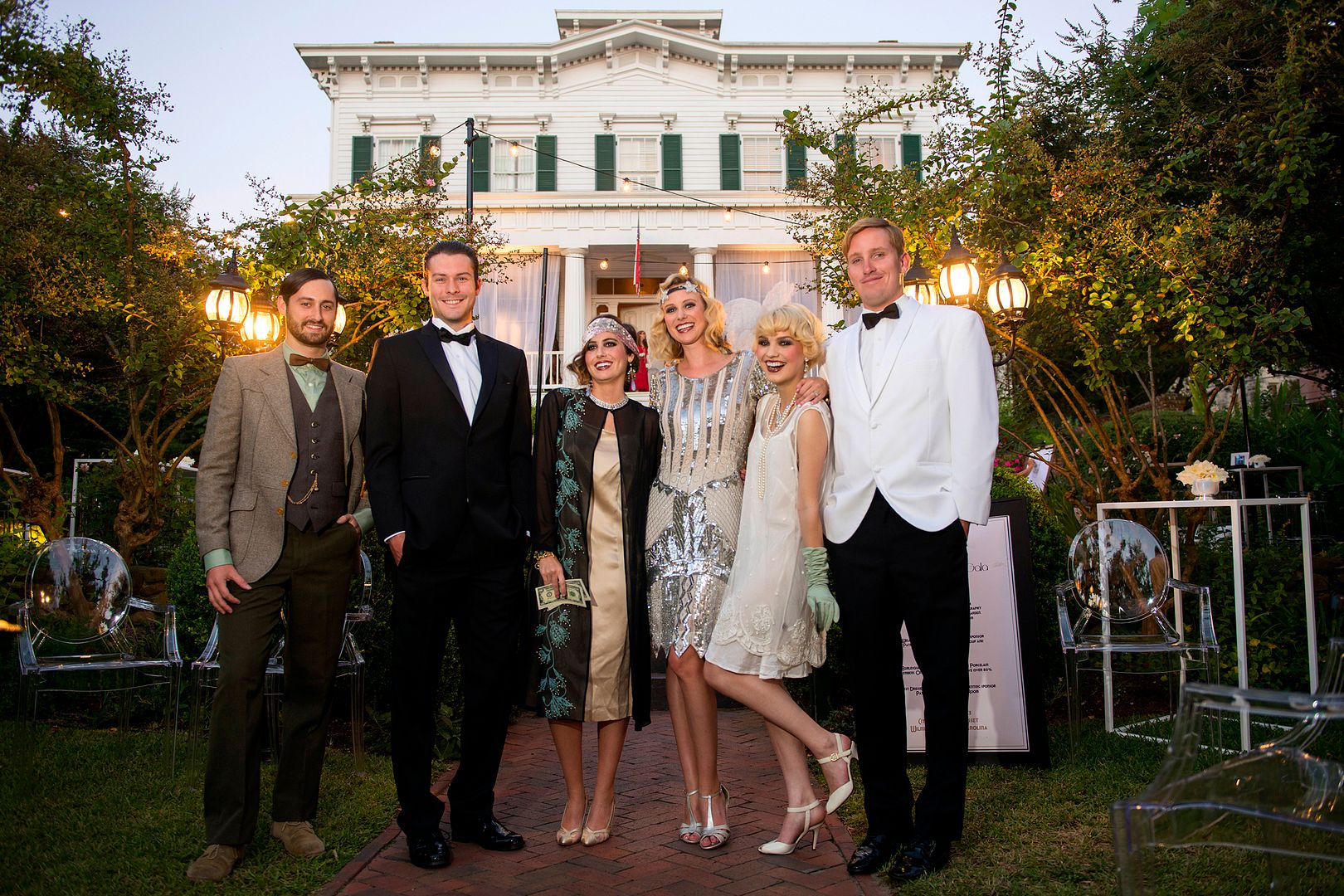 Our Gatsby cast of lovely models
(as seen in the Gatsby fashion editorial)
wearing Jazz Age inspired attire from A Second
Time Around,
Cape Fear Formal Wear, aMuse and Lumina Gem.
Event Decor + Gatsby Magic
by Kickstand Events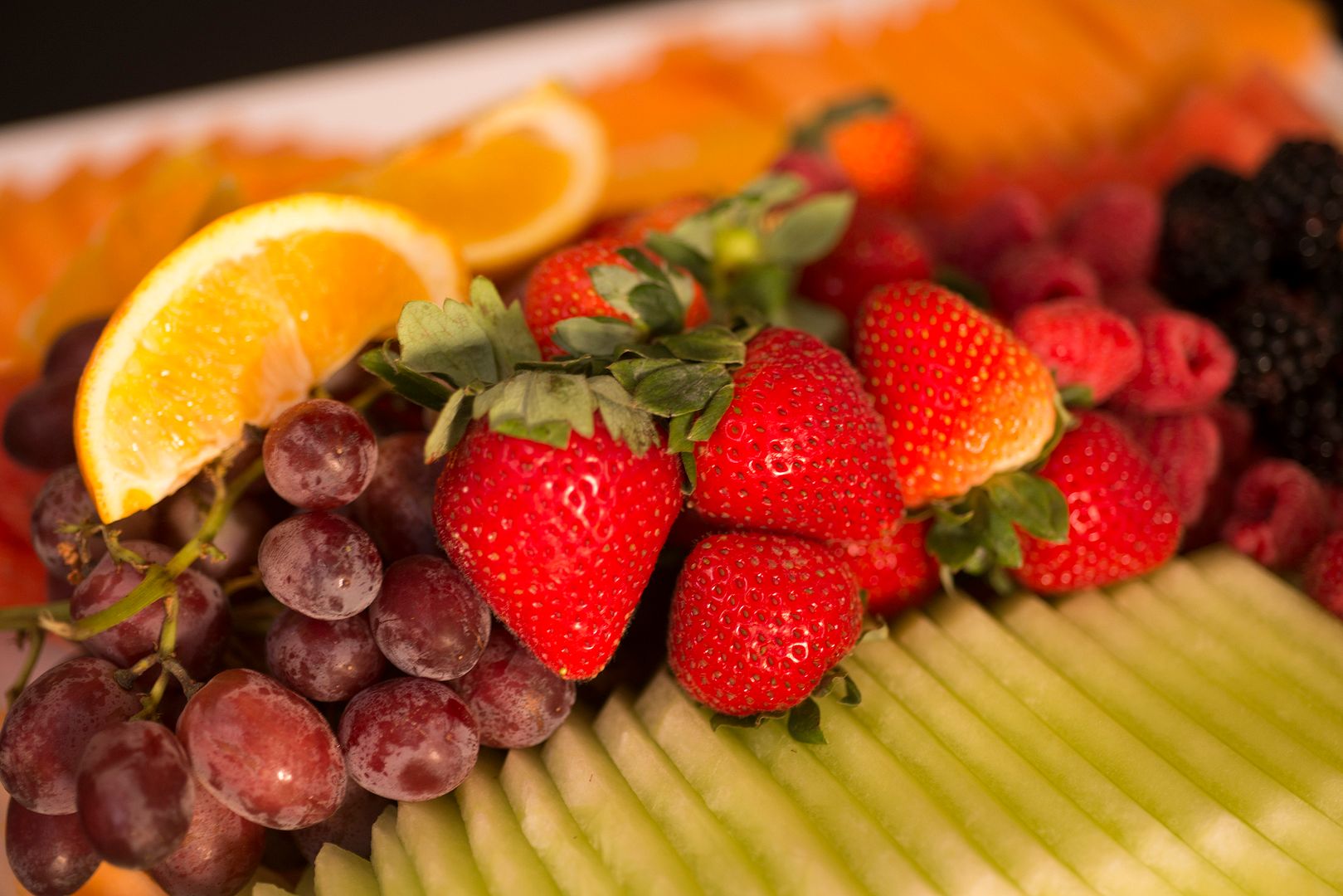 Catering by The City Club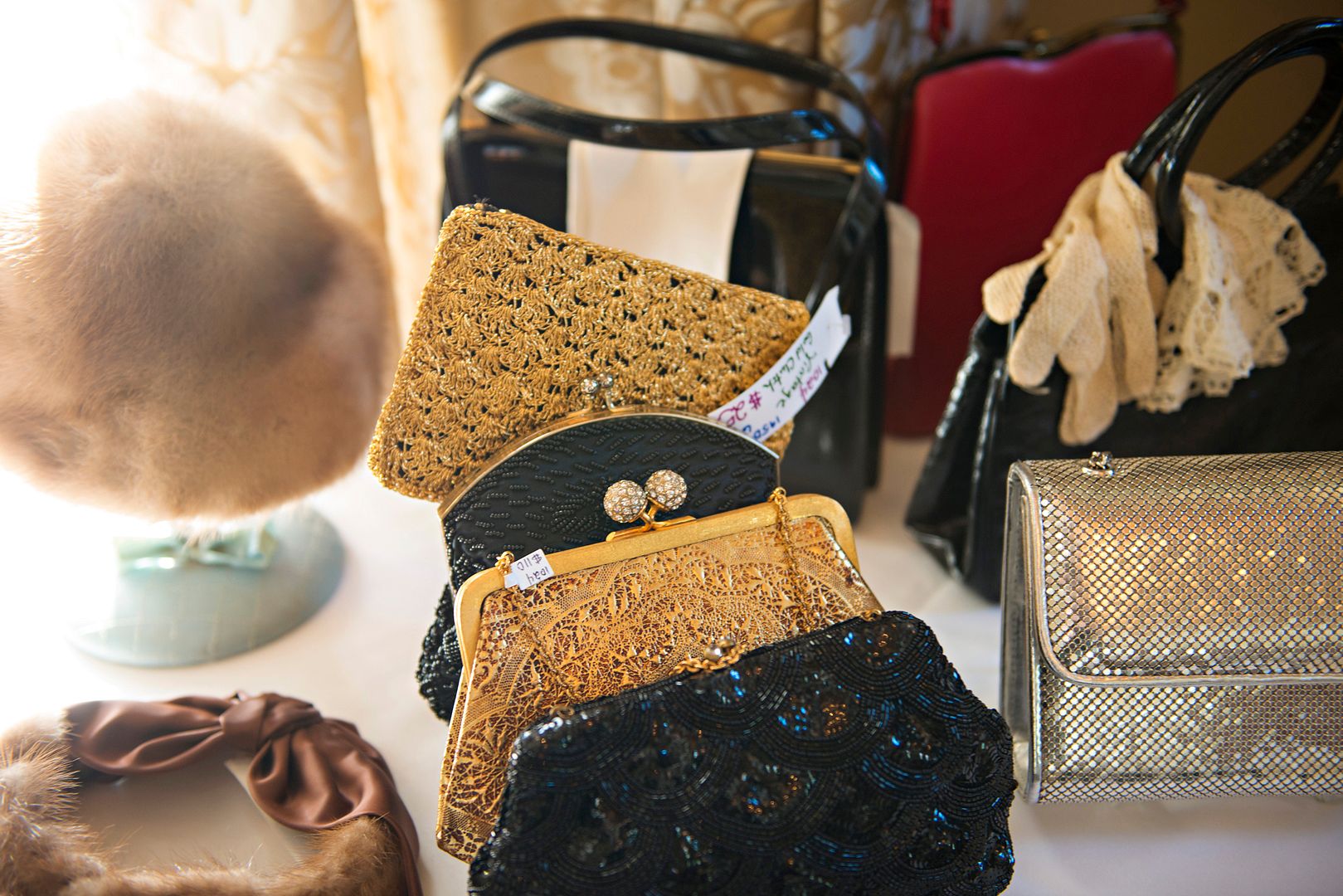 Vintage treasures from A Second Time Around
L: Presenting Sponsor Pat Kusek of Kusek Financial Group with husband Walter.
R: City Club owner Jonathan Weiss with wife Jennifer (dressed in aMuse).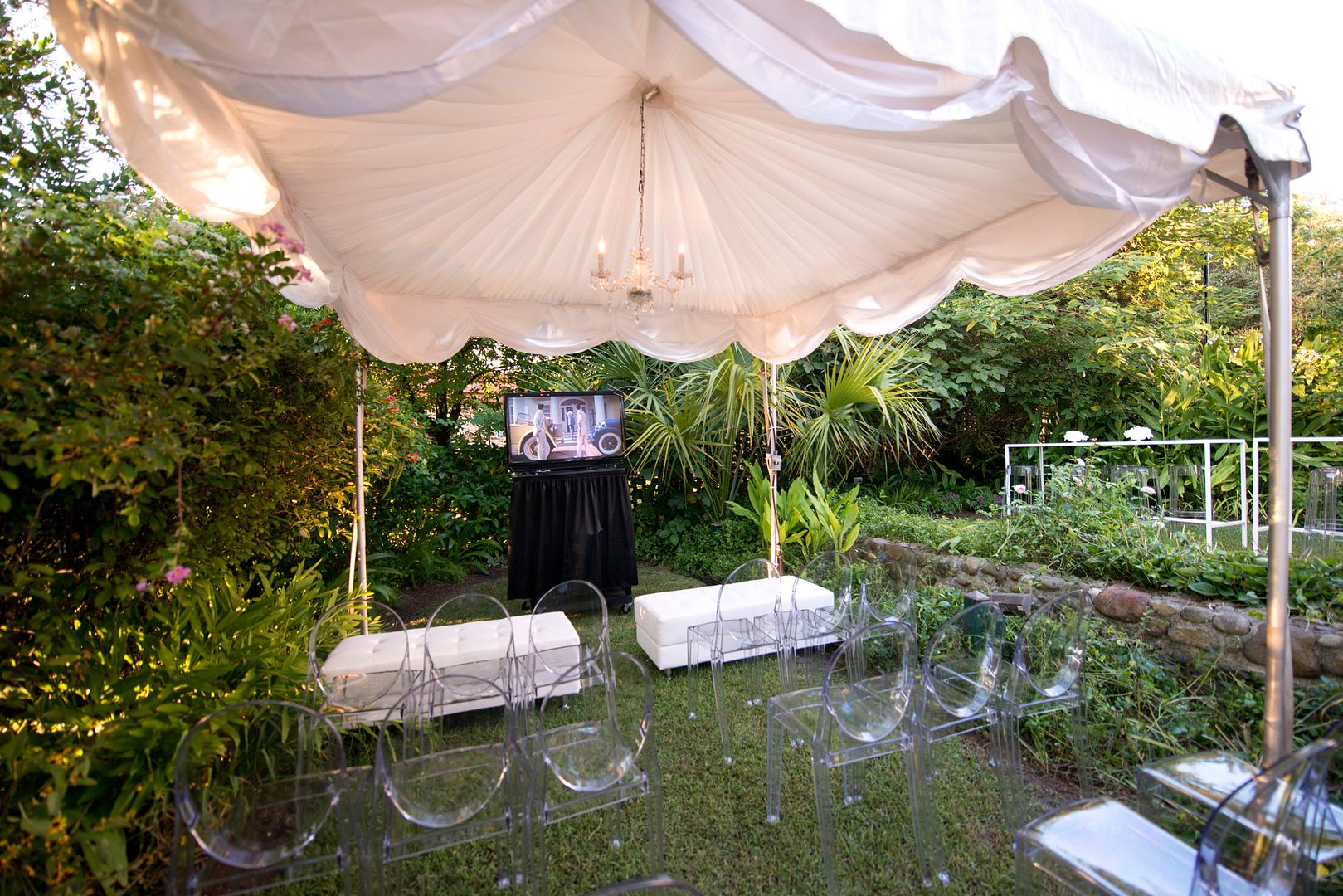 Gatsby Movie time!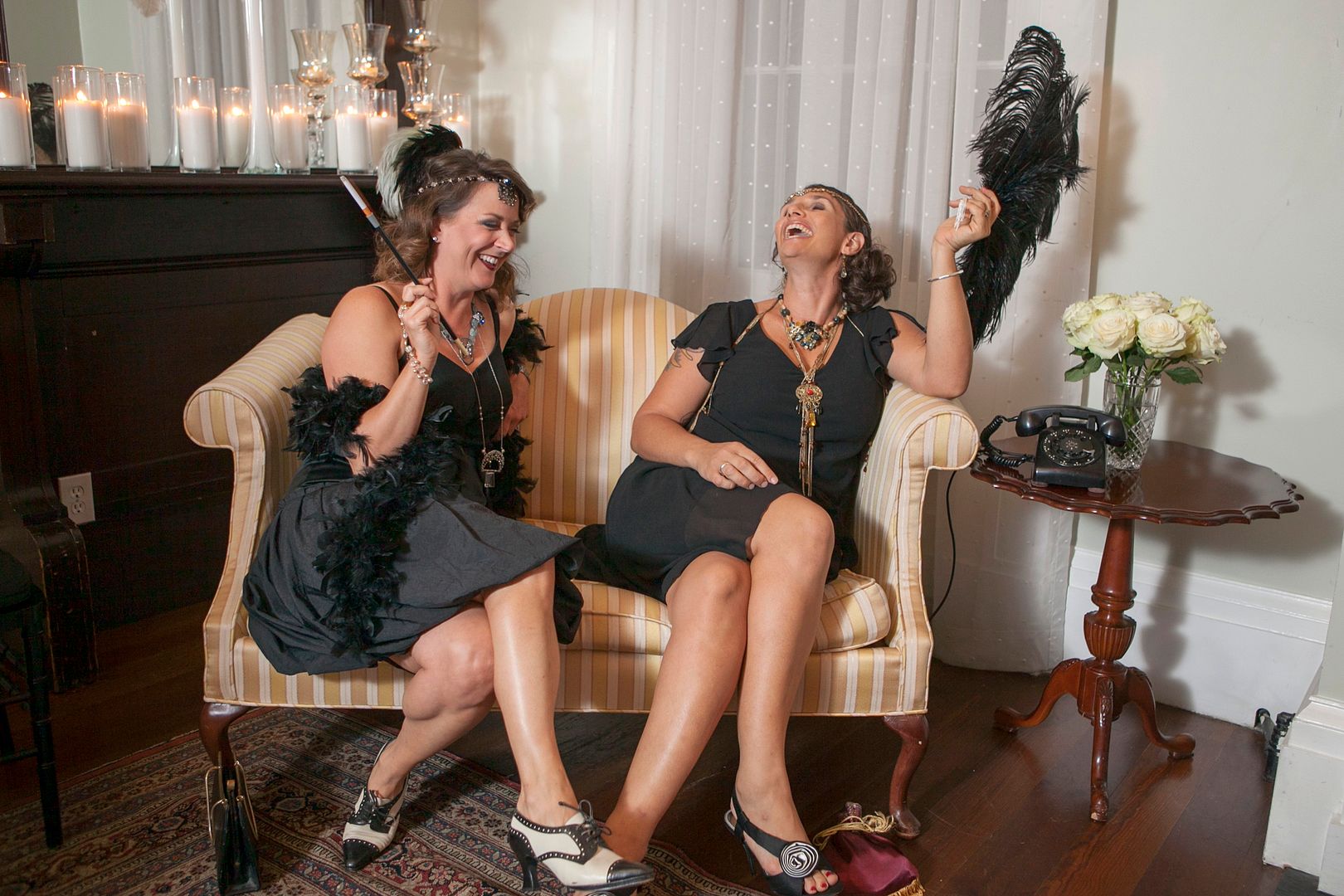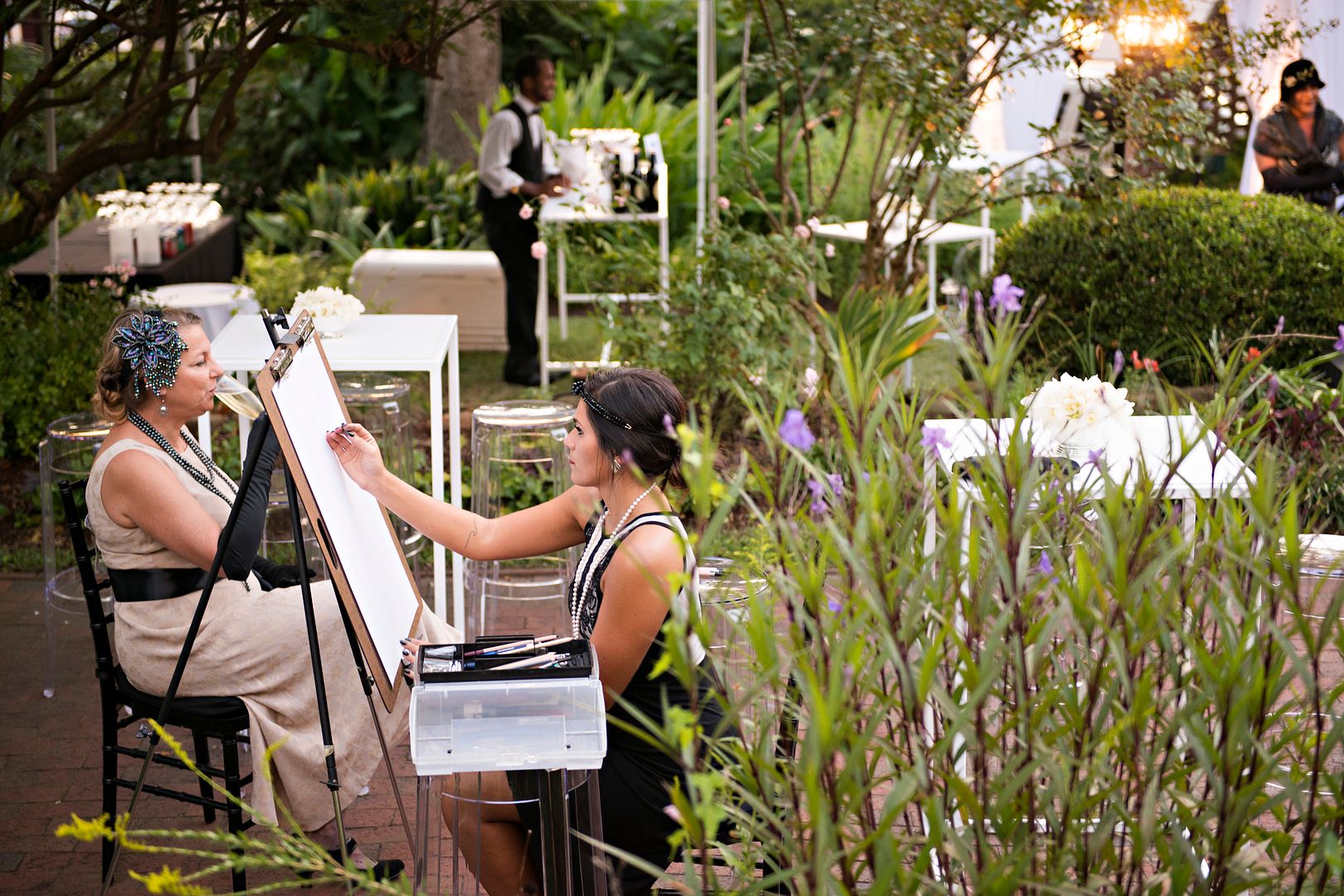 Artist Kat Christian sketching guests in the Garden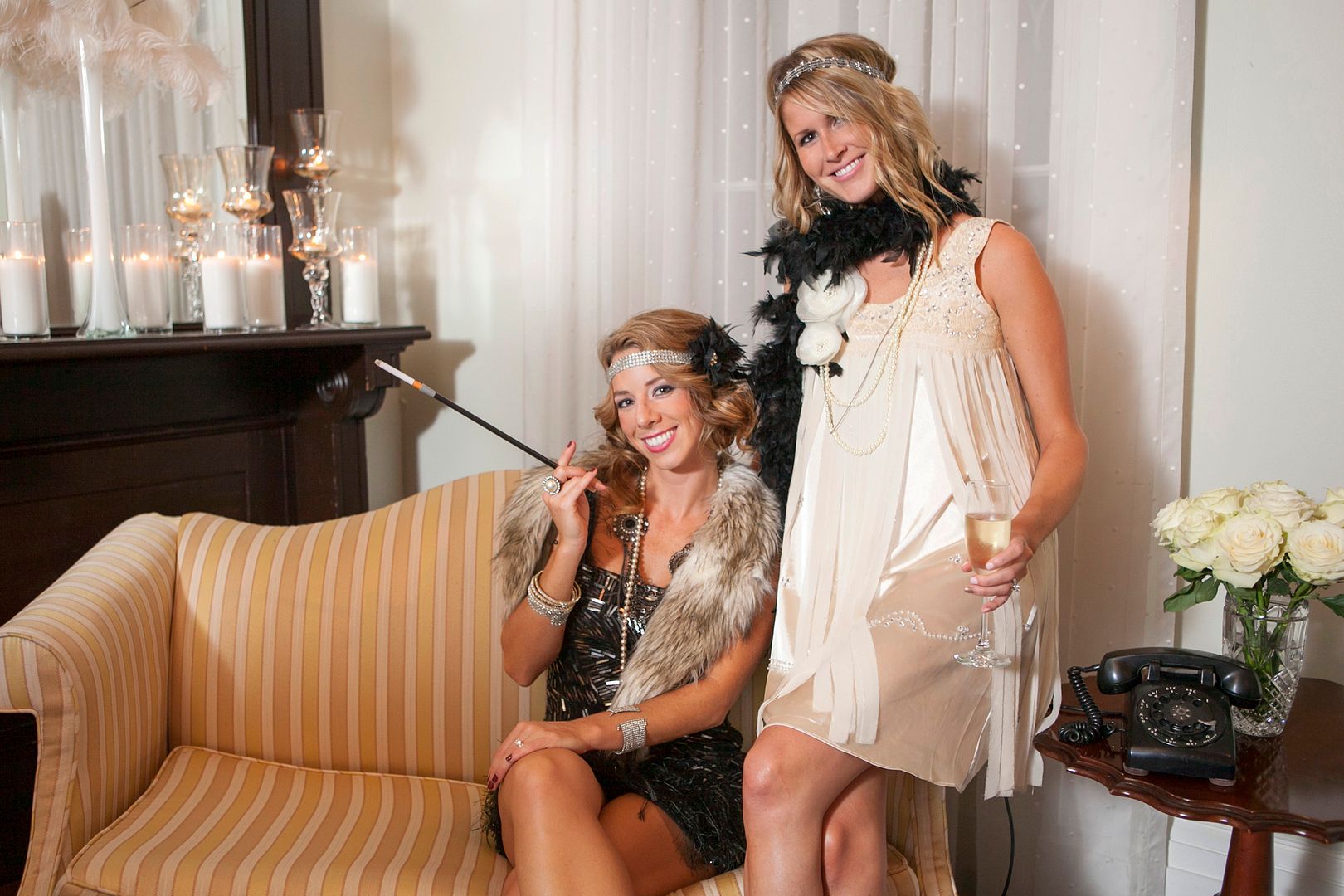 Aqua Fedora owner Jenna McKnight (right) with Melissa Kinnamon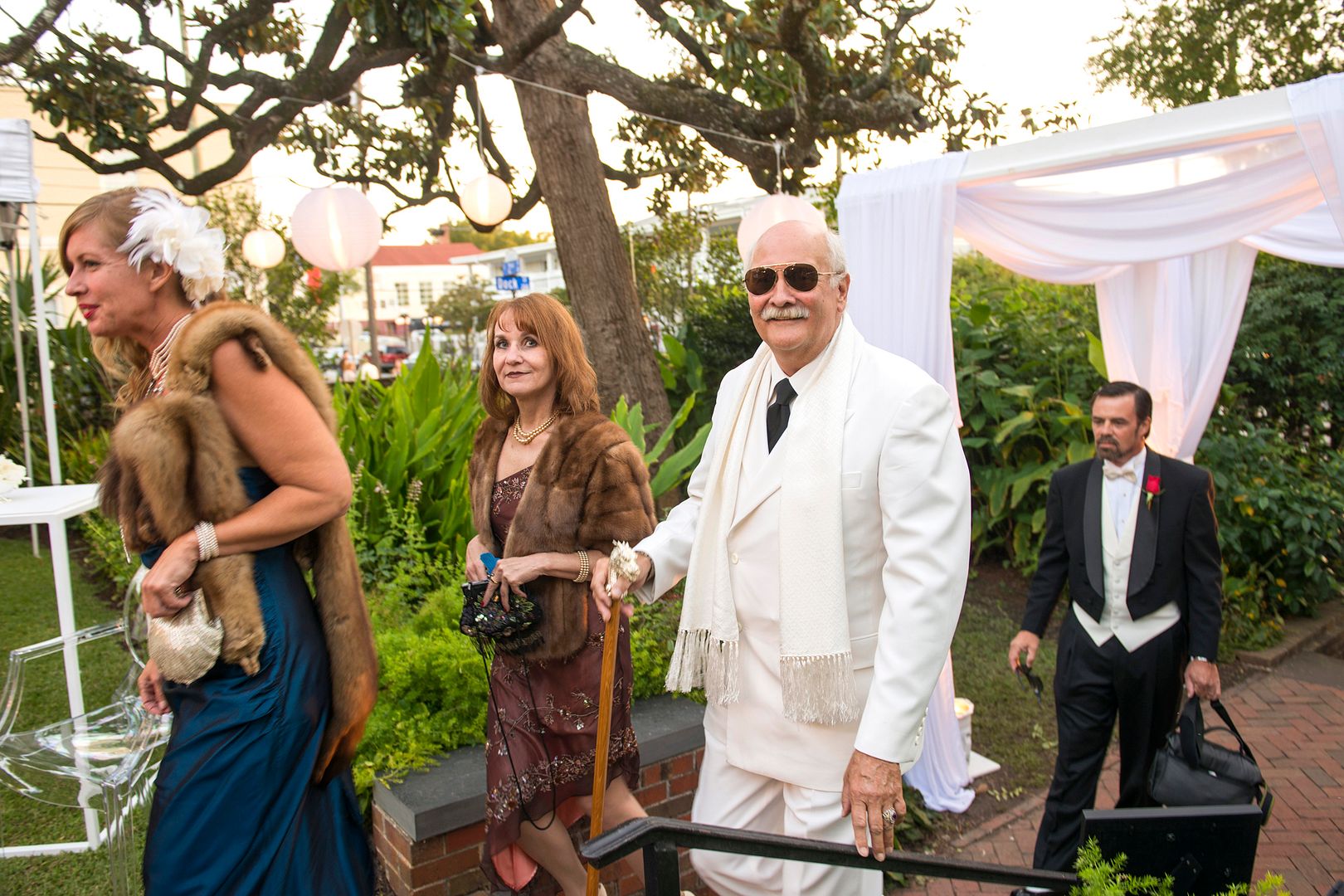 Arriving in style!
Perfect setting for fortune telling.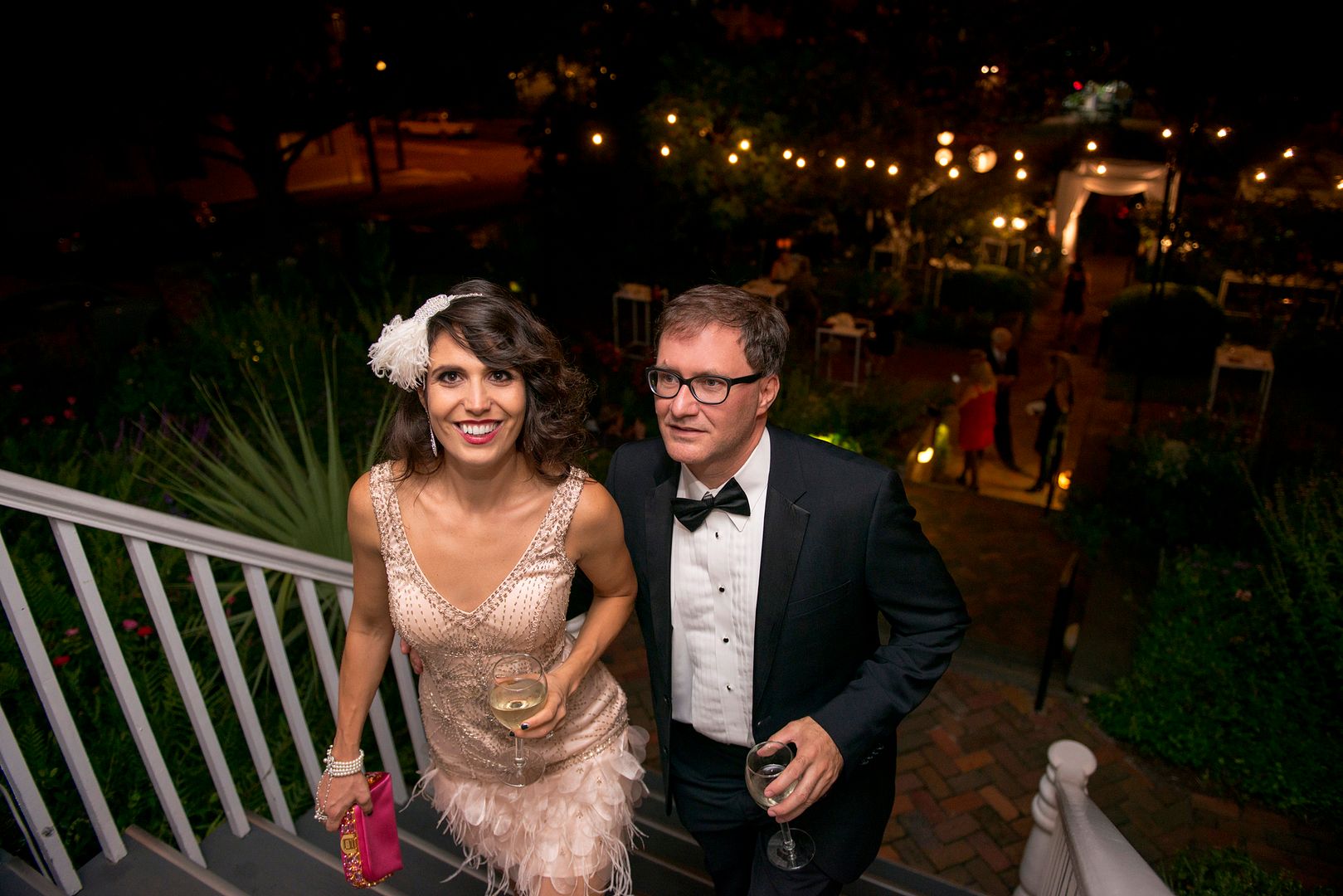 Looking every bit the part of the Gatsby glamorous couple,
Oz & Mike Nichols have arrived.
Cheers to the gang at Lumina Gem!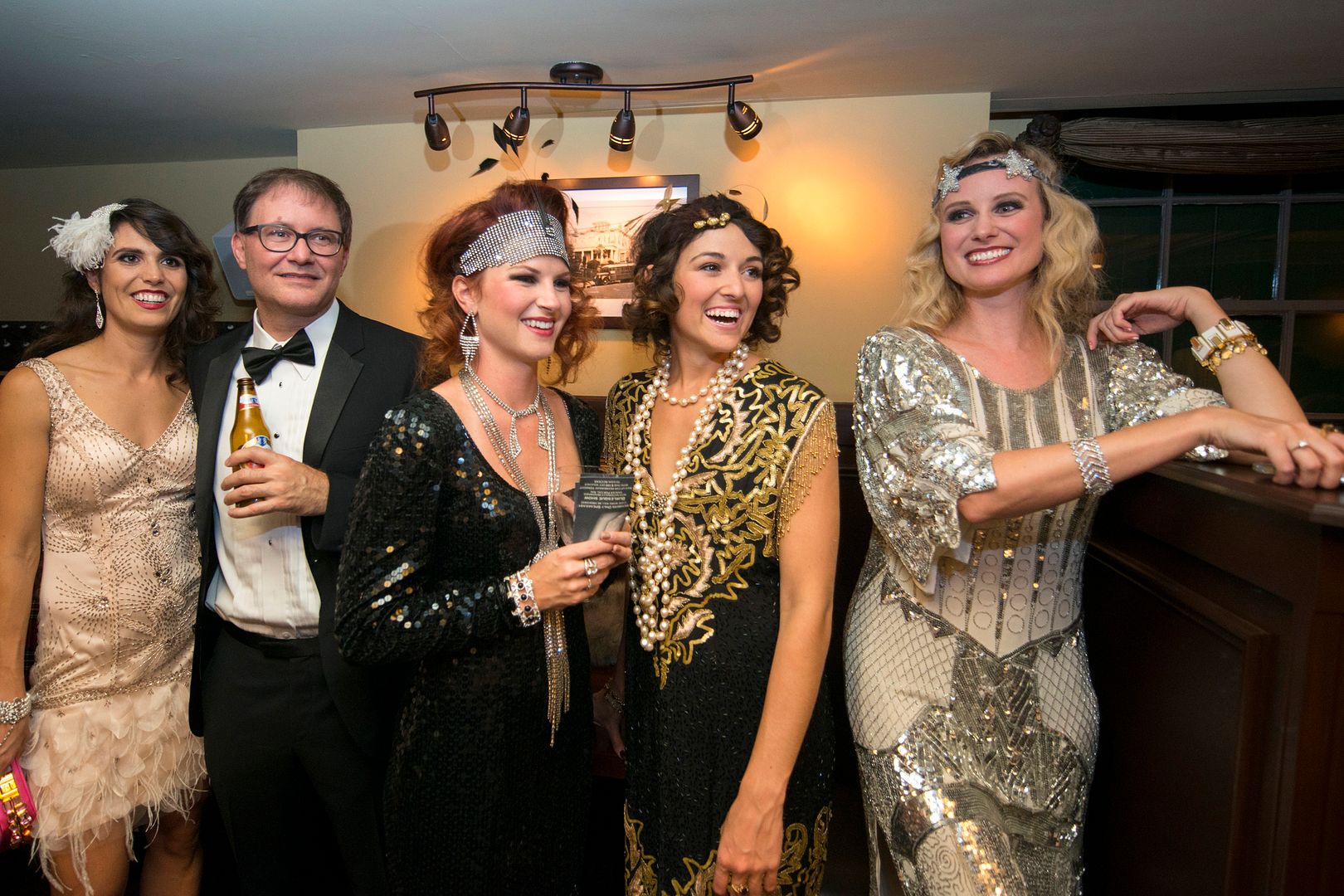 Gatsby model hair stylists Monica Kelly (also our Myrtle
for the night) and Emily Rodriguez from Steven Ward Hair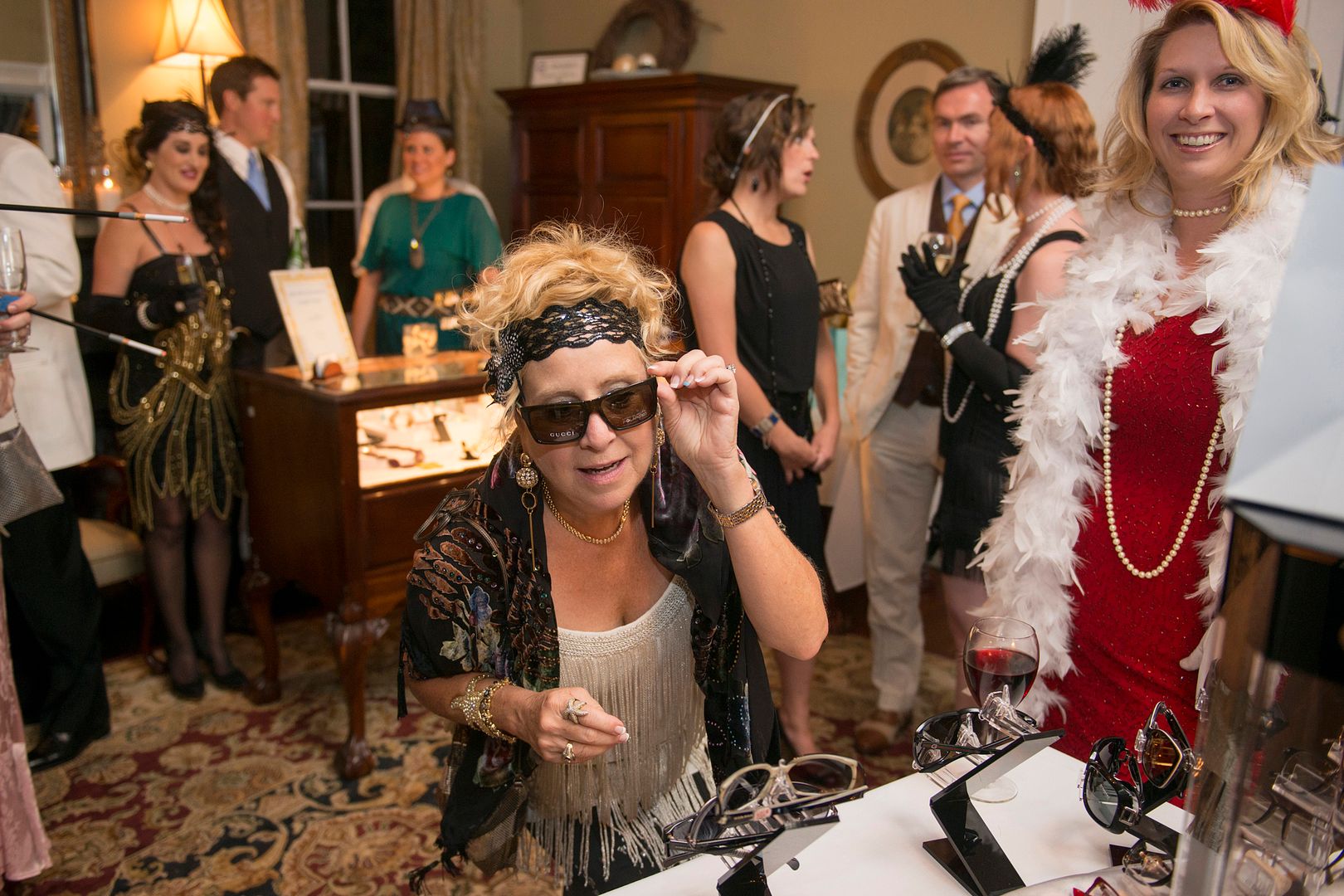 Shades are a flapper must-have to stay incognito in the speakeasy. Wink.
Shopping with Dr. Tiffany Jackson of Front Street Optometric Care
Our nationally renowned burlesque dancer Porcelain
begins the show in the Members Only Speakeasy.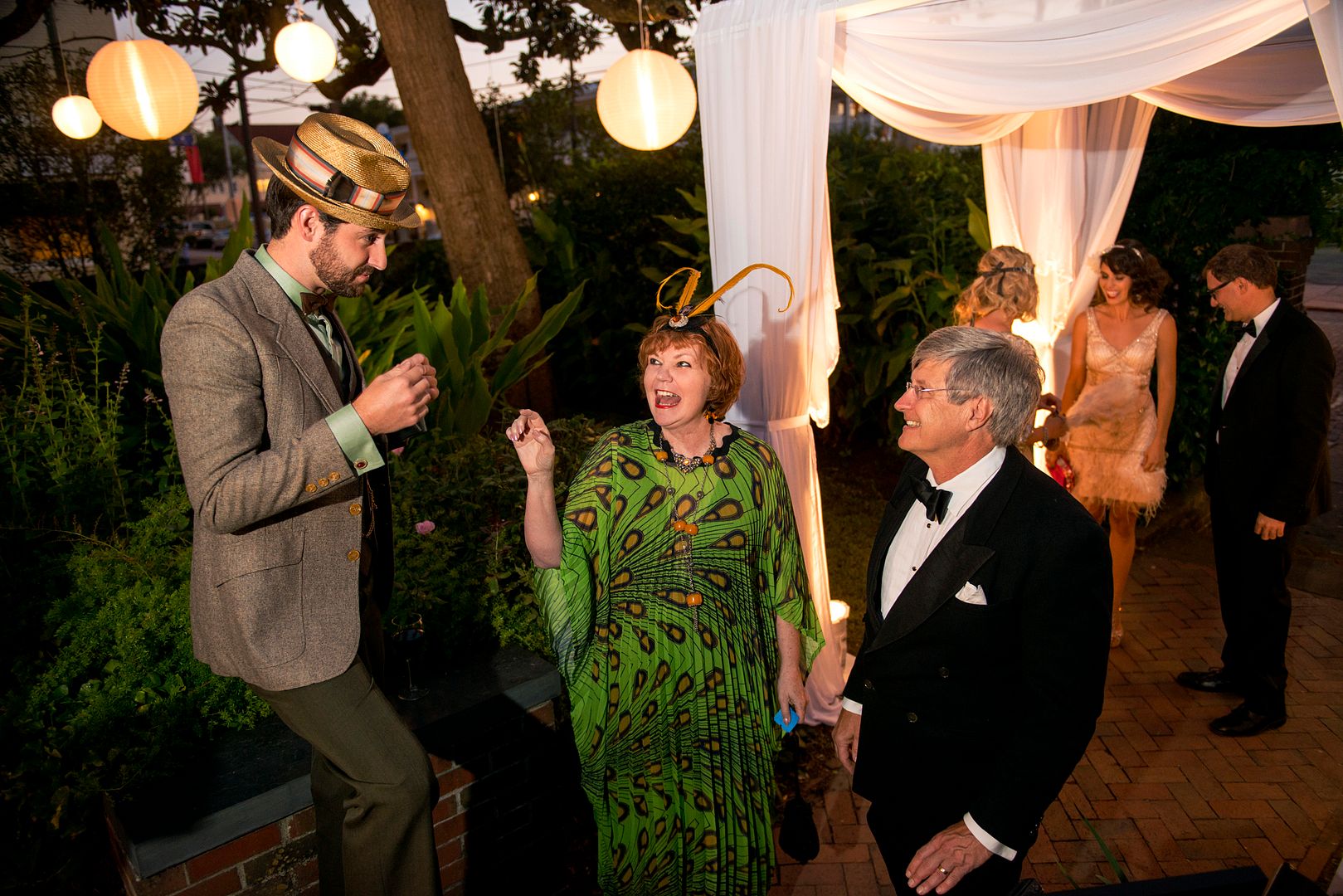 Gatsby sponsor Milliner Jan Wutkowski of aMuse with her husband Michael talks hats
with our Nick Carraway (Jonathan Guggenheim) wearing one of her handmade boater hats.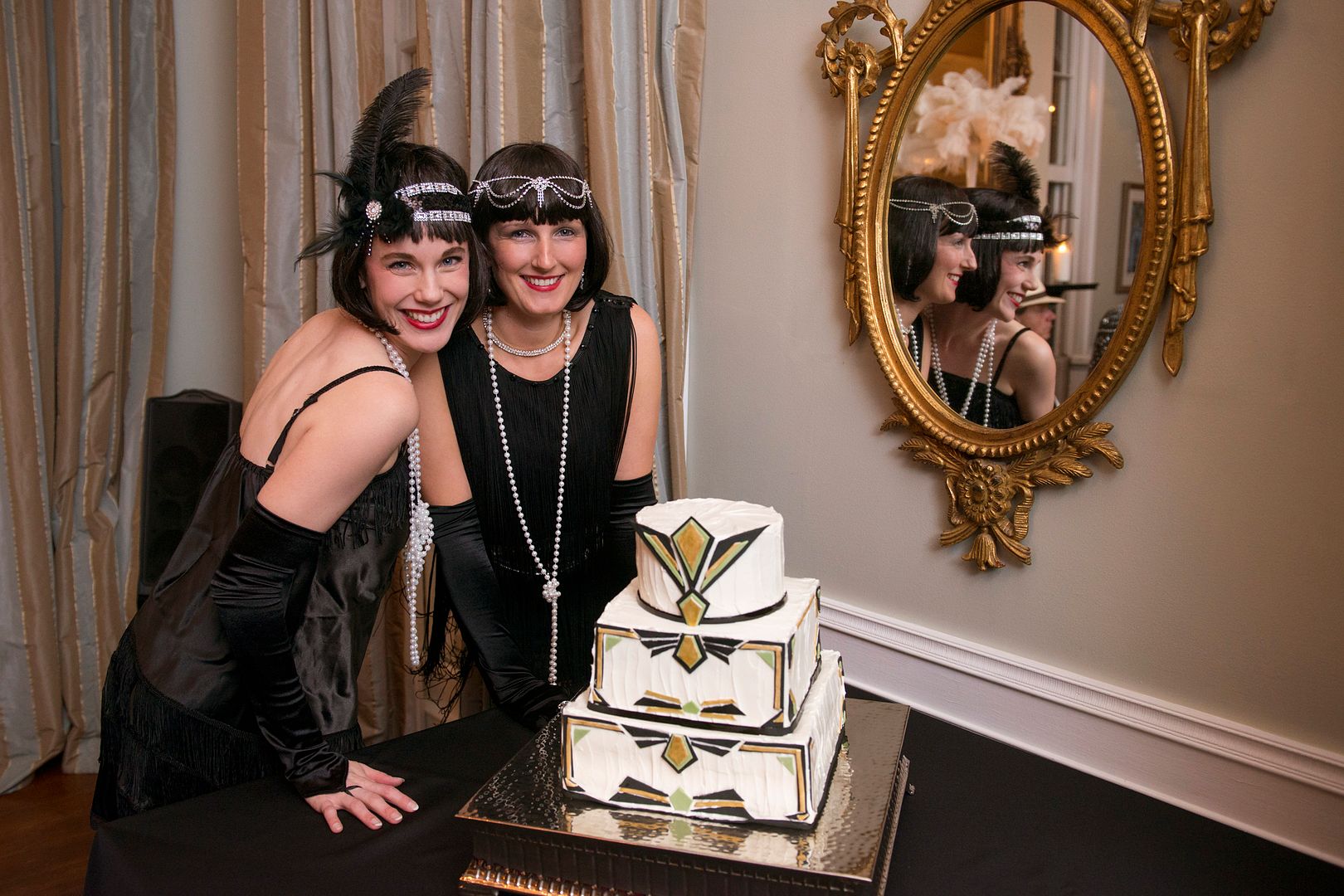 Jennifer and Heather add the final adornment
to The Three Divas deco-inspired Gatsby cake.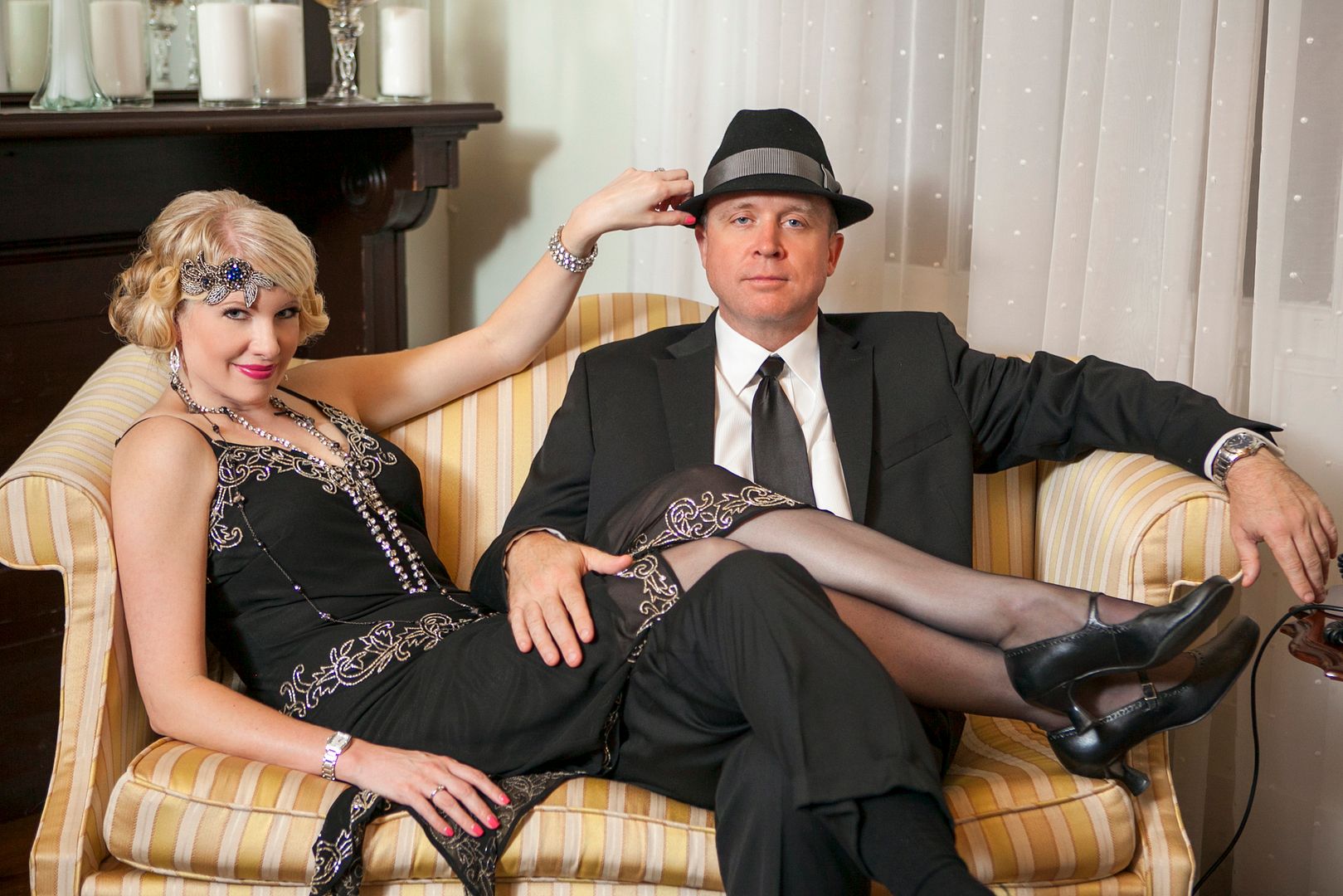 The gangster and his muse
(aka: Photographers Lisa Brown and Matt McGraw)
The Zahls of Charleston have arrived!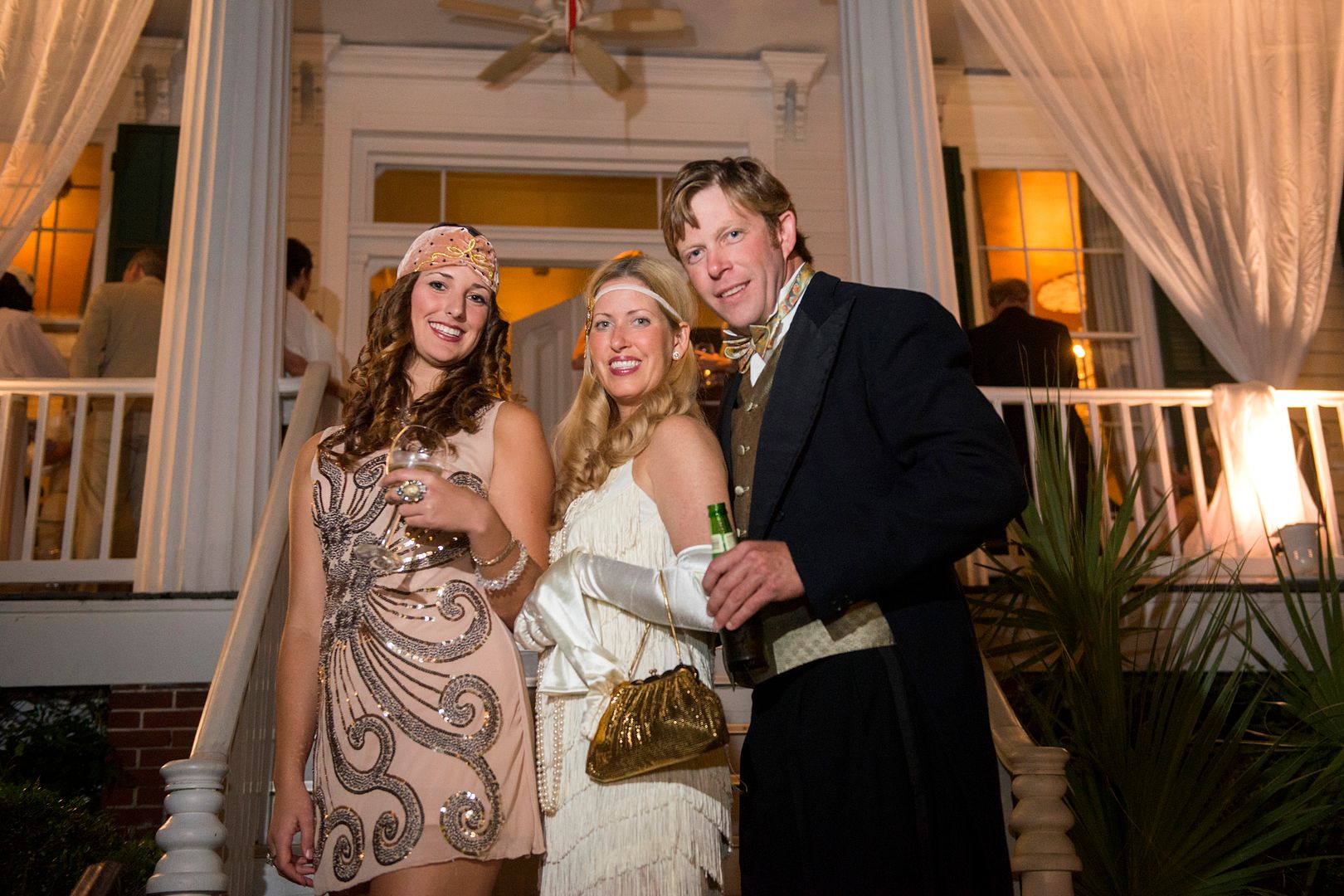 Carter Jewell, Samantha Stokes
and the Gatsby of Walker World, Allen Walker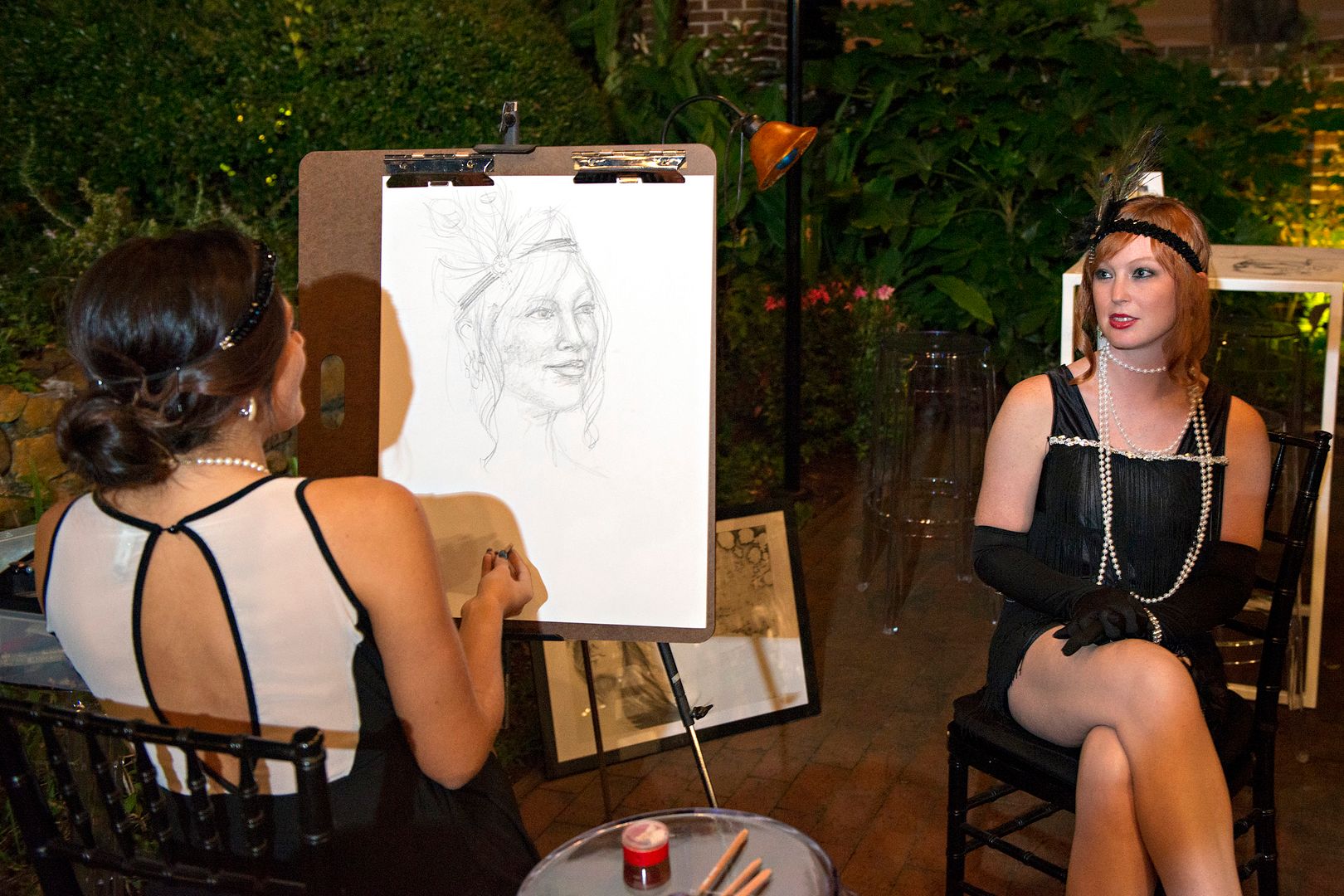 Artist Kat Christian captures the Gatsby spirit of lovely guest Elissa Riley
L: Blair as Jordan wearing a dress and coordinating sheer jacket and rhinestone choker from
A Second Time Around with diamond necklace from LuminaGem and Art Nouveau earrings
and velvet headpiece from aMuse.
R: Best Dressed finalist Anneliz Hannan.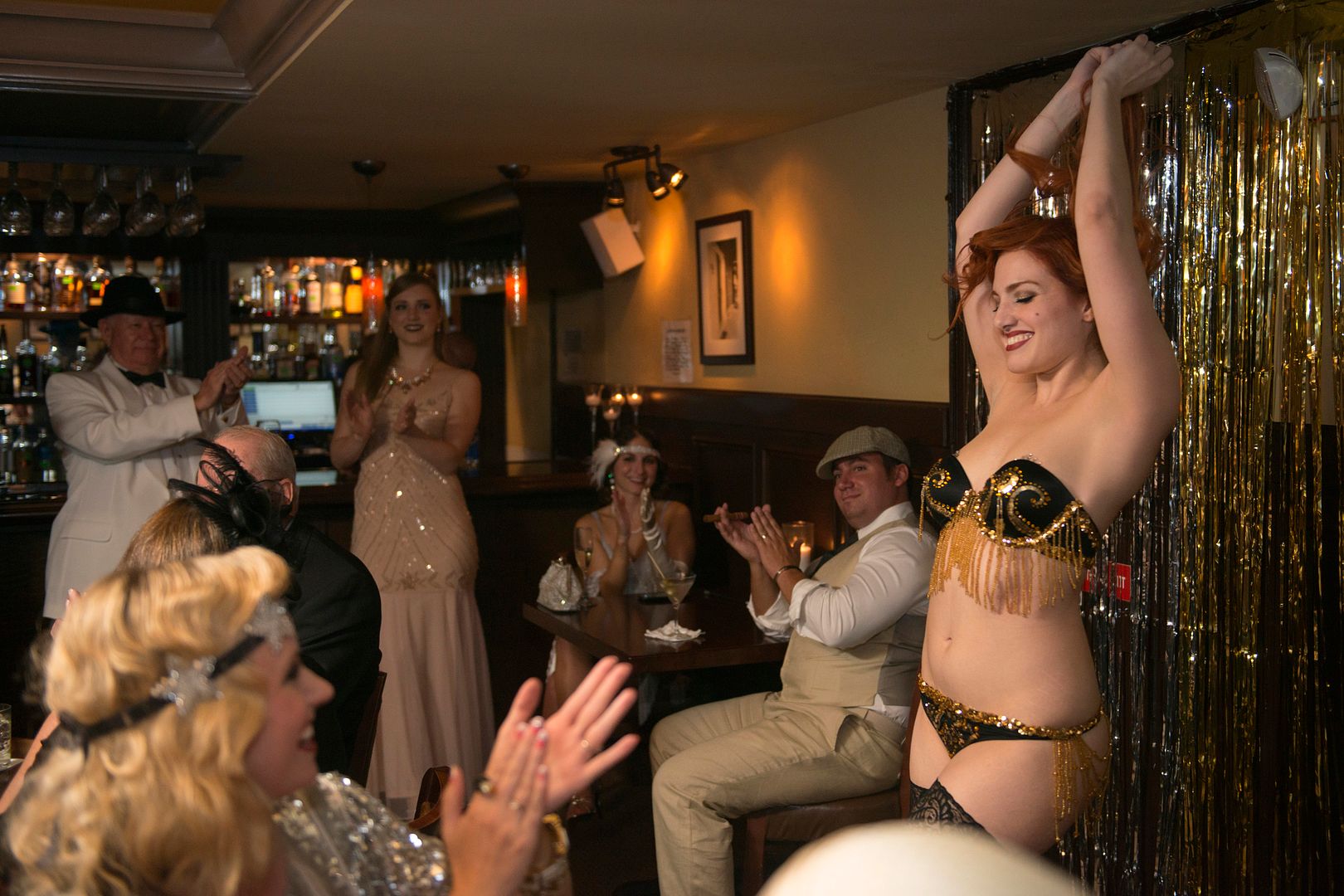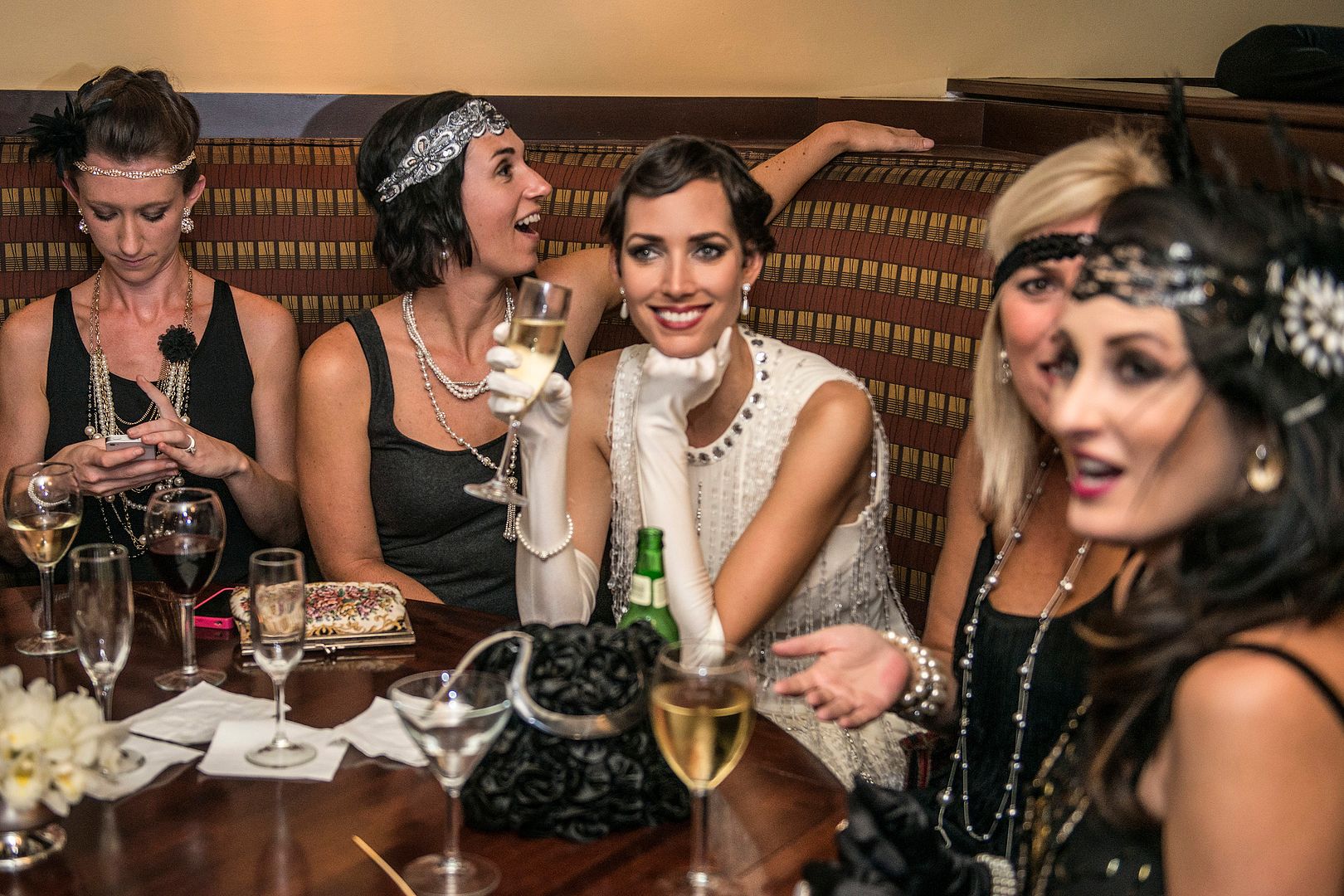 "Best Dressed" Jordan winner Josie Evans (center in white)
with Gatsby sponsor Lindsay Waltz of B Branded (to Josie's left) & friends
R: "Thanks, Old Sport" to the talented Kate Matthies of Kickstand Events
for making The City Club look its best for Gatsby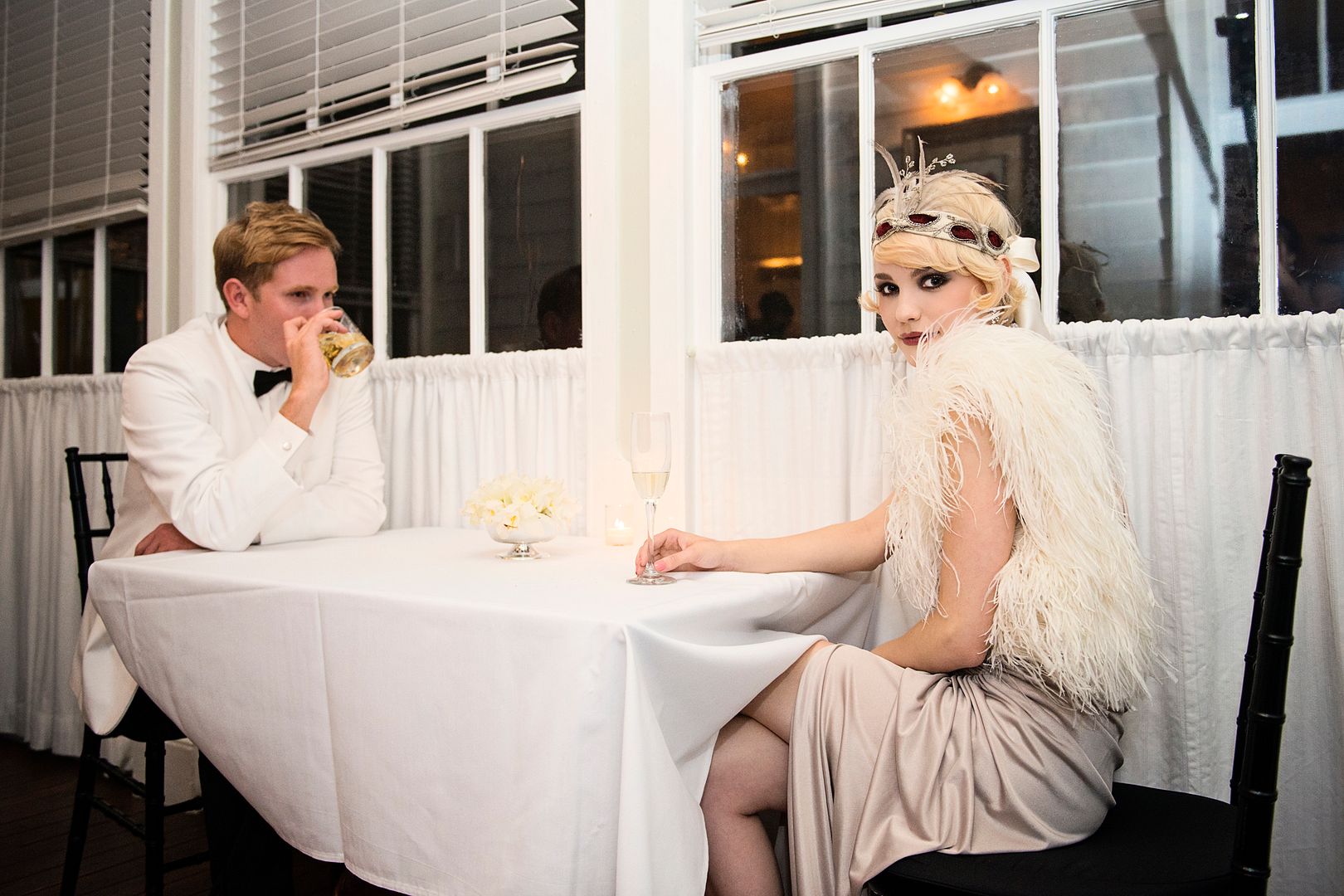 Gatsby and Daisy stealing away for a moment alone.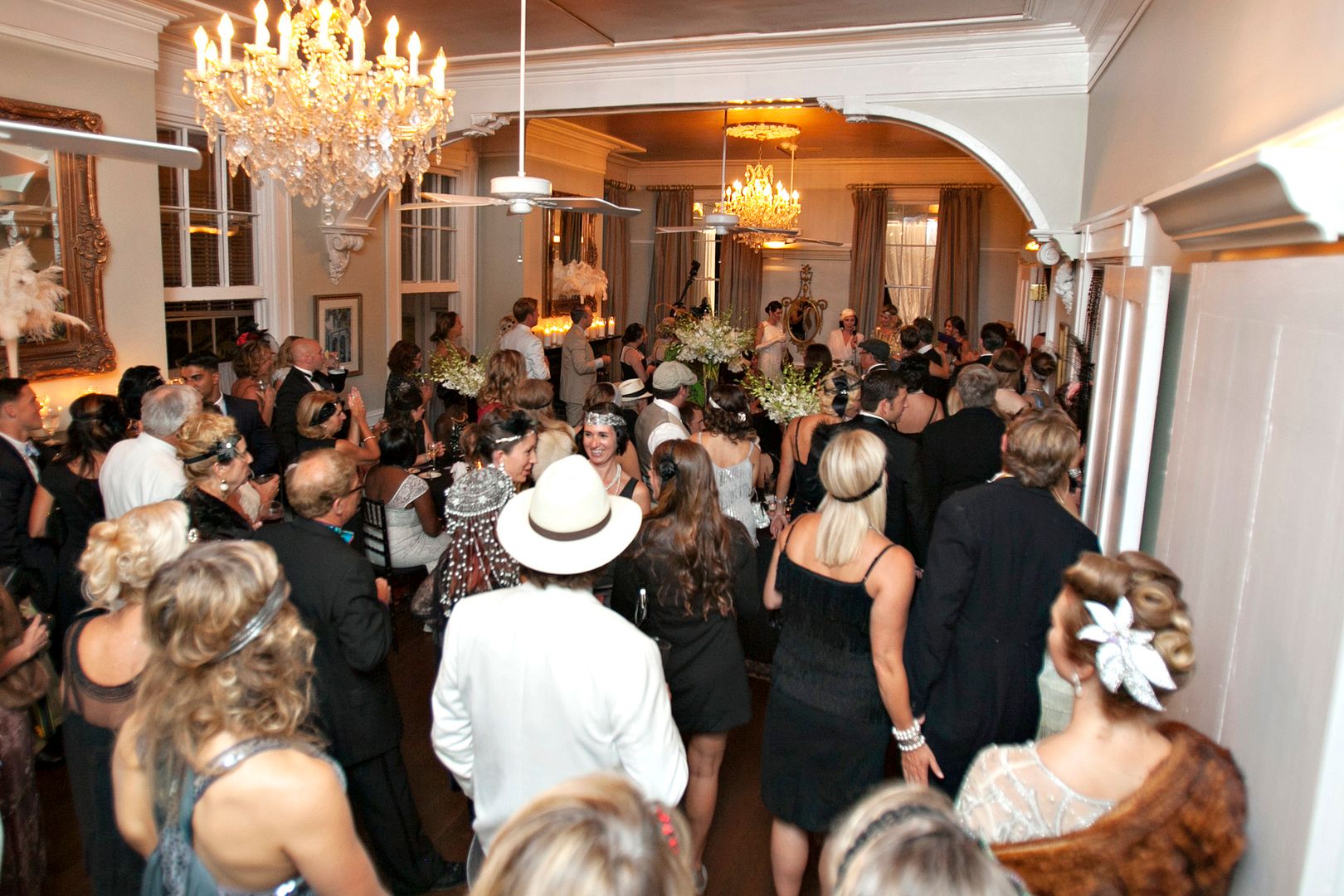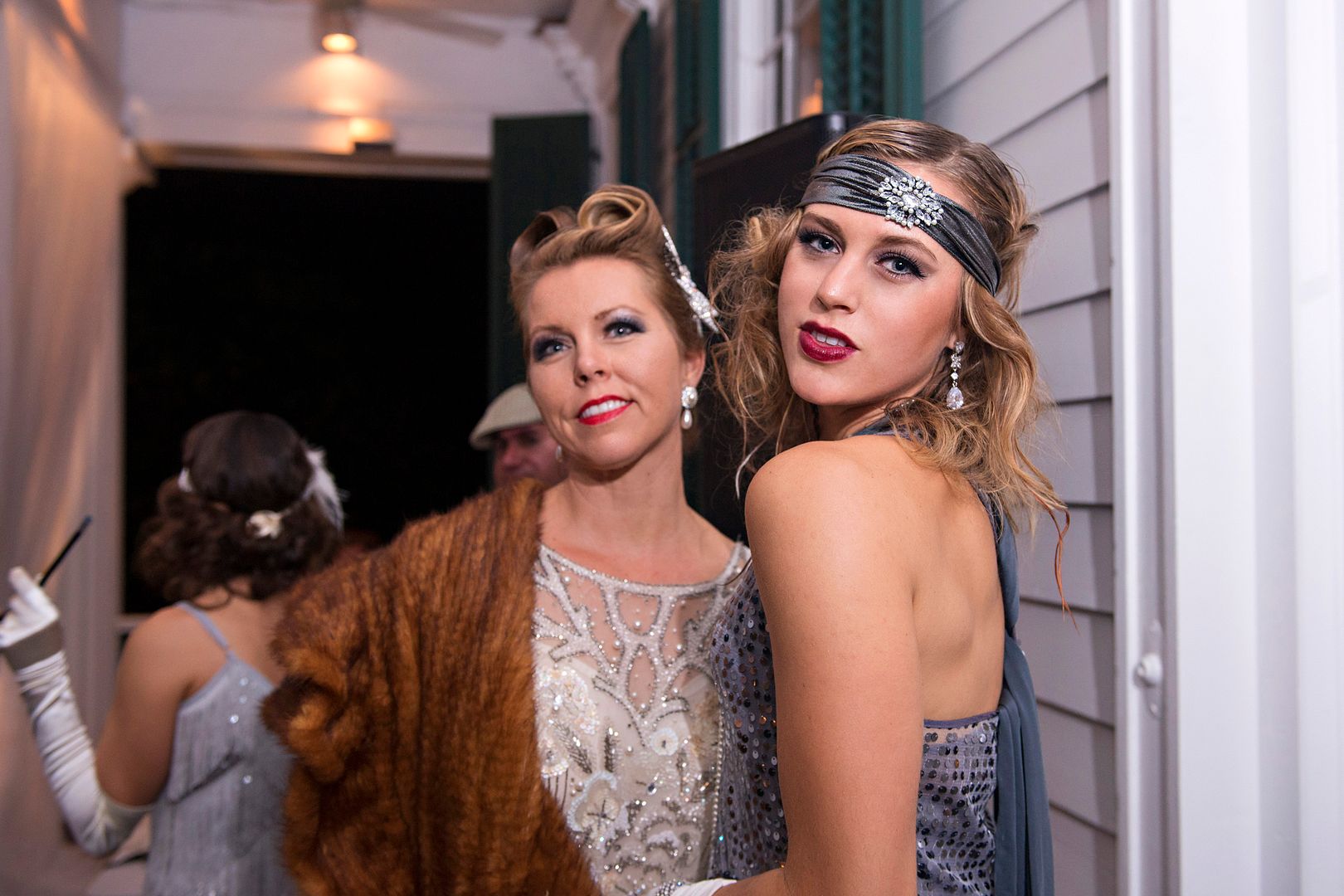 This mother/daughter duo is the cat's meow!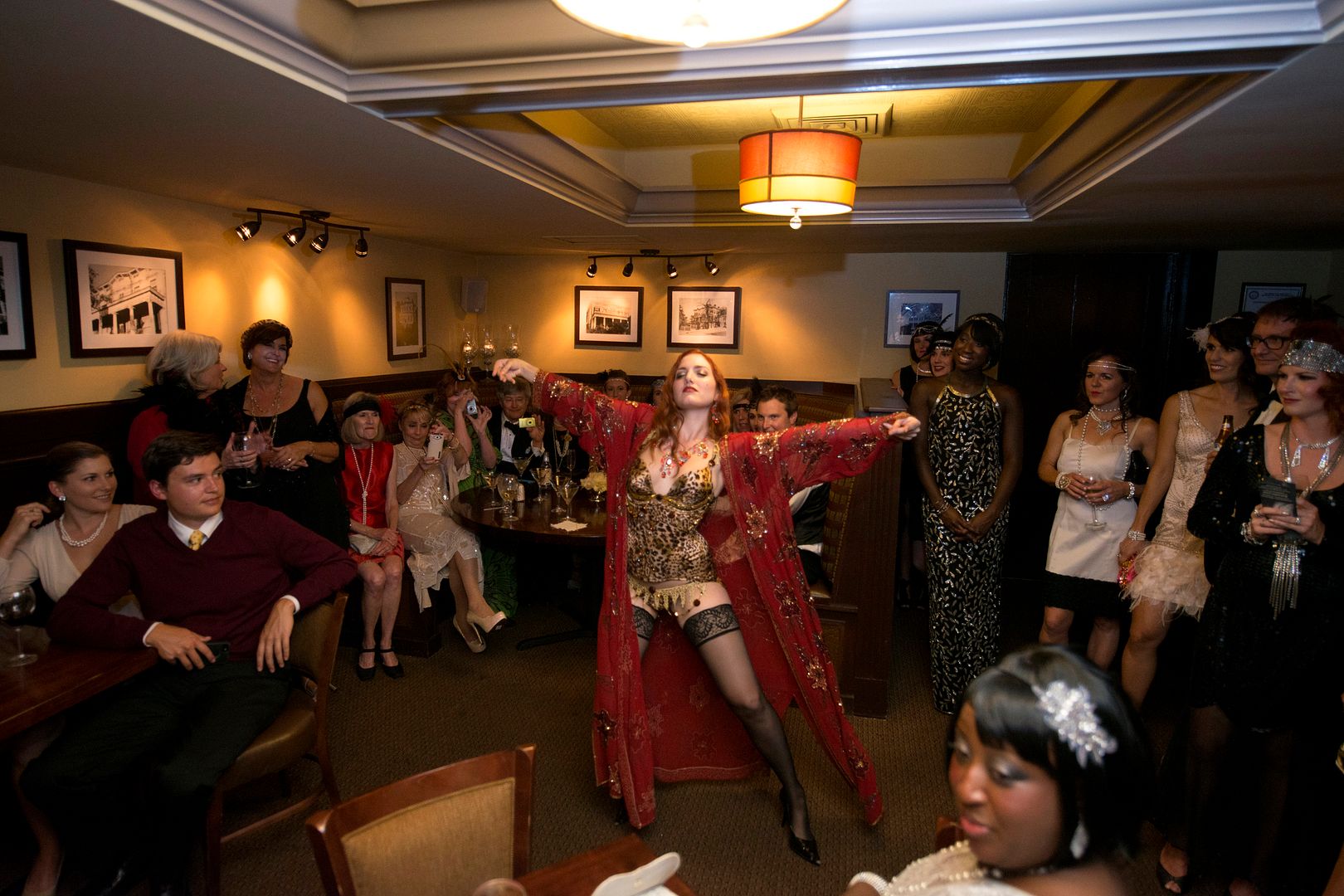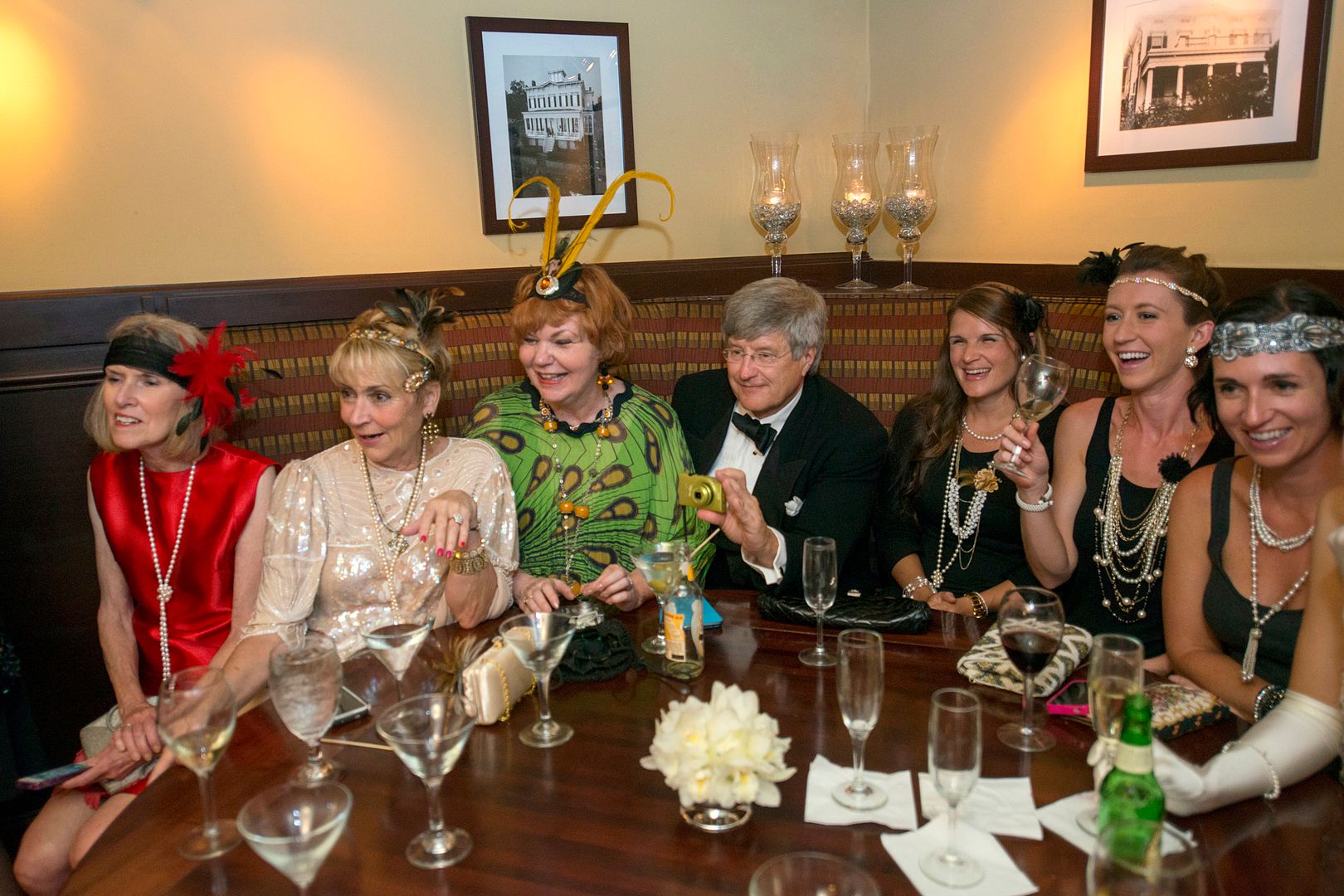 I'd say Porcelain had a captive audience, no?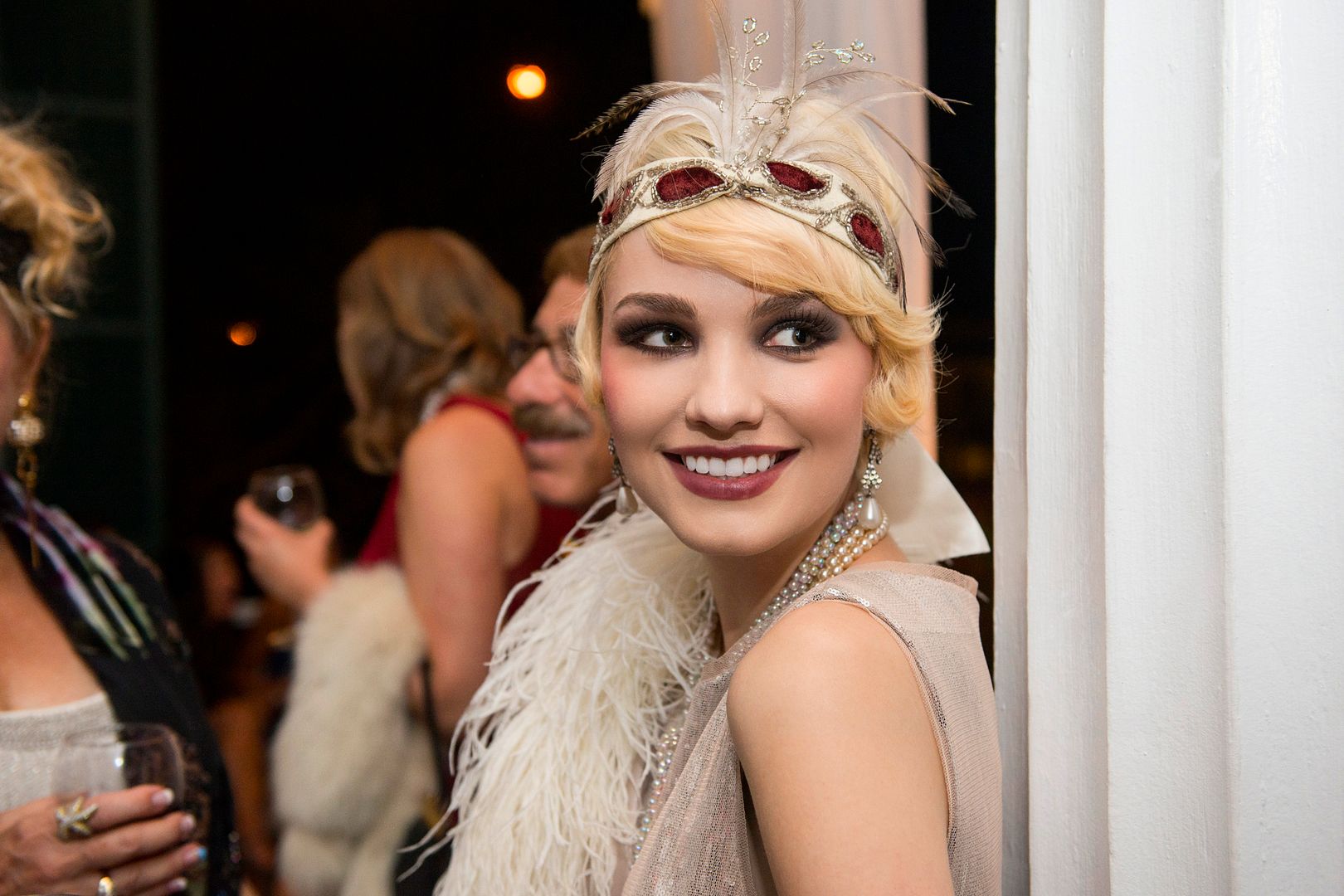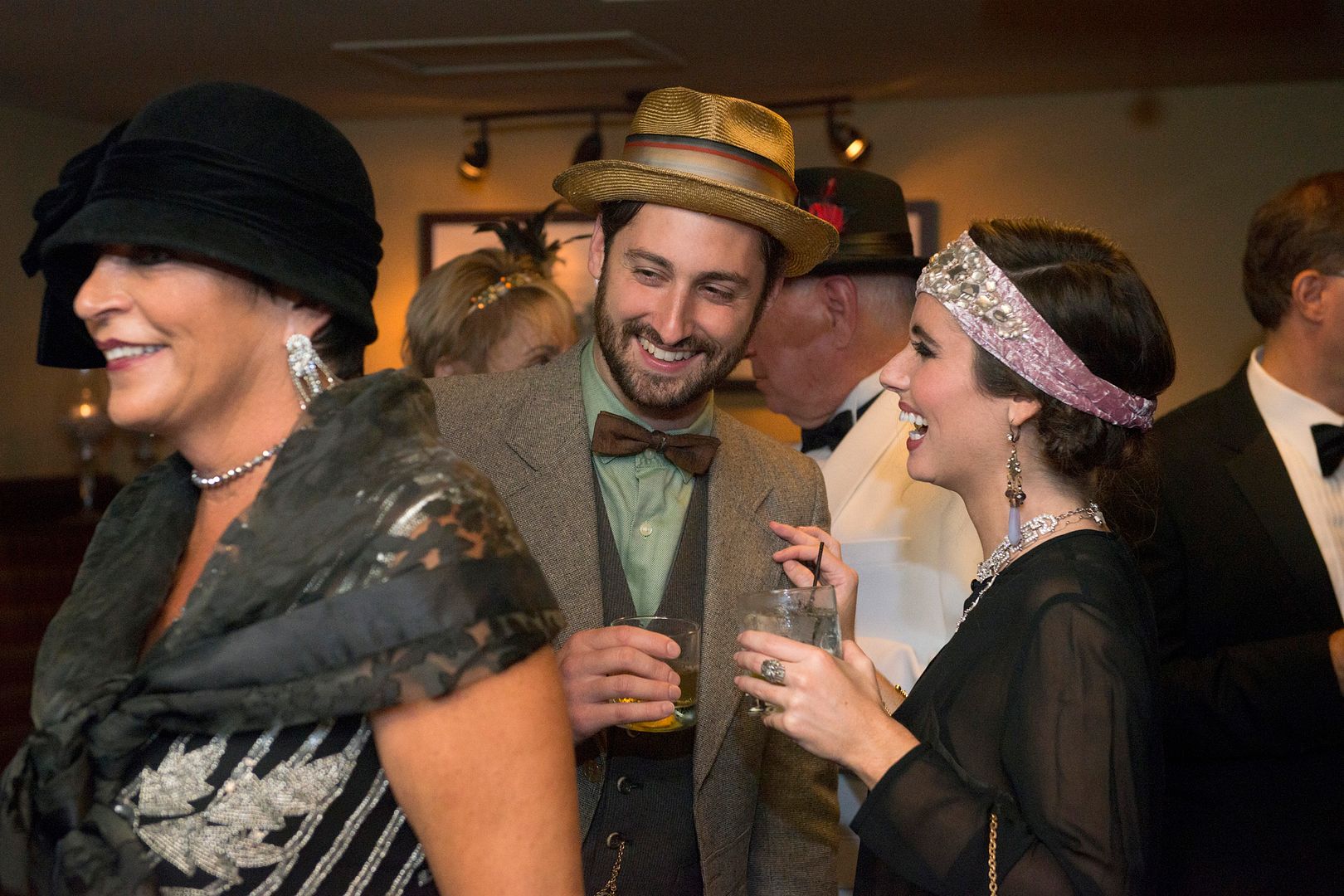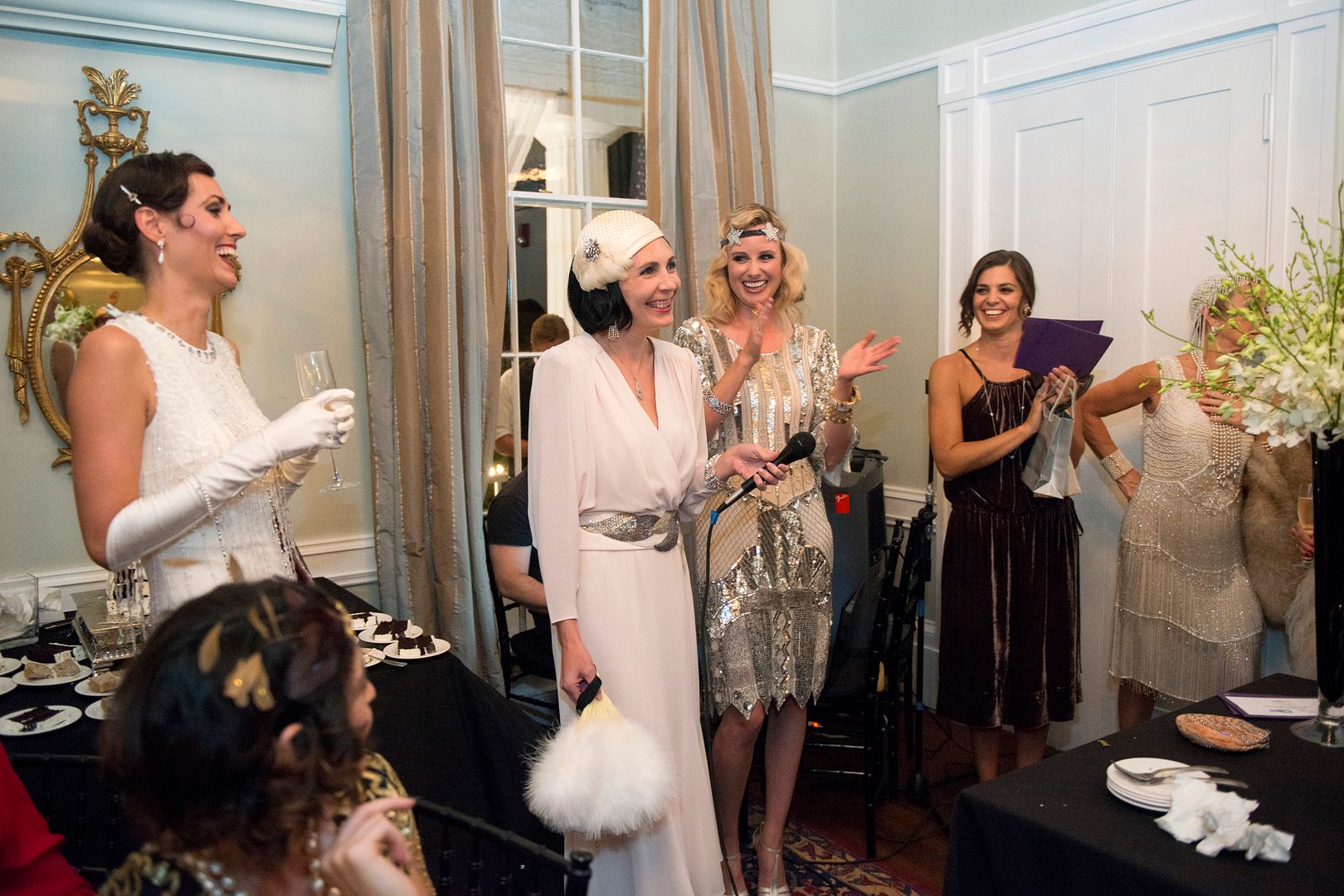 As a "Best Dressed" finalist, Deirdre shares the dirt on her Gatsby outfit, purchased from A Second
Time Around the day after last year's Gatsby Gala paired with jewels from Candy Shop Vintage.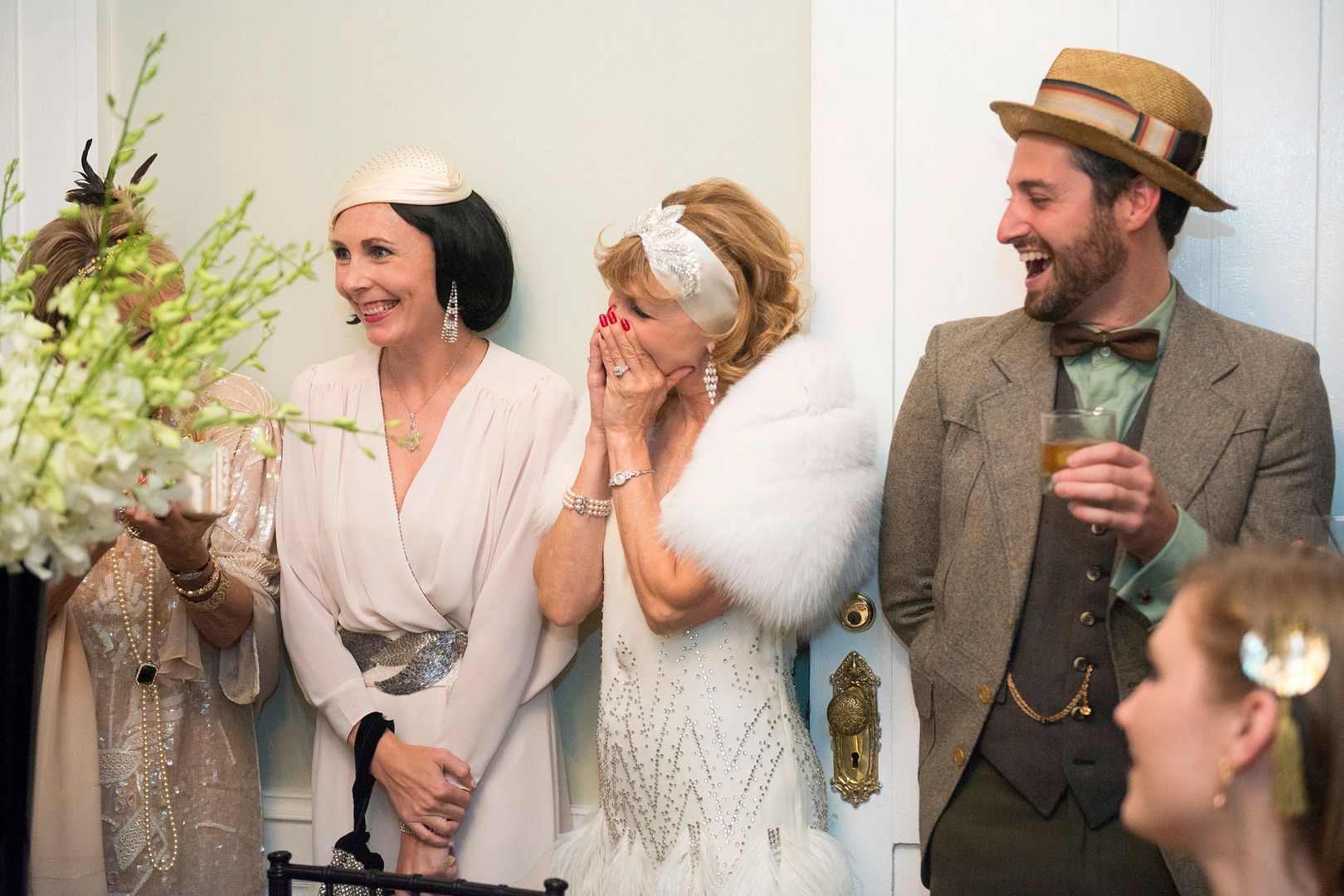 Jean Hardyman shed a few happy tears after the crowd selected her as "Best Dressed" Daisy.
Jean wore her gorgeous deco-inspired Ralph Lauren wedding dress paired with a custom
headpiece and rhinestone earrings from aMuse.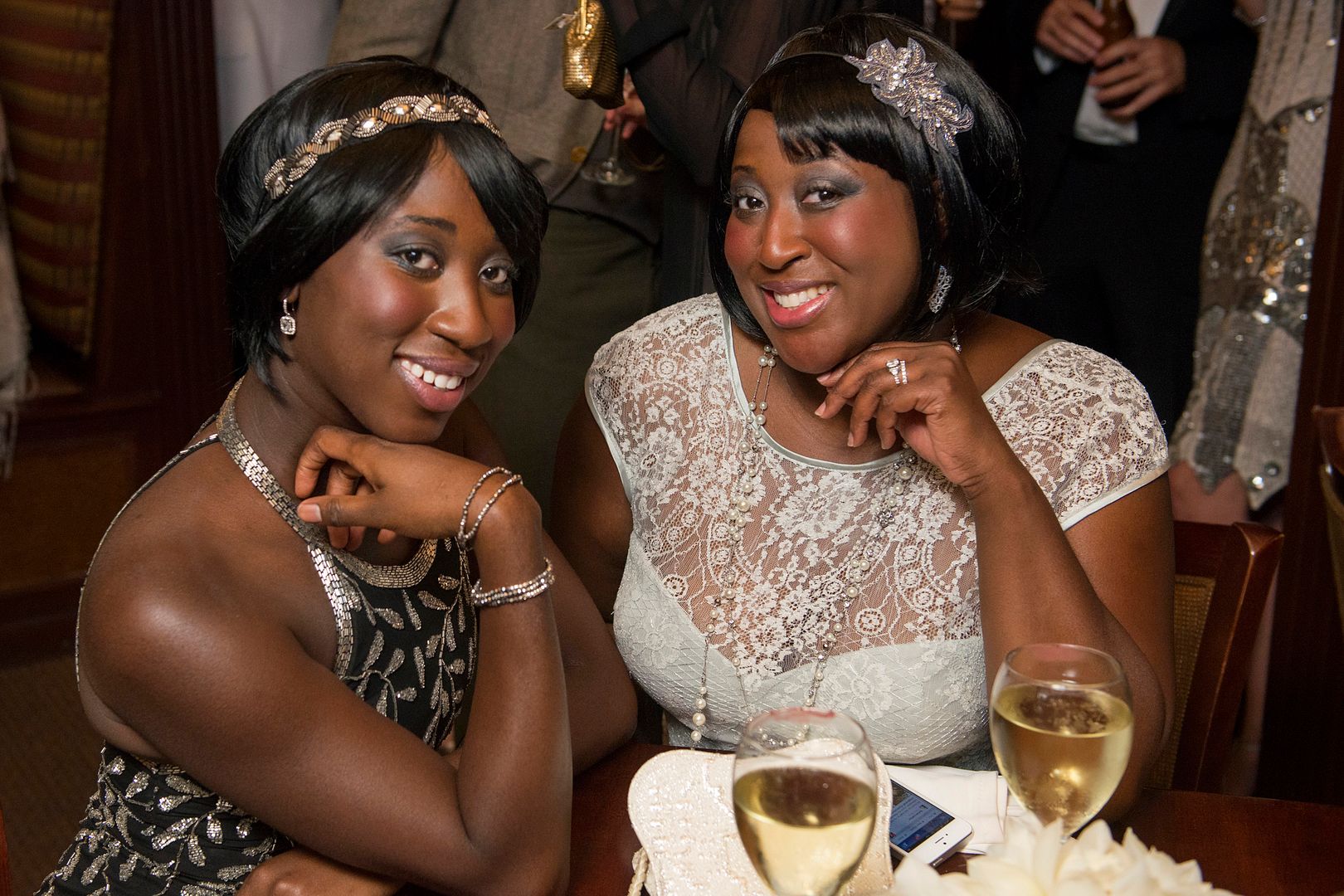 The crowd picks a winner with their resounding cheers for Josie (left). I had the pleasure of
styling Ozlem Nichols (center, in a Sue Wong dress) who also weighed in as one of our "Best Dressed" finalists. They were all the bee's knees! Be still my heart.
David Poppe accepting his prize from Bloke. (a knit bow tie) as our Best Dressed Gatsby.
L: This is what happens when you Party Like Gatsby!
R: R: That's a wrap, kiddos. xo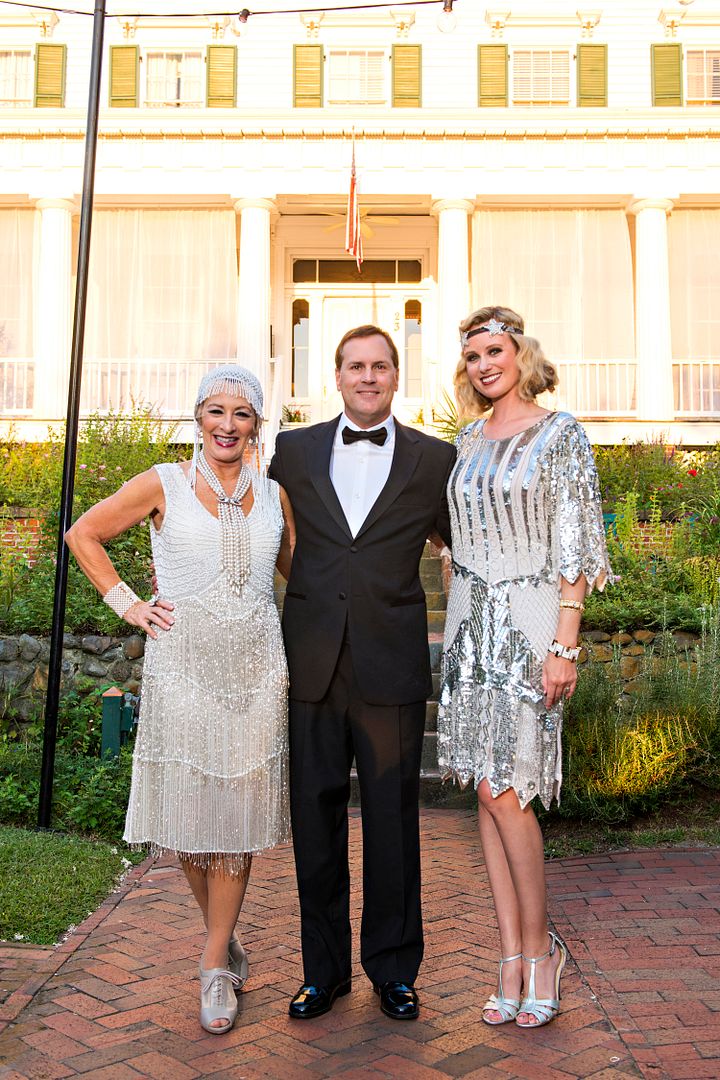 Till next year…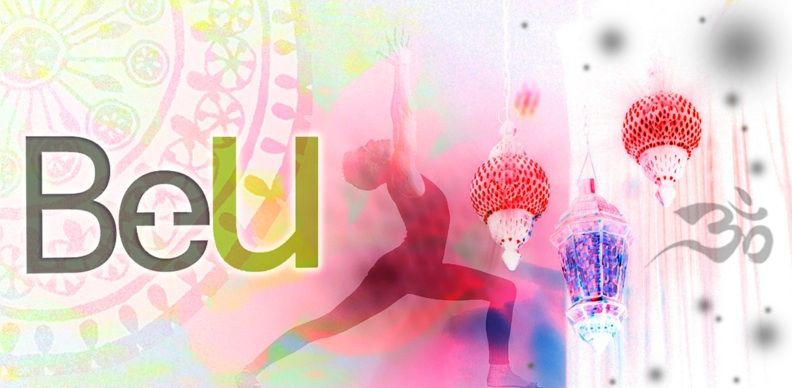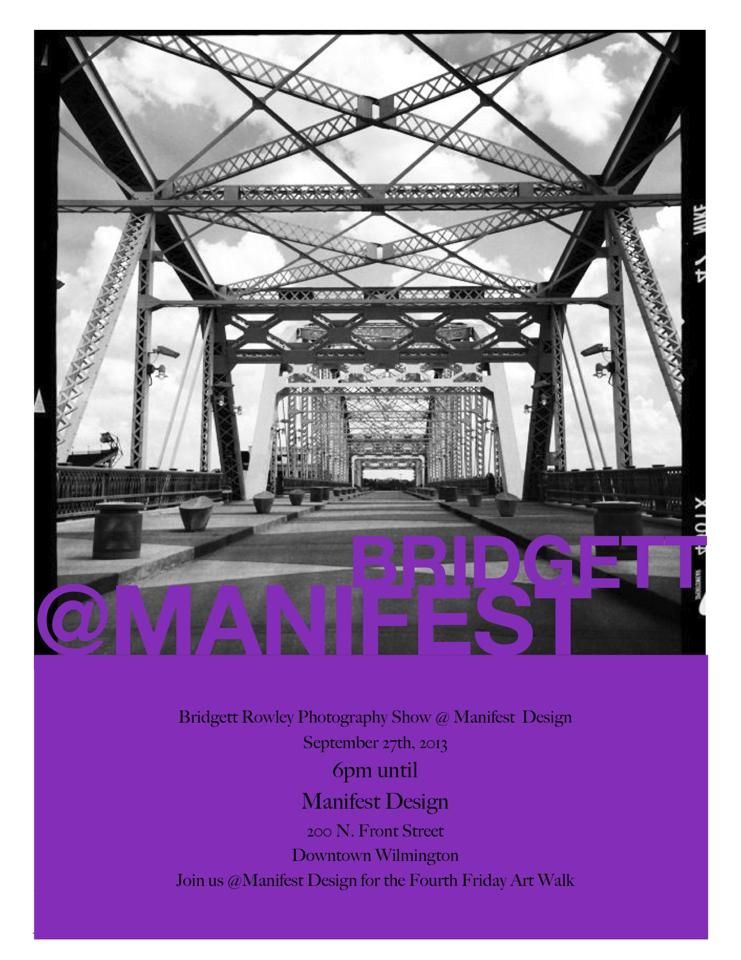 MARK YOUR CALENDAR!
New Date: Saturday October 5th
Wilmington Dermatology Center presents
FALL FASHION PREVIEW
Saturday October 5 at 7pm
at Blue Hand Home / The Forum
featuring:
An evening of style – season essentials, fashion & beauty styling secrets,
local celebrity models, shopping, light bites, bubbly & fun!
STORES + DESIGNERS:
aMuse
Aqua Fedora
Beanie + Cecil
Bloke.
CastlesCouture
Christina Jervey Jewelry (Charleston)
Elissa Riley for Stella & Dot
Front Street Optometric Care
Just Like Honey
Lula Balou
Merewif
Oliver
Style Girl Vintage
Torri/Bell;
HOSTS:
"Style Girl" Jess James,
Dr. Rosalyn George of Wilmington Dermatology
Celebrity Hair Stylist Steven Ward of Steven Ward Hair
Makeup Artist Courtney Rogers of Beauty Bar +
your favorite boutique owners and designers.
ENJOY:
Must-have, age appropriate looks for fall modeled
by local celebrities in their 20s to 75+,
Style and beauty secrets, season essentials & deals you won't wanna miss!
Mini-makeovers, delectable bites from Las Olas, sweet treats from
Coastal Cupcakesand wine & bubbly courtesy of Taste the Olive.
TICKETS:
$25 – Limited Space. Get your tickets today:
CLICK HERE
First 25 guests to purchase tickets online will be entered to win
the "FALL FABULOUS" grand prize,
including a $100 gift certificate from Blue Hand Home.
WIN IT!
Purchase your Ticket
Before Noon TODAY
for a chance to win:
Modern Hourglass + Quotable candle ($44 value)
from Blue Hand Home