Fashion Designer Amanda deLeon
wearing one of her designs that will appear
on the runway at New York Fashion Week
Fashion designer Amanda deLeon (formerly of Wilmington and currently residing in New Orleans) is headed to New York Fashion Week in less than a month (OMG!) and needs our help. By the time you read this, her Kickstarter will be ending any minute now! Every dollar counts so please pay it forward today.
To contribute to Amanda's Kickstarter campaign,
please CLICK HERE.
To get to know more about Amanda's designs, her connection
to Wilmington, what she's most nervous about and why
she needs your help, please read below.
Thanks! xo
When I received the email from Amanda letting me know she is headed to New York Fashion Week to present her work, I thought back on my first Amanda deLeon piece – a super fitted black and white striped pencil skirt. This is no average J. Crew or Banana Republic pencil skirt. It has a sculpted waistband with strategic pleating with an almost origami effect. Each white stripe meets its match resulting in an arresting chevron at the seam. And, let's not forget the jolt of turquoise satin lining.
Let's just say, I am not all that surprised.
Amanda, who was a fixture in the Wilmington fashion scene during my first several years in Wilmington at every fashion show, trunk show and Style Swap, continued in her message, "You know that you are the one that really believed in me and helped push me from the very beginning. It really means a lot to me."
Tissue, please.
Amanda fittingly wearing a fleur de lis feathered
headpiece at the James + Dunne Jazz Age Fashion Show at Odessa
Photo: Leslie Koehn
Amanda's custom made pieces (on the runway and a sketch)
for the Jazz Age Fashion Show styled by James + Dunne.
Amanda with Charleston Publicist Julie Montgomery, Troubadour designer
Lindsey Carter and Elli Klein (also of Wilmington) at my Charleston Style Swap
L: Amanda at an early Fashion Preview event
R: Amanda showing support at one of my first Charleston Style Swaps
I always loved this ironic photo taken by Amanda's husband Kevin DeLeon
of Amanda dressed to the nines wearing one of her designs just ya know, mowing the lawn.
I hadn't seen Amanda since our last trip to New Orleans during Tales of the Cocktail (read our last interview HERE) a few years back but kept up with her accolades as New Orleans' newest designer darling via Facebook. When I saw that she shared a preview of a recent collection citing Joel and I's good friend Brad Kunkle's gold and silver leaf paintings as her inspiration, I tagged Brad in the post. In turn, Brad shared the story with an editor at American Art Collector Magazine, resulting in a dynamic spread featuring both of their work.
I assumed New York Fashion Week was a natural progression from there, but it turns out a well-connected publicist based in New York discovered Amanda's work instead on LinkedIn.
"She loved my inspiration, and where I wanted to take my brand. Most of all, she thought my work had an edge she hadn't seen before. She came up with the idea of producing a short fashion film to get publications and buyers interested in my collection, and then it snowballed into showing at NYFW. KickStarter was my only option to help cover costs for presenting."
"Did you know models in New York City (even ones starting out) cost $275 + agency commission? And, I need 10 models! Yikes!"
To contribute to Amanda's Kickstarter campaign, Click HERE.
ff: Has there been a moment in this process of preparing when you had to pinch yourself and think 'Is this REALLY happening!?'
"Not really. You know me….I'm a skeptical person. I don't believe it until it actually happens. Plus, things have gotten so fast-paced around here, I haven't had time to really think about it – which is the scary thing. I prefer to be able to control the speed of how things are going down."
ff: What are you most nervous about?
"Man, the list is endless. Not having enough money, the flight there and back, model fittings, people thinking my work is shit, forgetting to put pants on….pretty much, everything."
ff: What role has New Orleans played in preparing you for this opportunity?
"First of all, the collection is inspired by what I want people to wear to my traditional New Orleans funeral. It is important to me to keep things as local as possible. I have been embraced and supported by the fashion community here. And, I am very grateful to live in such a romantic city that is an incredible source of inspiration, and a great support of local talent."
ff: What are you most looking forward to at NYFW?
"I am really excited to show my collection in a way that shares the emotion behind this body of work – and see the reaction to such a dark subject."
ff: What experience in Wilmington has helped prepare you for this opportunity?
What do you miss most about living here on the coast?
"Wilmington was an important step in starting my business. I began custom design work for friends, and friends of friends. And, you created a platform for my work to be featured in your shows and local publications. I was also greatly inspired by the water. Surfing played a large part in creating my first cohesive collection."
Amanda's sketches and collection inspired by New Orleans'
dark romance and cemeteries.
Blowing kisses at a 1940's themed party during Tales of the Cocktail
during my last visit to New Orleans two years ago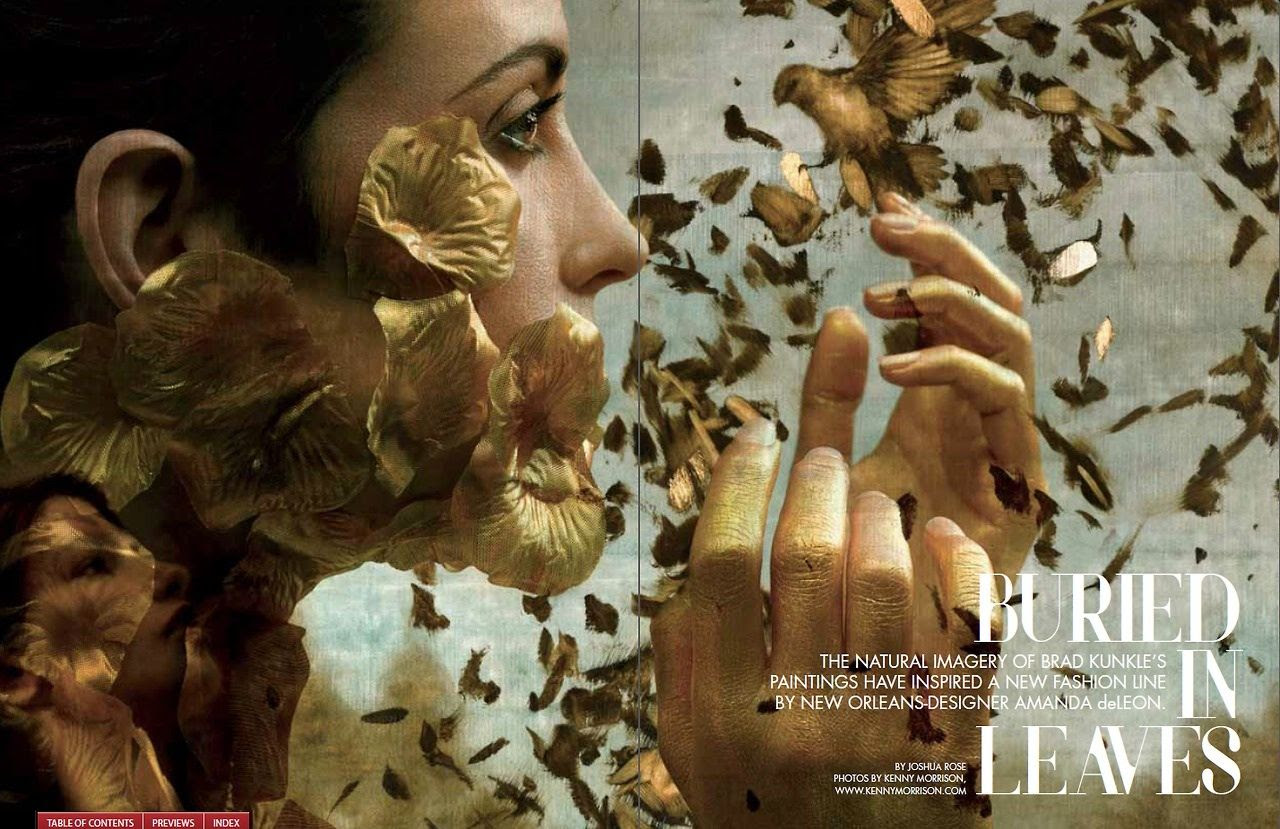 American Art Collector Magazine layout
showcasing the inspiration for Amanda's collection –
the artwork of Brad Kunkle
To watch Amanda's Kickstarter video and contribute
to her NYFW production costs, please Click HERE.
ff: When you look out in the crowd at your show, who's face will you be looking for?
"I usually have blinders on. I don't really like being the center of attention. It makes me nervous. But, eventually the haze lifts, and I begin to see family and friends. Usually the first person I see is Matthew Arthur. Matt is a close friend who was also a cast member on Project Runway. He is always the first to stand and clap after my show."
ff: Which piece do you think is the strongest or best represents your current collection that will be showcase on the runway at NYFW?
"The three piece red wool suit. It's powerful. It's unapologetic. But, it is also timeless."
ff: What soundtrack will accompany your show?
"Ahhh, my favorite topic – music!
1. See You in Hell or New Orleans, by Dax Riggs
(Click Here to Listen)
2. We Burry Our Own, by Adam Dale – "A Louisiana boy."
(Click Here to Listen)
3. Beggars, by Thrice
(Click Here to Listen)
4. At the Bottom, by Brand New
(Click Here to Listen)
5. At the Foot of Canal Street, by John Boutté and Paul Sanchez
(Click Here to Listen)
"And for the finale, a song about who will be at the funeral,
what they will wear and what band will play."
ff: And, what will you wear?!
"Ha ha, to my show or to my funeral? For my show, I'll probably be in jeans and an old scrappy band tee. It's too much hard work backstage to dress in my Sunday best."
THANK YOU!
Last week's FASHION FIX received the most response (via email) and on my website (over 130 Facebook likes and a shout-out from Writer Celia Rivenbark and Pat Kusek) that I've received in quite some time. I'm sure it helped that I had a renaissance man as my subject that happens to be easy on the eyes but I just wanted to say how grateful I am.
If you would like to comment, please
find each FASHION FIX on my website
and scroll to the bottom of the article.
Cheers! xo