One of my favorite highlights from last Saturday's Fall Fashion Preview presented by Wilmington Dermatology Center was arriving at Blue Hand Home and seeing the fantastic results of Steve Ward 's magic scissors!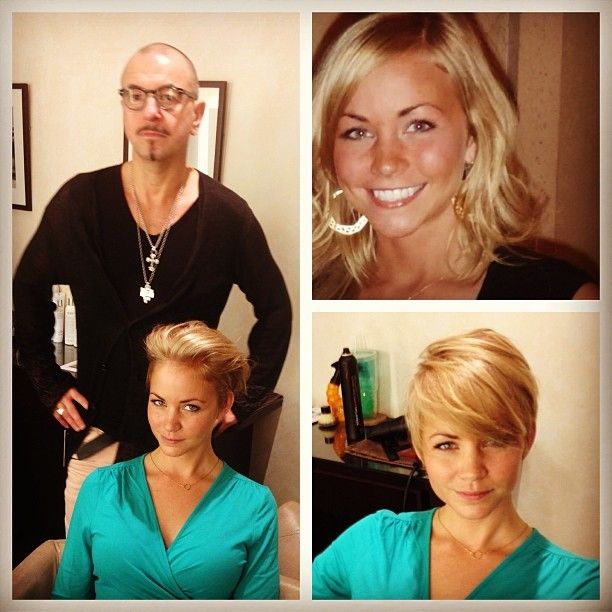 BEFORE + AFTER:
Lauren Corbett was our designated "Makeover Model" who signed up for a "major change" and left her hair's fate in Steve's hands.
INSPIRATION
Steve's inspiration for Lauren's cut came from my favorite cut/campaign this season featuring Michelle Williams for Louis Vuitton. Ironically enough, Michelle herself was in town this weekend for the first time in 10 years showing off "Capeside" to her daugther, Matilda. Anyone spot her at Blue Hand Home Saturday night?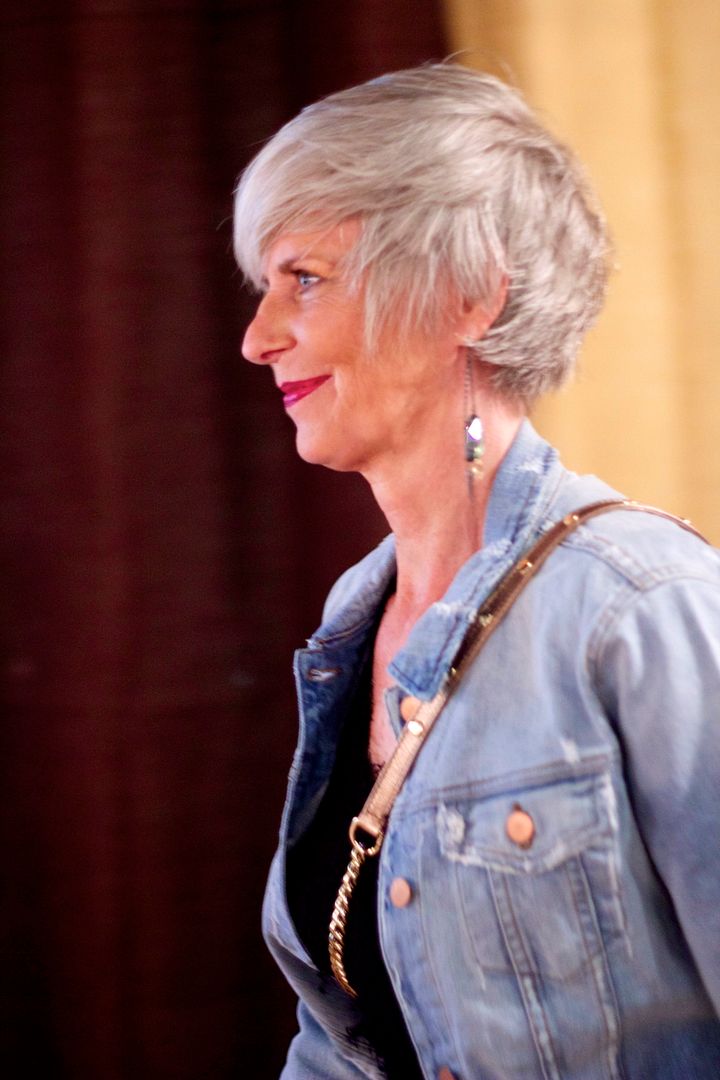 The surprise cut debuted on the runway that night came courtesy of DeeAnn Carpenter, who spontaneously decided to give her hair the chop while she was sitting in Steve's chair only hours before the show. Doesn't she look incredible?
(Outfit + Accessories from Oliver)
I spent many sleepless nights leading up to the Fall Preview so I owe a lot of gratitude to my "beauty team" for helping making me at least look like I had my 8 hours of beauty rest.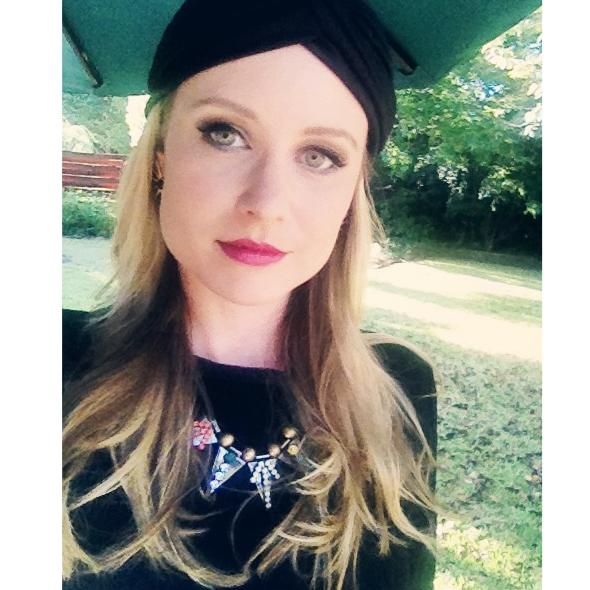 Makeup: Amy Kennison
Hair: Emily Rodriguez of Steven Ward Hair
What I Wore:
Top with lace insets and leather peplum from Zara
Marc Jacobs metallic woven pencil skirt
Vintage nude studded belt from Cavortress
Black turban from Bijuju
Rebecca Minkoff black / rose gold heels from Oliver
Necklace by Fallon
House of Harlow earrings
Before viewing Photographer Abby Oliver's event photos below, I thought I'd share or re-cap Fall's anticipated trends of the season. What will you be wearing?
FALL TRENDS:
90's Resurgence:
Smock Dress
Modern Combat Boot
Grandpa Cardigan
Wide-Brimmed Hat
Trumpet or Skater Skirt
Ripped Jeans
Not-So-Classic Loafer
Menswear Watch
Plaid
Annie Hall Trouser
Quirky High-Tops
Boxy Jacket
Strategic Layering
Knee High Boots with swingy minis
Oversized tops & dresses
Same-Print Mixing
Oversized Coats
Winter Whites
Suspenders / Overalls
The Red Party
Goes Gatsby:
Get Your Tickets by
Clicking HERE.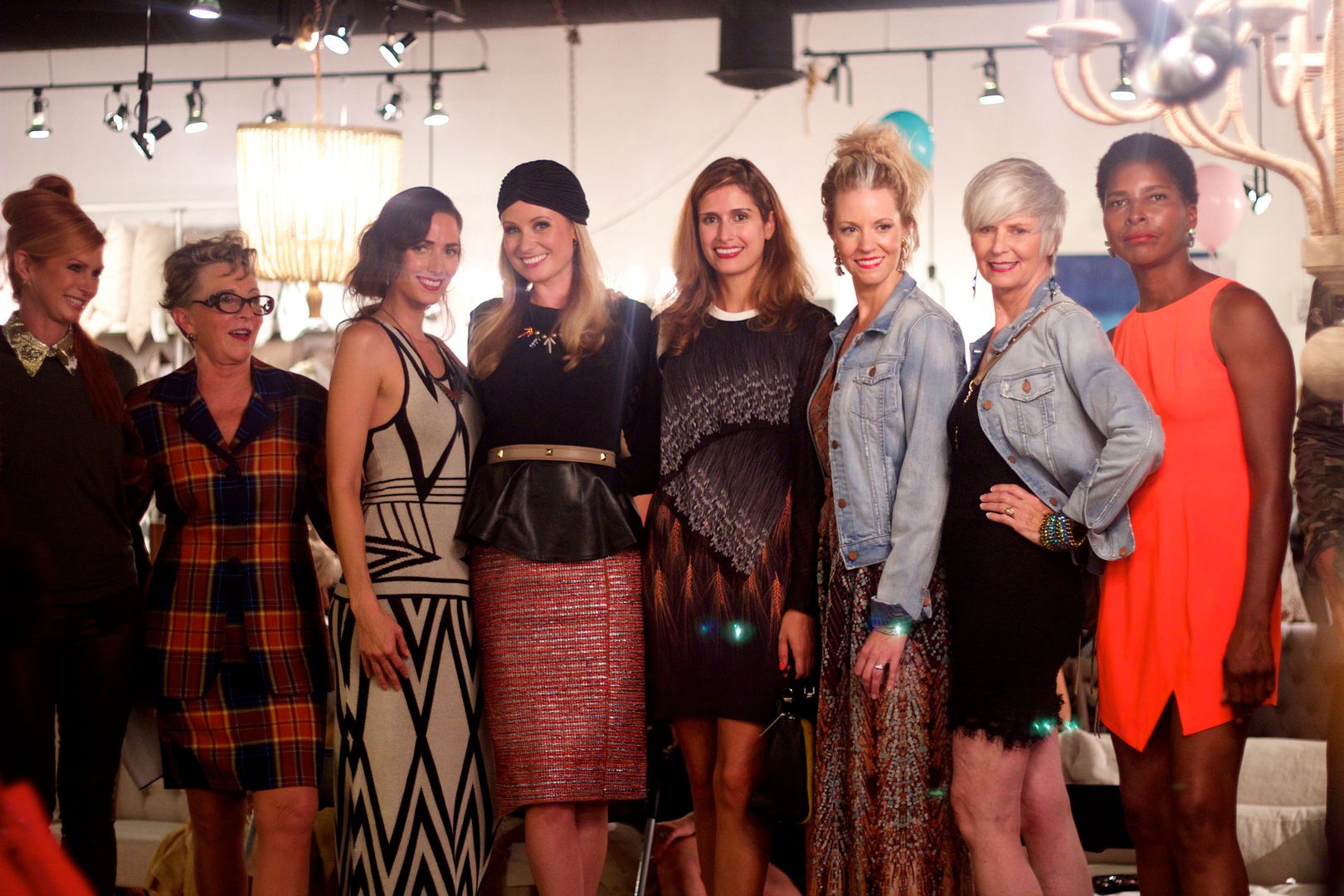 FALL FASHION PREVIEW
10.5.2013
@ Blue Hand Home
Presented by:
Dr. Rosalyn George of Wilmington Dermatology Center
Hosted by: "Style Girl" Jess James,
Celebrity Hair Stylist Steven Ward of Steven Ward Hair
Makeup Artists Courtney Rodgers and Natalie Morfin of Beauty Bar +
your favorite boutique owners and designers.
An evening of Style – Season essentials, fashion & beauty styling secrets, local celebrity models, shopping, light bites, bubbly & fun! Must-have, age appropriate looks for fall modeled by local celebrities in their 20s to 70+.
Mini-makeovers, delectable bites from Las Olas, sweet treats from Coastal Cupcakes, wine & bubbly courtesy of Taste the Olive & deals you won't wanna miss!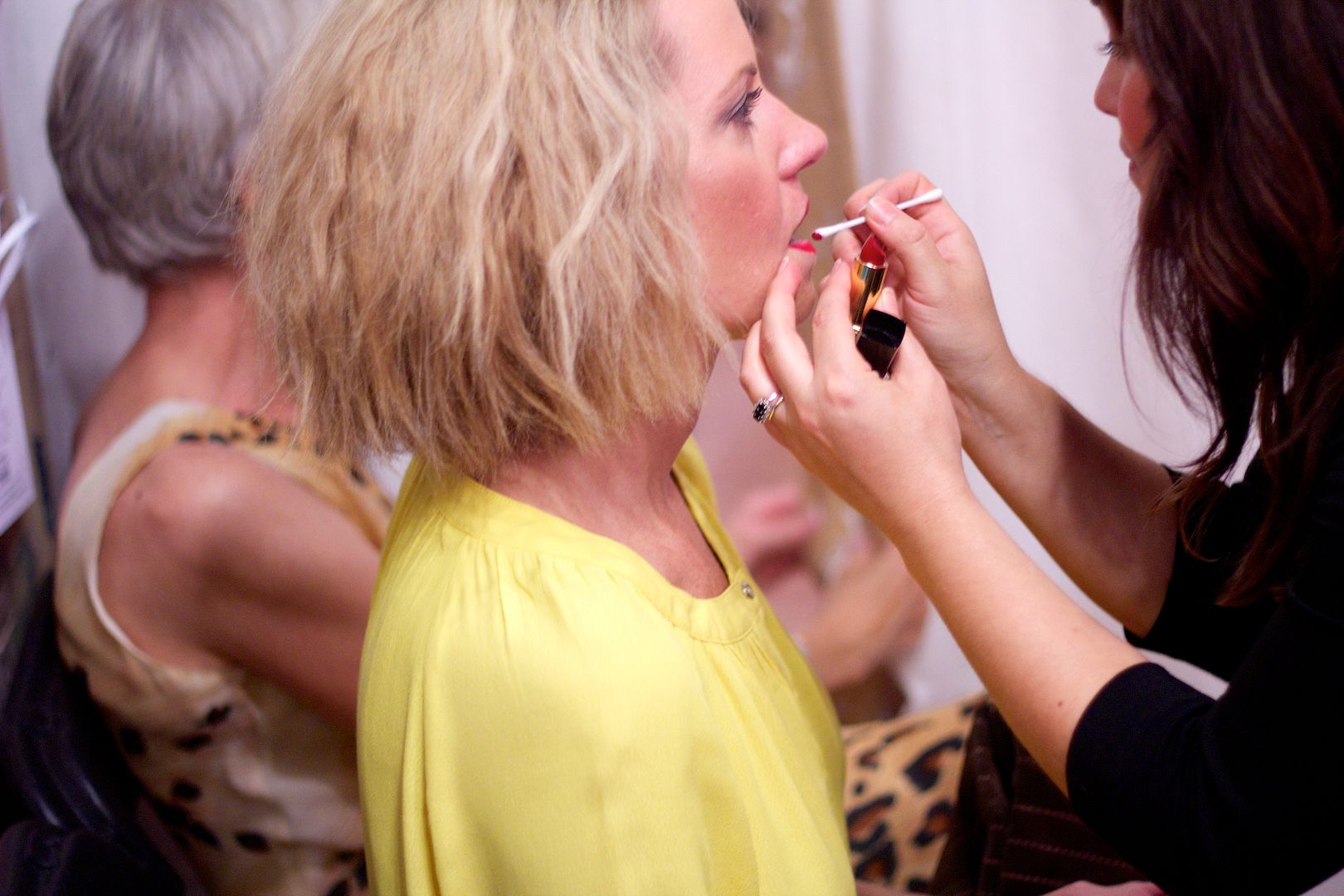 Makeup by Courtney Rodgers and Natalie Morfin of Beauty Bar
L: Model Michelle Glauber backstage / R: Lindsey Carrier strikes a pose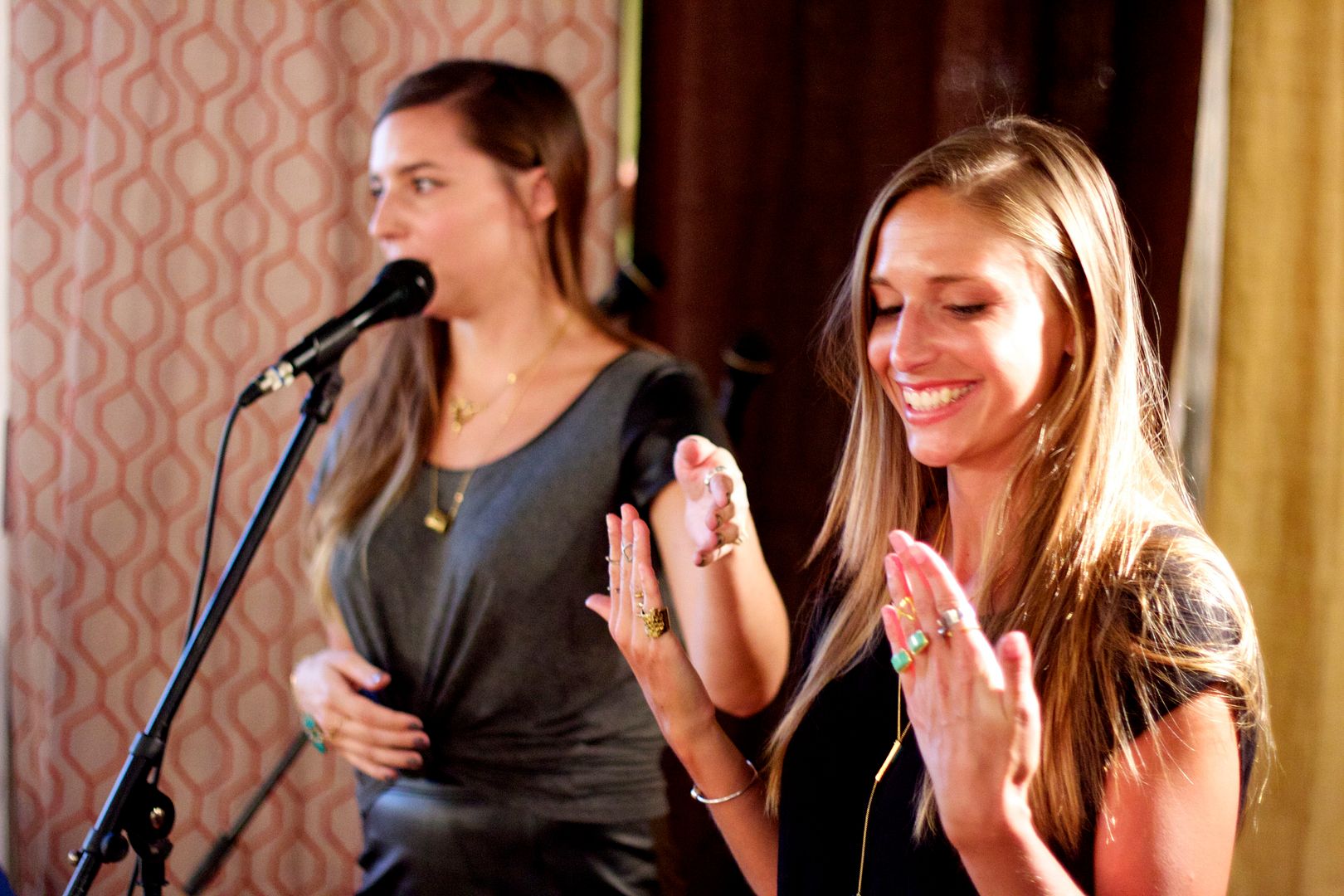 Savannah Watson, owner of Merewif Jewelry, talks "Statement Hands" for fall
L: Lauren Corbett (with her new cropped 'do!) wearing a handmade striped cropped top, swingy jacket and skirt from Just Like Honey
R: Michelle sets the runway ablaze in the CastlesCouture black dress with tie-dye hem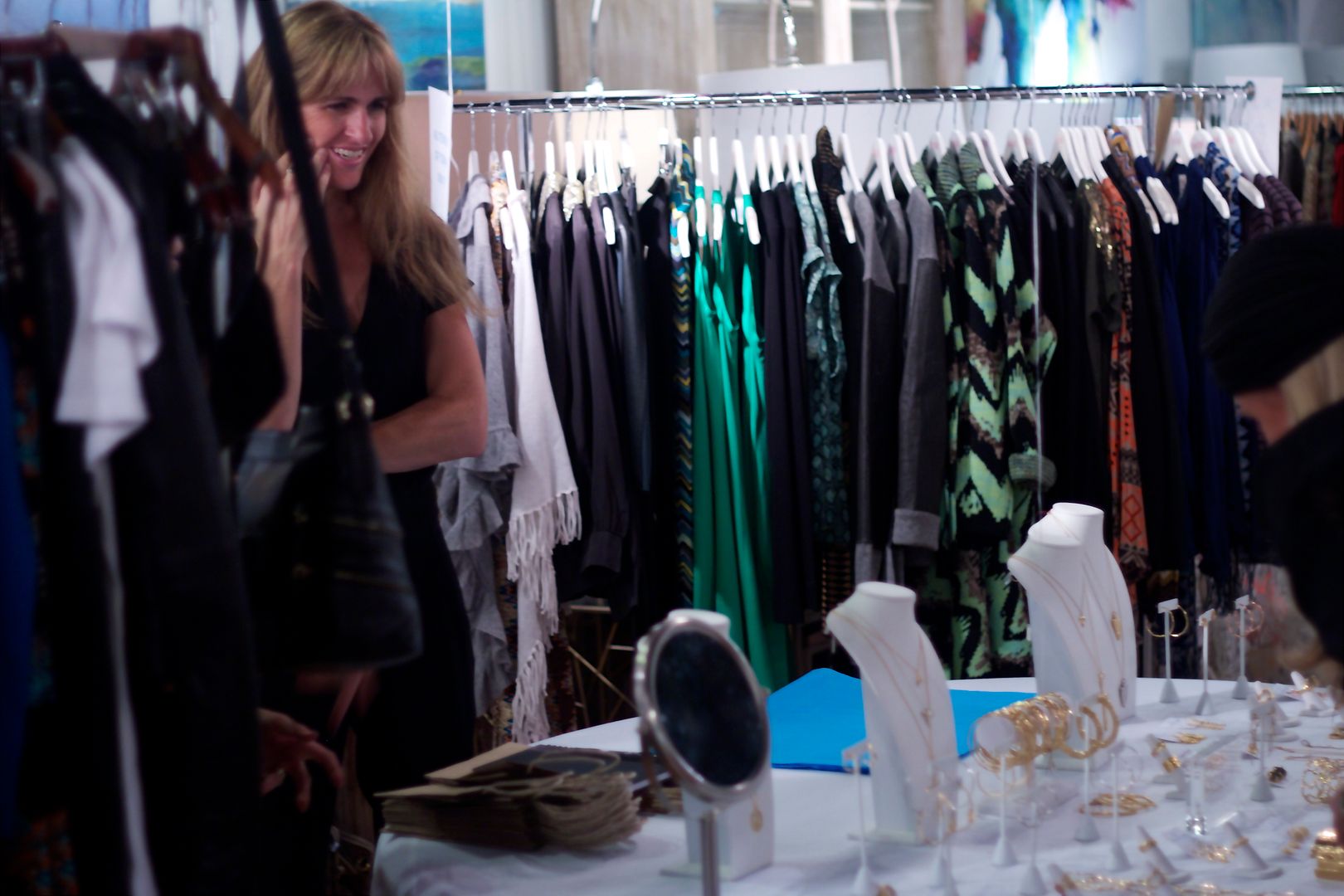 Charleston Jewelry Designer Christina Jervey
(jewelry line coming soon to Blue Hand Home!)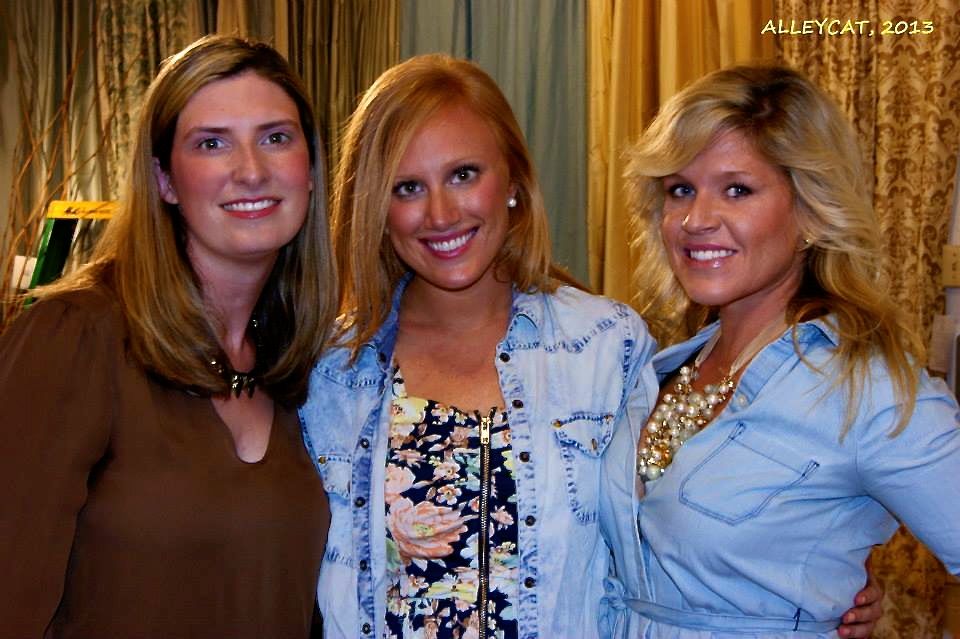 Fashion Preview Presenting Sponsor Dermatologist
Dr. Rosalyn George of Wilmington Dermatology Center (far left)
Erin Kornegay-Ring and her mom DeAnn Carpenter (with her newly shorn hair) showing how to wear distressed denim at any age this season in a J Brand denim jacket from Oliver. Erin wears a flowy, sequin print jumpsuit and vintage earrings from aMuse. DeAnn wears an elegant Nightcap black lace dress with denim, a Rebecca Minkoff metallic bag and jewelry all from Oliver.
Model Pat Kusek is the life of the party wearing a vintage Ungaro plaid suit from Style Girl Vintage and Prada tortoise frames from Front Street Optometric Care
L: Beautiful Angela Cannon in a necklace from Elissa Riley for Stella & Dot, earrings from Merewif, blouse from Lula Balou / R: Love this shot of Erin. Nice light fixture, Tracy!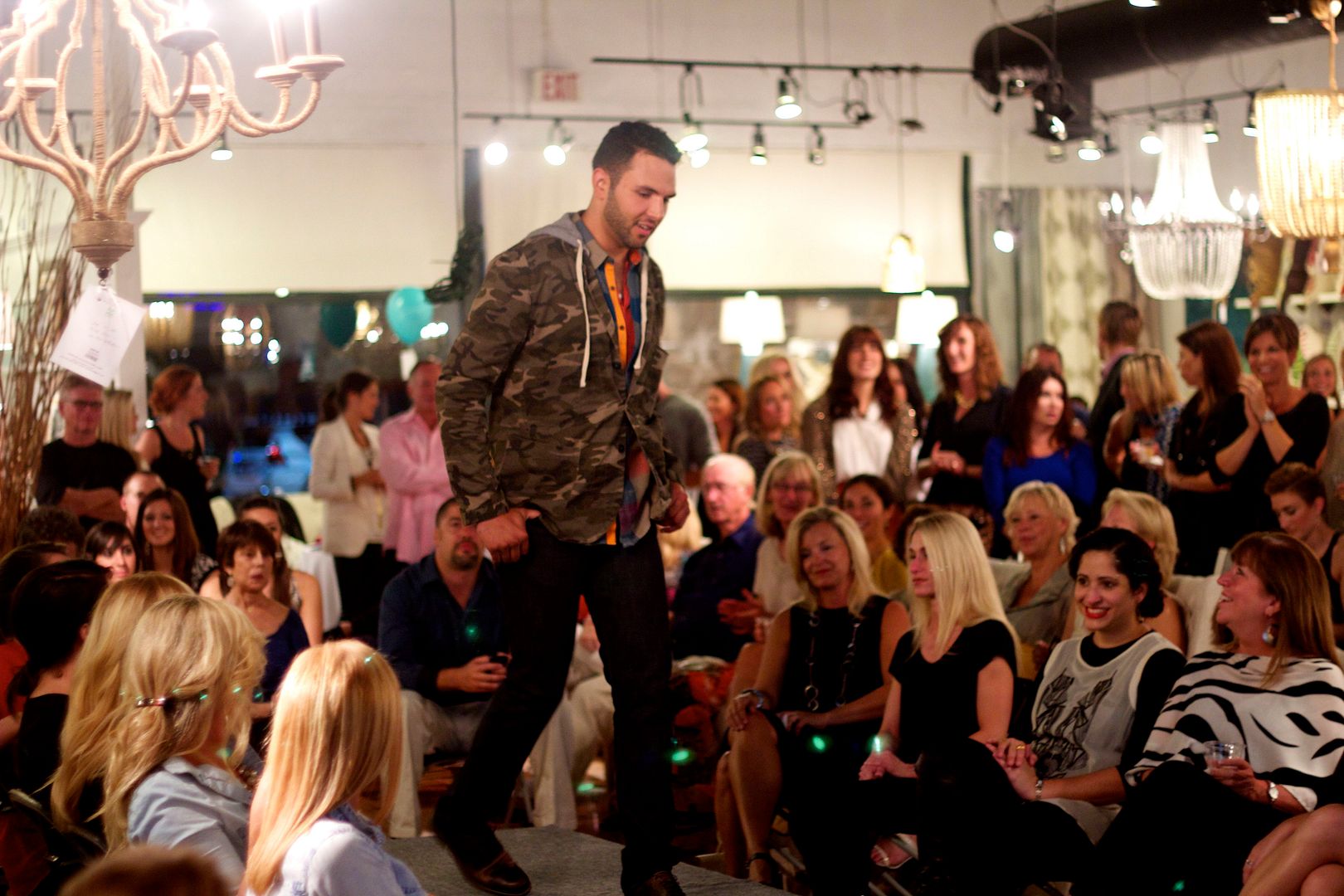 Our handsome (and brave!) solo male model Thomas Lopez workin' the runway (and the ladies) wearing plaid, camo and dark denim from Bloke.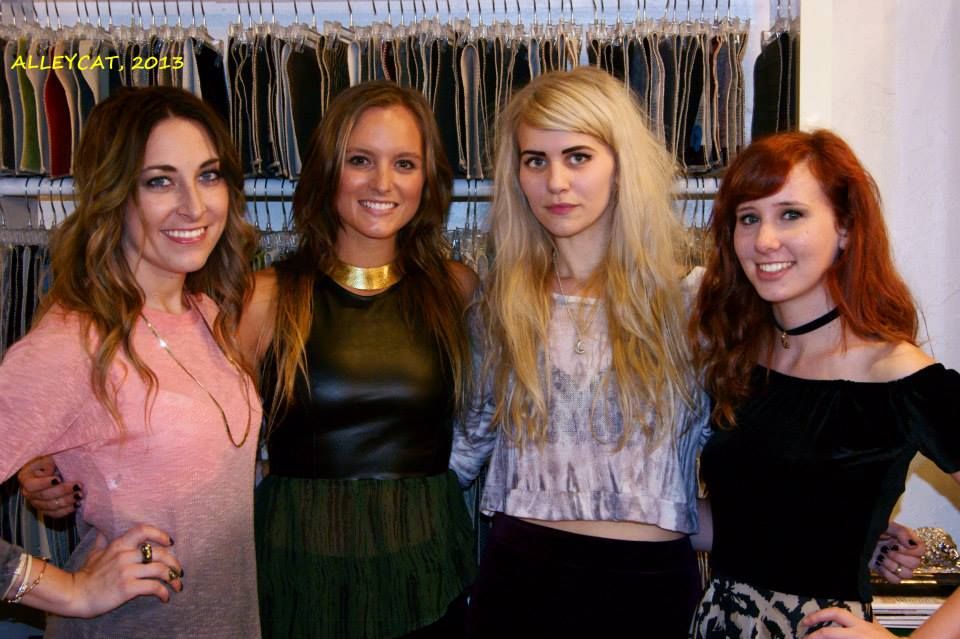 Babes of CastlesCouture with Designer Caroline South Castles (second from left)
Angela looked so good in both these looks, I decided to show them both! The neon orange dress with a modern hem is perfect for a night out while the blouse and distressed boyfriend jeans is spot-on for the Saturday Farmer's Market (where you may recognize Angela – famous for Angela's Pickles!) Both looks from Lula Balou Necklace from Stella & Dot, Vintage silk scarf, stylist's own.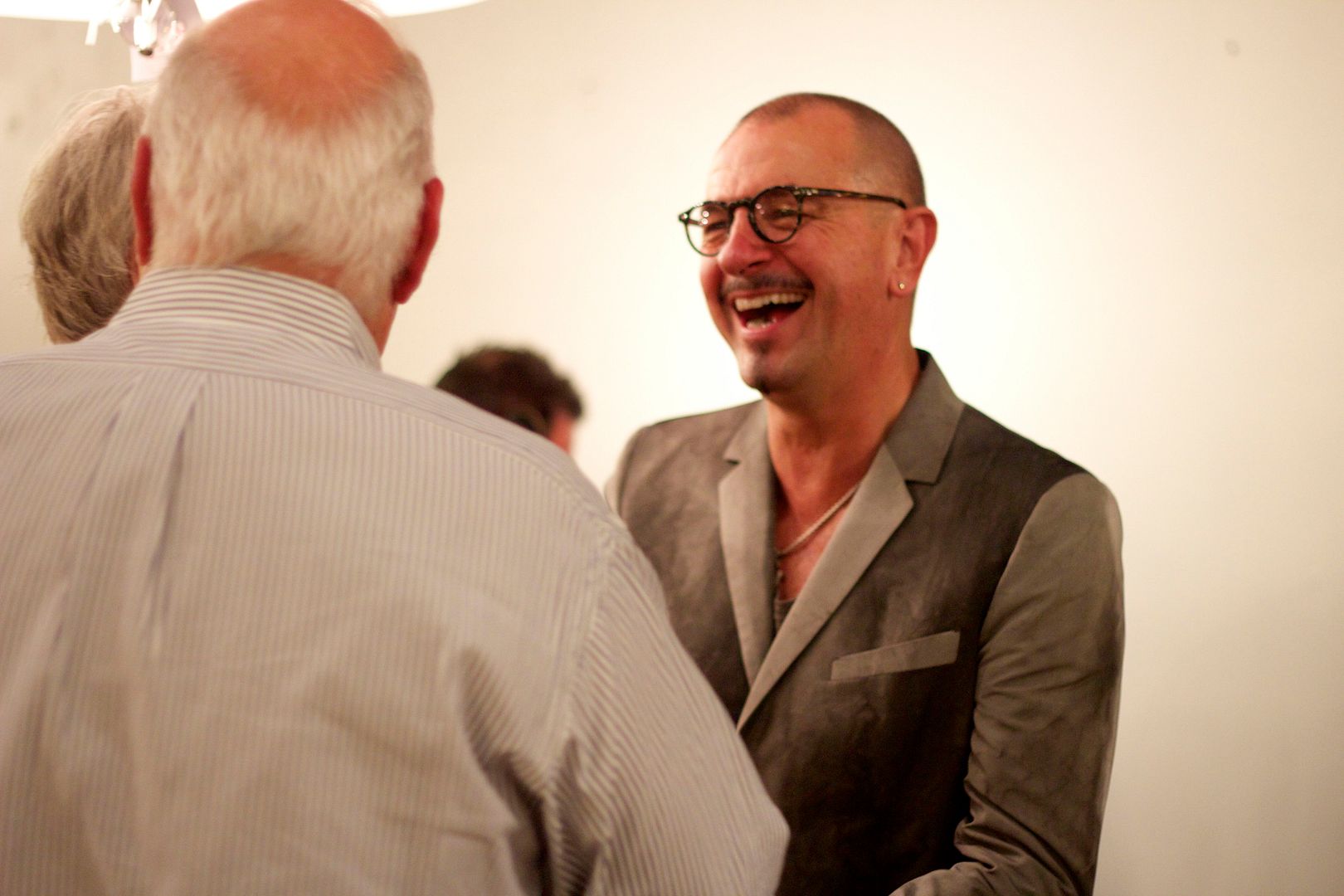 Hair Guru Steve Ward of Steven Ward Hair Thank you for continuing to share your talent with us, Steve!
Josie Evans wearing a fringed cape and buckle adorned suede boots from Lula Balou
paired with a knit geometric print maxi dress from Aqua Fedora
Torri/Bell beauties with T/B owner Torri Winstead
Yummy bites courtesy of Las Olas at The Forum
L: Twinsies! Kelly Barnes' daughter & friend showing how stripes are done
R: Catching up with Kelly of Oliver / Coming to WWAY soon…
L: Wilmington's gorgeous First Lady Renee Saffo as our finale model wearing Phillip Lim mixed prints dress with leather trim from Beanie + Cecil
R: Michi is perfection in a metallic brocade collar blouse layered under an embellished short sleeve sweater and eggplant hued waxed skinny jeans from torri/bell
L: Our "Best Dressed" guest winner (far left in sparkly jacket)
R: Pat Kusek of Kusek Financial Group owning the runway wearing an Ungaro
plaid suit from Style Girl Vintage (for sale on Etsy or by request)
with earrings from Christina Jervey Jewelry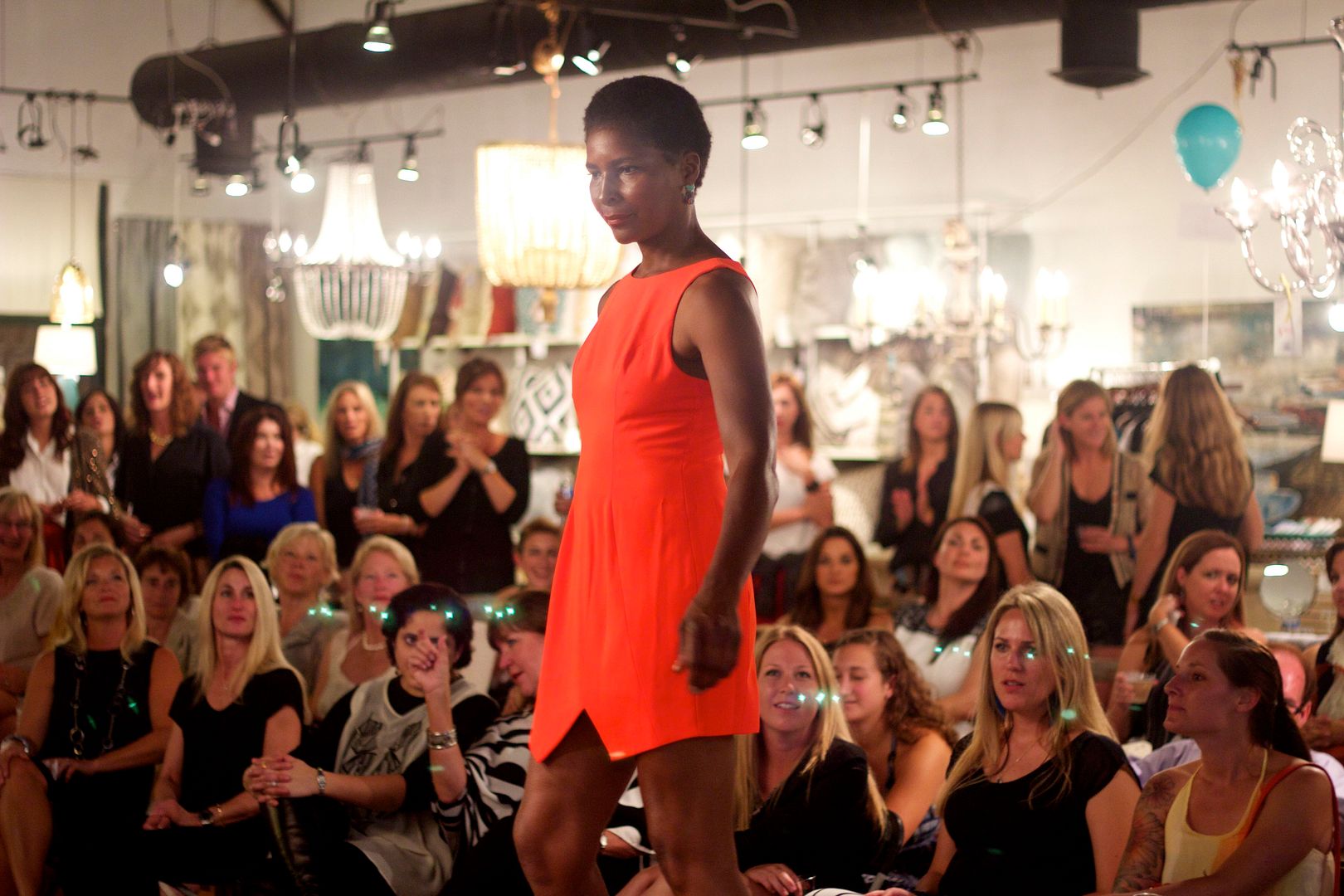 Angela sizzles in the neon orange dress from Lula Balou
with Merewif earrings and Christina Jervey Jewelry gold cuff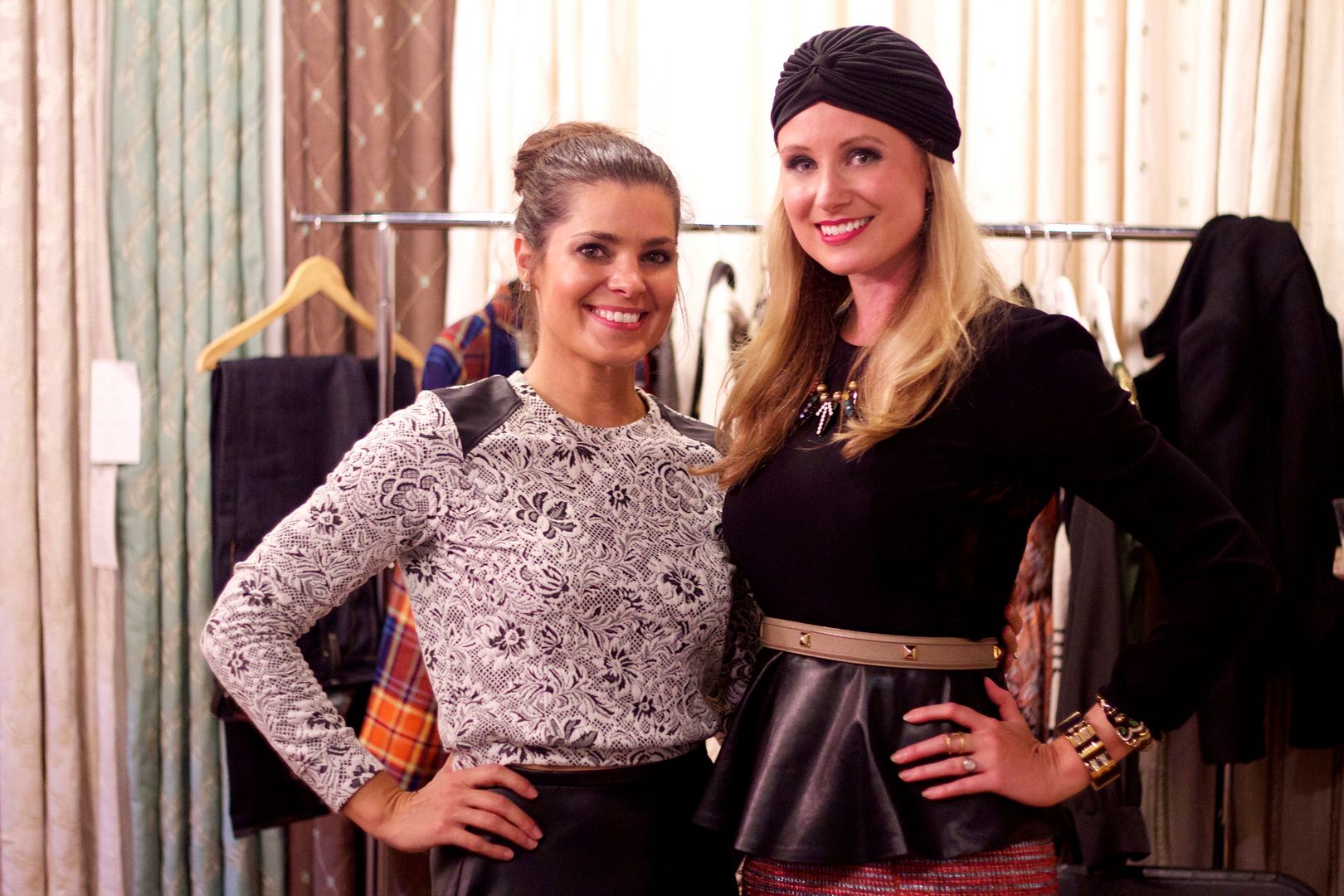 Thank you to Juliana for helping me make it through
two back-to-back events! You're the best 🙂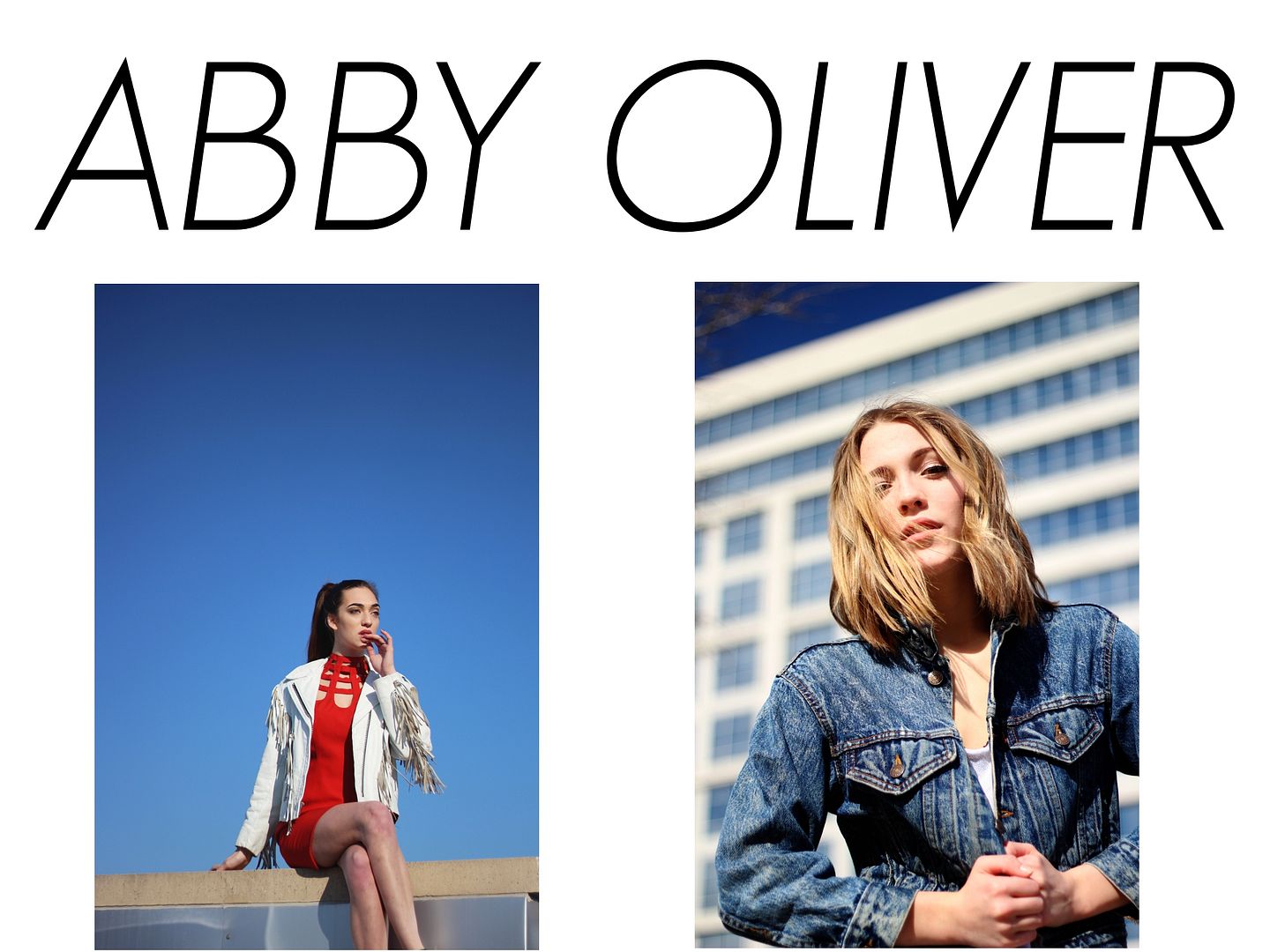 To see more of Photographer Abby Oliver's
photos from the Fall Fashion Preview,
Click HERE!
(additional images provided by: AlleyCat ArtWorks)