Photo: Vogue Brasil
TIME TRAVEL:
Jazz Age Lawn Party Virgin No More!
Ever since I started hosting the Great Gatsby Gala at The City Club four years ago, I longed to don my 20's finery to lounge and frolic in the grass (with my St. Germain cocktail in hand) at The Jazz Age Lawn Party held twice a year (June and August) on Governor's Island.
Hosted by Michael Arenella and his Dreamland Orchestra and selected by The New York Times as one of the most memorable events of 2011 and 2012, The Jazz Age Lawn Party offers a magical opportunity to travel back in time.
Lamenting to Milliner Jan Wutkowski last August that I had missed the Lawn Party once again, she insisted we make a pact that we would not miss it this year and even better, we would go together. We shook on it, and landed in New York last Wednesday for a roaring good time!
Wilmington native Su Beyazit, owner of Su'Juk boutique & salon in Brooklyn graciously hosted Jan and I along with a few other flappers at her apartment to have our hair and makeup done in true 1920's fashion by professional hair and makeup artists brought in by Su'Juk salon.
Silently nursing my hangover from having a little too much fun in Williamsburg the night before, I tried to muster my long-standing enthusiasm for this event as we schlepped through the subway barefaced in our 1920's garb for our 8:30am call time.
After stepping off the ferry and under the canopy of green trees on the lawn on Governor's Island, I knew instantly this event would be just as "dreamy" as Su promised it would be. I must say, not every guest (ahem, there were thousands) were as well turned out and on-point as our Great Gatsby Gala guests, but the ones who got it right were truly the cat's meow. Don't take my word for it. Take a peek at my photos below. I'm already daydreaming about how I can return to the lawn in August but if not, we always have Gatsby! September 18th at City Club.
(psst, I also heard Fat Tony's is hosting a Speakeasy Night this Saturday at 10pm – you know, I can't resist!)
xo
L: Getting ready with the gals at Su's house courtesy of Su' Juk Boutique/Salon in Brooklyn
R: Hair Stylist Susana Carranza creates a curly faux bob for my daytime flapper look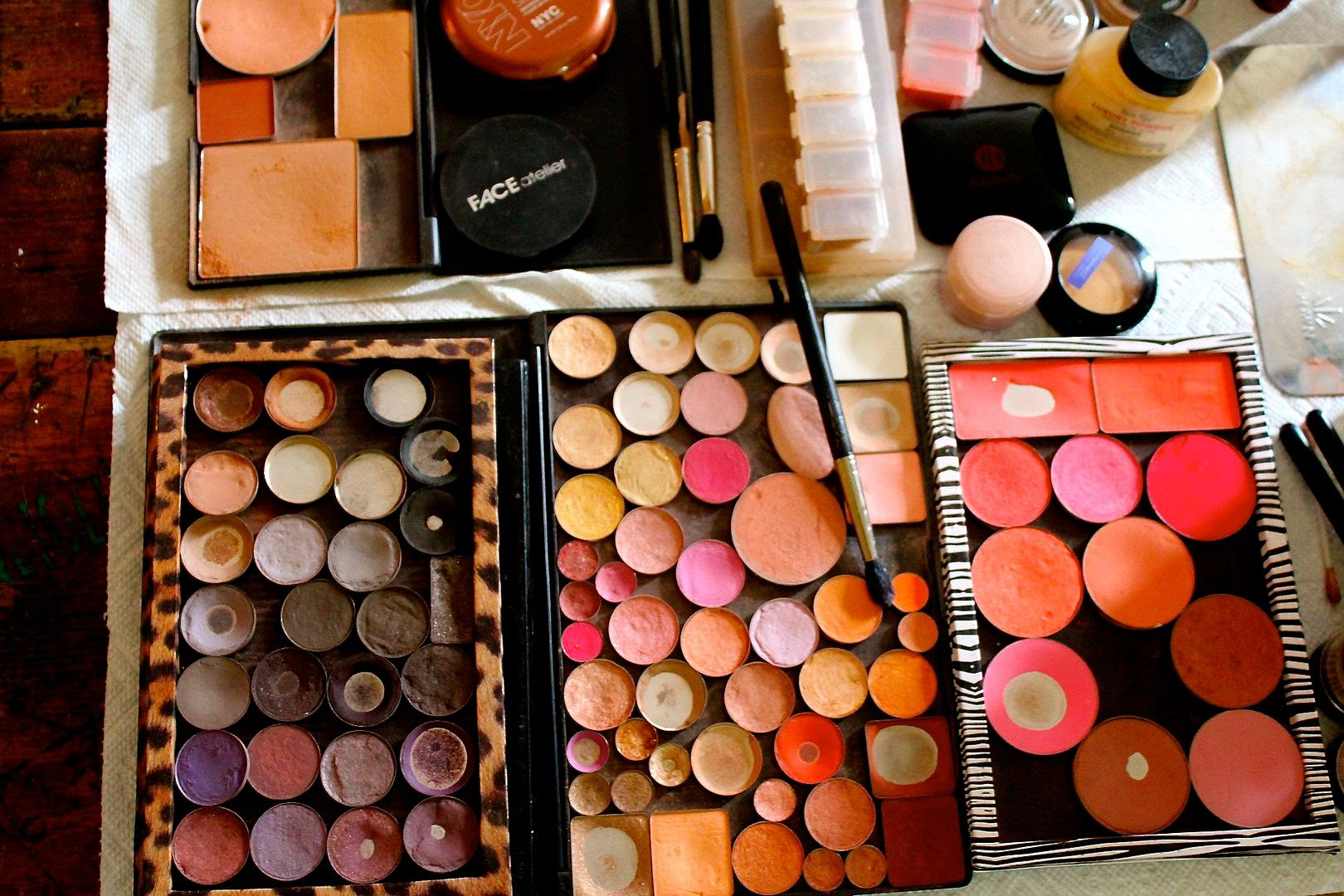 Makeup Artist Rose Fortuna puts the finishing touch – lovely lashes – on Su
Surprise!
I went for the kimono after all (thank you for your feedback last week!) and I was so glad I did.
It was a beautiful day but when the breeze kicked in, I was grateful to have the extra layer.
WHAT I WORE:
Vintage 1930's hand-painted kimono from Bargain Box
Miguelina crochet lace dress from Gilt
Handmade headpiece by Milliner Jan Wutkowski
(borrowed / for sale!)
Vintage deco rose quartz necklace from Adored Vintage
Vintage long beaded necklace from A Second Time Around
Crescent Moon and deco fan bracelets from Candy Shop Vintage
Vintage feather fan + gloves
L: Jan's pin curls by Hair Stylist Susana Carranza c/o Su'Juk Boutique/Salon
R: Our gorgeous hostess Su Beyazit in a DVF drop waist dress, vintage lace headscarf and pearls
Jan is the bee's knees!
And, of course she made a fabulous hat for the occasion.
All Aboard!
Catching the ferry from Brooklyn to Governor's Island.
L: Handsome St. Germain bartender accessorized with kisses
R: Among the throngs of thousands, Deirdre of Candy Shop Vintage's childhood friend Laura and I connected. I asked her and her date to dance for me. Don't you love her headdress?
Treasures at my favorite booth and one of my favorite Etsy sellers Wildfell Hall Vintage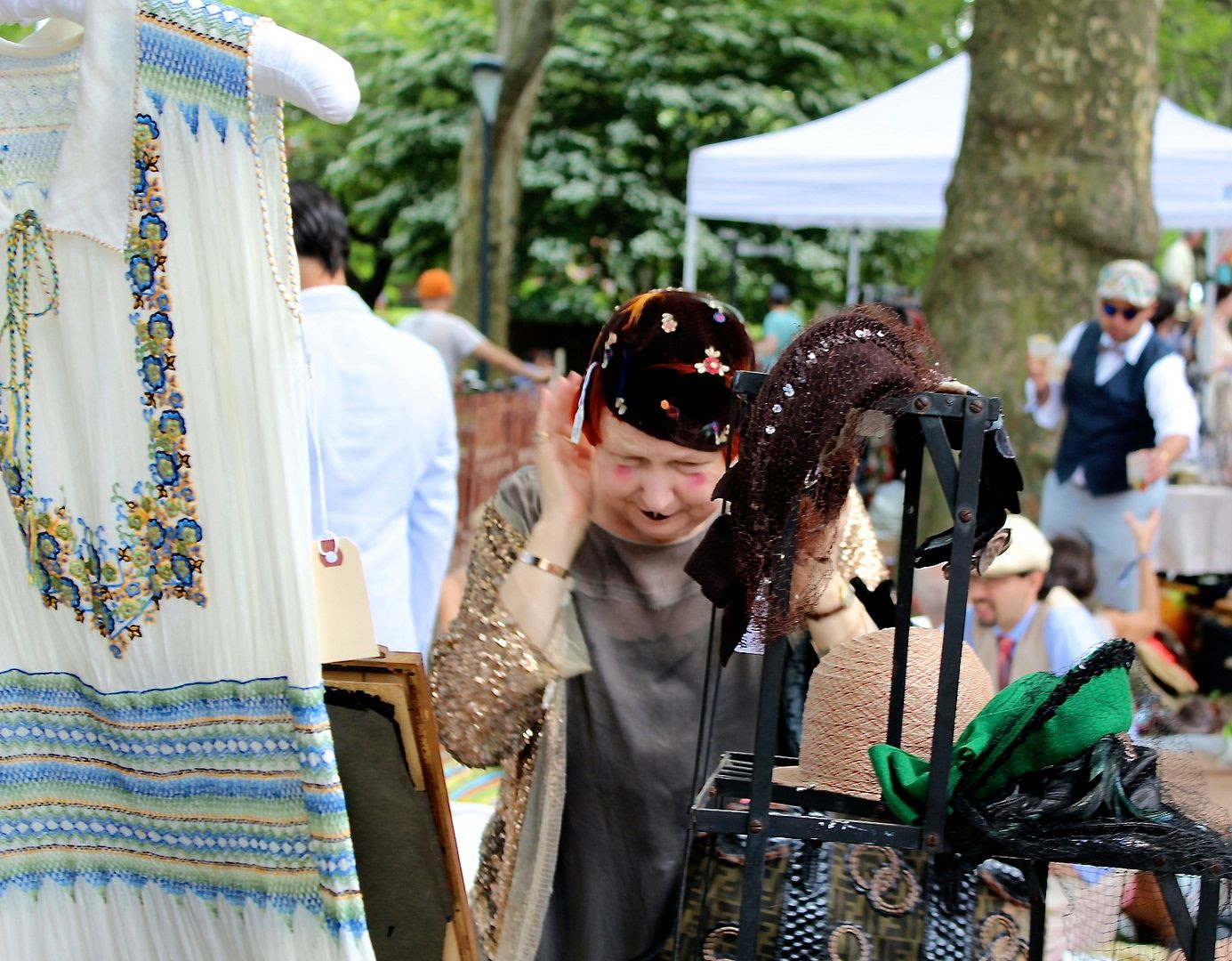 Vogue contributor Lynn Yaeger shopping Wildfell Hall Vintage
Amy of Wildfell Hall Vintage
(Photo: Driely Schwartz)
L: Posh picnic-ing – I am taking note!
R: Photo of JALP Founder and Band Leader Michael Arenella (Photo: Driely Schwartz)
One half of the Minsky Sisters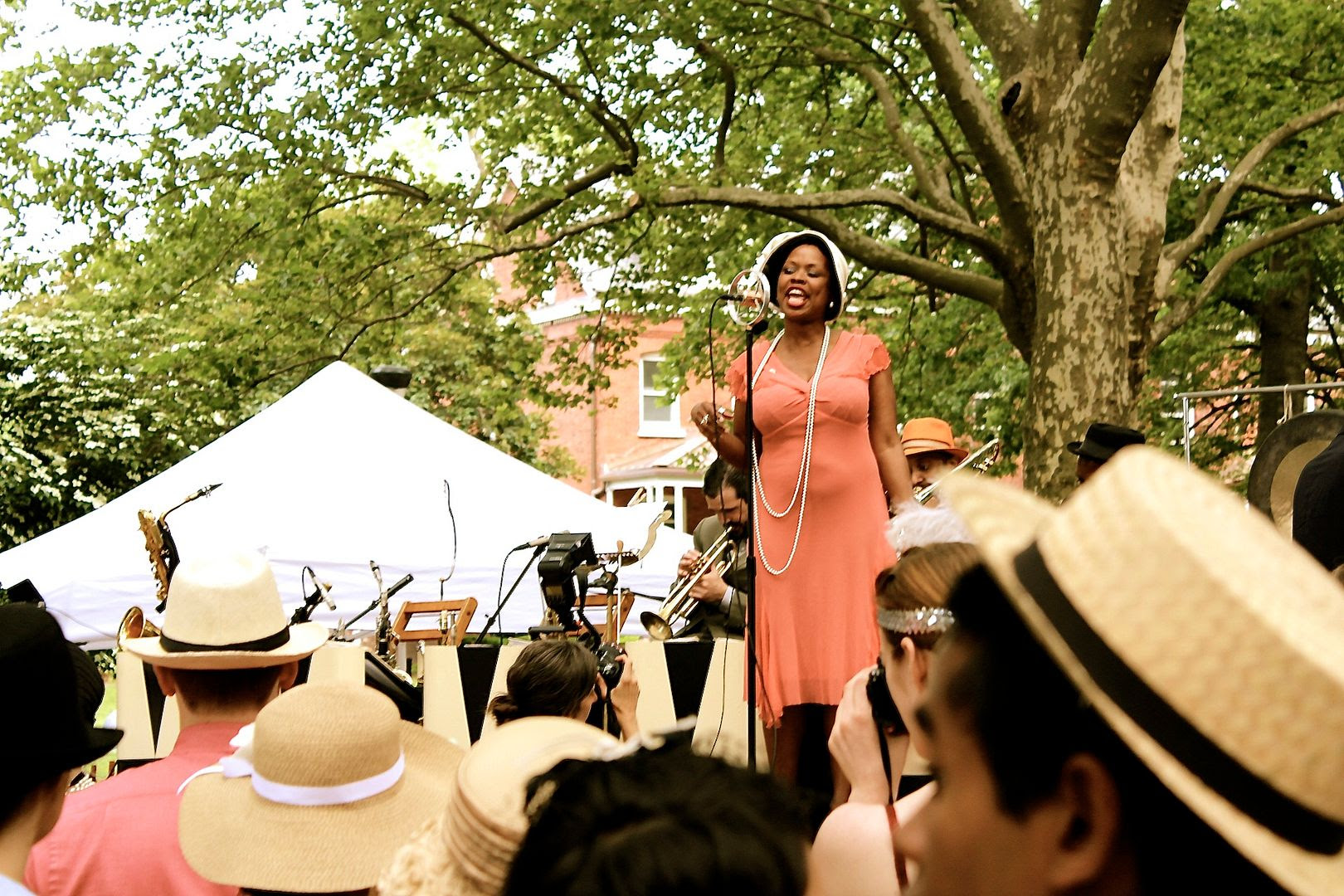 Queen Esther performs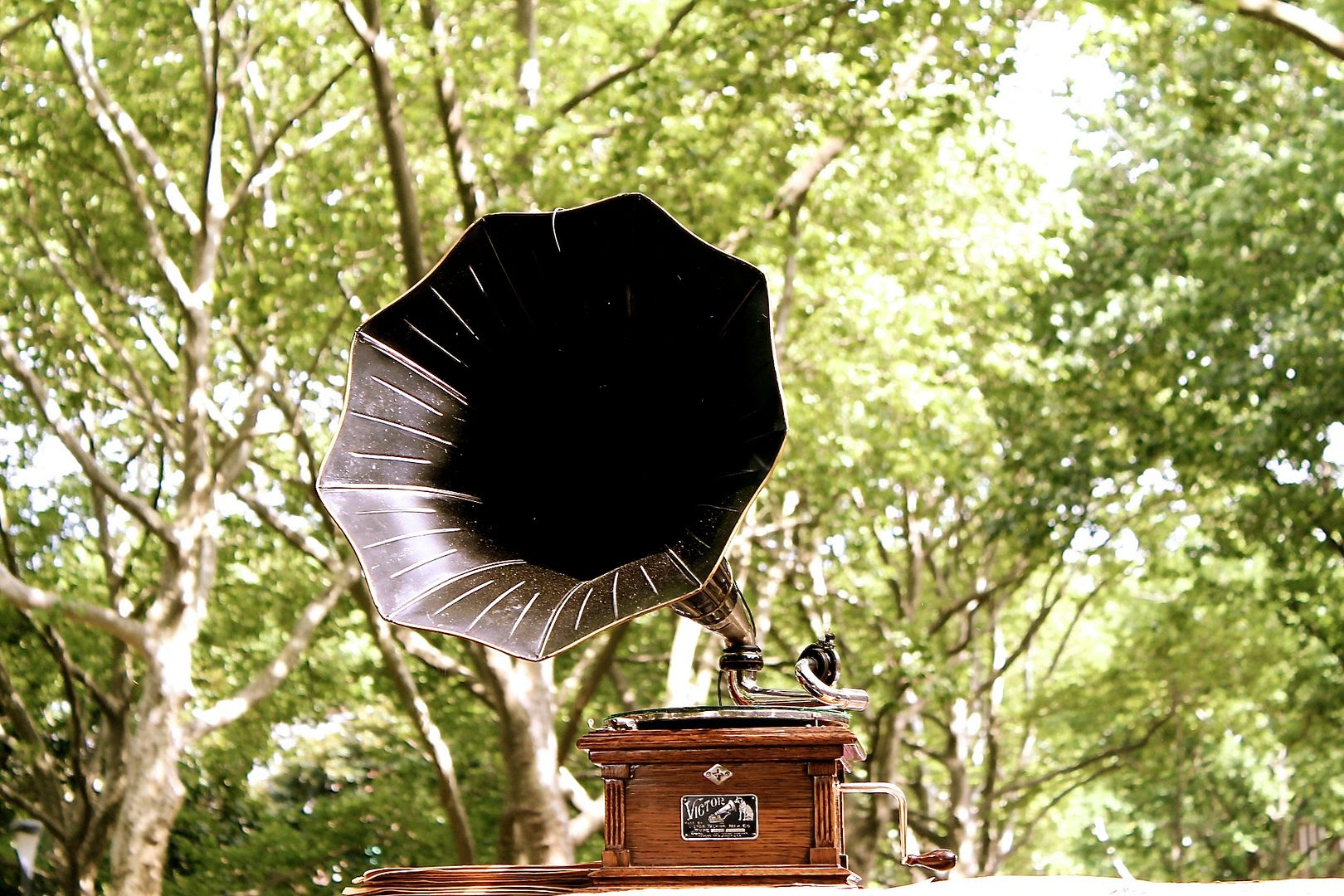 Meeting Instagram friend Laura Okita of PaperMothBallVintage
Jan with NYC Milliner Ellen Christine
After our magical day spent back in time at the Jazz Age Lawn Party, we finished off our NYC trip with a delicious dinner (oysters!) & cocktails (Pimm's Cup) at my favorite spot, Maison Premiere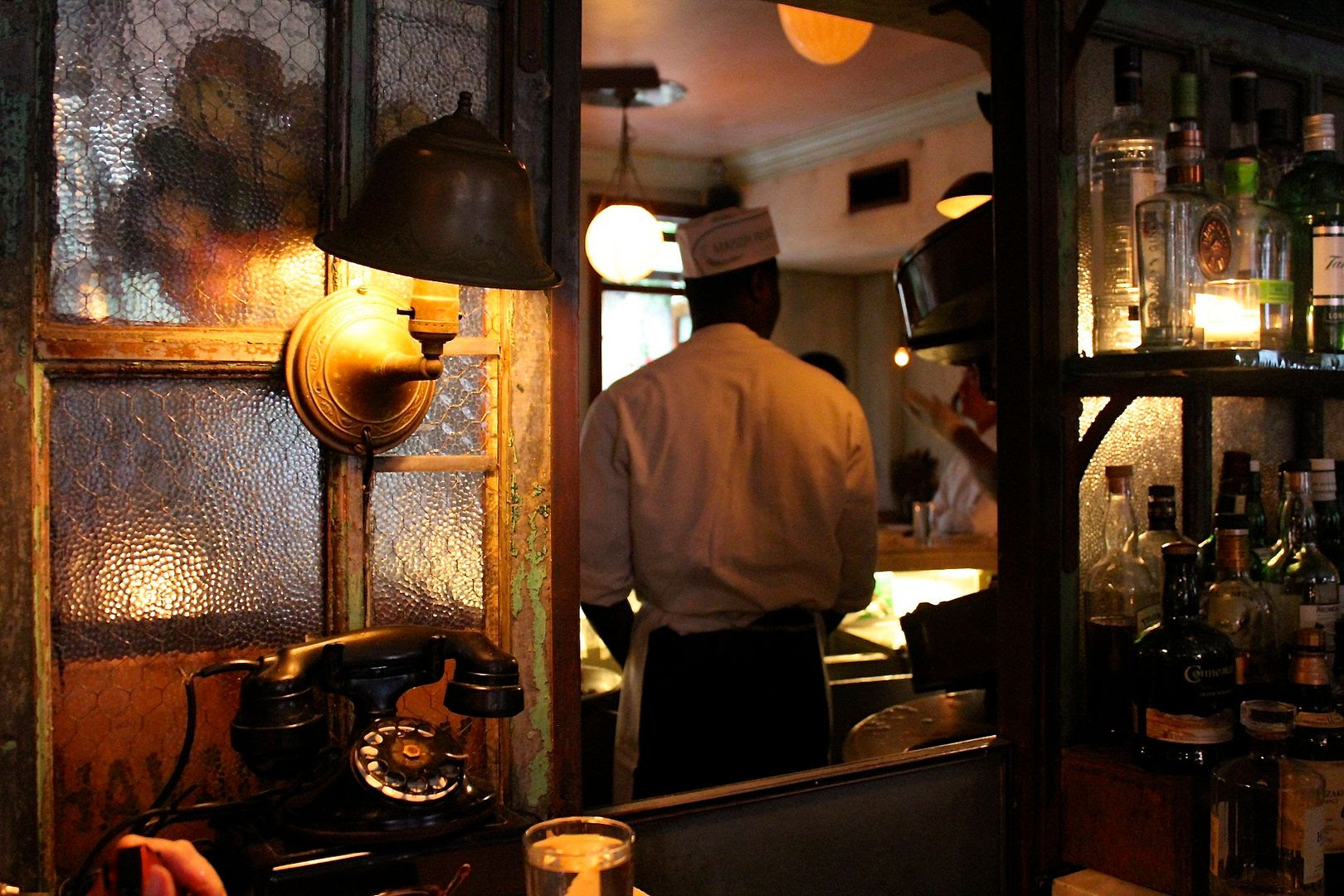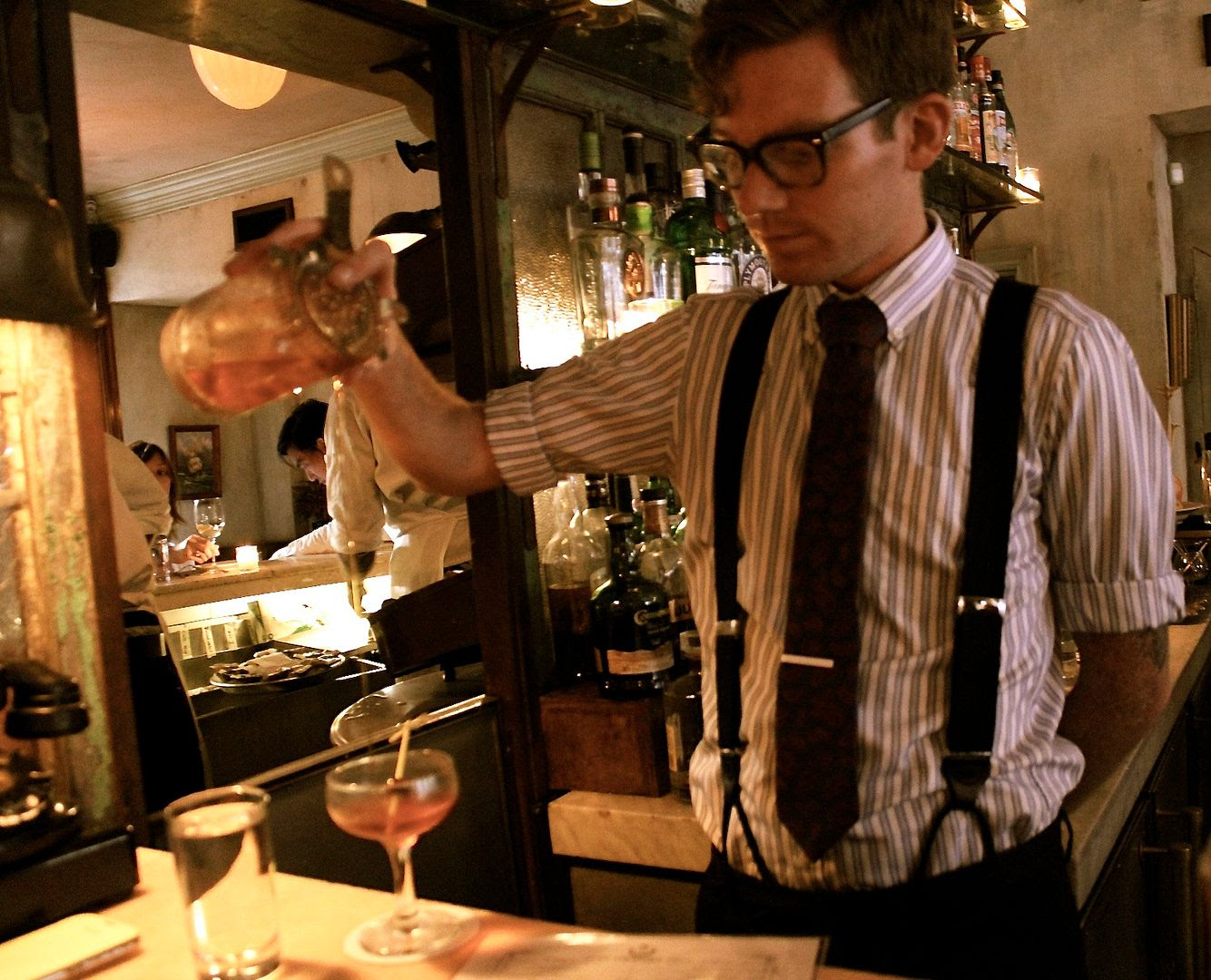 Cheers, New York!
All photos
(unless credited otherwise)
were shot / are owned by Jess James
4th Annual
Great Gatsby Gala
9.18.2014
presented by Kusek Financial Group
returns Thursday, September 18th
at City Club of Wilmington
More details coming soon!