New friends thanks to Charleston Fashion Week!
Stylists Jess James & Brooke Williams
(Photo: Obed Danjoint)
Last Thursday, three nights in at Charleston Fashion Week, I was determined to send out my FASHION FIX – even after a long night of sartorial adventures with my new friend stylist Brooke Williams. Our night began early with a behind the scenes meet-and-greet with last year's Charleston Fashion Week emerging designer winner Afriyie's all-star team and ended with a nightcap St. Germaine cocktail at Prohibition (the official after-party). Full disclosure: I must admit I fell asleep while editing photos somewhere in the wee hours of the night!
Therefore, I have a BIG extra special FASHION FIX in store for you this Friday chock full of highlights from the runway, style stars under the tents and MORE Spring Fashion Preview photos from SALT Studio (hope to see you at their opening tonight!)
Cheers!
xo
Brooke and Jess with last year's CFW
Emerging Designer Winner Afriyie Poku
Afriyie shows his new collection the first night of CFW.
(Photo: Leigh Moose of Side Yard Studios)
Afriyie looking fresh with his best accessory (his smile).
Favorite part of the Belk fashion show?
Righhhht, ladies?!
This cheeky Steve Madden presentation reminded me of the "Shoe Guys"
at Wine, Women & Shoes. Perhaps Make a Wish
can recruit the Belk "Shoe Guys " to come to Wilmington April 3rd?
Steve Madden made a surprise appearance after Belk's show
This cobalt blue bandage swimsuit with matching scarf
gliding behind the first model made a lasting impression in
Gwynn's fashion show styled by Mary Norton
Featured Designer Hunter Bell, a Florence, S.C. native who just won the second season of NBC's 'Fashion Star,' hit the perfect note with Southern inspired prints mixed with downtown cool silhouettes paired with boots and mules. Her cut-out jumpsuit and flowing watercolor print dresses were the key pieces I'd love to have in my closet this spring.
(Photo: Leigh Moose of Side Yard Studios)
I was intrigued with the way the model's hair was incorporated into the design of this whimsical watercolor dress by layering the necktie.
Brooke and I had the chance to meet Hunter after the show Not only is she an incredibly talented designer, but she couldn't have been more gracious – and gorgeous!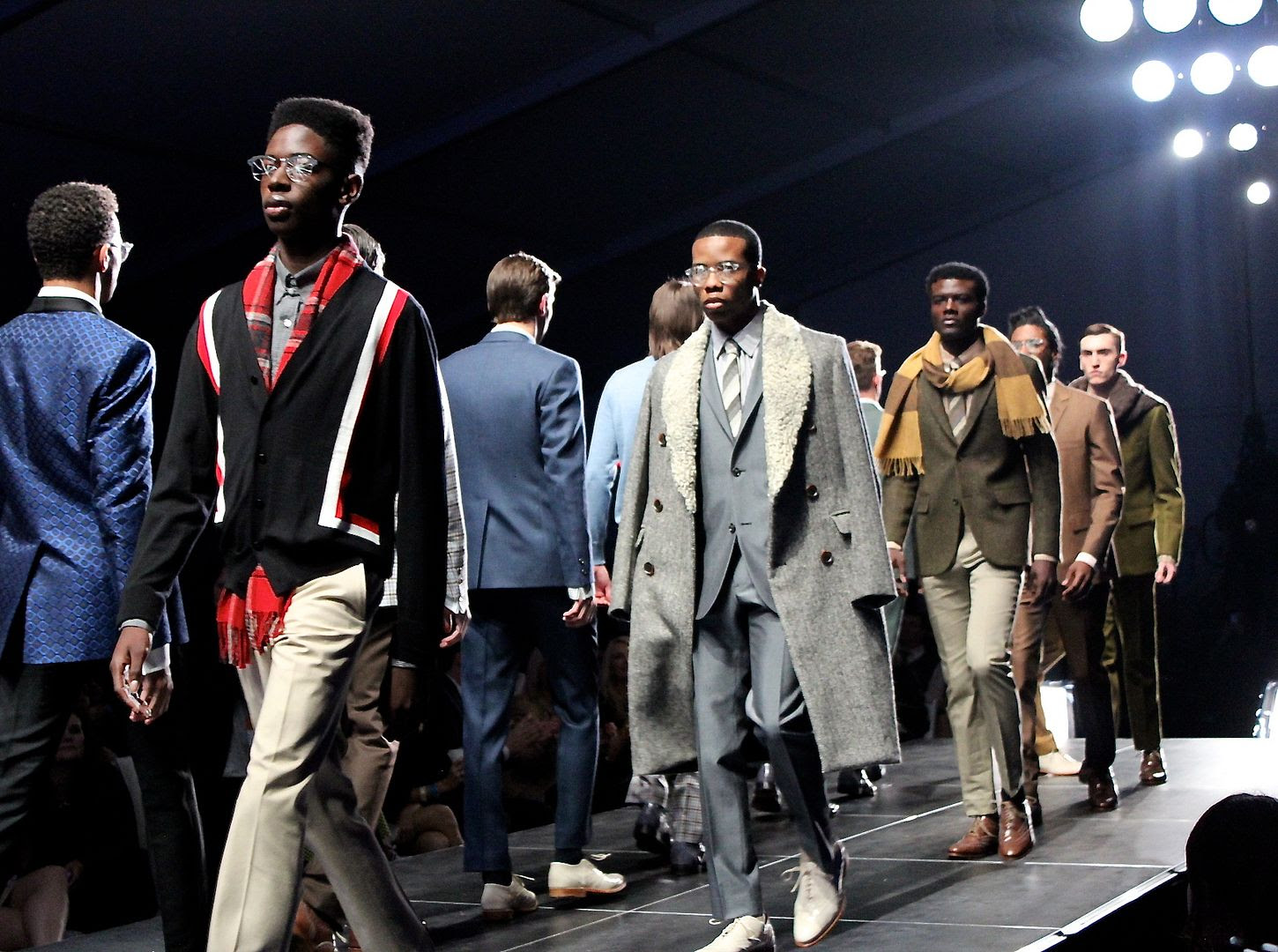 Featured Designer David Hart's show made me long for the return of Mad Men – Don Draper on his best day! The hand-tailored design – nostalgic with a modern eye, the music and the cracked glasses (my favorite styling touch!) gave the show an unexpected edge. Charleston Fashion Week founder and emcee Ayoka Lucas' son (far left) was looking fly. You should be proud, mama!
R: Chelsie caused a bit of a sensation when he appeared on the runway
opening night in the Bits of Lace fashion show wearing nothing but red skivvies!
(Photos: Jonathan Balliet)
Noelle Stanley and Sean Olson melted the stiletto crowd's hearts with their children's clothing collection featuring earth tones and tartan. Scout (front left) is surely Charleston's next top model!
Another early highlight in the week was the incredibly detailed and creative use of sweet grass as a textile in the the Art Institute of Charleston student show. Amazing!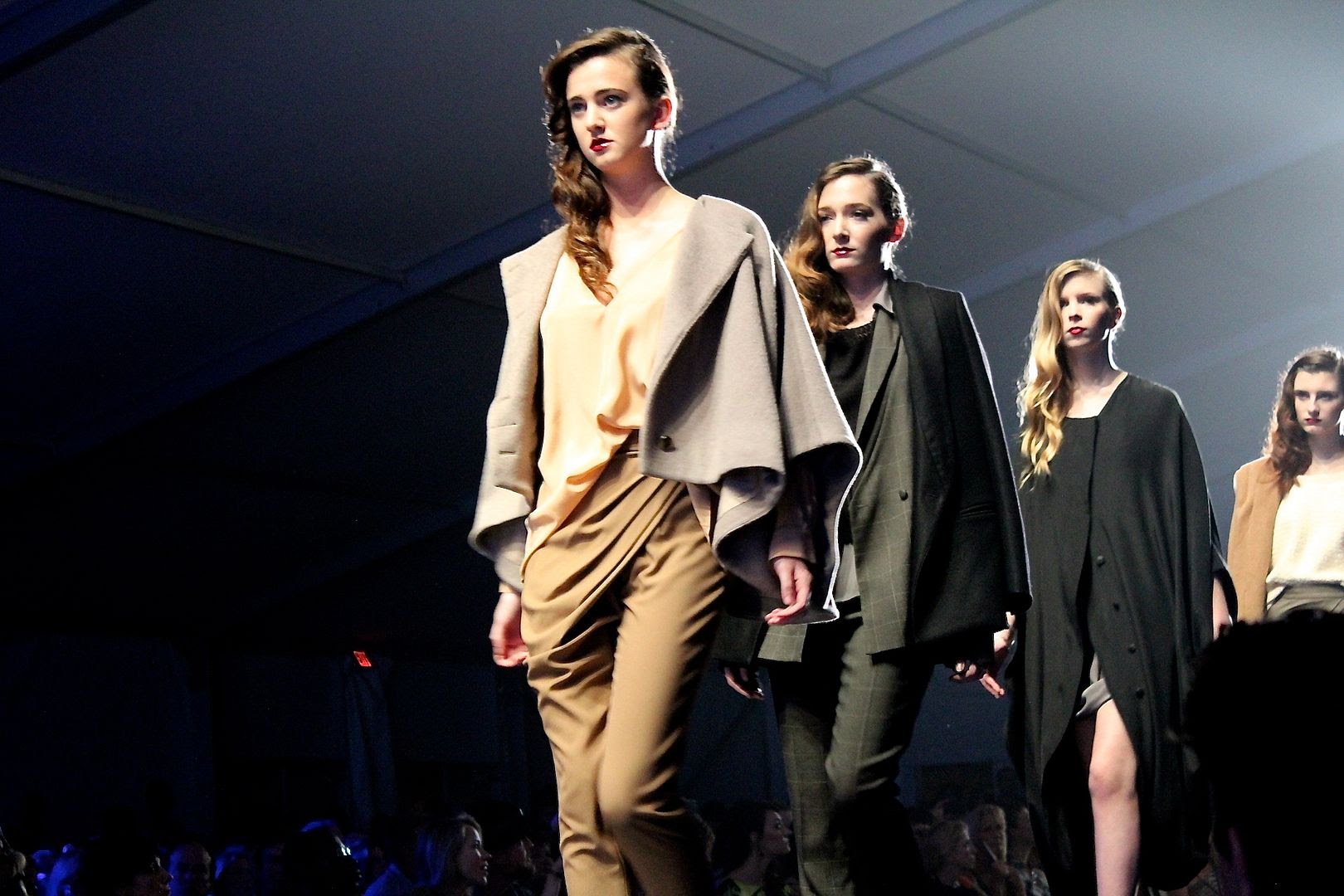 Must-Have: The draped pants from Emerging Designer finalist Deanna Ansara
Bondage inspired swimwear by Emerging Designer Stephanie J. Perry
L: Futuristic beauty from Emerging Designer Nkundwe Kasyanju
R: CFW Hair & Makeup Director Ashley Brook Perryman, the creative force behind each beauty look, celebrating the finale.
(Photos: Jonathan Balliet)
Emerging Designer Angela Bacskocky showcasing texture,
cropped tops and swanky side parts.
L: Nkundwe Kasyanju's take on the modern LBD with an asymmetric design.
R: Featured designer Brandon Sun, formerly of J. Mendel, Oscar de la Renta and Calvin Klein, wowed with his jaw dropping beautiful craftsmanship and luxurious leather and fur.
Emerging Designer Angela Bacskocky's soft and fluid texture in lace, silk and
fur contrasting with a masculine harness
L: Angela Bacskocky dress & harness
R: Emerging Designer Kaitlyn Machos' pièce de résistance – the sheer bejweled back
Emerging Designer Yuyan He presented a fashion as art aesthetic with several hand-painted abstract pieces
Emerging Designer Cori Spade, Meredith alum who recently showed at New York Fashion Week, featured strong graphic pieces including a dress/pants combo reminiscent of the Dior look Emma Watson wore to The Golden Globes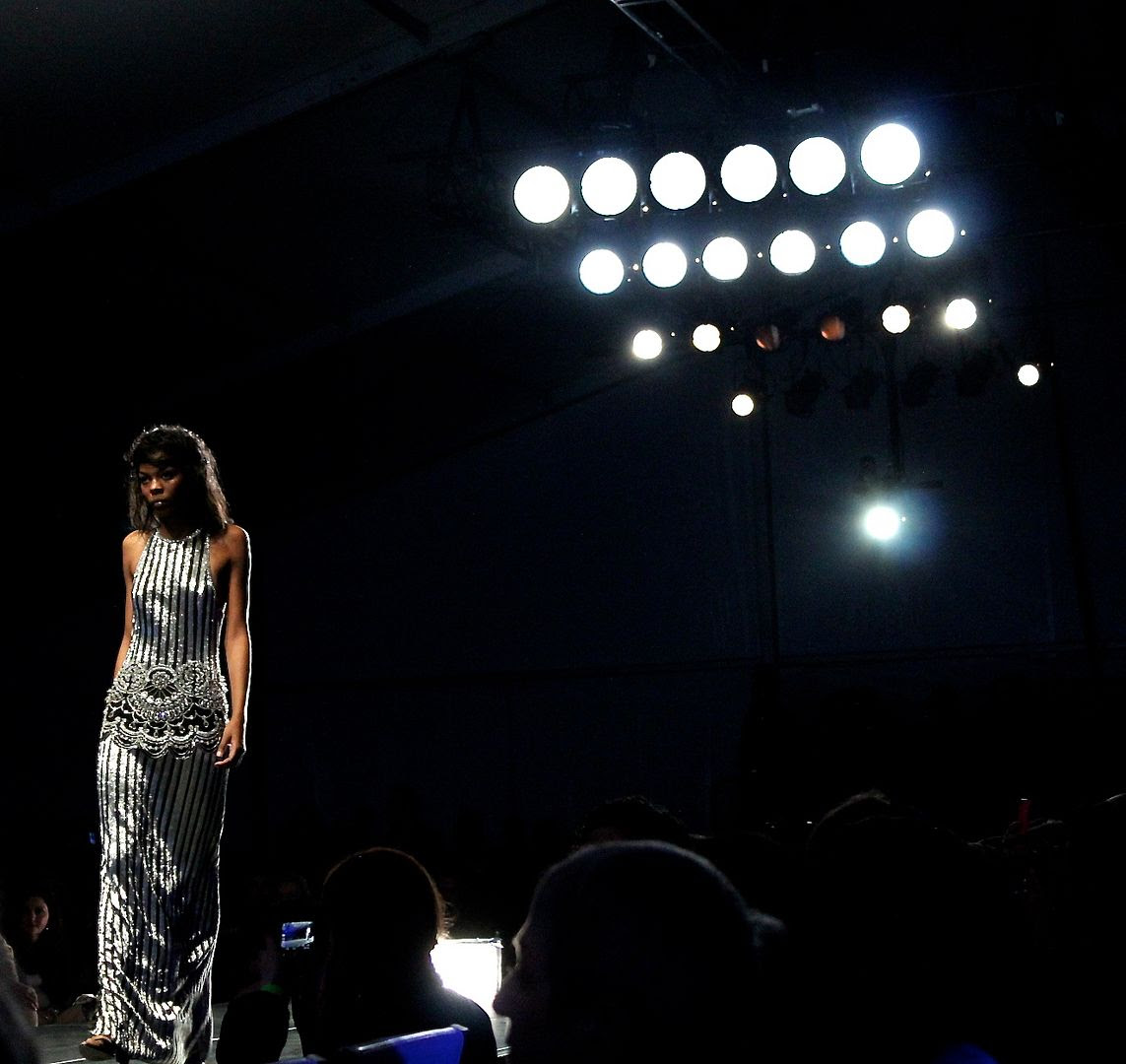 One of my favorite dresses from the entire week by Brandon Sun
IT inspired (?) blunt bangs and strong orange lip with minimalist silhouettes in neutrals from "Project Runway" contestant and N.C. State alum/professor Justin LeBlanc
Juliana poses with Project Runway designer Justin LeBlanc
Some of my favorite finds from Theodosia Jewelry in the Style Lounge
Winning collection by Emerging Designer finalists Leah & Rebecca Plante (Note the hip cut-outs in the first look)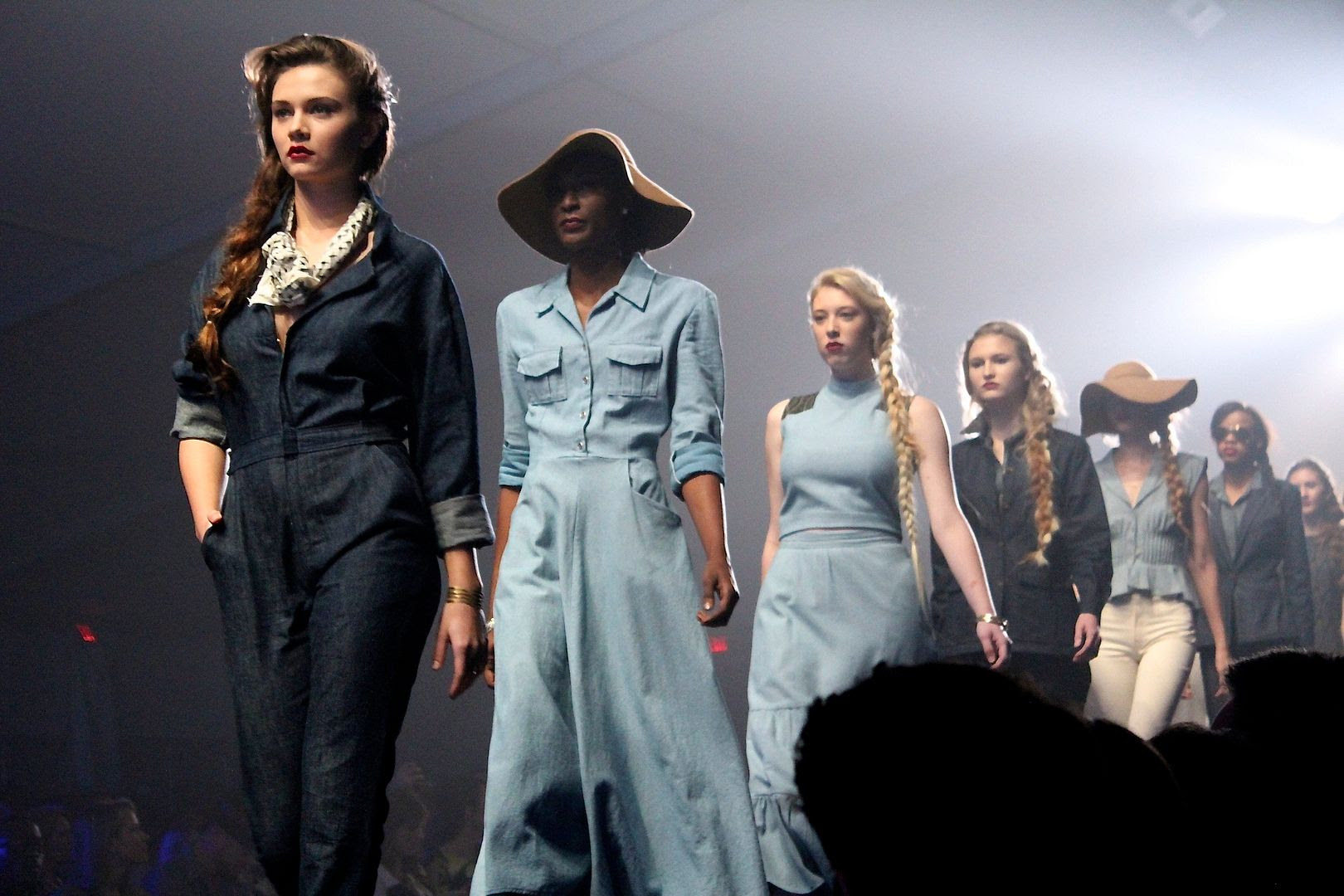 Winning collection by Asheville-based Emerging Designer Anna Toth of Bow + Arrow specializing in sustainable, custom made denim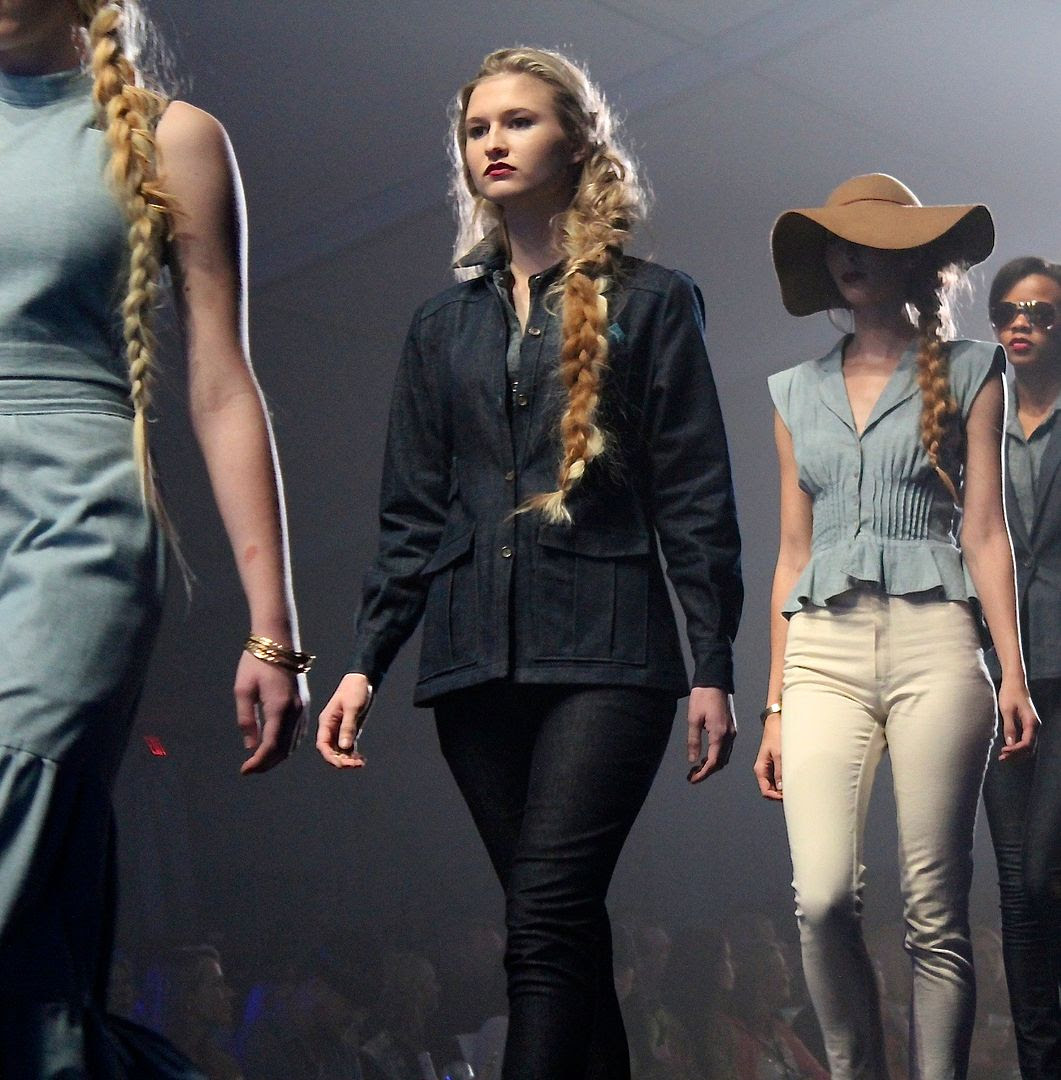 Feeling the mega braid.
Originally eliminated, Anna Toth looks elated to be back in the game on finale night.
Designers Afriyie and Brandon Sun flank New York Fashion Week Founder Fern Mallis in the front row during the finale show.
First the first time in 8 years, there is a tie! Both Leah & Rebecca Plante along with Anna Toth are selected as the Emerging Designer winners (Leah & Rebecca are far left with Anna up front with Ayoka Lucas, founder and emcee of Charleston Fashion Week)
Juliana and Jess prepare for our mini photo session
L: Leave it to Olivia Poole to wear something fabulous! Vintage jumpsuit from Cavortress.
R: Nola Johnson and Caroline Dietlin (love the G&R tee!)
Misty Lister, Cator Sparks & Deirdre Zahl look super excited to be back under the tents in Marion Square!
Cator Sparks of TheManual.com broke out his Cole Haan Lunargrand saddle shoes with bubblegum pink soles for the occassion
Accessories of the Week:
* Holly of REEDS Jewelers Great Gatsby book clutch by Kate Spade
* Charleston Rice Beads – the latest offering from Candy Shop Vintage
(worn here by CSV designer Deirdre Zahl)
Fashion Designer/Model Chelsie Ravenell of Kenneth Beatrice looking fly as always in his white 3-piece suit
L: Model Sandra West with fiance Arthur Brouthers, CFW Music Director
R: Close-up of Chelsie's accessories swag
L: Charleston Shop Curator's Andrea Serrano in a vibrant 70's inspired look
R: Belk's Southern belles – check out their fun Kate Spade clutches!
Chelsie likes to describe me as his "female style counterpart" – I'll take it! 😉
L: This mystery beauty looked so chic in her collared blouse, white blazer and laser cut leather mini skirt.
R: Always on the best dressed list – Model Charles Ballard and Jasper Brown
L: Spotted in the Gwynn's VIP tent: Stylist Elizabeth Gumb of The Well Coiffed Closet in a striped column dress and her gold elephant earrings from Candy Shop Vintage
R: Brooke, Chelsie, Jess on Tuesday night
L: Isa Metz wearing a neon cargo dress from Red Rose Vintage
R: Fashion Designer Emily Bargeron of Mamie Ruth (left)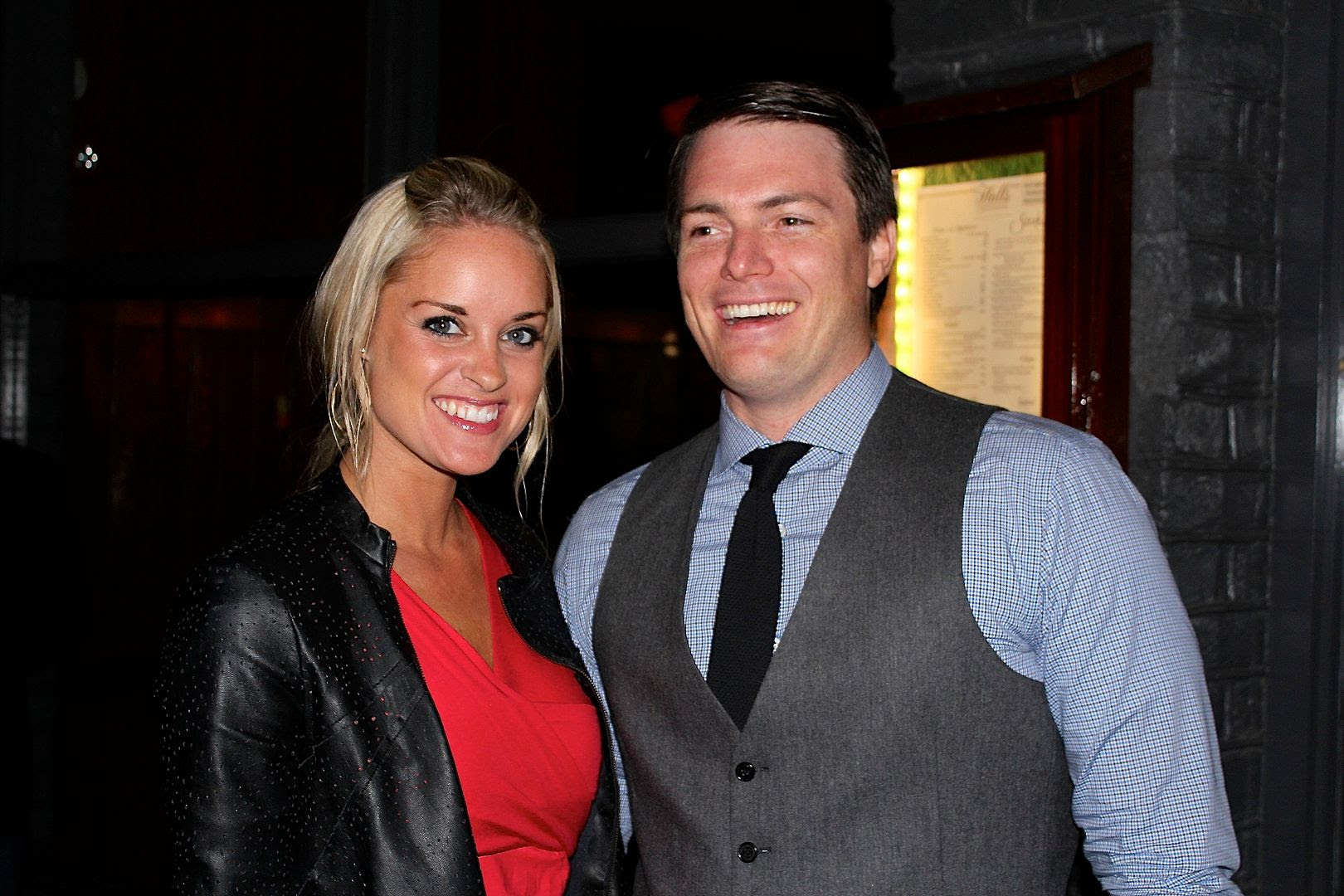 Danni Baird, one of the stars of the new BRAVO show Southern Charm with the always hospitable Tommy Hall of Hall's Chophouse
L: Holly, the manager of REEDS Jewelers in Mt. Pleasant wearing a liquid silver dress.
R: Andrea and her husband Gustavo doing the double take tux.
Cheers to Charleston Fashion Week + new fabulous friends! xo
SPRING FASHION PREVIEW 6
An evening of FASHION + ART
at Cameron Art Museum
3.12.2014
The 6th annual Spring Fashion Preview, presented by Dr. Rosalyn George of Wilmington Dermatology Center and hosted by Fashion Editor & Stylist Jess James, brought together 16 local Wilmington boutiques & designers plus one NYC-based design team including Aqua Fedora, Beanie + Cecil, Bloke., Castles Couture, CCH Collection (NYC designer), Clothes Mentor, Eye Care Center, Haute Buddhi, Island Passage, Just Like Honey, Lilies & Lace, Lula Balou, Merewif, Mitzy Jonkheer, Style Girl Vintage, The Wonder Shop and Torri/Bell.
Fifteen local celebrity models of all ages took the runway with looks inspired by Spring's most coveted trends styled by Jess James, hair by Emily Rodriguez and Monica Kelly of Steven Ward Hair and makeup by Artist Tess Wheatley and Elizabeth Peterson of Blush Haus of Beaute with a few surprise makeovers with Steven Ward.
Guests also enjoyed the museum's latest exhibits, mini-makeovers with BLUSH, Make a Wish raffle prizes, delectable bites from CATCH Restaurant and CAM Cafe, signature Midnight Moon cocktails by Mixologist Joel Finsel, beer selection from Carolina Brewing Company and sweet treats from One Belle Bakery
Please hashtag all your favorite photos
from the night #springfashionpreview6
Behind the Scenes
(upstairs at the Cameron Art Museum)
Milliner Jan Wutkowski places one of her creations on the head of Janis Netherland, the director of our local Make a Wish chapter – Janis hopes to see you at the Make a Wish fundraiser Wine, Women & Shoes April 3rd!
With my right-hand-lady Juliana Williams and model extraordinaire Keith Taylor
Presenting Sponsor Dr. Rosalyn George takes the stage to share the latest beauty treatments at Wilmington Dermatology Center
HUGE Thank You to our amazingly talented beauty team – Tess Wheatley of BLUSH Hause of Beaute, Hair Stylists Emily Rodriguez, Steven Ward and Monica Kelly of Steven Ward Hair.
Tracy Tang and Denise Evans with their yogawear line called Haute Buddhi – visit Blue Hand Home for more details!
Model Devan Claycomb wearing a Nanette Lepore fringed hot pink top, cobalt pencil skirt and vintage Escada belt from Style Girl Vintage at Aqua Fedora (Lumina Station)
Model Sydney Miller in a scuba white zipper dress from CastlesCouture
All smiles from Lula Balou! 🙂
Photographer Dana Hawley with Film Costumer Victor Giarrusso
Marla Doster modeling a two-piece striped set and heels from Beanie + Cecil, clutch from Torri/Bell and Chanel sunnies from EyeCareCenter
Aubree wearing an Eres swimsuit with printed pants and kimono with eyelet lace detail and jewelry and boho bucket bag from Lilies & Lace paired with Michael Kors heels from Clothes Mentor
Who's that Girl? The Wonder Shop's Kelsey Gibbs incognito in her fun flapper bob!
L: Nnenne (who I had the pleasure of styling pre-Spring Fashion Preview!) looking fly with her friend Johnna Munn enjoying a GNO!
R: Beautiful blondes Carly Brooke Forman and Tracy Zabenko
Grace Andrews is a tall glass of water in a handmade patchwork tank (w/ stripes + French bulldogs!) paired with cobalt drawstring pants from CCH Collection
Chloe, Caroline and Lauren of Castles Couture
Model Leigh Roberts wearing chambray striped overalls and nude mules (the footwear silhouette of the season) with a cropped top and kopious Jewelry necklace from Island Passage Lumina
The beautiful ladies of Torri/Bell
The fabulous Pat Kusek of Kusek Financial Group always bringing some class & sass to any party!
Nicole Hernandez and Chad Hartwell
Here's KEITH!!!!
Wearing mint jeans and patchwork chambray shirt and bowtie from Bloke.
The latest trend offerings from Spring Preview sponsor EyeCareCenter.
L: Mariangela Barbosa looking red carpet perfect in a leather LBD from Lilies & Lace.
R: Carol Sheffield, Bridgett Rowley, Cindy Vach perfectly coordinated in black & white.
Damien Buchanan with Joel Finsel
(Thanks for all your help, babe!)
Model Sarah Ard wearing an Akris wrapped bodice polka dot dress with Coach bag, tortoise necklace and suede crisscross heels all from Clothes Mentor
L: Tom Gossin of Gloriana and his gorgeous wife Jaime Moffett (who used to rule the runway at our James + Dunne fashion shows) were front row with Jaime's friend Holli Kagan (right)
R: Shannon Dunne looking chic in a black vintage jumpsuit.
NYC based designers Alston Armfield and Carter Johnston of CCH Collection
Gay Adair graces the red carpet with her date, Kyle.
Jenna McKnight, owner of Aqua Fedora (left) with her Lumina Station store manager
Delicious bites from Chef Keith Rhodes at Catch Restaurant
Lynn Hildreth in The Wonder Shop, Sandra Hall in Torri/Bell and Mitzy Jonkheer Jewelry, Sonda Jaffe in CCH Collection and Chanel jewelry and Marla Doster in Beanie + Cecil
The lovely ladies of Clothes Mentor
Merewif Jewelry
Bloke. owner Michael Vinson showing the latest offerings from Forge & Foundry at the Bloke. booth
Intro video with Cameron Art Museum Director Anne Brennan
Dr. Rosalyn George of WDC talking beauty trends for Spring
Steve Ward unveils makeover cuts for two Spring Fashion Preview guests including a new hair color & cut for Katherine Pittman
Dr. George got a kick out of Walter Kusek's reaction when he won (for his lovely wife, Pat) the Make a Wish raffle prize for WDC's coveted gift basket
Jaime Moffett, Jess James, Tom Gossin
The beautiful (and handsome) models of Spring Fashion Preview 6
That's a wrap! With our beautiful makeup artist Tess Wheatley of BLUSH Haus of Beaute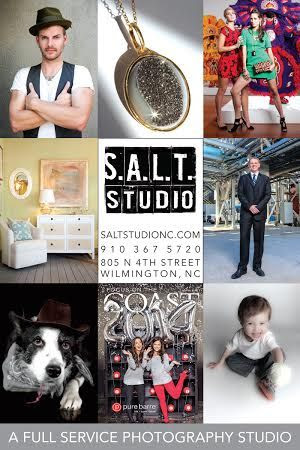 Videography:
Jonathan Ward of JC Ward Photography
To watch Jonathan's
Spring Fashion Preview
PLAYLIST.