At the Spring Fashion Preview with
Presenting Sponsor Dr. Rosalyn George
With grand illusions of leaving for Charleston at 7am for the highly-anticipated Candy Shop Vintage luncheon, I spent the day in my pajamas instead, recovering from my Spring Fashion Preview Wednesday night at the Cameron Art Museum.
If you know the dichotomy on how my husband Joel and I differ when it comes to fashion (hint: his outfit of the day is almost always "top-of-the-drawer" inspired resulting in "quirky," not always clean ensembles) you may begin to understand why he refers to my world jokingly as "Fashion Mafia." In his over-active imagination, he anticipates high drama lurking around every corner with fashion nemeses, dress-offs, missing merchandise, dueling photographers and true model mayhem.
As we laid in bed nearing the wee hours of the morning wired from post-event adrenaline syndrome, the evening's highlights and heart-racing high jinks raced through my mind. Thinking of a few false starts with LA producers looking for their next reality show victim(s), I fell asleep imagining a faux reality show. Hmmm, "Fashion Mafia" does have a nice ring to it – but this particular version had a running commentary from Tim Gunn, naturally!
Scene One:
Distressed hair stylist reveals that after spending over an hour at the salon perfecting an edgy up-do, the model arrives at venue looking exactly the way she did when she arrived at the salon, as though she was never there.
Tim Gunn: "Make it work."
Jess: (Deep yoga breath. In and out.) "Put a hat on it. It's all good."
Scene Two:
A model takes one look at her dress hanging on the rolling rack and immediately asks if there is a 'back-up' outfit. "It looks too old," she says, "It's not sexy enough."
Tim Gunn: Make it Work, people!"
Jess: "Please just try it on. I promise, it will be sexy once you get it on (wink)."
Scene One:
Scene Three:
Assistant leaves without a word less than one hour into the event.
Jess: Tim… seriously?!
Scene Four:
Ten minutes before the start of the fashion show, another model refuses to walk the runway.
Cut to:
Juliana (my trusted Style Girl events wing-woman) to the rescue! A beautiful replacement appears.
A potential nightmare with a happy ending? To be continued…
There goes that pesky alarm again. SNOOZZZZZE.
Now that I've had a few hours to catch my breath, the imaginary Tim Gunn is gone. But who needs Tim Gunn when you have Keith Taylor (our shining star male model Wednesday night)?
Along with all the challenges of hosting a successful event, I'd like to share my sincere gratitude to our presenting sponsor Dr. Rosalyn George of Wilmington Dermatology Center, The Cameron Art Museum, Emily Rodriguez and Monica Kelly of Steven Ward Hair, Tess Wheatley and Elizabeth Peterson of Blush Haus of Beaute and all the stores, designers and sponsors and the friends & neighbors for supporting this event season after season. Your support means everything to me!
For a look at the red carpet coverage celebrating Art + Fashion at #springfashionpreview6, please Click HERE to see photos courtesy of Audi Cape Fear.
A few sneak peek photos from Photographers Kelly Starbuck and Horace Long of SALT Studio are below. More next Friday! xo
Juliana, Jess & Keith sharing a laugh backstage
SPRING FASHION PREVIEW
SNEAK PEEK!
All photos from SALT Studio will be revealed in next Friday's FASHION FIX but here's a quick look at Wednesday night's big night of FASHION + ART at Cameron Art Museum
The 6th annual Spring Fashion Preview, presented by Dr. Rosalyn George of Wilmington Dermatology Center and hosted by Fashion Editor & Stylist Jess James, brought together 16 local Wilmington boutiques & designers plus one NYC-based design team including Aqua Fedora, Beanie + Cecil, Bloke., Castles Couture, CCH Collection (NYC designer), Clothes Mentor, Eye Care Center, Haute Buddhi, Island Passage, Just Like Honey, Lilies & Lace, Lula Balou, Merewif, Mitzy Jonkheer, Style Girl Vintage, The Wonder Shop and Torri/Bell.
Fifteen local celebrity models of all ages took the runway with looks inspired by Spring's most coveted trends styled by Jess James, hair by Emily Rodriguez and Monica Kelly of Steven Ward Hair and makeup by Artist Tess Wheatley and Elizabeth Peterson of Blush Haus of Beaute with a few surprise makeovers with Steven Ward.
Guests also enjoyed the museum's latest exhibits, mini-makeovers with BLUSH, Make a Wish raffle prizes, delectable bites from CATCH Restaurant and CAM Cafe, signature Midnight Moon cocktails by Mixologist Joel Finsel, beer selection from Carolina Brewing Company and sweet treats from One Belle Bakery
Please hashtag all your favorite photos
from the night #springfashionpreview6
Model Sarah Ard wearing an Akris wrapped bodice polka dot dress with Coach bag, tortoise necklace and suede crisscross heels all from Clothes Mentor
Tom Gossin of Gloriana and his gorgeous wife Jaime Moffett (who used to rule the runway at our James + Dunne fashion shows) were front row with Jaime's friend Holli Kagan (right)
NYC based designers Alston Armfield and Carter Johnston of CCH Collection
Delicious bites from Chef Keith Rhodes at Catch Restaurant
The lovely ladies of Clothes Mentor
Merewif Jewelry
Bloke. owner Michael Vinson showing the latest offerings
from Forge & Foundry at the Bloke. booth
Intro video with Cameron Art Museum Director Anne Brennan
Dr. Rosalyn George of WDC talking beauty trends for Spring
Steve Ward unveils makeover cuts for two Spring Fashion Preview guests
including a new hair color & cut for Katherine Pittman
Dr. George got a kick out of Walter Kusek's reaction when he won (for his
lovely wife, Pat) the Make a Wish raffle prize for WDC's coveted gift basket
The beautiful (and handsome) models
of Spring Fashion Preview 6
More SALT STUDIO photos next week!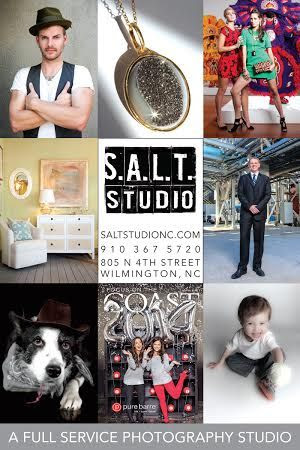 APOLOGIES TO CLOTHES MENTOR
Jonathan and I were so upset when we realized
Clothes Mentor was left out of our trend video
presentation Wednesday night. Please forgive us!
Please take a peek at what Becky has to say about
the "Basketweave" trend for Spring
(Click above Image)
Videography:
Jonathan Ward of JC Ward Photography
To see more, watch Jonathan's
Spring Fashion Preview
PLAYLIST.