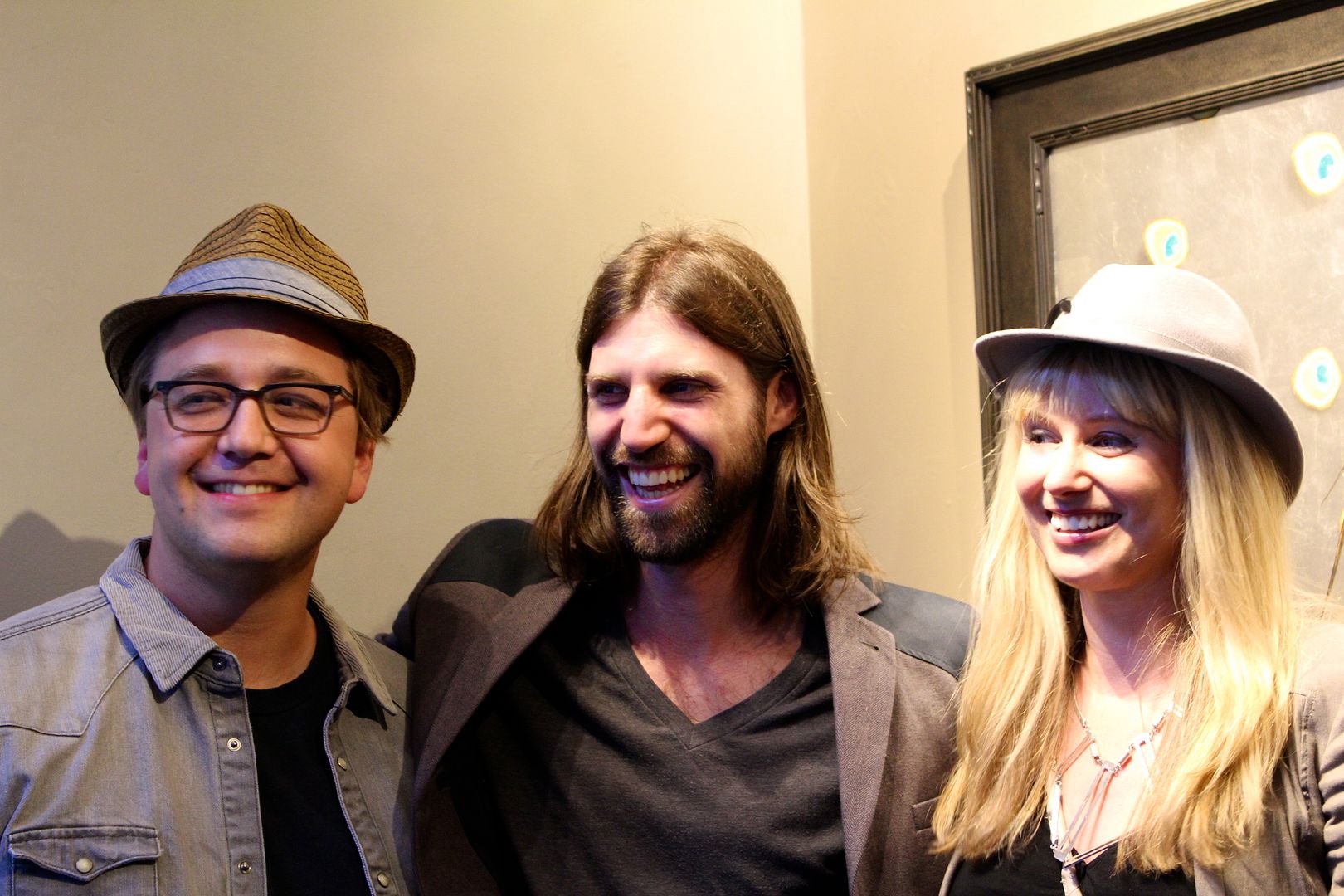 Joel and Jess with our dear friend, painter Brad Kunkle, at his second sold-out show  "Gilded Wilderness" at Arcadia Gallery in Soho 
"It's perfect.  SGV… Style Girl Victory" Brad declared as he looked at his reflection in the mirror at Topman wearing a blazer I handed him to try on a few minutes earlier. It was two days before his sophomore exhibit opening show "Gilded Wilderness" at Arcadia Gallery in Soho. Instead of getting milkshakes at The Bowmanstown Diner like we did as teenagers, we were on a shopping mission in Manhattan.

Two years prior, we witnessed our dear friend, artist Brad Kunkle's debut show at Arcadia, where our hearts raced at the sight of each definitive red dot resulting in a sold-out show and a night of dreams fulfilled.  We were silently preparing for an encore.

(Click here to read  my style profile interview with Brad shortly after his debut show).
Brad knew he wanted to wear his favorite marled gray jeans and lace-up oxfords, but we were courting his soon-to-be new favorite jacket. We originally considered a more classic blue blazer but the shoulder detail, texture and elbow patches in the chosen one won him over. It's all in the details.

Same can be said for Brad's figurative painting and intricate use of gold and silver leaf. In an article in the Huffington Post following opening night, writer David Maidman says, "Kunkle has made his mastery of metal work for him as an artist. It does not glitter. It glows."

En route to the show, Joel and I made a bet with our friend Rachel: guess how many paintings Brad has sold by the time we arrive at the gallery (30 minutes after the doors opened). The loser pays for the cab ride home. Joel guessed eight, 12 for me while Rachel confidentally predicted 14 (out of 17 paintings).

Brad's gift glows so brightly that within 28 minutes into the opening, every painting was sold, including the largest title painting, with a going rate of $52,000. Touche, Rachel.

After the show, the celebration kicked off with a drink at Stanton Social in the Lower East Side. As Brad's entourage grew, he decided to move the party to one of his favorite speakeasies around the corner, The Back Room. With the allure of the Pied Piper, a group of 50 or so (including my parents) followed Brad's lead to this dark, sexy Prohibition era space where 1920's era chandeliers barely lit the velvet-trimmed walls. Here, we mingled among artists and old and new friends drinking "My Girl Fridays" in cream colored teacups.  I even used the retro phone booth by the ladies room to "do my texting," coaxing more New Yorkers to join us.

Fleeing from the rain, we regrettably left The Back Room for a flop penthouse party that ended up feeling more like a bad college party than a glamorous gathering before escaping with Brad for a nightcap at Rachel's apartment in Chelsea to reflect on the night.

Looking back, Brad shared: "I was overwhelmed by the love in the room. It's difficult to express in words the feeling that it gives an artist to experience a night like that. I wish it upon many other artists and friends I know…now, it's time for a vacation."


FOLLOW

Hair Stylist Cheryl Kent's Hair-spirations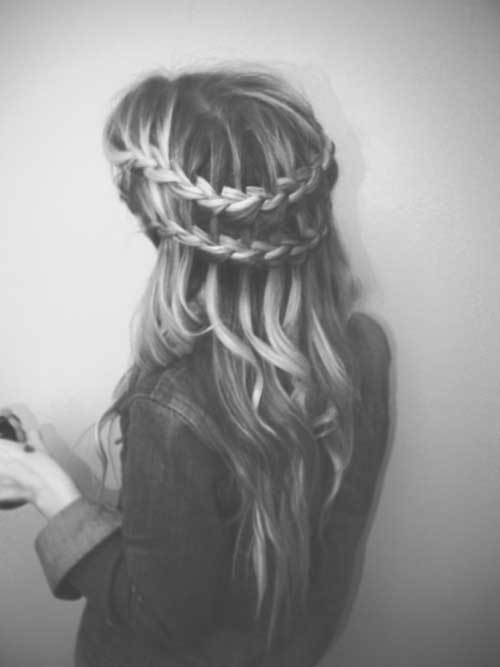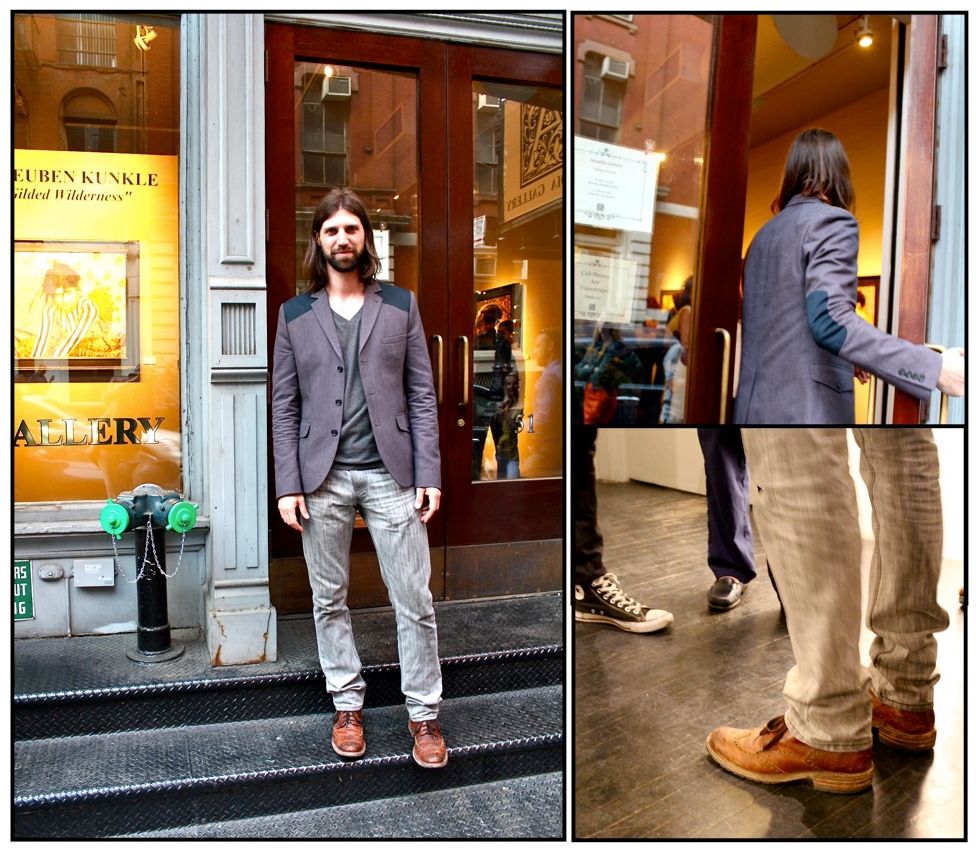 The man of the hour, Artist Brad Kunkle, at his opening exhibit at
Arcadia Gallery. I had the pleasure of helping him pick out his new
jacket (at TopMan). Quite dashing, indeed!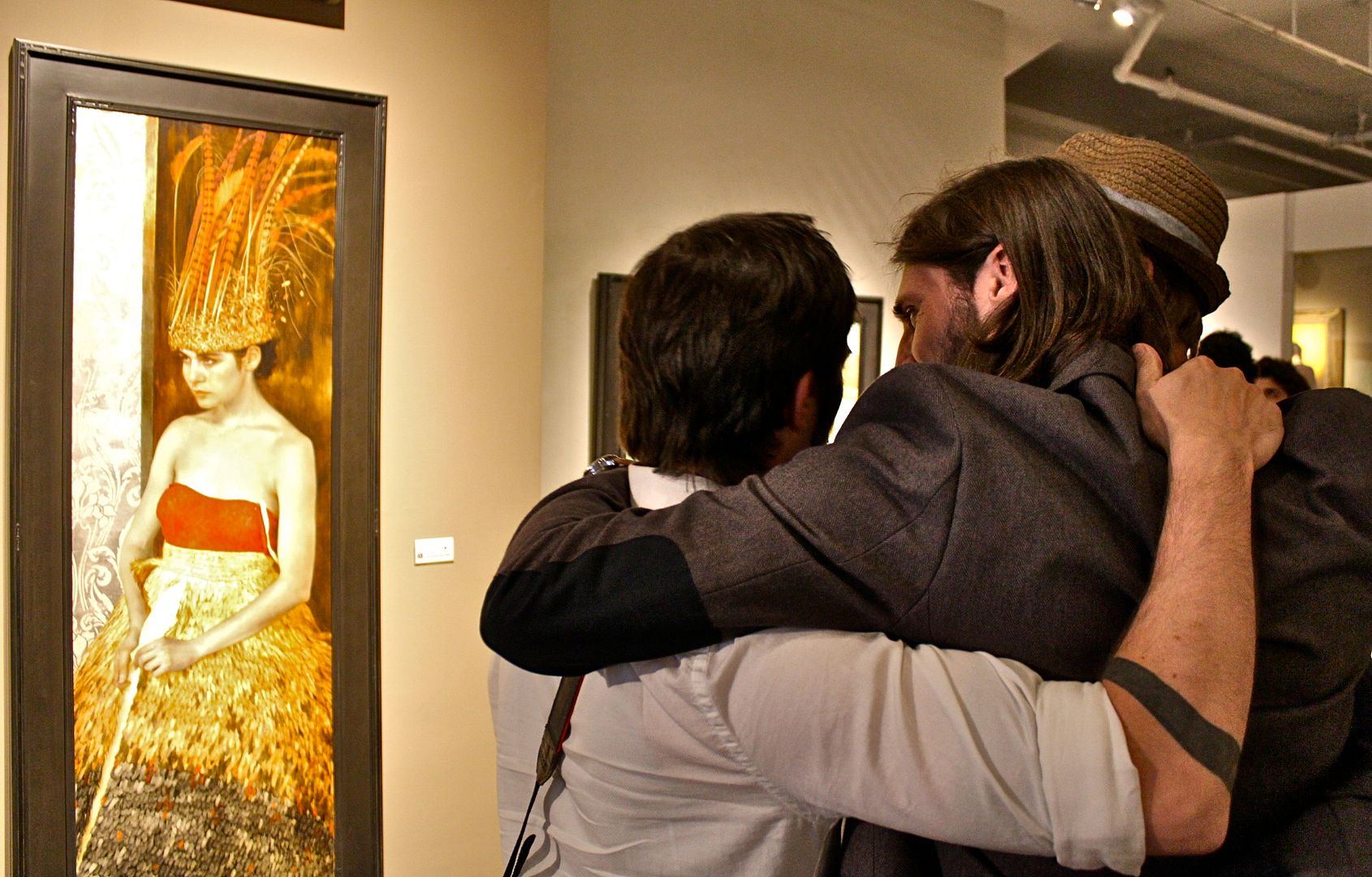 Brad with his younger brother Brent and Joel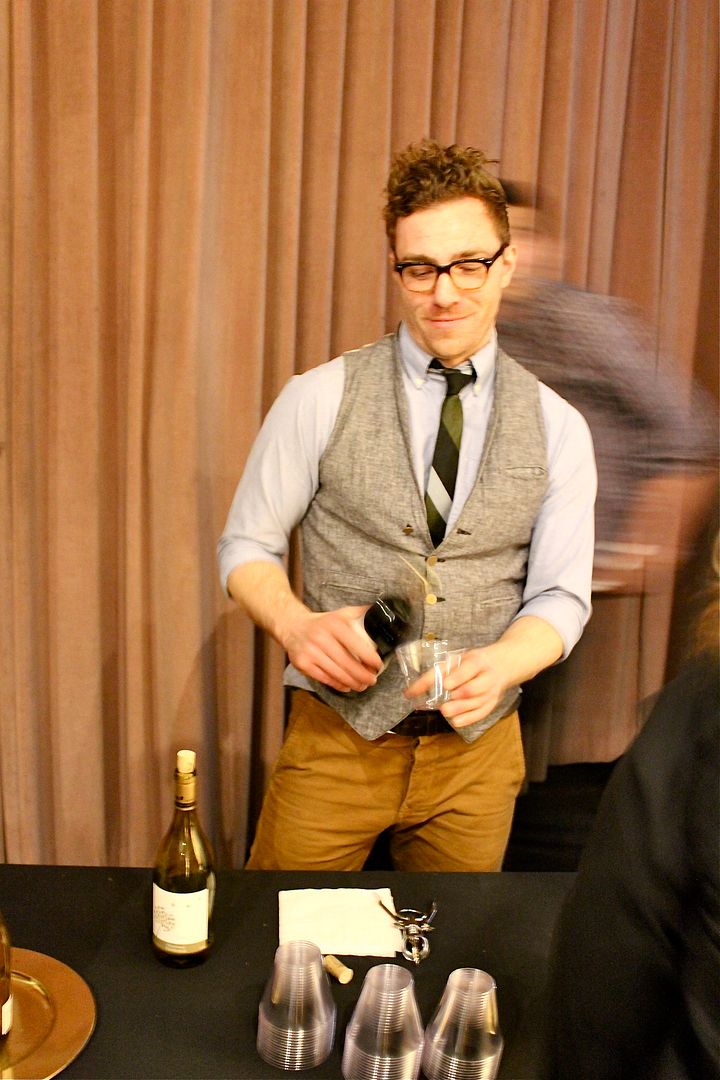 L: Sergio mans the wine bar in style.  /  R: Model come to life.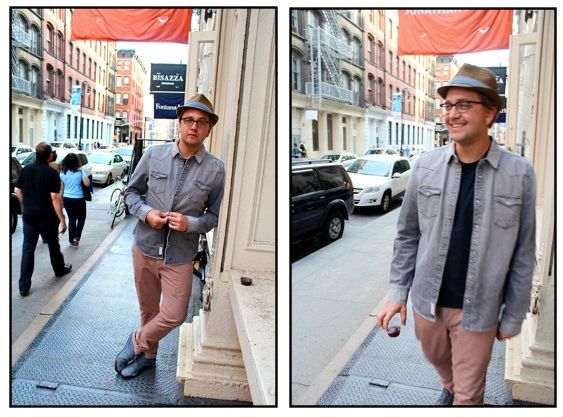 Joel's new outfit, another "SGV" (Style Girl Victory) – per Brad's description –
from our shopping day at All Saints Spitalfields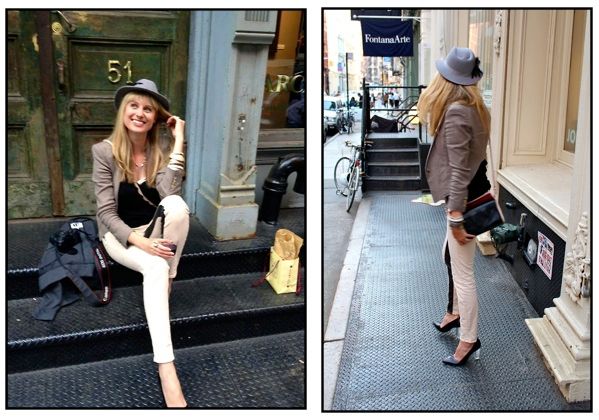 What I Wore: Wearing J Brand colorblock pants from Beanie + Cecil,
a Helmut Lang cropped blazer from Sydney Penny's wardrobe sale, Zara Lucite heels,
vintage hat from Seek Vintage, Pour la Victoire bag, Anthropologie bangle, vintage necklace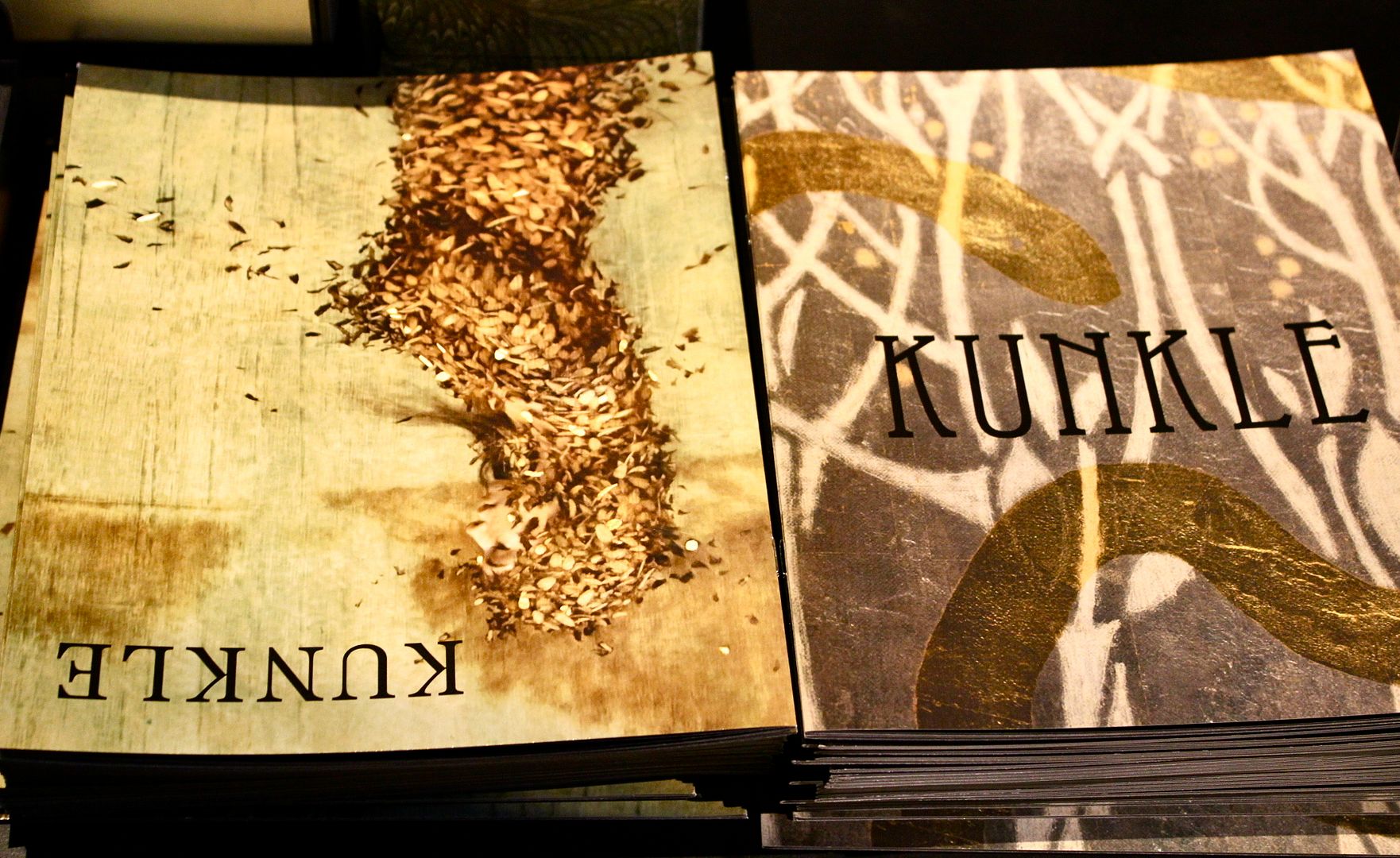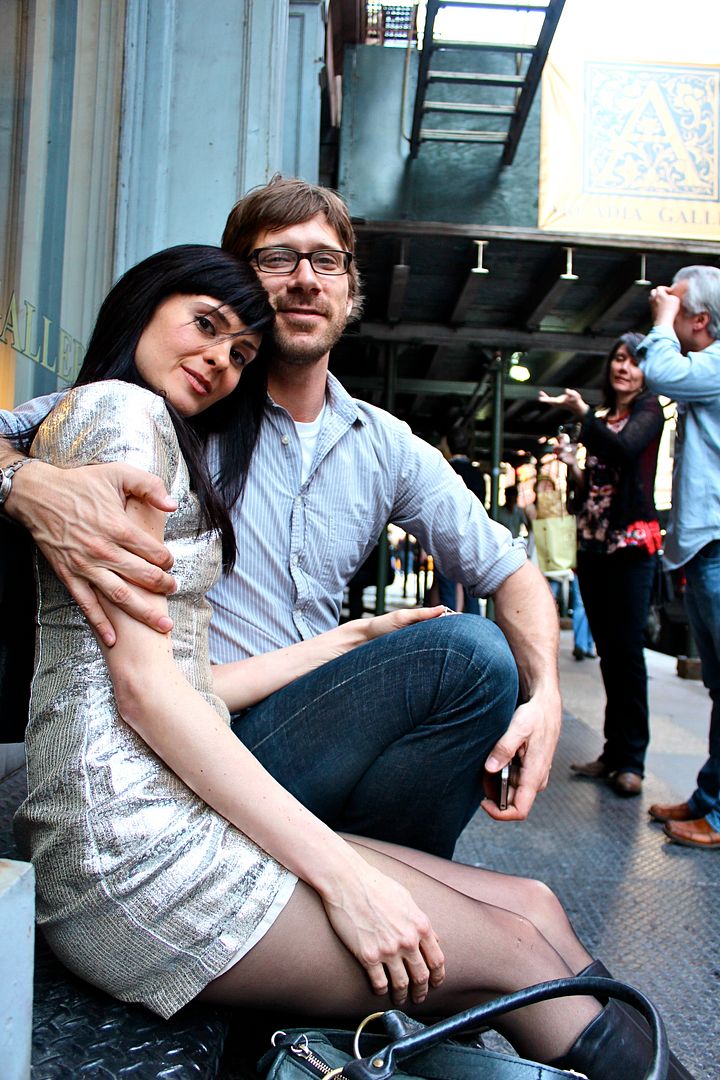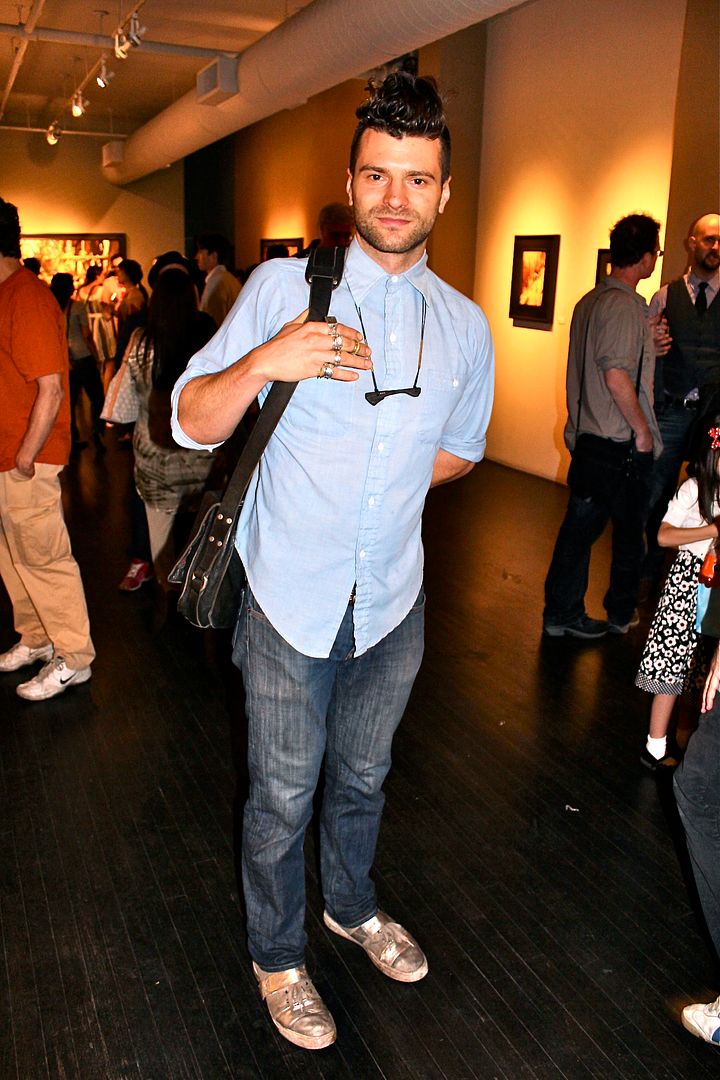 R: Jewelry designer Andy Lifschutz (see his work below). Love his style!
Andy shares a studio space with Brad in Brooklyn.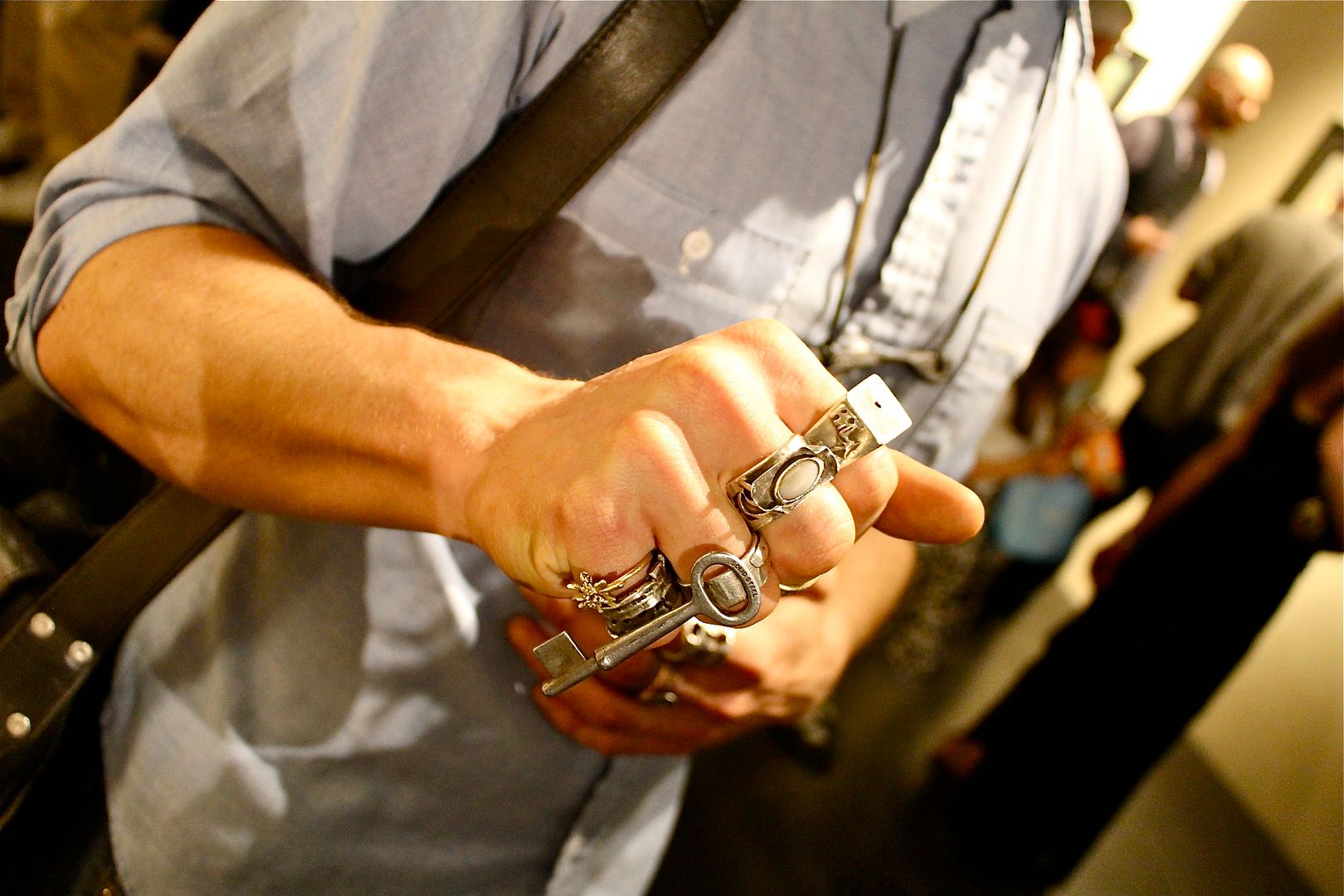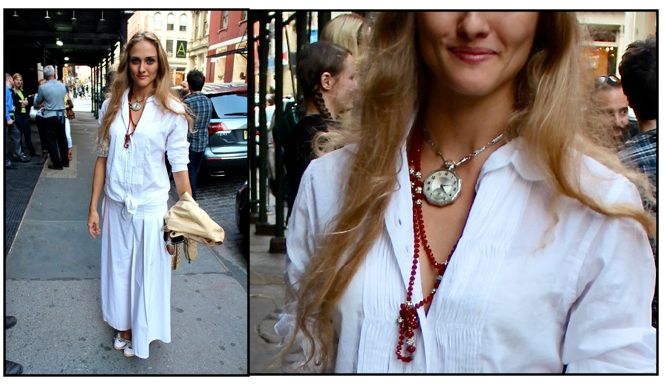 Another beautiful artist working an all-white look with vintage signature jewelry.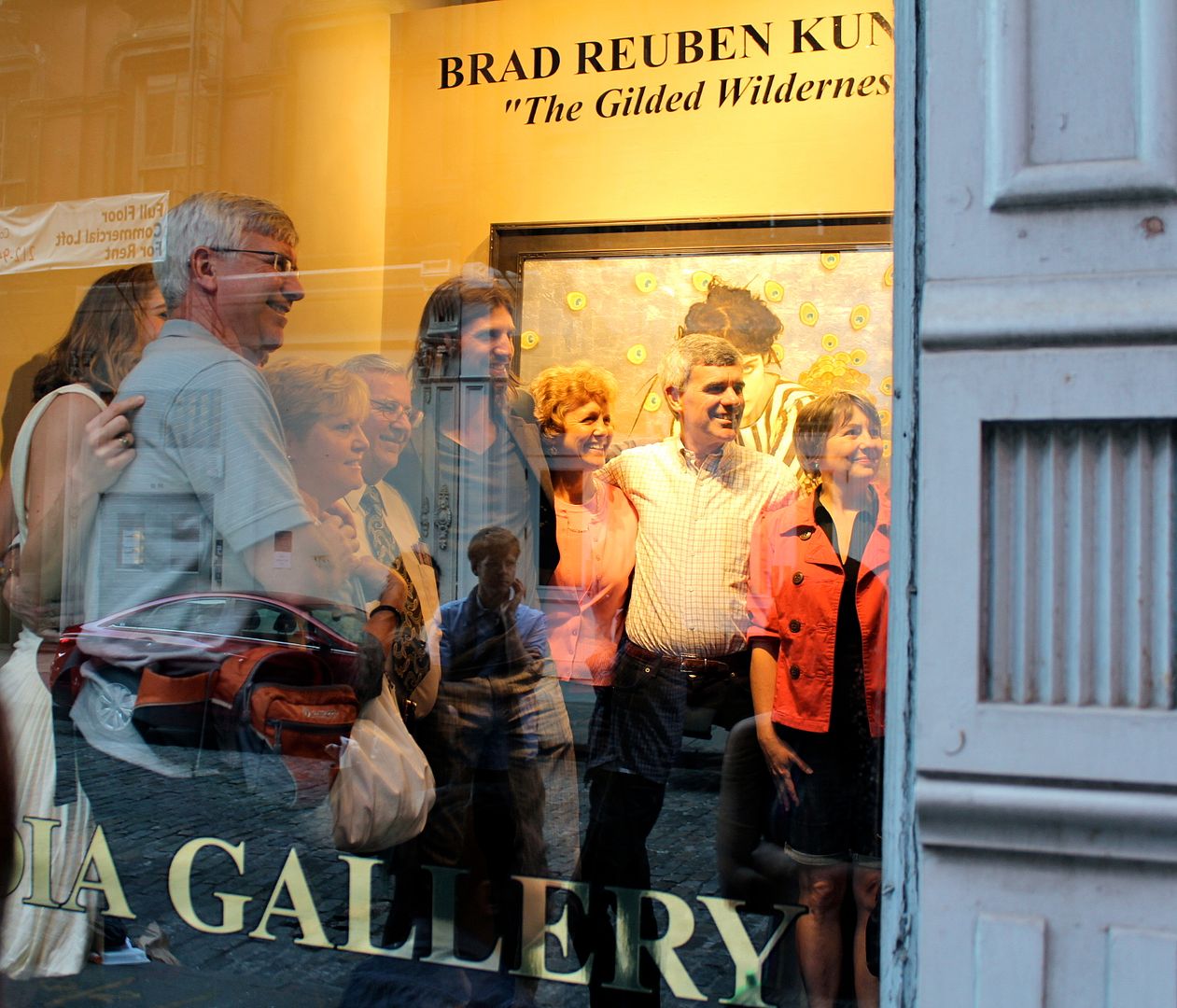 Family photo op.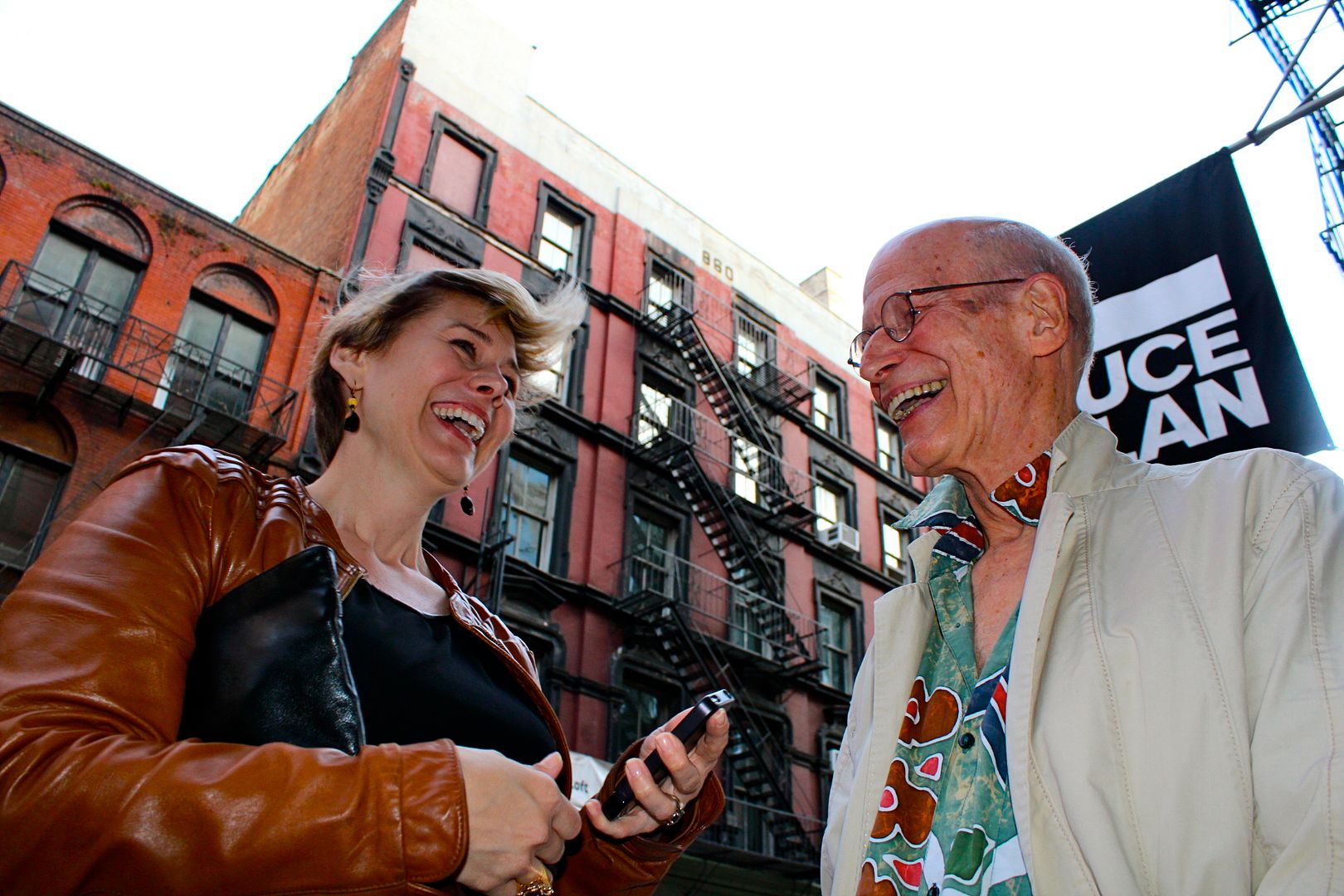 Our friends Rachel McPherson and Wayne Adams cut up on Greene Street.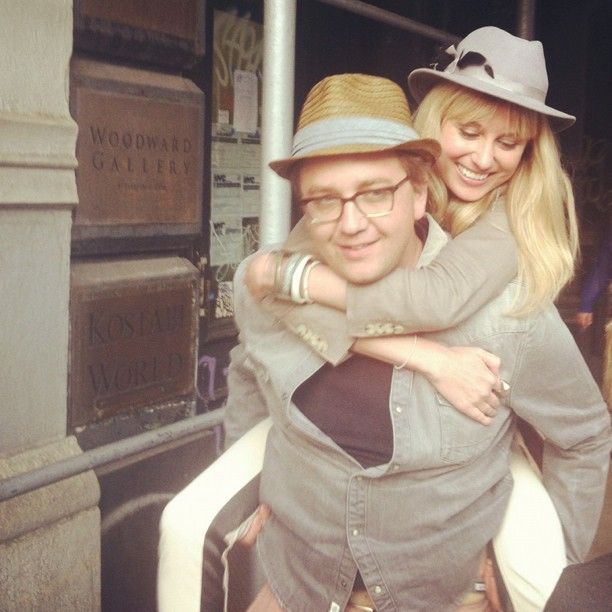 Getting a lift from the art opening to dinner at Barolo.
These heels are not made for walking!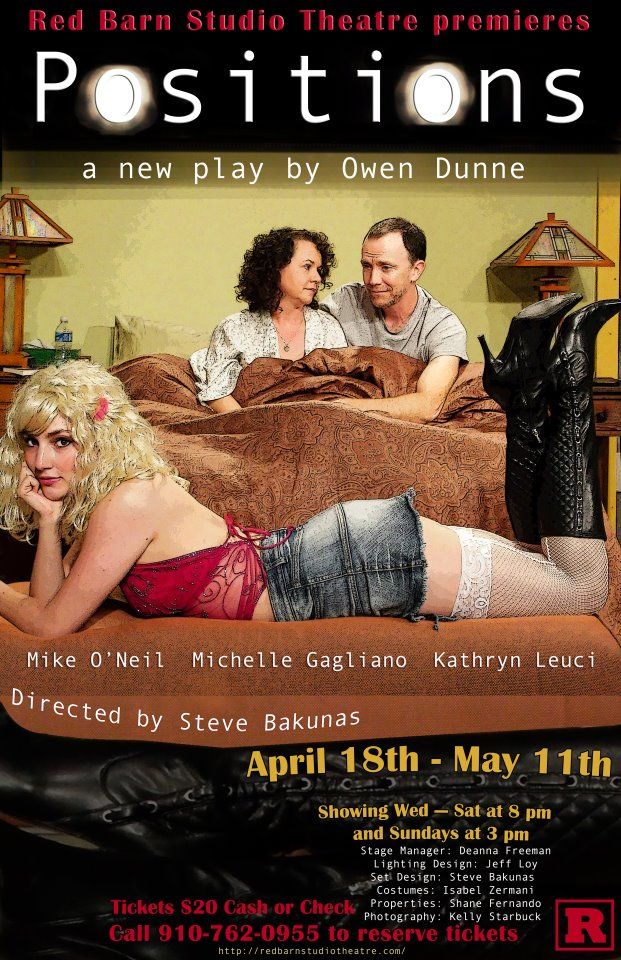 April 20 – May 11
Positions
Red Barn Studio Theatre
WILMINGTON

WHAT: "Positions," written by local Owen Dunne (husband of my BFF Shannon Dunne of James + Dunne Styling), directed by Red Barn co-founder Steve Bakunas and presented by the Red Barn Studio Theatre, Positions is the theater's first original play. See what happens when Leo proposes to his wife of 15 years, Hillary, to fool around more often (she's more focused on the kids than sex), by trying a new position every week for a year – 52 positions in all.
WHEN: April 20-21, 25-28, May 2-5 and May 9-11 at 8pm and April 22, 29 and May 6 at 3 p.m.
WHERE: Red Barn Studio Theatre at 1122 South Third Street
WANNA GO?:  $20 cash or check only. For more info, call 910.762.0955 or visit www.RedBarnStudioTheatre.com

April 28
Tracy Mallon Trunk Show
Ziabird
WILMINGTON

WHAT: Jewelry designer Tracy Mallon is headed to Wilmington! Join Ziabird in welcoming her and previewing her Spring collection.WHEN: Saturday, April 28th
Noon-5pmWHERE: Ziabird at Lumina Station
About FASHION FIX
Everyone needs a fashionable friend who knows the best places to shop. Looking for the insider scoop on the most
sought-after deals?
Once a week (FASHION FRIDAYS), get your fashion fix with Style Girl's style tips, style on the street + more!
Please forward on to your oh-so-fashionable friends.
Copyright © 2011 Style
Girl Jess James, All rights reserved.