Lost/Revolution actress Elizabeth Mitchell on the cover of BRINK Magazine styled by Jess James wearing: ALC "Molly" red blouse, MiH (Made in Heaven) Marrakesh Kick Flares both from
Beanie + Cecil,
Merewif
Flight necklace & Phoenix earrings from
Oliver
& 
Hallelu
, Bahgsu Jewels turquoise necklace from
Ziabird
Oddly enough, I first saw Lost actress Elizabeth Mitchell at the Denver airport last summer. That same day, I read she was one of the stars of the new show Revolution filming in Wilmington. I instinctively had a feeling our paths would cross again.
Fast forward to a little over a month ago. I received an email from a magazine called BRINK. The editor Kyle Menard shared that they were planning a cover story on Elizabeth Mitchell to be shot in Downtown Wilmington and heard I was the stylist for the job. 

The day before St. Patrick's Day downtown hummed with a green beer hazed buzz while I scrambled to restock my stylist's essentials: shoe pads, rubber bands, safety pins, clothespins, double sided tape – the works. Before heading to The Hilton to meet the crew, I headed to Lilies & Lace for a few undergarment reinforcements. 

I was excited to hear that Beauty Bar hairstylist Hannah Lynne Simpson would be joining me for the day. She's not only a complete joy to be around and extremely talented but she was once upon a time my former intern so knowing she would be there put my mind at ease. We were greeted in the suite by BRINK Copy Editor Jackie Carr doubling as makeup artist. Earlier in the morning, I sent Charlotte-based photographer Ben Carter (UNCW grad) a variety of location photos downtown for potential backdrops for the cover and was eager to discuss outfits for our shot list. 

While I prepared the wardrobe and set up our Pandora station (First Aid Kit), Jackie said she was not nearly as nervous as she had been before she heard the audio interview for the cover article. "She seems so incredibly friendly and down to earth – and our writer was practically flirting with her!" 

The buzz word for the shoot, "Effortless" (minimal makeup, natural hair and fresh and easy clothing) was exactly what we got when Elizabeth breezed through the door – right on time. 

She instantly gushed how much she loves Wilmington. "The people couldn't be any nicer" and she rattled off at least a dozen restaurants  she had been to and enjoyed, including Manna downtown and Las Olas, where she was headed to meet friends for dinner and margaritas "(but no more than one and a half!)" 

Throughout the day, she sincerely complimented us all on our work and even our appearance from my "beautiful vest" to Hannah's half-up hair bump ("How cool! How did you do that?") and Jackie's height (or lack thereof) making her "cute as can be!" 

She swore she wouldn't fit into the ALC leather pants I brought from Beanie + Cecil but we all cheered her on when she walked out of the restroom wearing them to perfection. 

And did I mention that she's also gorgeous? Gawd. But you already know that. 

She maneuvered any snags (missing eyelash curler, impromptu wardrobe change at a random home downtown) with grace and humor and charmed us all along with Ben's camera frame after frame. 

Sure was fun having a Rachel Zoe kinda day right here in Wilmington. And if you see Elizabeth around town, give her a wave.  I bet she will smile in return. Effortlessly. 
xo
Jess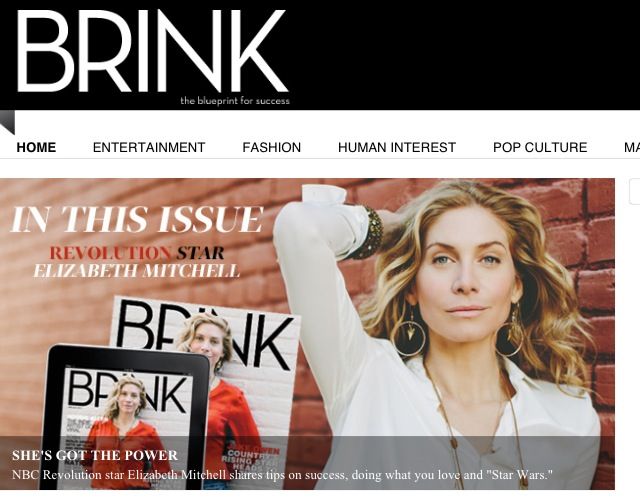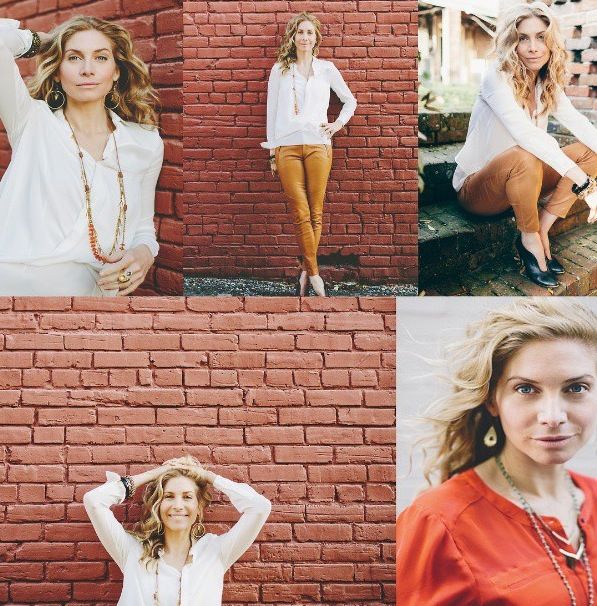 ALC Charlotte Leather Pant in Caramel, 10 Crosby Derek Lam white blouse, Iosselliani set of 5 bangles, all from Beanie + Cecil Mima long carnelian and gold dagger necklaces, Alexis Bittar ring and Bahgsu Jewels rose gold shark hoops, all from Ziabird
When Elizabeth saw this photo in my phone, she said,  "I like this one best. It's us."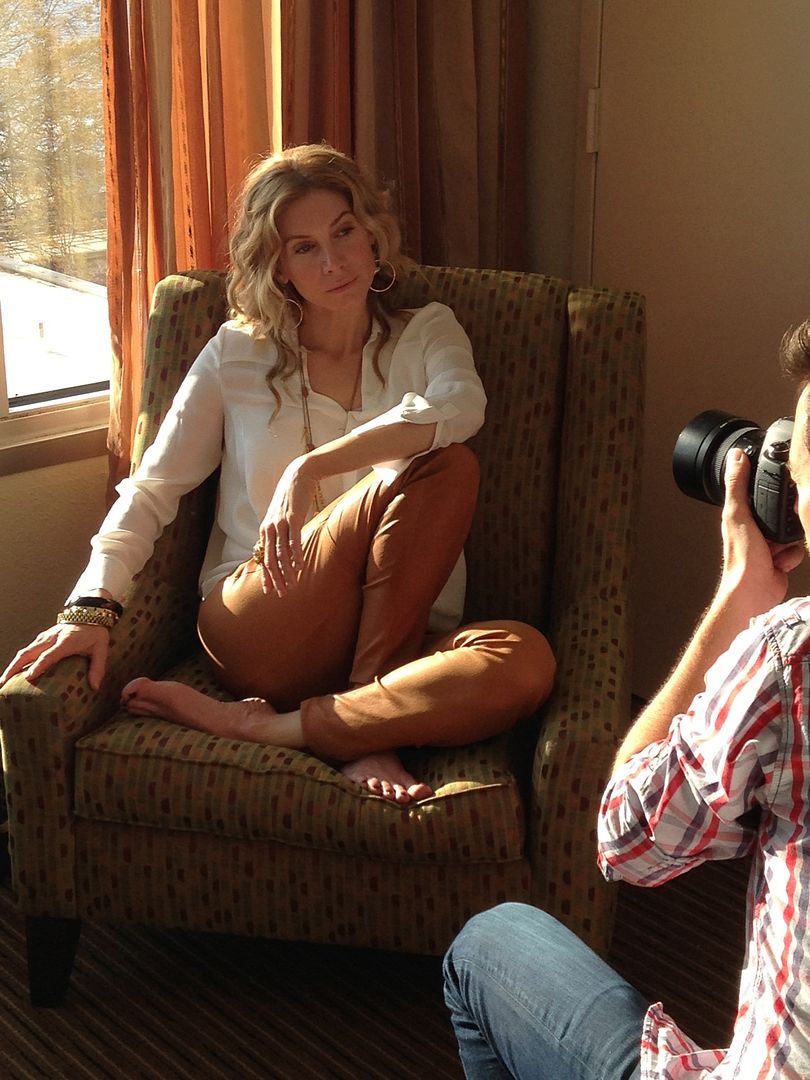 Ben capturing Elizabeth's glow in our suite at The Hilton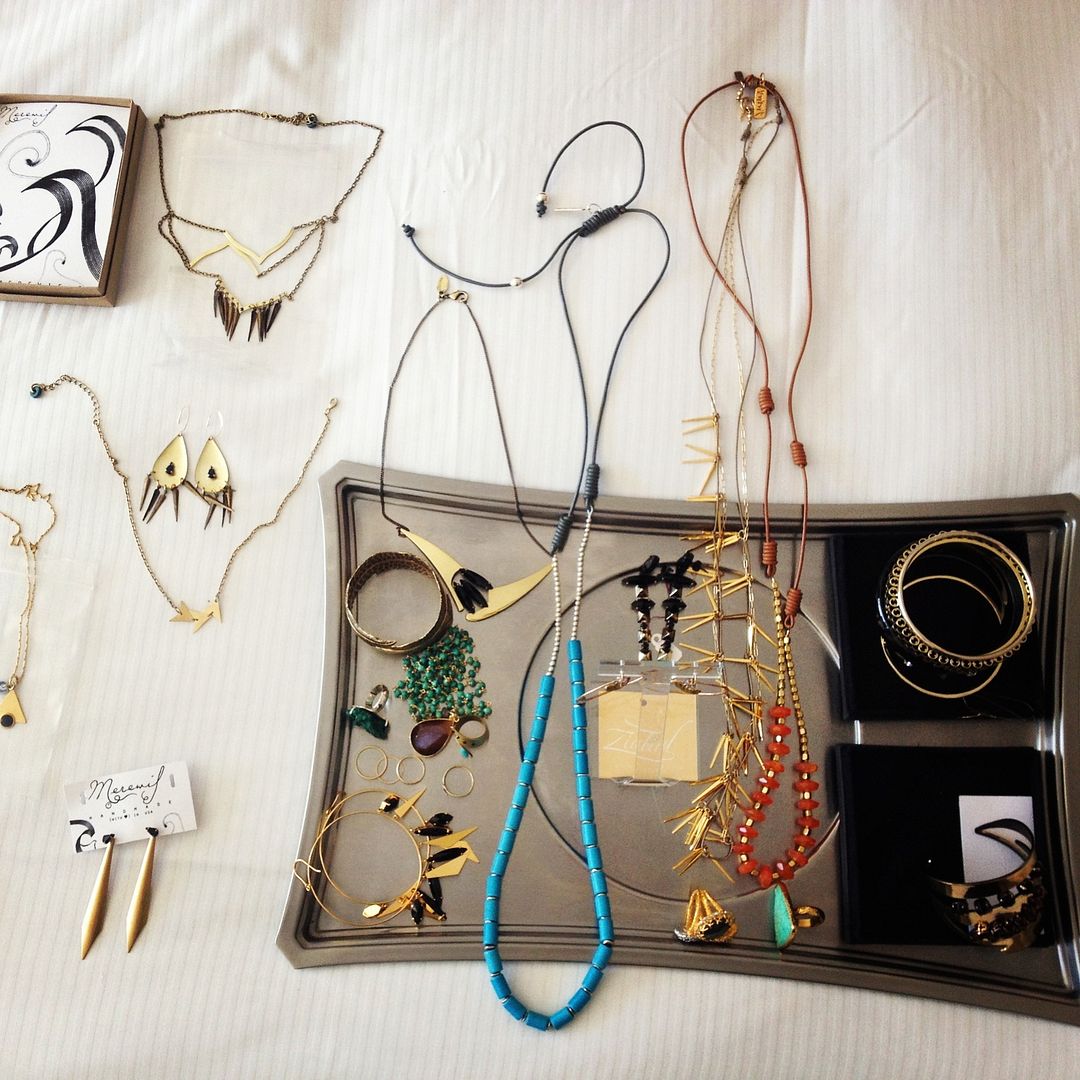 TREASURE TROVE: 

Jewelry from

Merewif

, Iosselliani jewelry from

Beanie + Cecil

, 
Bahgsu
Jewels, Mima and Alexis Bittar from

Ziabird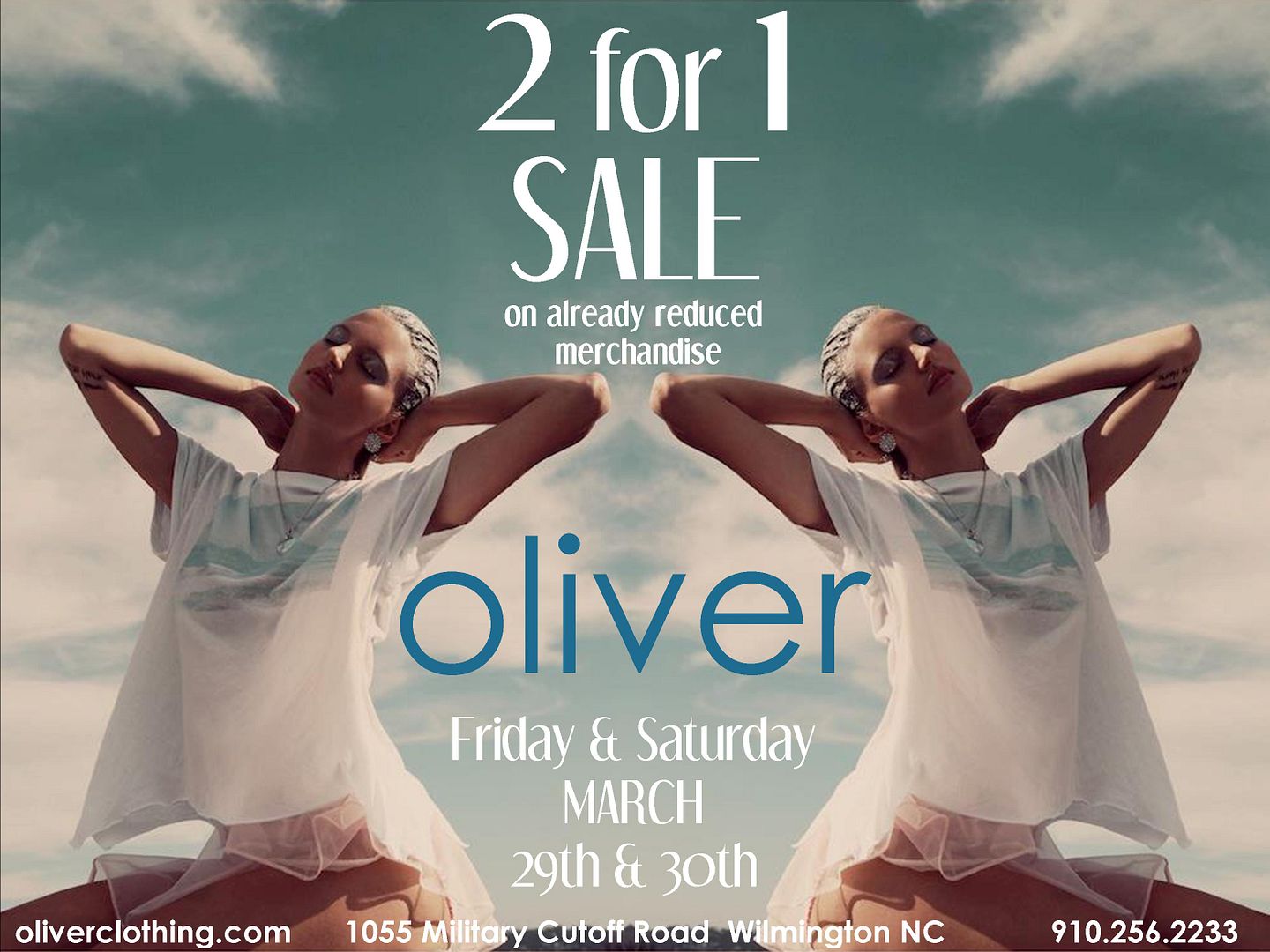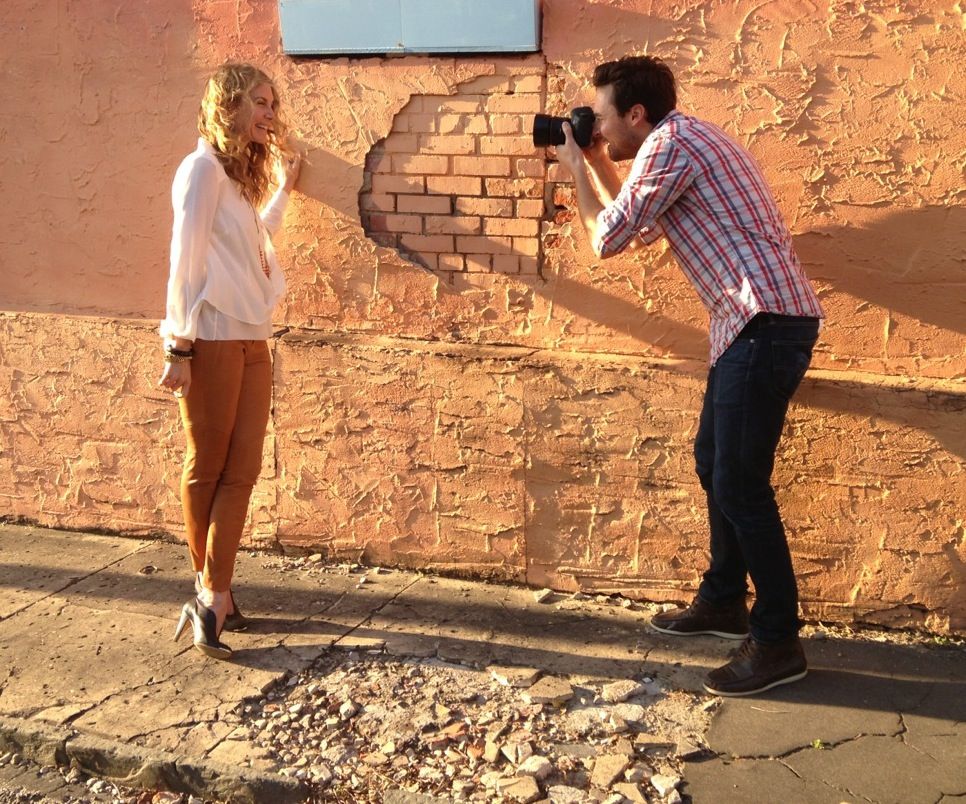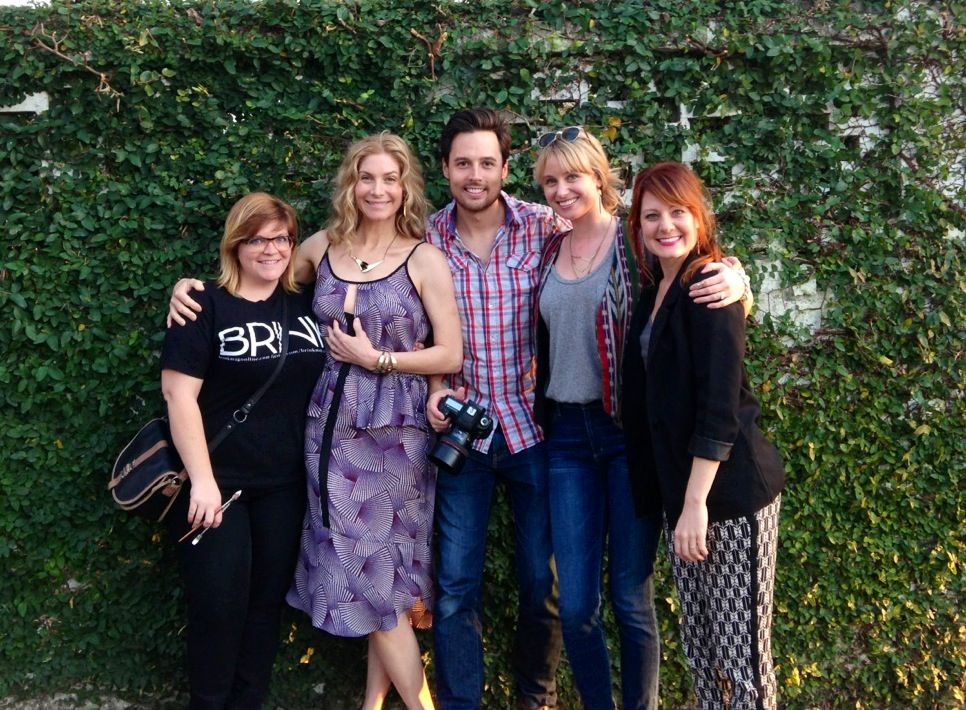 Our Team: Makeup Artist and BRINK Copy Editor Jackie Carr, Actress Elizabeth Mitchell, Photographer Ben Carter (Charlotte), Wardrobe Stylist Jess James and Hair Stylist Hannah Lynne Simpson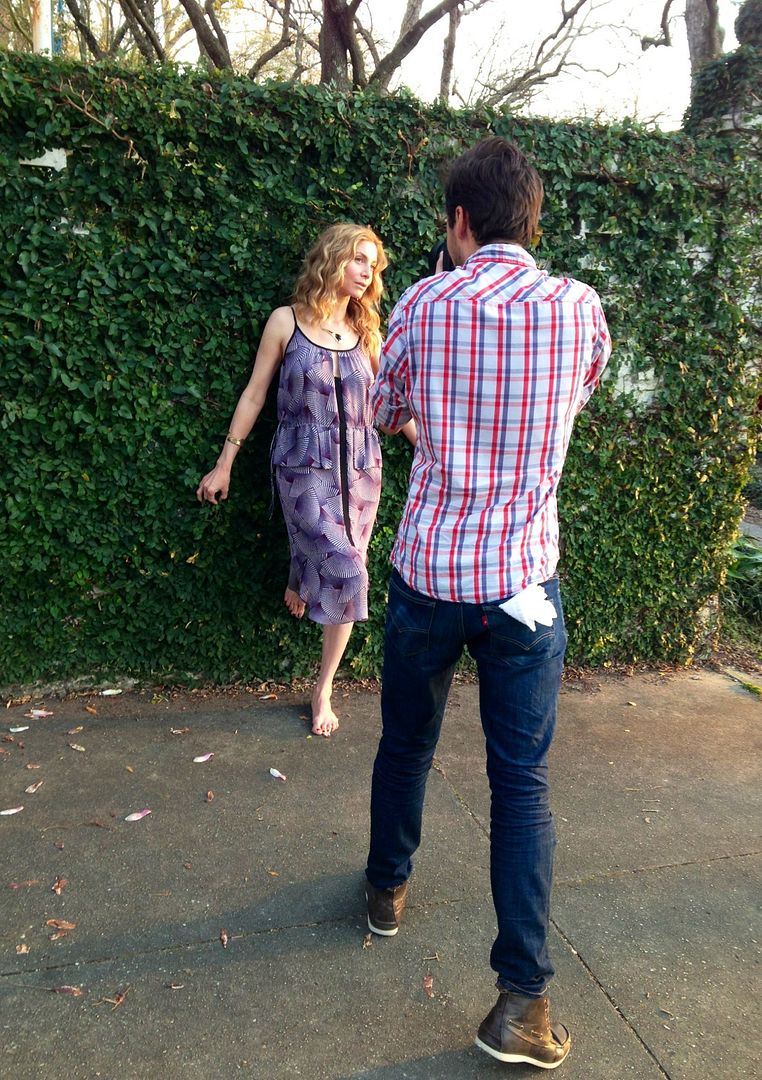 ALC Anza Dress, Iosselliani necklace, both from Beanie + Cecil Bahgsu feather cuff from Ziabird, Merewif Matilda earrings available at Oliver & Hallelu
Hannah ensures Elizabeth's hair keeps its shape despite the intense wind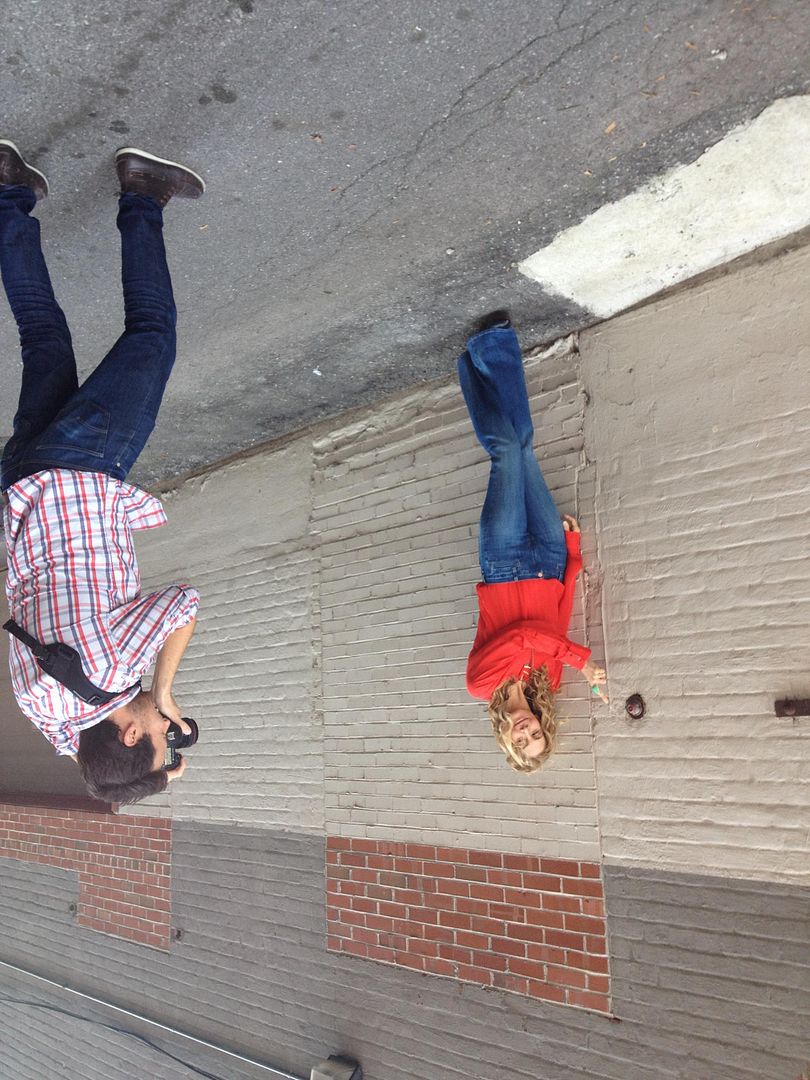 Only Lost fans will see the humor in this – Push the Button!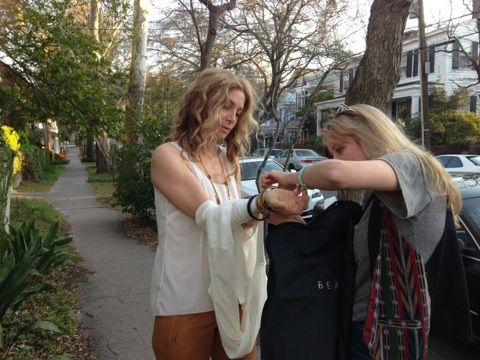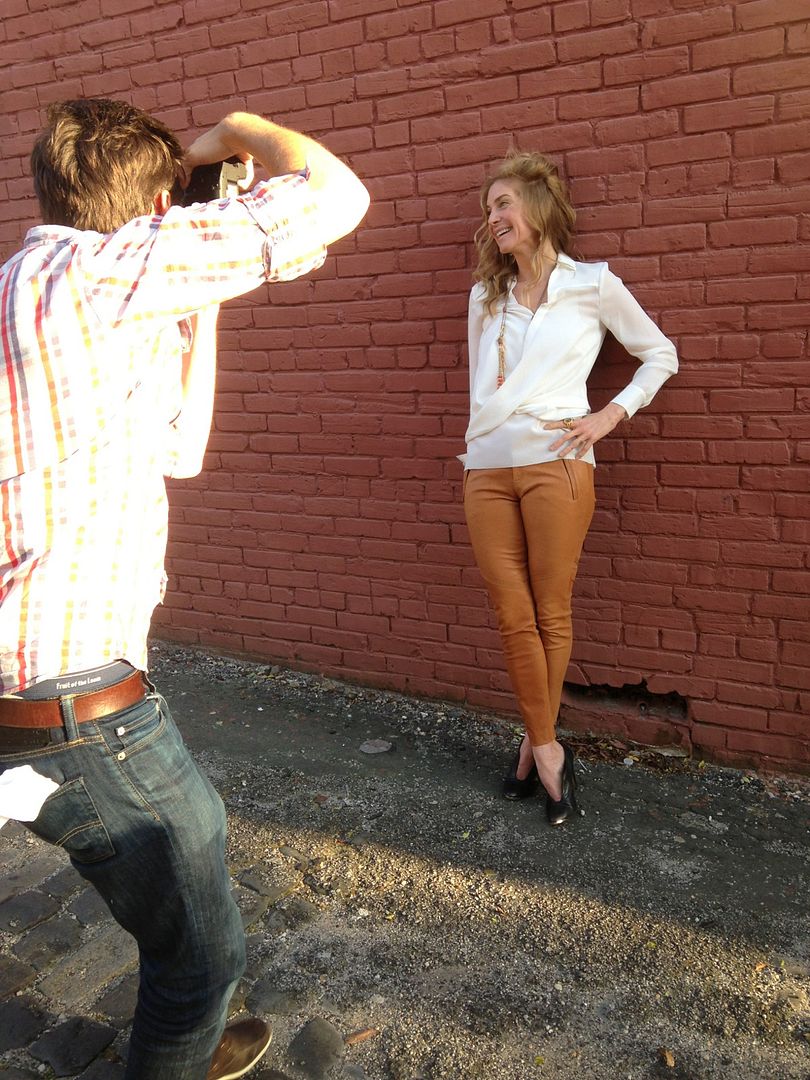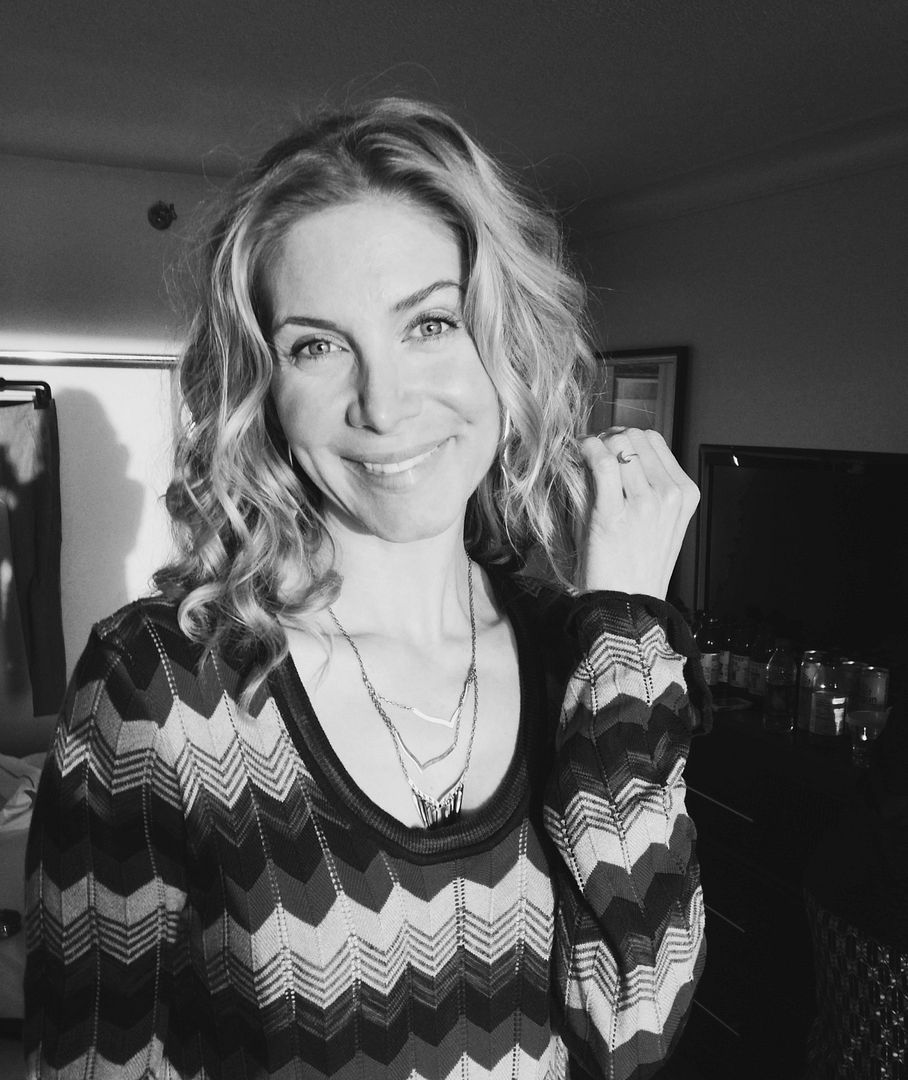 Elizabeth was THRILLED to go home with her favorite Merewif "Flight" necklace ($65) and stack rings (crescent moon, heart at $20 each) from the shoot. Thanks, Savannah! 🙂
All Behind the Scenes Photos: Jess James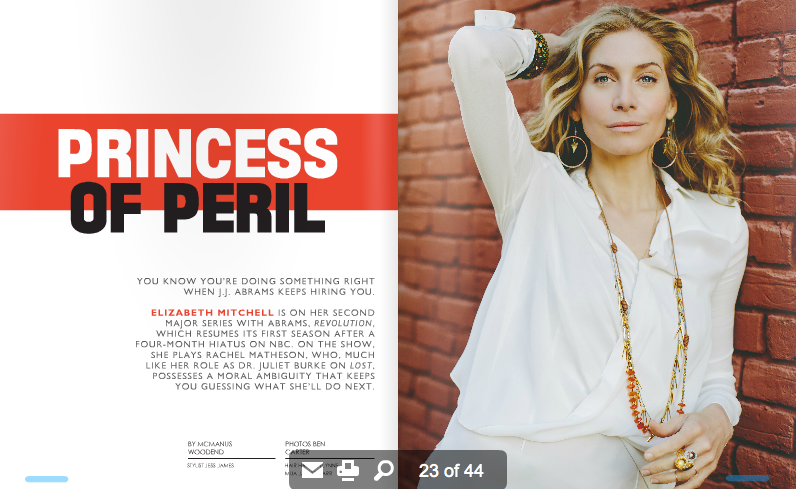 See the cover story and read Elizabeth's interview by visiting www.brinkmagonline.com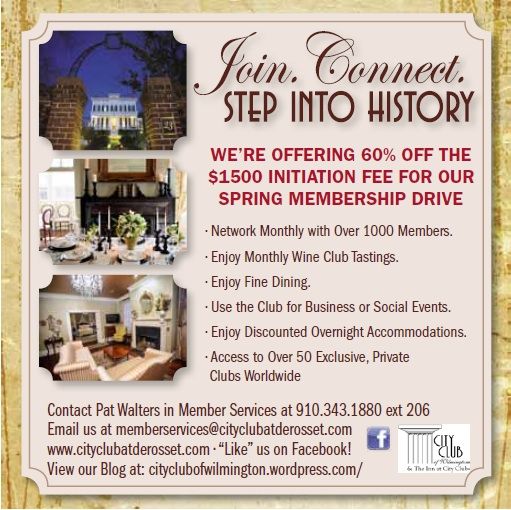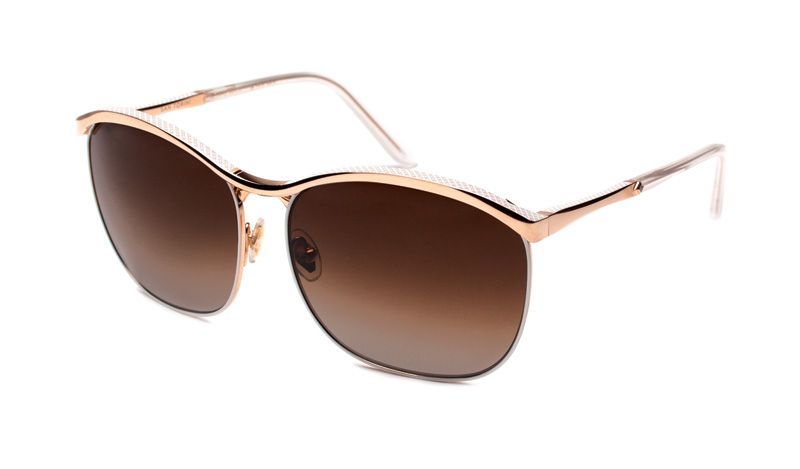 Leisure Society "San Torini" in Bone/Gold from Port City Eye
A statement frame at its finest! Elegant and feminine shape and intricately etched and beveled metal detailing, this frame features 100% pure titanium plated in 18k gold, two high quality diamonds, CR-39 sun lenses that are 99.9% distortion free, a hydrophobic and 12 layer anti-reflective coating, 100% UVA/UVB protection, and a Diamond Cast anti-scratch coating. All Leisure Society frames are individually numbered and handmade in Japan.

On a personal note, I wanted to share the very happy news that Joel and I  adopted a new puppy named Dakota from Saving Grace, based in Wake Forest, NC.
From the moment we lost Buster, our house just did not feel like a home without the little pitter patter of feet behind us. Even though Joel was afraid it was too soon, I  just started to scan a number of shelters' Facebook pages daily until one day Dakota popped up. I just knew she was the one! From the moment I saw her, she ran full speed ahead into my arms and the rest, as they say, is history. She's between 7-10 months old and is supposedly an Australian Shepherd/ American Eskimo/Golden Retriever mix. Whatever she is, we love her! Shortly before we made the  final decision to welcome Dakota into our home, Joel and I saw a rainbow at Wrightsville Beach (when there was no rain in sight) so we like to think Buster was giving us his sign of approval 🙂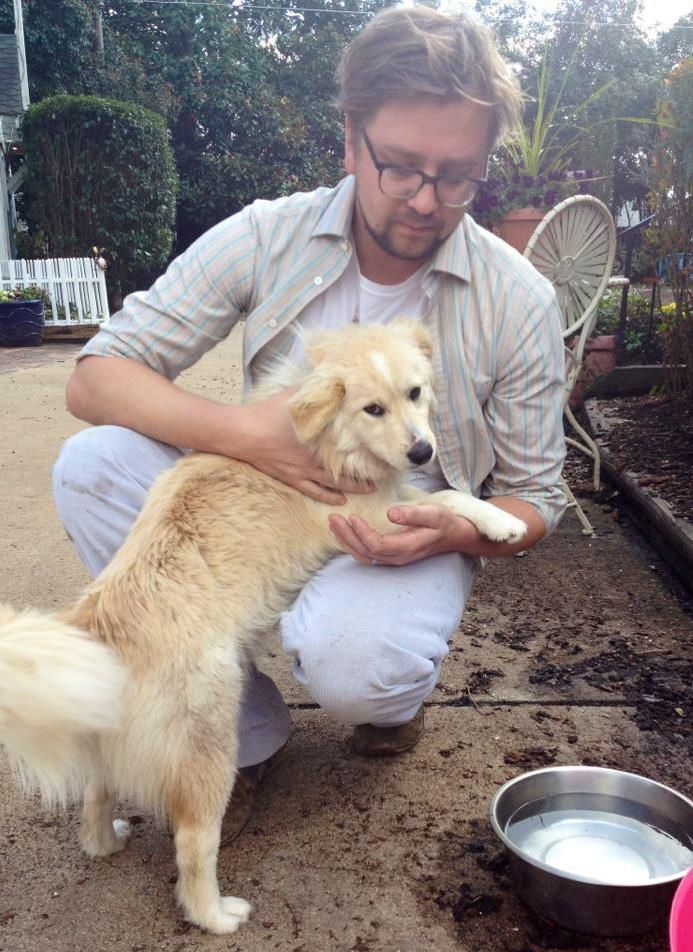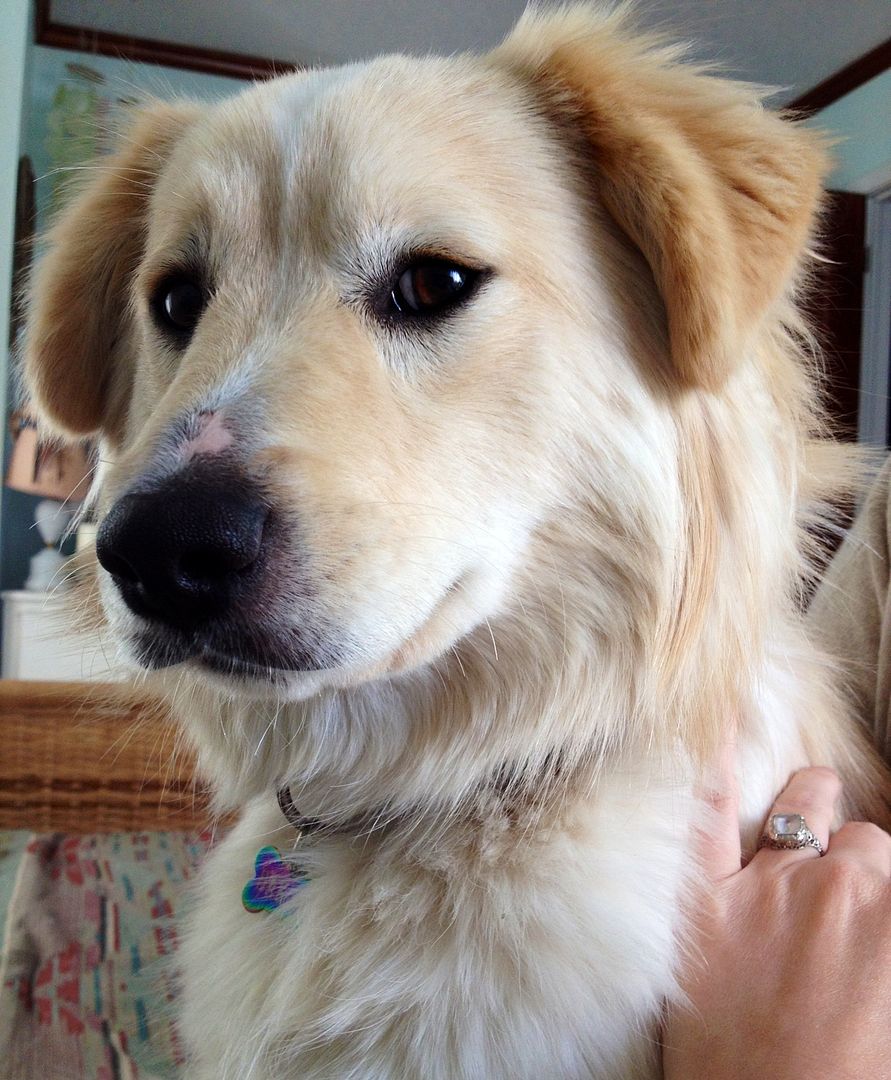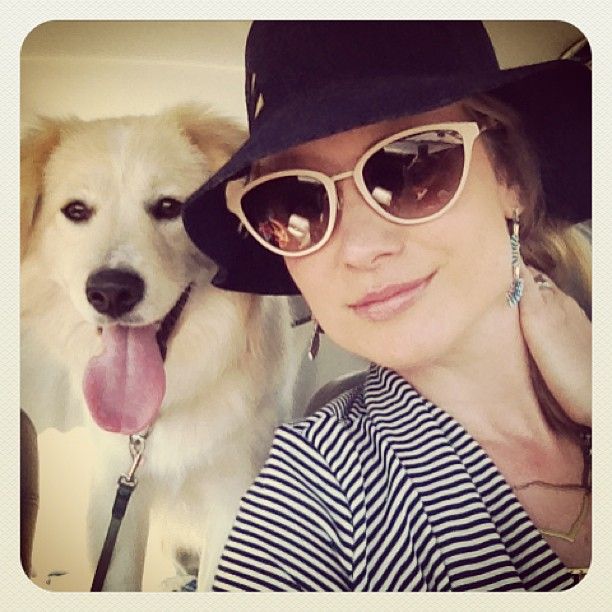 I will be highlighting my top 7 fashion moments from my seventh year 
covering
Charleston
Fashion Week in the May issue of Focus on the
Coast
magazine. Till then, here is a brief look at a few favorite memories 
since last
Friday's FIX: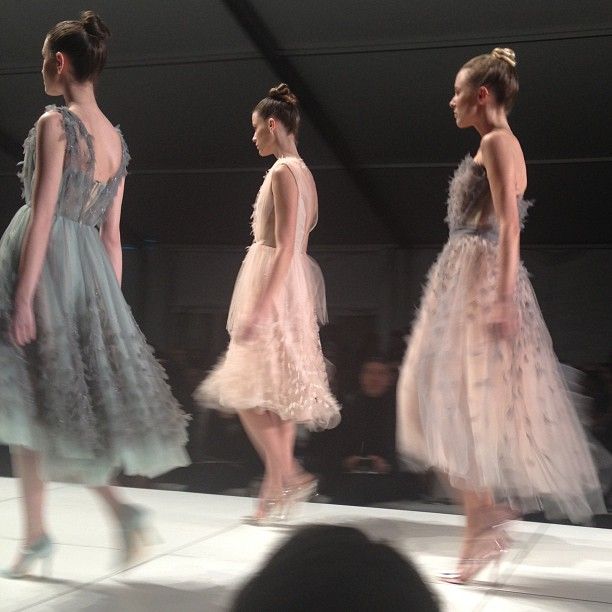 Project Runway winner Christian Siriano showed his ethereal collection at the finale Saturday night.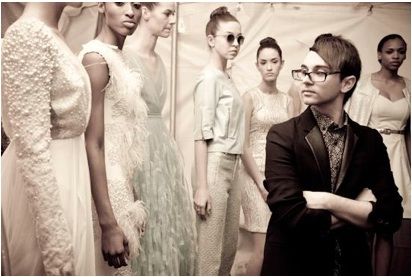 Photo above: Brianna Stello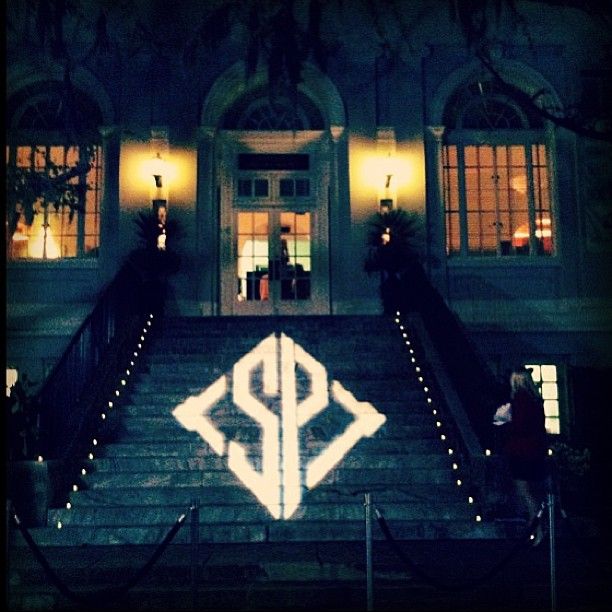 Leap Frog PR extended an invitation for me to attend the Social Primer party at the Charleston Library Society. Imagine my excitement seeing this venue when my cab pulled up front!
Photo: Janae Tanti 
The ultimate Southern prep models styled out by Social Primer in their SP Smoking fall collection for the fashion show portion of the evening.  As you can imagine ladies, this was by far the highlight of the evening!
To watch a video from a guy in the crowd, click HERE. 
Photo: Social Primer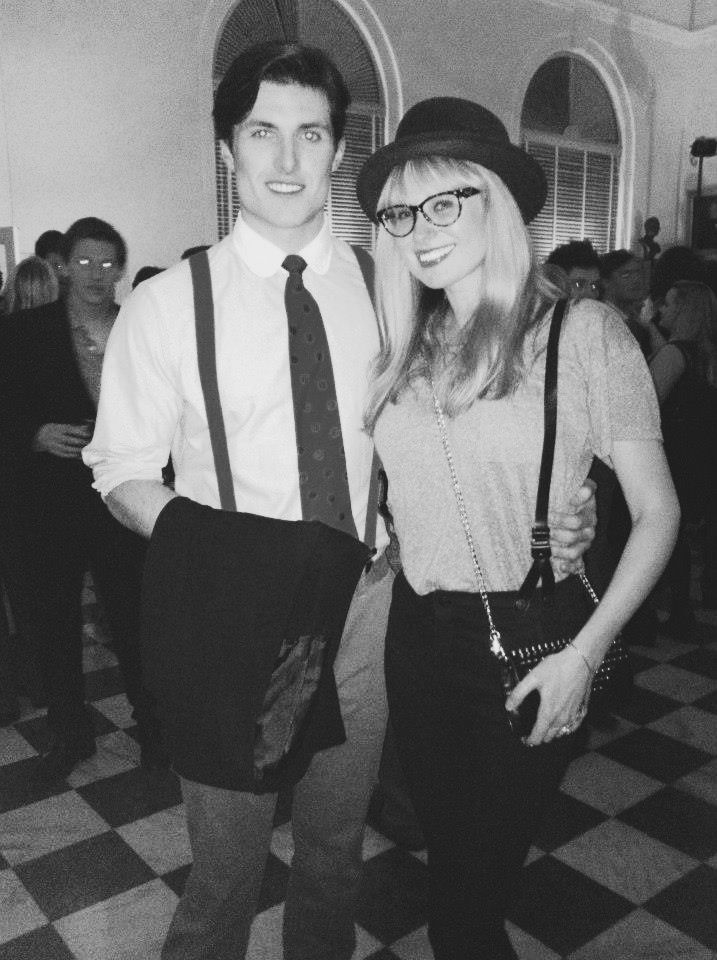 Model Hampden Dunlap and Jess James rocking some supenders at the Social Primer party
Photo: Jasper Brown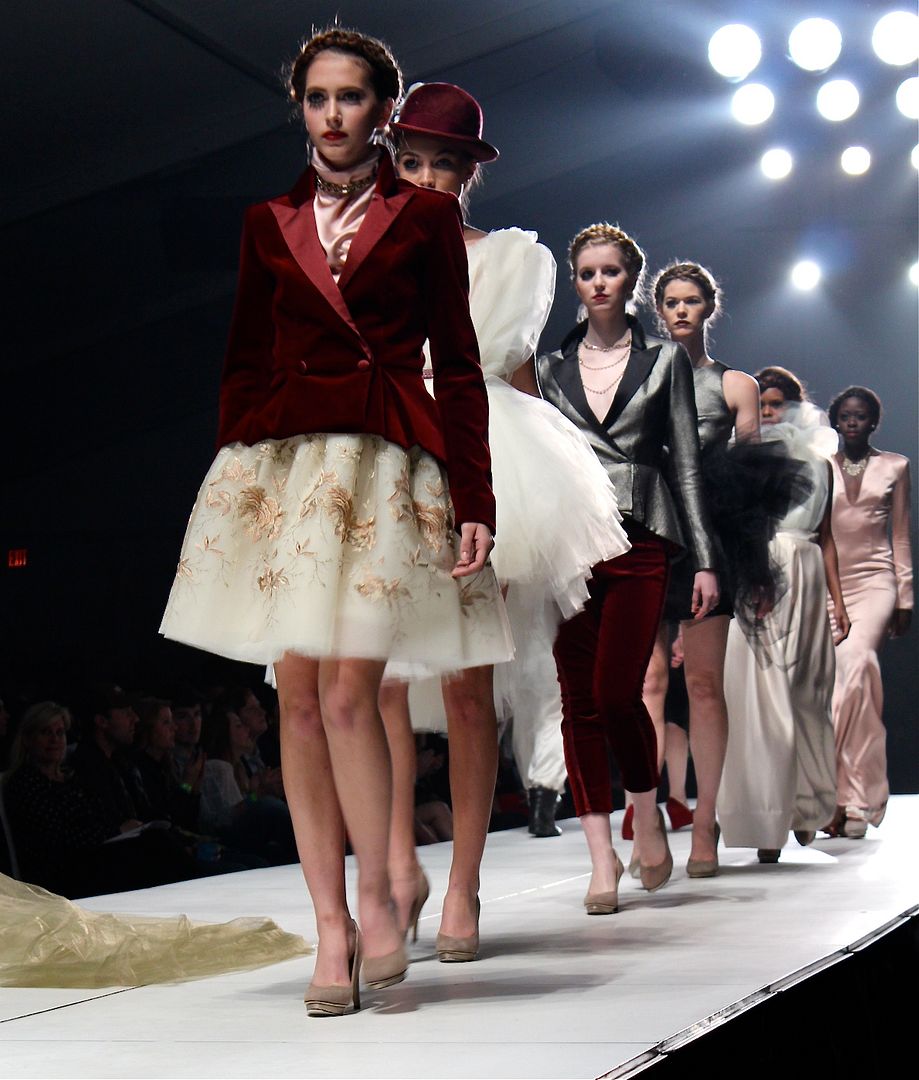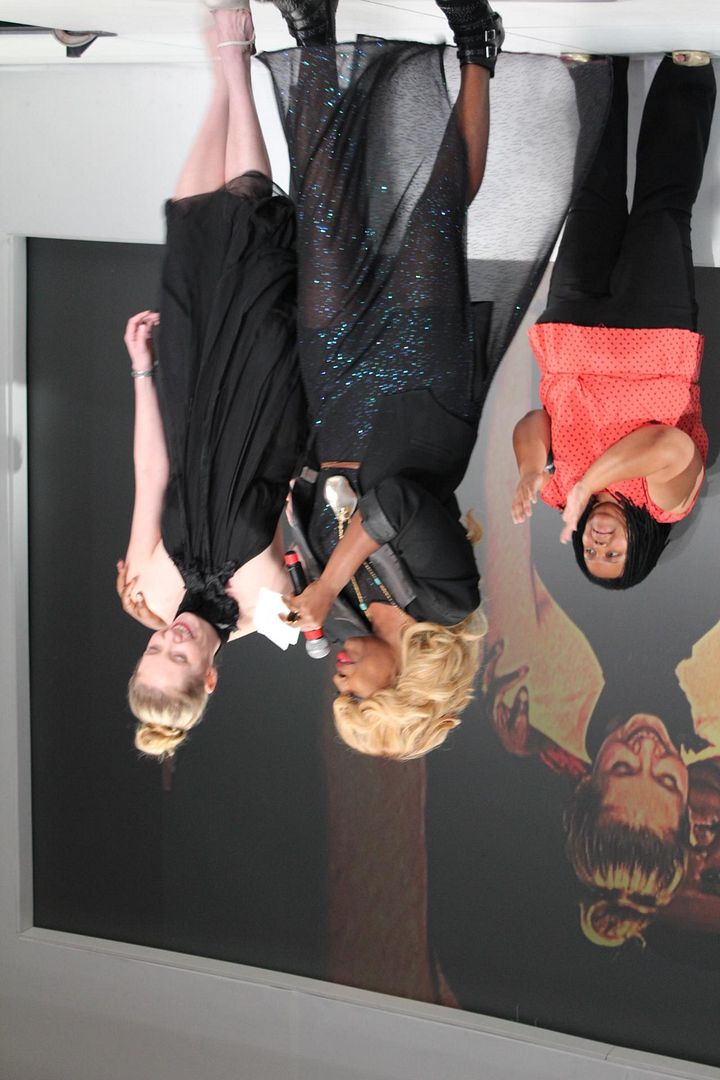 Was so proud that she took home the top honor among  
the emerging designers that showed that night! 
(Siobhan with Charleston Magazine Style Editor Ayoka Lucas)
CFW regulars Erin Perkins and Mike Grady primp at the
Novel
 party before heading to the tents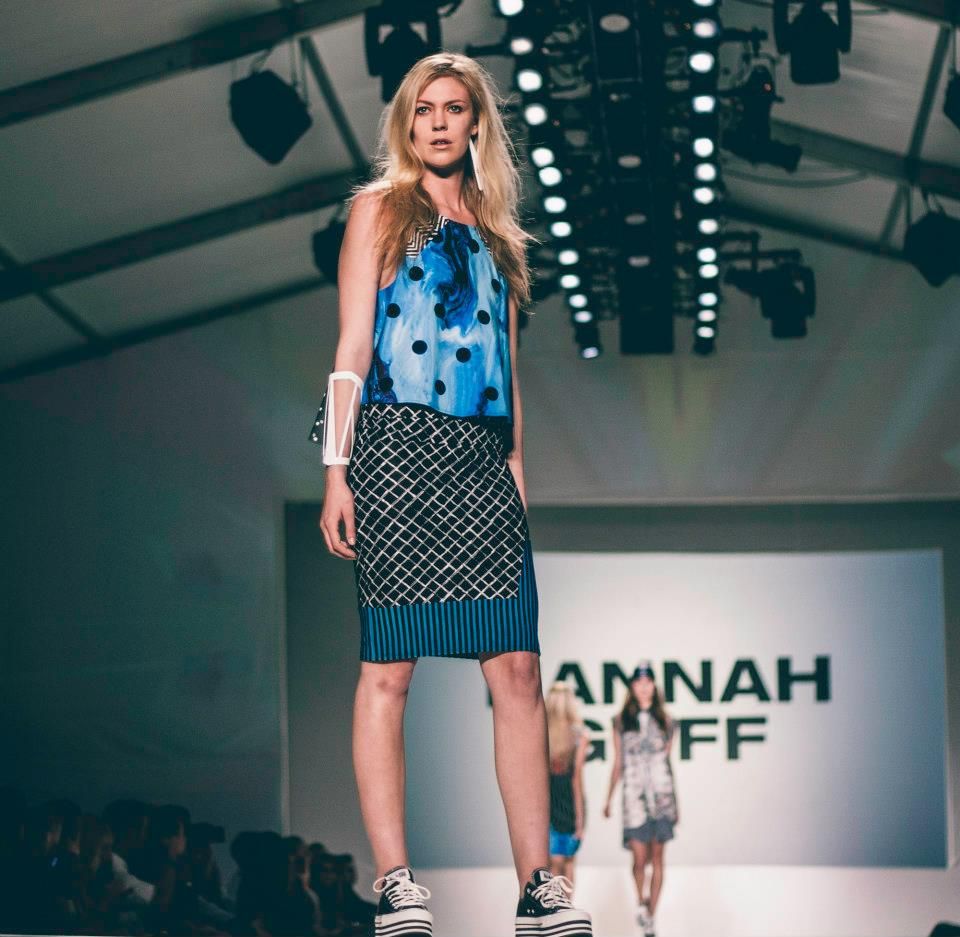 Jewelry Designer Sarah Tector (formerly of Wilmington; now based in Raleigh whose jewelry is sold locally at Ziabird) accessorized featured designer and 2012 CFW Emerging Designer Winner Hannah Goff's collection (Note: her collection was incorrectly credited to Jazsalyn McNeil last week)
Photo: Faisal Mohammed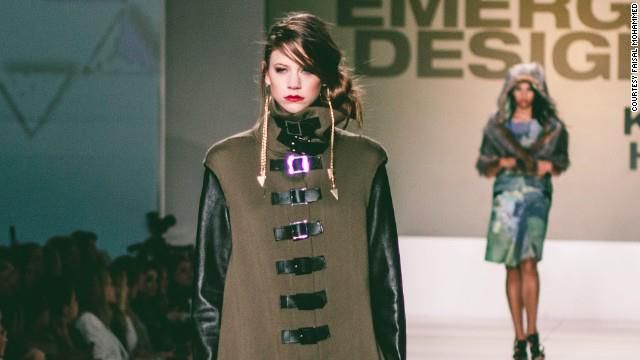 Wilmington jewelry designer Kristin Wood's Kopious Jewelry accessorized Emerging
Designer Karen Hulse's collection worn here by the Rock the Runway winner Makenna Reeder. This same shot was also featured on a CNN story on Charleston Fashion Week!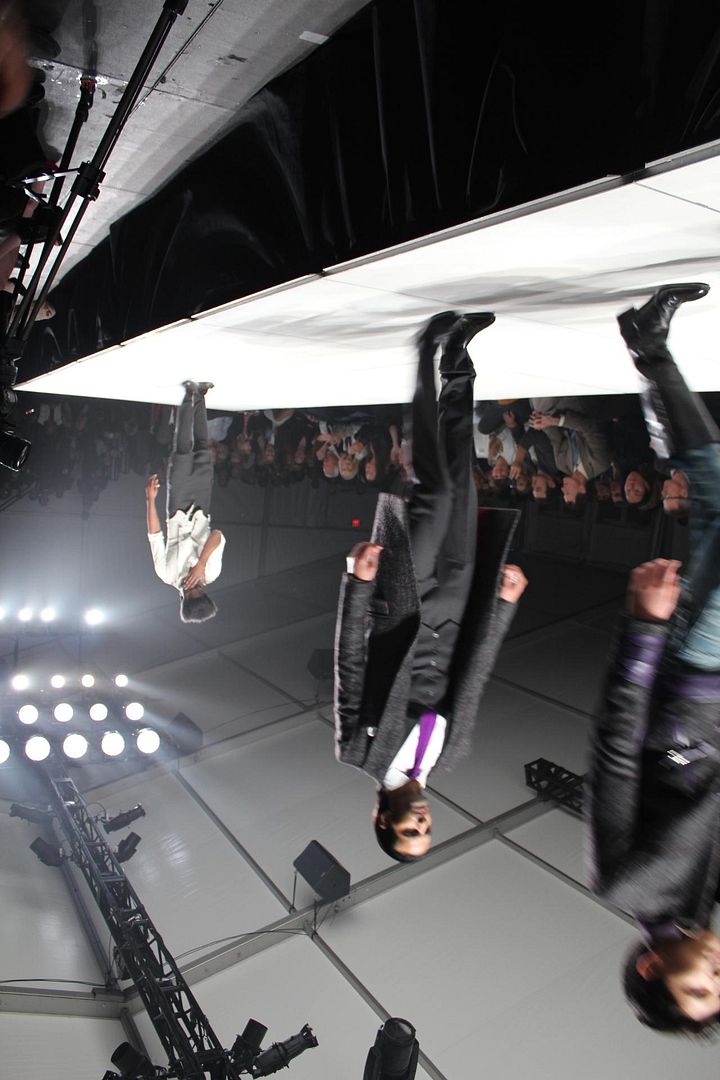 Emerging Designer overall winner Afriyie Poku, an Atlanta based menswear designer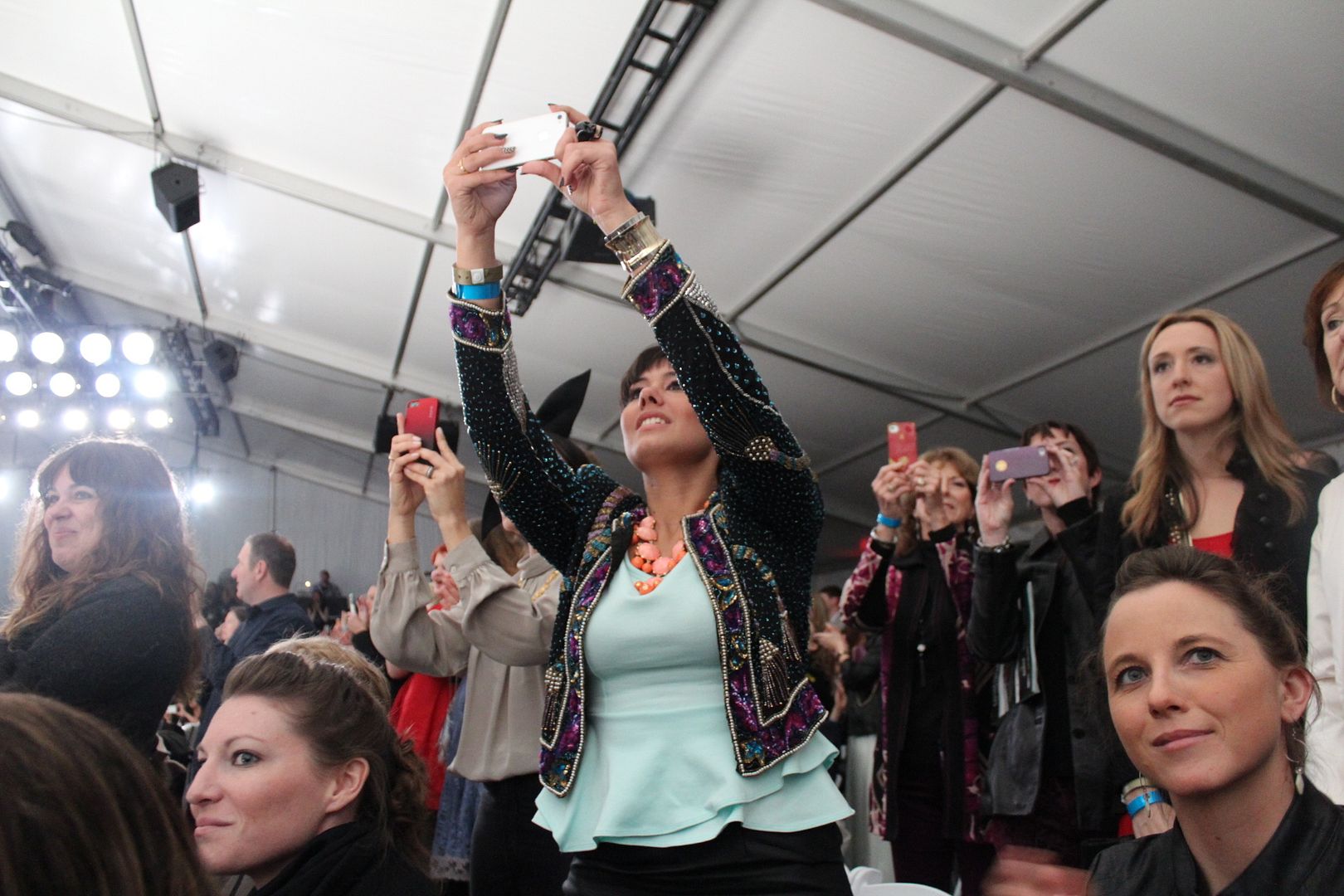 Afriyie's adoring fans on finale night (Sonia Hendrix, center)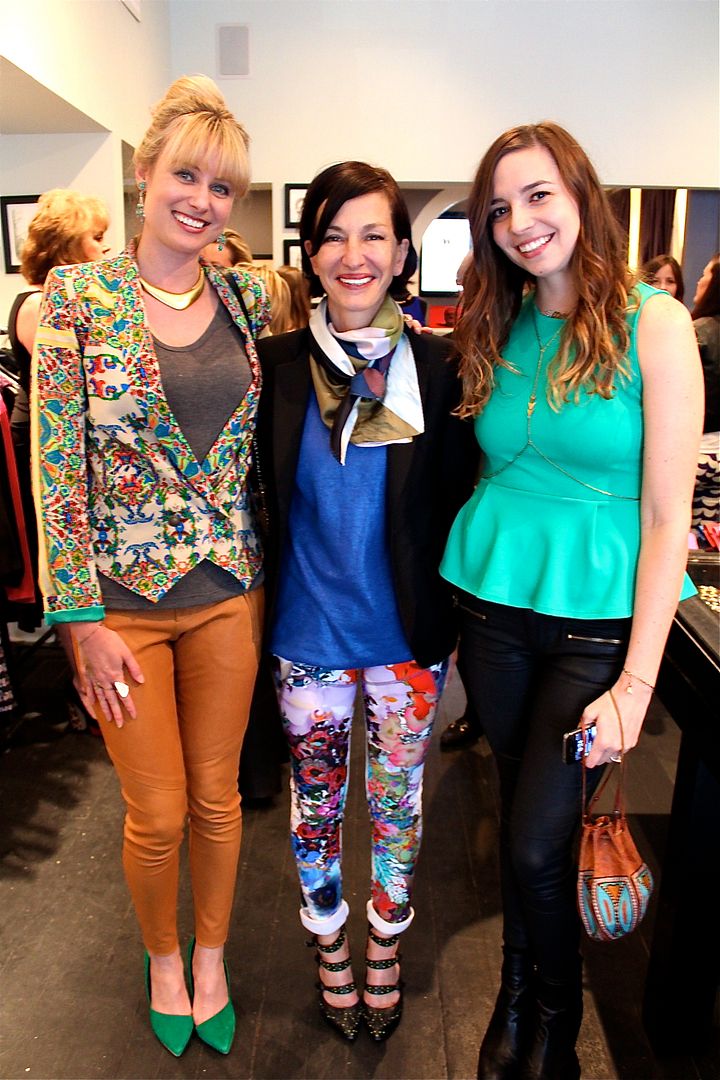 Jess James (wearing ALC leather pants from Beanie + Cecil and Cynthia Vincent printed blazer from Oliver) and Merewif Jewelry Designer Savannah Watson with Fashion Designer Cynthia Rowley (Aren't her scuba leggings awesome?!)
Photos: Jess James
To see MORE PHOTOS (3 albums)  from my Charleston Fashion Week, please Click HERE.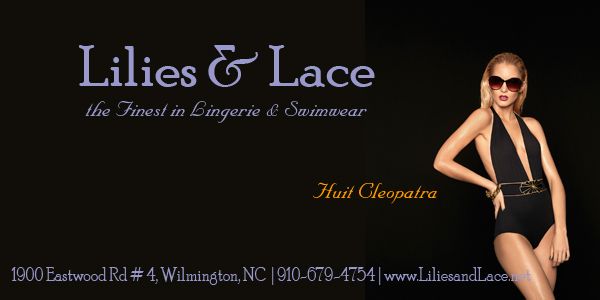 SNEAK PEEK!
Next week, yoga fashion in the park with Be Unlimited + friends 🙂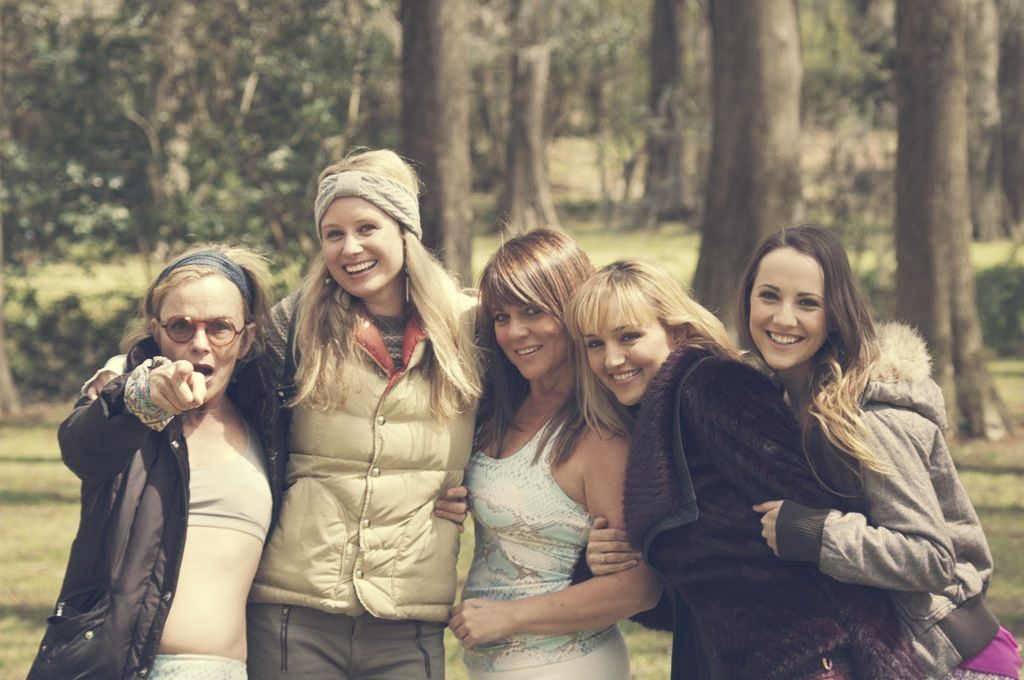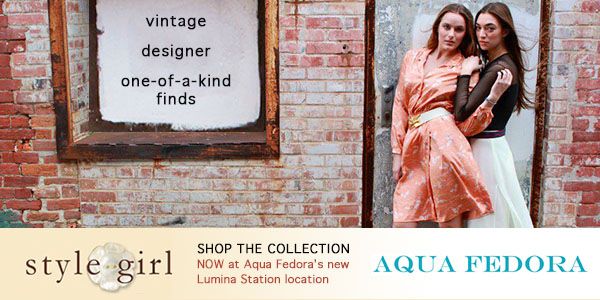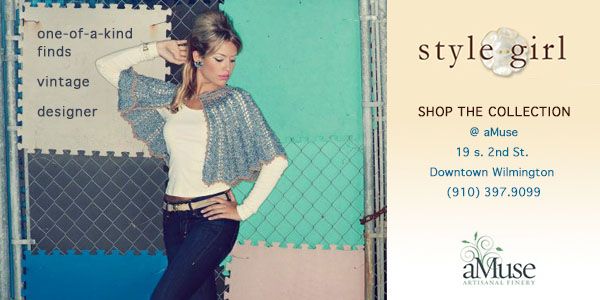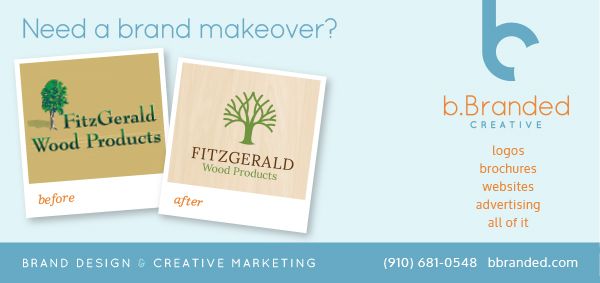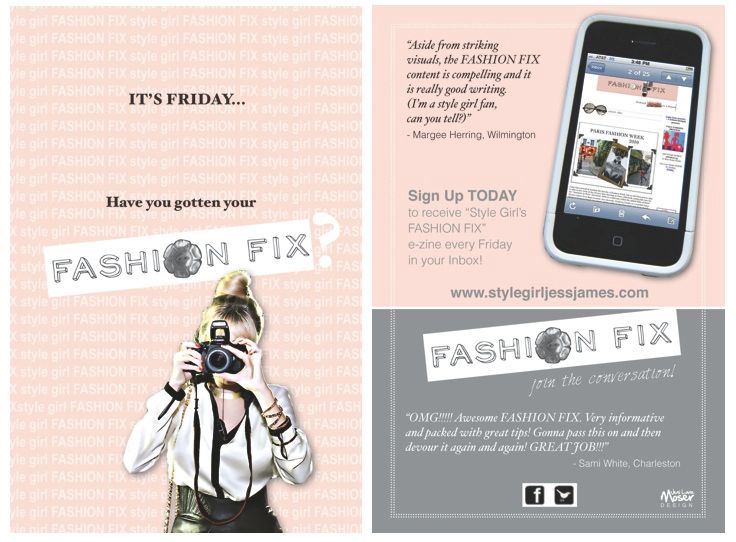 About

FASHION FIX

Everyone needs a fashionable friend who knows

the best places to shop. Looking for the insider scoop on the most

sought-after deals?

Once a week (FASHION

FRIDAYS), get your fashion fix with Style Girl's style tips, style on

the street + more!

Please forward on to your

oh-so-fashionable friends.
Copyright
© 2011 Style
Girl Jess James, All rights reserved.