Image selected for the 7th annual Fall Fashion Preview event
presented by Wilmington Dermatology Center
Mark Your Calendar: Tuesday Oct 28th at CAM
Photo: Ben Minor
I might have come down with Gatsby fever the past few months (MORE Gatsby event photos and Bella Rose photo link is below), but you didn't think I forgot the Fashion Preview, did you? Never! I'm excited to announce that Dr. Rosalyn George of Wilmington Dermatology Center and I are headed back to the Cameron Art Museum Tuesday October 28th for the 7th annual Fall Fashion Preview.
This time around, fashion + art will collide in a MAJOR way – outside the canvas. I have selected 20+ pieces of art work from the current State of the Art / Art of the State exhibit (featuring over 600 pieces of artwork from artists across the state) taking place at the Cameron Art Museum that will inspire the looks worn by our local celebrity models down the runway on October 28th.
Photography Sponsor Ben Minor and I had a "Night at the Museum" moment Monday night in the rain as we shot Lauren, a tall, striking redhead I "discovered" while in a planning meeting with the CAM staff at CAM cafe (she was our lovely waitress!) Speaking of good food, Celebrity Chef Keith Rhodes is creating a special tasting menu from Catch the evening of the event and Anna Echols from One Belle Bakery will provide the cure for our sweet tooth cravings.
Lauren's pre-Raphaelite beauty look was created by Hannah Lynne and her staff at Beauty Bar Boutique, who will be styling the beauty direction for each of the looks at the Fall Fashion Preview. Inspired by a few looks Hannah created working backstage during New York Fashion Week, Hannah worked her curling iron through Lauren's luxe mane for dramatic textured curls while b3 makeup artist Natalie went with clean matte makeup and a berry lip.
Our first outfit centered around a vintage-inspired Lauren Moffatt medallion print blouse from Oliver in the signature LM cut that I love. The pleating details and off-center gold buttons make it extra special. I added a great oversized plaid jacket, boxy crossbody bag and high-waisted coated denim all from Oliver with Valentino inspired studded pumps from Soul Shoetique. There's a Little Red Riding Hood-esque photograph print on aluminum by local artist Dorian Hill in the State of the Art exhibit that could be a match for this modern day redhead.
If only we had a fourth person to snap a behind the scenes shot of us working to get the shot in the courtyard after we realized there would be no such thing as waiting out the rain. Troy, who was working the front desk at the museum (the museum was closed to the public at this time), stood on his tippy toes with a black umbrella held high above Lauren's head (who is well over 6 foot in heels!) while I held Ben's reflector over his camera to keep it dry. Let's just say Troy and I were lucky we weren't wearing white after labor day!
Once we retreated inside the museum, we asked Kim Kelly, the CAM's Communication Manager, if we could please, pretty please, shoot inside the State of the Art exhibit. Once we secured clearance, Lauren changed into the second look – a Mara Hoffman sequin jumpsuit with the perfect moto jacket and metallic clutch, all from Oliver with one of the essential shoe silhouettes of the season – the mule – in electric blue from Soul Shoetique.
Photographer Ben Minor shooting Lauren in the State of the Art exhibit
Photographer Ethan Gaskill (also part of the Fall Fashion Preview photography team) and I will be shooting our picks for the State of the Art paintings/photographs/scupltures and mixed media pieces to coincide with participating stores/designers style tips and trends for the season and unveiling an image a day in the last two weeks leading up to the event.
Expect to see the best for fall from your favorite stores and designers on and off the runway that night including Aqua Fedora , Beanie + Cecil, Bloke, Cabi / Jamie Marston, Chloe + Isabel / Jeanie Baker, Front Street Optometric Care, Girls Style Boutique @ Tickled Pink, House of Landor (Raleigh), Island Passage, Lula Balou, Mitzy Jonkheer, Monkee's, Oliver, Second Skin Vintage, Soul Shoetique, TL Workshop and Ziabird.
Tickets are for sale NOW –
xo
Click Above + Below Invites for More Details + Ticket Link!
Guess who has undergone a major makeover after 10 years? Focus on the Coast magazine has a new, larger size + the inside addition of Men's Ink (formerly a separate men's magazine). Make sure you pick up our Oct/Nov issue which features my "Wanderlusting into Fall" fashion editorial. It was my first time working with Photographer Ethan Gaskill, whom is also working with Ben Minor and I on the Fall Fashion Preview. So excited to work with so much talent! Our Creative Director David Hitchcock took our vision for a hand-colored, painterly effect to the next level. Do you recognize our Gatsby?
Photography: Ethan Gaskill
Wardrobe Styling: Fashion Editor Jess James
Hair: Rosalinda Bathon of The Rockin Roller Salon
Makeup: Tess Wheatley of Blush
Models: Blair Nidds, Devan Claycomb, Clark Dean
For wardrobe credits and the rest of our spread,
please visit Focus on the Coast – Click Here.
For wardrobe credits and the rest of our spread,
please visit Focus on the Coast – Click Here.
4th Annual Great Gatsby Gala
9.18.2014
@ The City Club of Wilmington
"And I like large parties. They're so intimate."
– Jordan Baker
Let's just say Jordan would have enjoyed the 4th annual Great Gatsby Gala. Word must have gotten out that Gatsby was having another one of his epic parties!
At Jess James' 4th annual Great Gatsby Gala presented by Pat Kusek of Kusek Financial Group at The City Club, guests enjoyed delicious food, Prohibition era cocktails, 1920's live music in the garden and in the mansion with Chanteuse Nnenne Terzian and The Justin Lacy Swingtet and the chance to become a member of The City Club at an incredible savings with a VIP ticket.
Coveted prizes were awarded for the "Bee's Knee's" best dressed contest and names were drawn for the silent auction raising close to $1,000 for our local Make A Wish.
Gatsby models were styled by Jess James in 1920's finery from aMuse, A Second Time Around, Lumina Gem & Cape Fear Formal Wear with hair by Rockin' Roller Salon and Makeup by Amy Kennison. Jazz Age dancers shook their fringe and bared their knee-highs doing The Charleston while members and VIP guests took in the burlesque show in the speakeasy below.
Artist Kat Christian sketched portraits in the garden while Cammeron Batanides worked on a live painting encompassing the joie de vivre of the enchanting evening set off with twinkling Edison lights in the garden and beaded curtains throughout the mansion via Kickstand Events.
Below is the second batch of my favorite Gatsby photos and final look at event coverage by the incredible Lisa Brown of Bella Rose Photography. See below to find out who won Best Dressed, which revelers made it to The Blind Elephant Speakeasy After-Party and what kind of shenanigans went on in the Gatsby Photo Booth.
And most importantly, Click HERE
to see ALL of Bella Rose's Gatsby photos
and to purchase your favorites!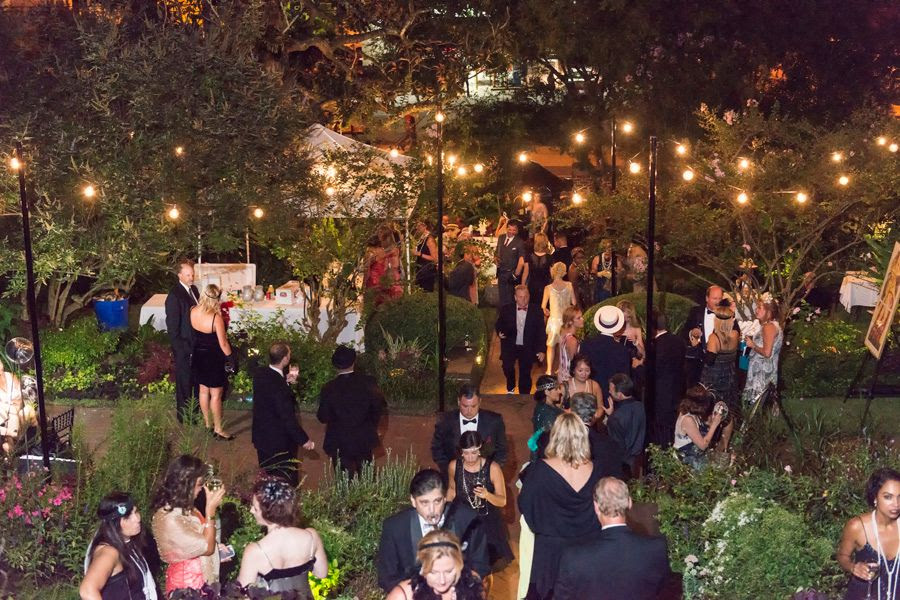 L: The lady in white – headturner Lori Eaton!
R: The cat's meow duo Legare Simpson and Thomas Lopez
With my bestie sparkling in the speakeasy
Burlesque Finale Show starring Paige!
Photo Booth Magic!
R: Our "Myrtle" model Michelle Glauber (wearing flapper inspired dress from Style Girl Vintage and peacock headpiece and necklace from aMuse) with her husband Daniel
Laura Harris, Christine Harris, Kathy Gresham, Janet Gaino
Having a celebratory drink with Presenting Sponsor Pat Kusek
L: LucyBeth Nieves took home the floating diamond earrings from Lumina Gem from the Make a Wish silent auction – her lucky night!
R: Photographer David Pascua with our "Jordan" model Josie Evans wearing dress, fur stole and long beaded necklace from A Second Time Around, gold tassel necklace from aMuse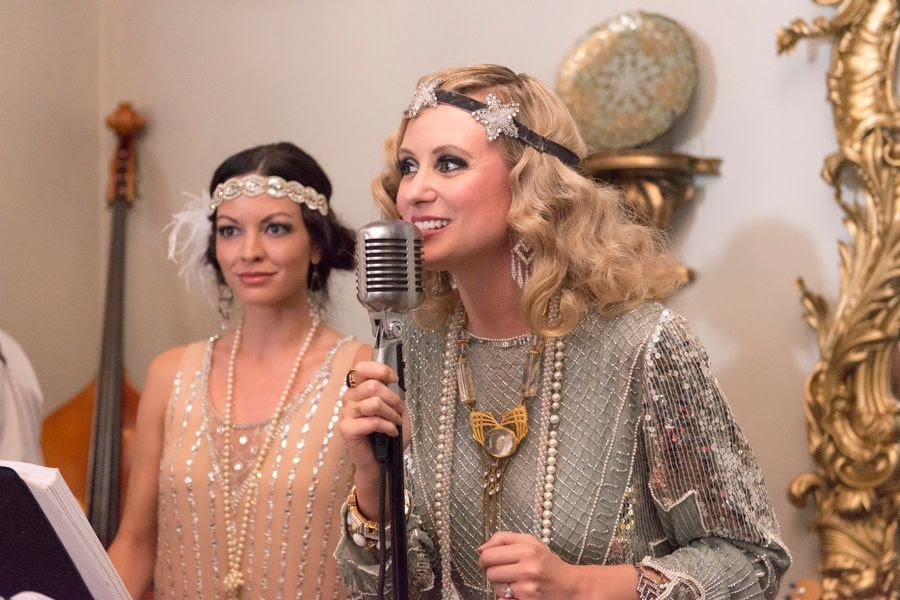 With the lovely Amy Hammond announcing the best dressed candidates
Give it up for these dapper gents!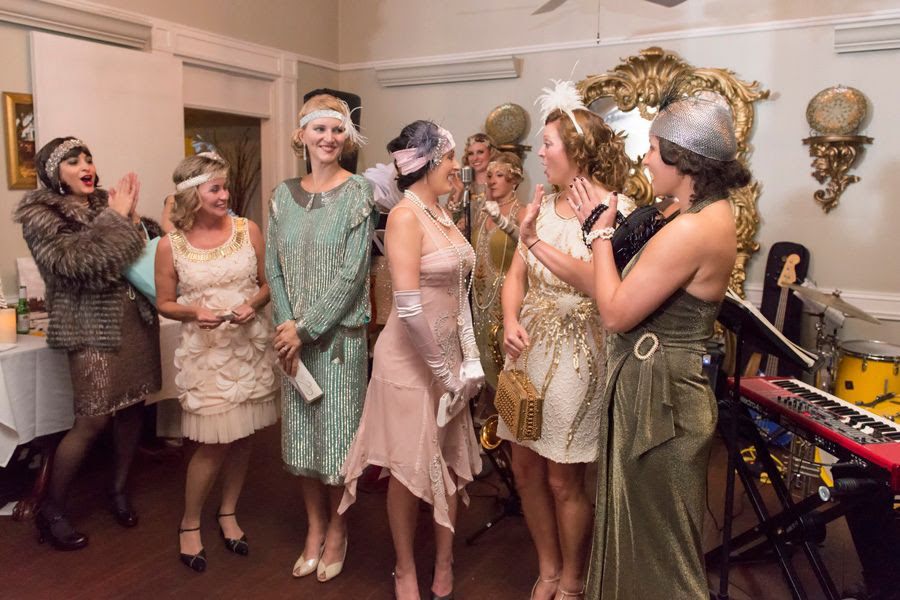 Pat announces Jamie Marston (center) as our winning flapper amongst a bevy of best dressed beauties
L: Blonde beauties: Eye Doctor Tiffany Jackson (right) with her sister.
R: Always one of the best dressed couples at Gatsby – "best dressed" winner Jason "Jay" Forman with his wife Carly wearing a treasured dress formerly owned by her grandmother
Francesca Holt, Shari Clements, Mariangela Barbosa and her husband Robert Clements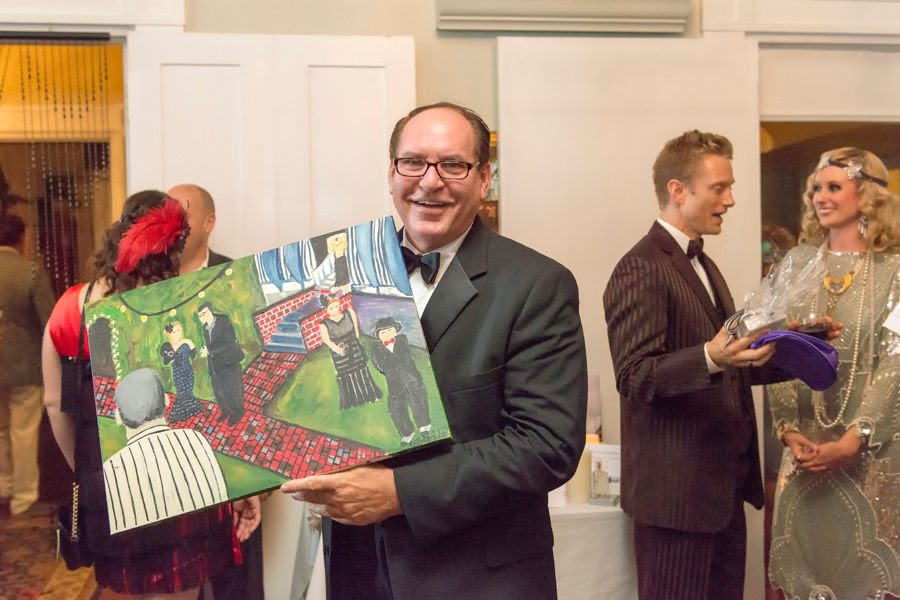 Winner of Artist Cammeron Batanides' live painting via the Make a Wish silent auction Background: Presenting Sleepy Hollow actor Neil Jackson with his Sullivan Anlyan bunny painting and Kusek swag bag
L: Laura & LucyBeth with Jimmy Hopkins
R: Love this couple! I recognize her dress from A Second Time Around's Gatsby window display.
We have a karate master in the room, folks! (apparently, he is internationally renowned)
Sleep Hollow stars Lyndie Greenwood and Neil Jackson hit up the red carpet at the official Great Gatsby After-Party at The Blind Elephant speakeasy
Damien Buchanan and Madonna McMahon (far right)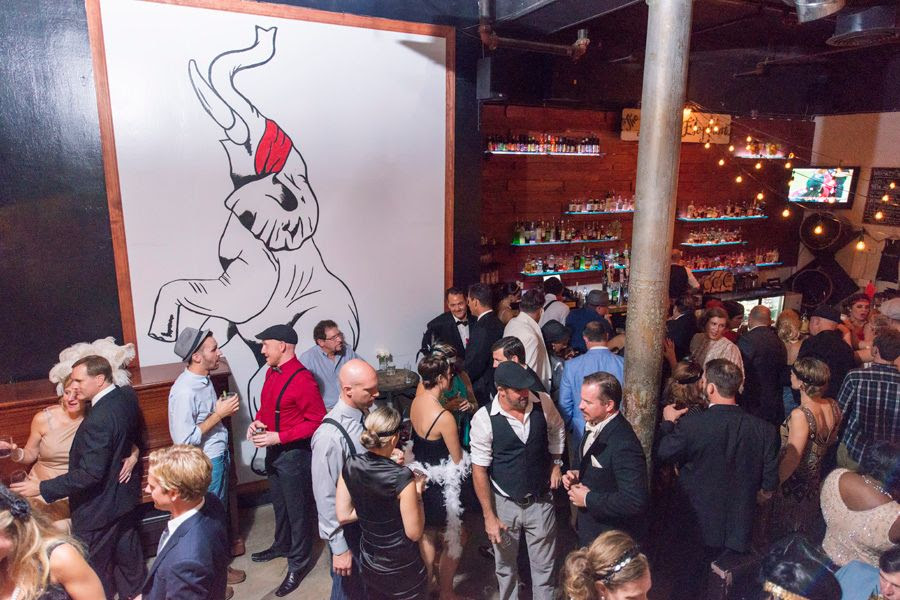 L: Our burlesque dancer Paige kicking back at the After Party
R: The Blind Elephant owner Ashley Tipper with Matt Barbour
L: Our gorgeous Jazz Chanteuse Nnenne and husband Drew Terzian
R: Adorable couple from Brooklyn who decided (while visiting the area) to celebrate their wedding anniversary at the Great Gatsby Gala!
Jess James and Ben Jamieson (our "Nick Carraway" post tuxedo) with Sleepy Hollow's Lyndie Greenwood and Neil Jackson
City Club owner Jonathan Weiss & wife Jennifer take to the dance floor at The Blind Elephant
R: Gatsby sponsor Brad Bass, owner of Lumina Gem cutting a rug with his beautiful flapper Jamie Marston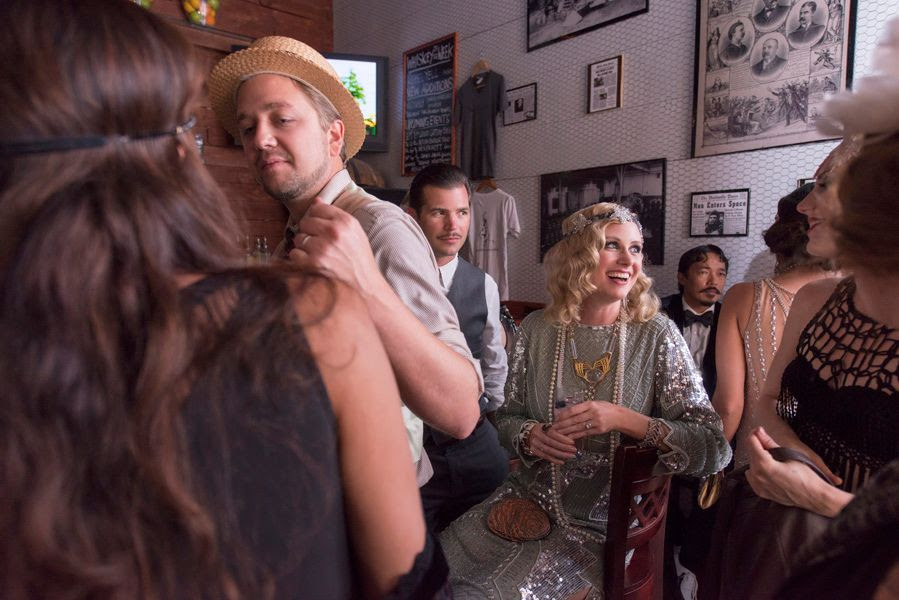 My favorite part of the night! Finally, taking a seat and taking it all in.
Dip baby, dip!
With my Gatsby.
REWIND
to earlier in the evening
(last week's Gatsby Gala Event Photos)
L: Dress #1 – Daisy dress! Late 20's / early 1930's vintage lace dress purchased locally at Francine's Antiques on Castle Street.
R: All Gatsby photos featured in today's FASHION FIX were shot & edited by the amazingly talented (and beautiful!) Lisa Brown of Bella Rose Photography
Presenting Sponsor Pat Kusek of Kusek Financial Group (far left) with husband Walter (far right) and friends from out of town with Models "Myrtle" (left) wearing a dress from Style Girl Vintage and jewelry and headpiece from aMuse and "Daisy" wearing a vintage beaded top, silver ruffled dress, and silver heels from A Second Time Around and a headpiece from aMuse. Vintage car courtesy of The British Taxi.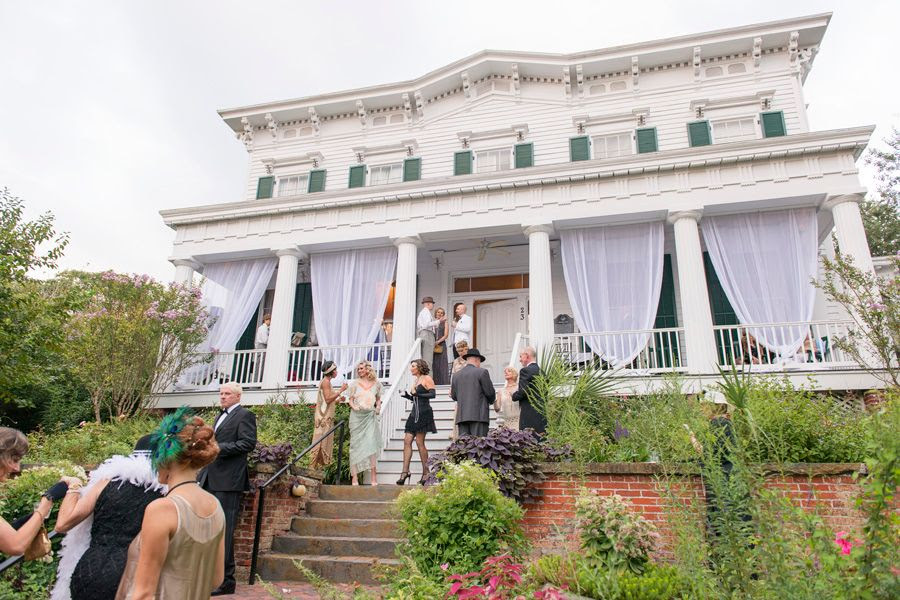 The City Club of Wilmington
L: Gatsby with his Daisy.
R: My parents Dave & Susanne James made the trip from New Jersey to attend their second Great Gatsby Gala.
Presenting Sponsor Pat Kusek of Kusek Financial Group with her husband Walter. Don't they look incredible?
Far Left: Last year's "Bee's Knee's Best Dressed" Winner Jean Hardyman arrived in sharp white trousers and a headpiece from aMuse.
Janis Netherland, Director of Philanthropy at Make a Wish Eastern North Carolina, headed up our Charity Silent Auction, which raised $770 the night of the event.
Joel Finsel and Sarah Wilcox looking good at the entrance to the garden.
L: Painter Cammeron Batanides starting her live painting session during the VIP Cocktail Hour.
Our Gatsby guys outfitted in suits & tuxes from Cape Fear Formal Wear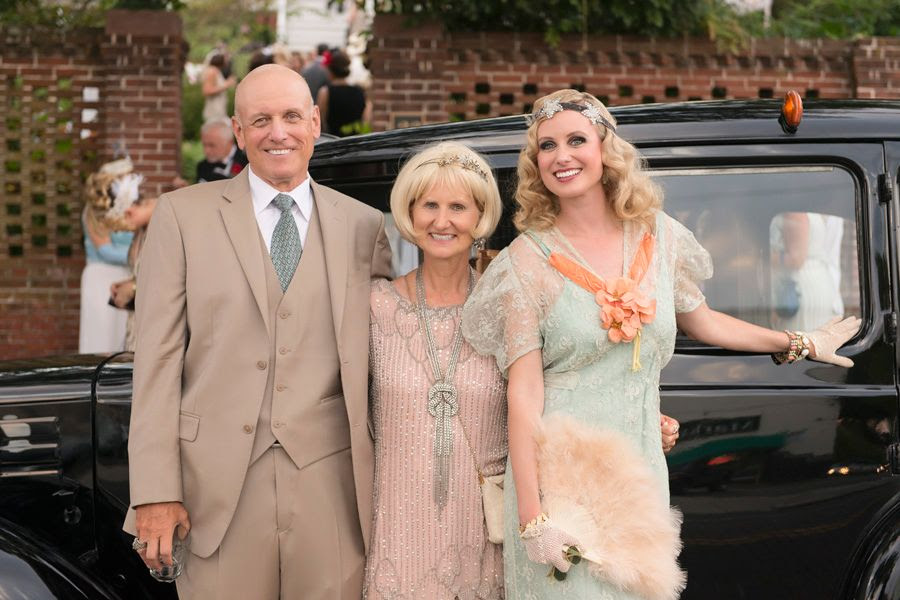 Artist Kat Christian sketching Heather Weeks in the Garden
R: Nicole Massimino and Russell Ebelherr heating up the Gatsby Photo Booth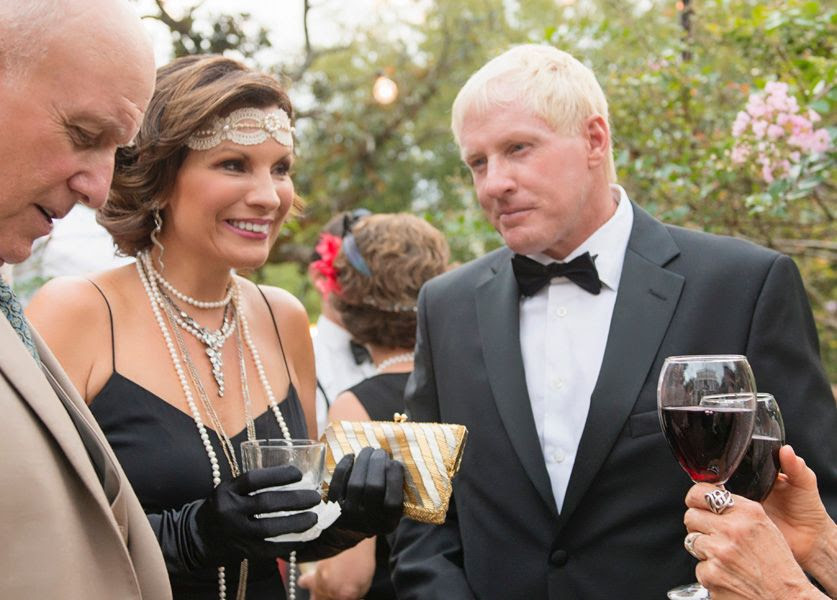 Cindy & Josh Vach looking sharp in black!
L: Stealing a kiss in the Garden
R: City Club owner Jonathan Weiss with his wife Jennifer
L: Gay Adair channeling Miss Daisy with her beau Kyle in the Garden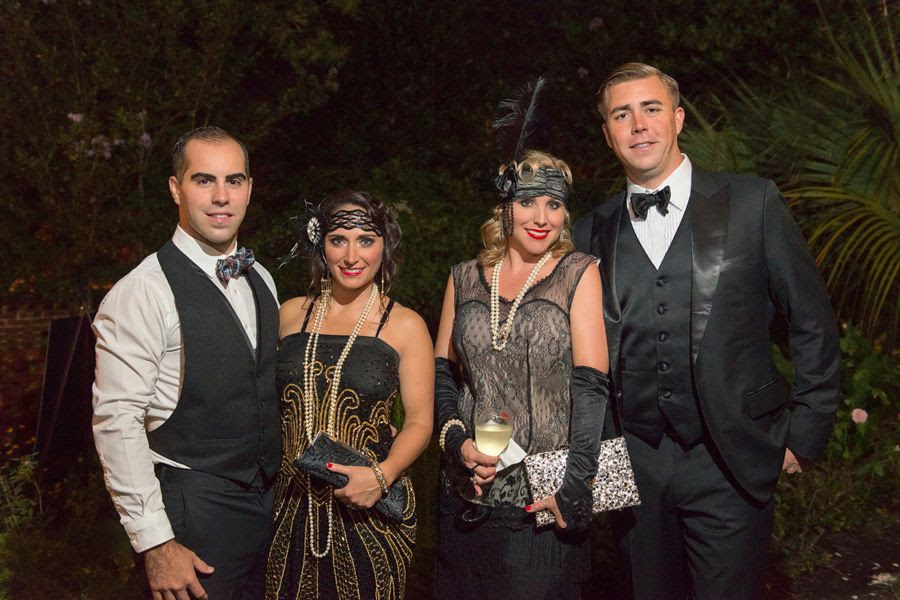 L: Melanie Frank of Kindred Spirit Events with Kerri Davis doing 20's to a tee.
R: The beautiful Elena made her own DIY bejeweled hand cuffs.
Wardrobe Change! Time to trade in my Daisy dress for a little Zelda sparkle. Greeting Gatsby sponsor Brad Bass of Lumina Gem
L: Our Gatsby Jazz Chanteuse Nnenne Terzian dressed to Gatsby perfection.
R: Neal & Dee Whittington in the City Club speakeasy waiting for the burlesque show.
Paige charms the crowd with her first burlesque show of the evening in the City Club's speakeasy reserved for members and VIP guests.
L: Sleep Hollow stars Lyndie Greenwood and Neil Jackson cut up in the Gatsby Photo Booth
R: With my right-hand babe of the night, Amy Hammond
Dancer Jessica Baltos (wearing a headpiece for sale at aMuse) and her partner Austrin Garcia dance to the jazzy sound of the Justin Lacy Swingtet.
A Second Time Around owner Meredith Hasta (left) with Shop Associate Amanda Ladd in their vintage pop-up shop in the Parlor Room
L: Andrew & Stephanie Lanier celebrating their 10 year anniversary at the Gatsby Gala. Their son Oliver will be a Make a Wish recipient this December.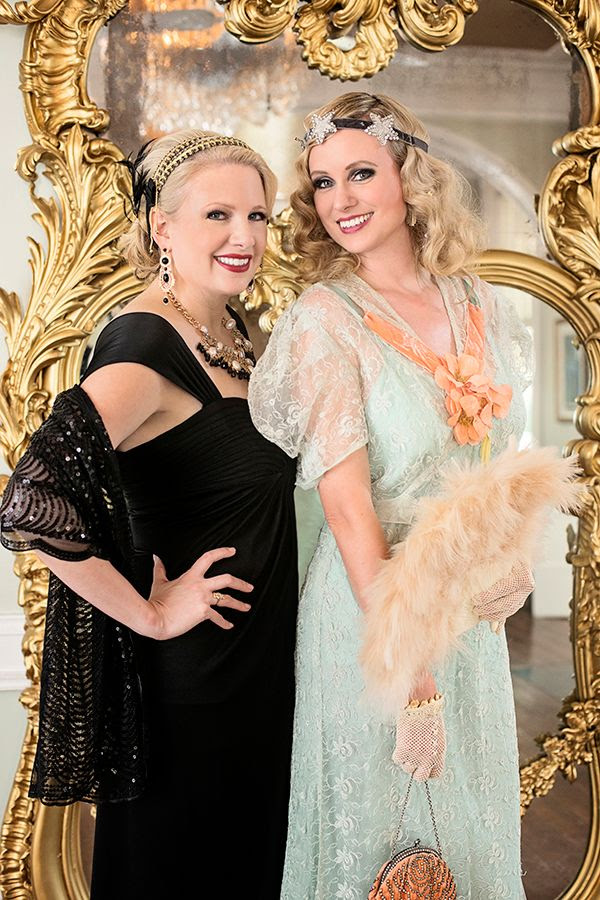 Photographer Lisa Brown + Jess James
Till next time, Jay! xo
LAST LOOK –
Gatsby Style Photo Shoot
2014
CREDITS:
Photography: Lisa Brown of Bella Rose Photography
Wardrobe Styling + Casting: Jess James
Hair: Rozy Bathon of Rockin' Roller Salon
Makeup: Amy Kennison
Locations: The City Club + The Blind Elephant
Vintage Car: The British Taxi
MODELS:
Gatsby – Clark Dean
Daisy – Adrienne O'Docharty
Tom Buchanan – Troy Widmer
Nick Carraway – Ben Jamieson
Jordan – Josie Evans
Myrtle – Michelle Glauber
DANCERS:
Porcelain
Paige LaWall
Jessica Baltos
JAZZ SINGER:
Nnenne Terzian
Big Thank You to
all of you for making our Gatsby
come to life so beautifully!
xo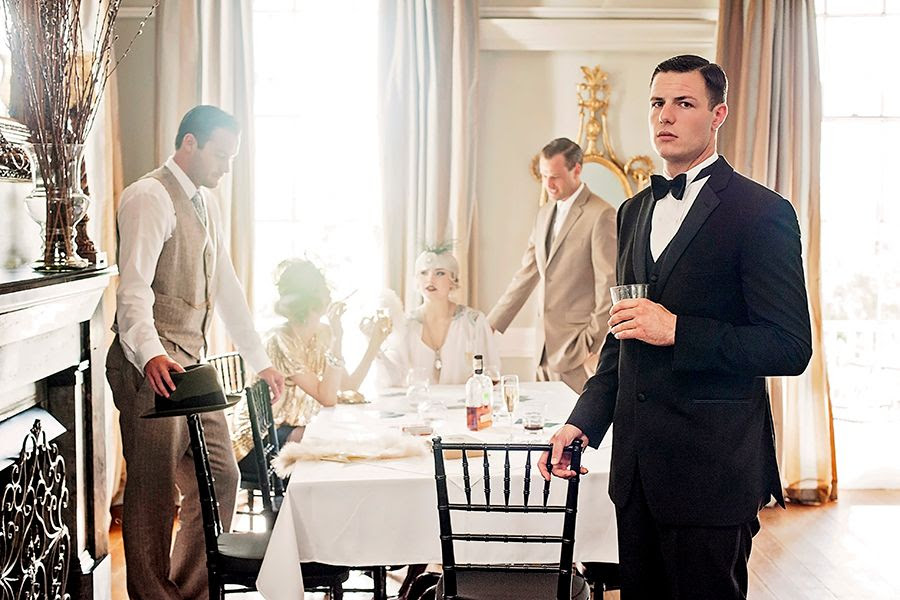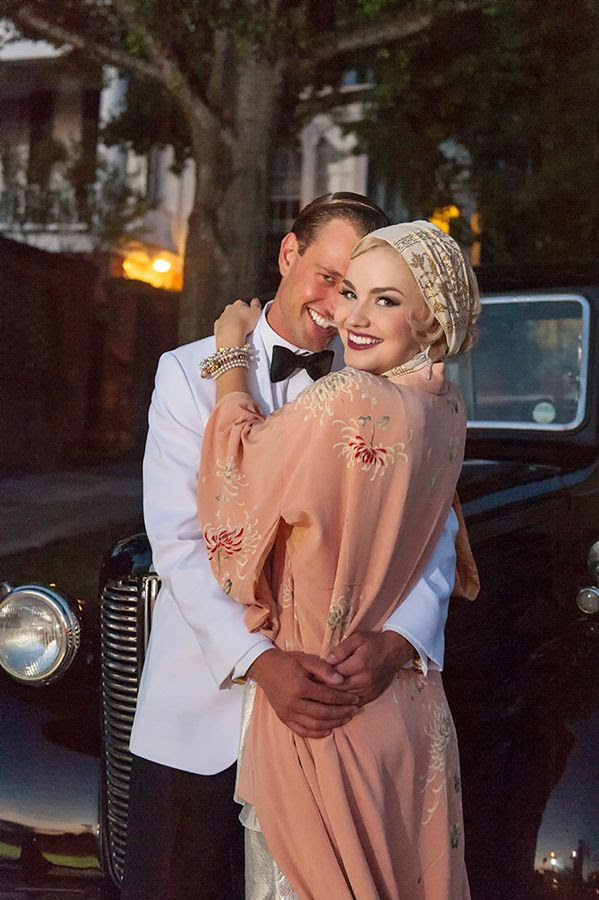 WHO:
Historic Wilmington Foundation is pleased to host their fourth 'Vintage' Event,' which enables the foundation to realize their mission to protect and preserve the irreplaceable historic resources of Wilmington and the Lower Cape Fear Area.
WHAT:
At this year's Prohibition Night, guests will spend an evening among friends and enjoy cool jazz from the Doug Irving Trio, a great auction, lively conversation, delightful food, an open bar and a special signature drink with a commemorative glass (available for purchase).
WHEN:
Friday October 24
6:30pm
WHERE:
St. Thomas Preservation Hall (now owned by City Club of Wilmington)
is one of Wilmington's architectural gems with a storied past.
208 Dock Street, Downtown Wilmington
WHAT TO WEAR:
Think Gatsby era (yay, again!), Boardwalk Empire,
Speakeasy style!
WANNA GO?:
There's a Secret Password to gain access to this speakeasy party!
A special 20% discount will be in effect until October 3rd.
TICKETS: Click Here!
WHO:
Nominated Best Party of 2013 by the Charleston City Paper, The Red Party celebrates the educated artisan, increases awareness about traditional building and artisan craft in today's society while raising funds for the college's programs.
WHAT:
This year we take the romance of 18th century Rococo, the opulence of the Palace of Versailles and the excitement of an approaching mob, put it in a shaker, mix it all together and – voilà – a masquerade ball a la Versailles. It's France in the 1790s, there's more gilt than the eye can behold and the spirits flow like water. Does Louis XVI and his queen, Marie Antoinette realize the Revolution is approaching and the royal House of Bourbon is about to see a whole lot of RED?
This annual costumed fundraiser event includes:
Live performances by Entropy Ensemble, Dance music by DJ C. Nile, Auction, Signature Red Party Cocktail, Delicious food prepared by top restaurants + for VIP ticket buyers – The Royal Treatment! Exclusive food and fine wine in the private outdoor lounge, Le Salon VIP inside the jail with games of chance and special entertainment.
WHEN:
October 24 at 7pm
WHERE:
When you arrive at the Old Charleston Jail,
will it be the Palace of Versailles or the Bastille?
Charleston, SC
WANNA GO?:
$90 in advance / $100 at door
VIP: $180