I've seen a lot of people on Facebook searching for their new theme word for 2014. Evolve. Growth. Forward. Do.
Mostly, I would say I am looking to rekindle passion, engage inspiration, be more giving and to complain less (that one is for Joel's sake).
Besides the photos from my evening ringing in the New Year in 1945 and waking up in 2014 (see below), I thought I'd share 14 of my favorite "Fashion Tips & Tricks Every Girl Should Know" from Stylecaster, which happened to be one of the most pinned fashion-related pins on Pinterest in 2013. Read all 101 tips HERE.
Since I tend to be on the clumsy side, I took particular pleasure in learning new remedies for preserving clothing I've spilled on or damaged. Just this week I had a bit of a meltdown when my liquid foundation exploded all over my favorite chambray shirt (see #13). #firstworldproblems
There are several tried & true tips like revamping an old coat by swapping out buttons and having a tailor replace the lining but there are also quite a few enlightening tidbits of advice to take with you into the New Year. This goes for you too, guys.
Wishing you and yours only the best in 2014.
I am so grateful for your support. Thank you for continuing to read week after week. Hope to hear from you sometime soon.
xo
1. Use white wine to remove red wine stains.
2. Remove odors from vintage or thrift clothing by spritzing them with a mixture of one part vodka, two parts water.
3. Remove white deodorant marks from a garment by gently rubbing the protective foam used on hangers against the fabric.
4. If you get an oil stain on your favorite handbag, coat the mark with baby powder and let it stand overnight. By morning, the stain should be gone. If a bit still remains, repeat the process until the stain is completely gone.
5. Cut down your closet by 25% by asking yourself this one question: "If I were shopping right this second, would I buy this?" If the answer's no, out it goes.
6. Pour a dash of vodka into vase water to extend the life of your flowers.
7. Spray tights with sticky (read: cheap) hairspray to avoid holes and runs.
8. Break in stiff or too-snug shoes by slipping them on with socks and blasting your feet with a hot hairdryer.
9. To remove watermarks from leather boots, add a few drops of vinegar to a bowl of cool water and scrub the stains with a soft bristle brush until stains are no longer visible. Let dry overnight.
10. Pants a bit too tight? Let them air dry and stretch the waistband by hand (or with a hairdryer) while they're still damp.
11. The power of a silk pillowcase isn't a myth: Not only do they prevent "sleep crease," they're much, much gentler on your skin and hair.
12. Looking for an easy trick to make your legs look longer? Try pumps the same color as your skin, giving the illusion that your legs extend a few extra inches.
13. Use shaving cream and a washcloth to remove liquid makeup from shirt collars.
14. Looking for uses for all the single socks you've amassed while doing laundry? When you've got aches or pains, fill a sock with dry beans or rice and pop it in the microwave for 30 seconds. Voila, an instant (and free) heating pad.
1940's Noir New Year's Eve
@ Manna
With the launch of their new lounge, Manna along with the FASHION FIX's Jess James
hosted a 1940's Noir themed New Year's Eve party to ring in 2014.
Models' hair was styled by Steve Ward of Steven Ward Hair.
Clothing & accessories from Style Girl Vintage and A Second Time Around.
These lovely girls know how to have fun!
Event models Josie Evans wearing a fur stole from
Style Girl Vintage with accessories from A Second Time Around
and Ambrose Dial wearing a dress and accessories from ASTA.
This cutie (Event Model Adrienne O'Docharty) was pushing chocolate
all night long — yum! Order a box from Mon Amie gourmet chocolate by
Manna's Pasty Chef Rebeca Alvarado and Andrew Bopes
L: Aaron Harvey showing his boots are made for dancing
R: Paper Moon portrait by Harry Taylor –
Kelly Starbuck, Jess James and Josie Evans
The McConnell's looking sharp. Love those spectators!
Andrew and Joel in action behind the bar.
One of my favorite looks of the night –
Elizabeth Evans as the lady in red
L: Steven Ward Hair stylist Monica Kelly and her husband looking vintage chic.
R: Best Dressed of the evening Stella Sardone of Lilies & Lace – va va voom!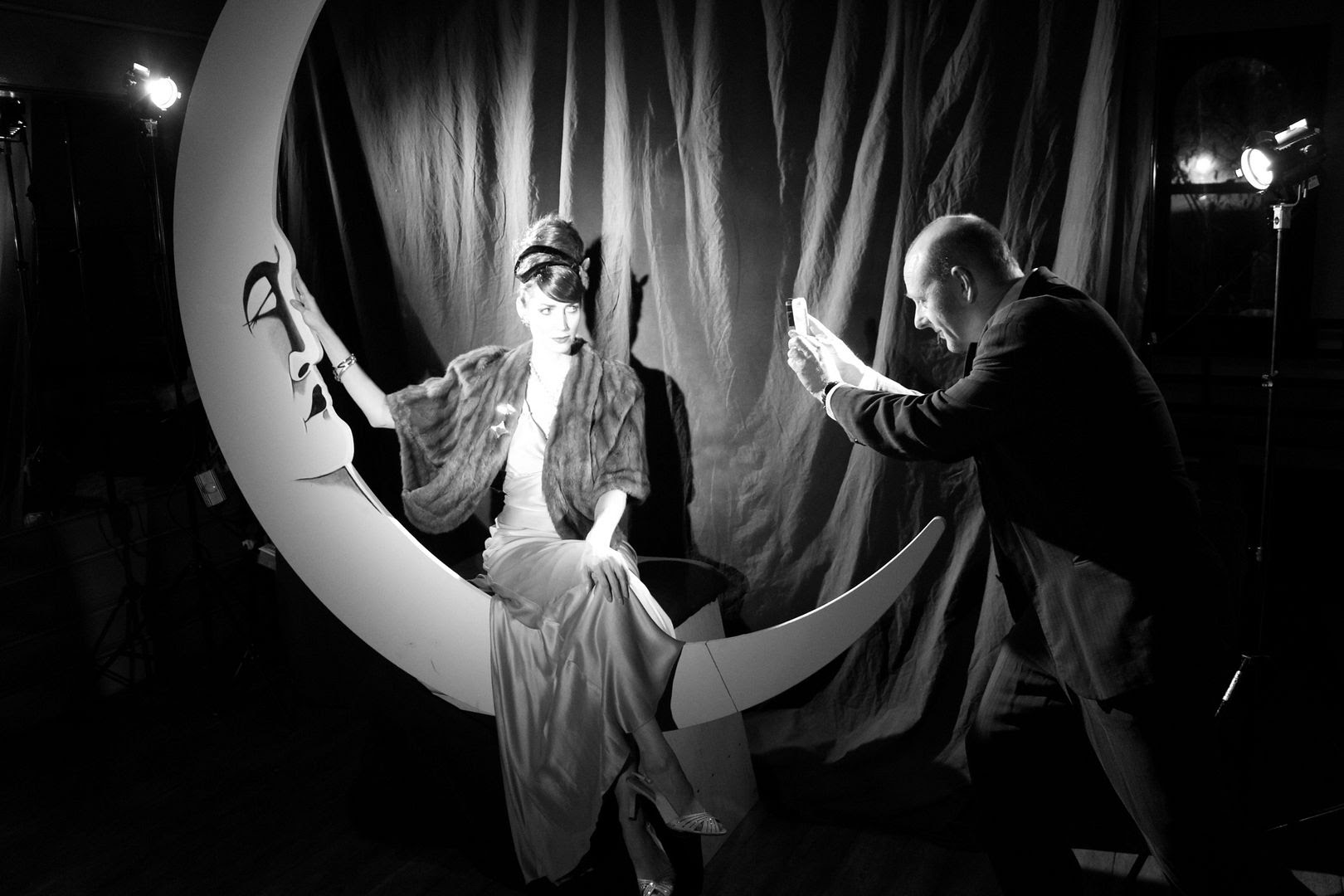 Photographer Harry Taylor working the Paper Moon portraits
with Kelly Starbuck and Josie Evans.
Manna owner Billy Mellon
The Justin Lacy Quintet
Allen Walker brings the fireworks to the party, along with a jumbo silver tophat.
Danielle Levingston, Christy Kilz, Jaclyn Barrios kicking off 2014!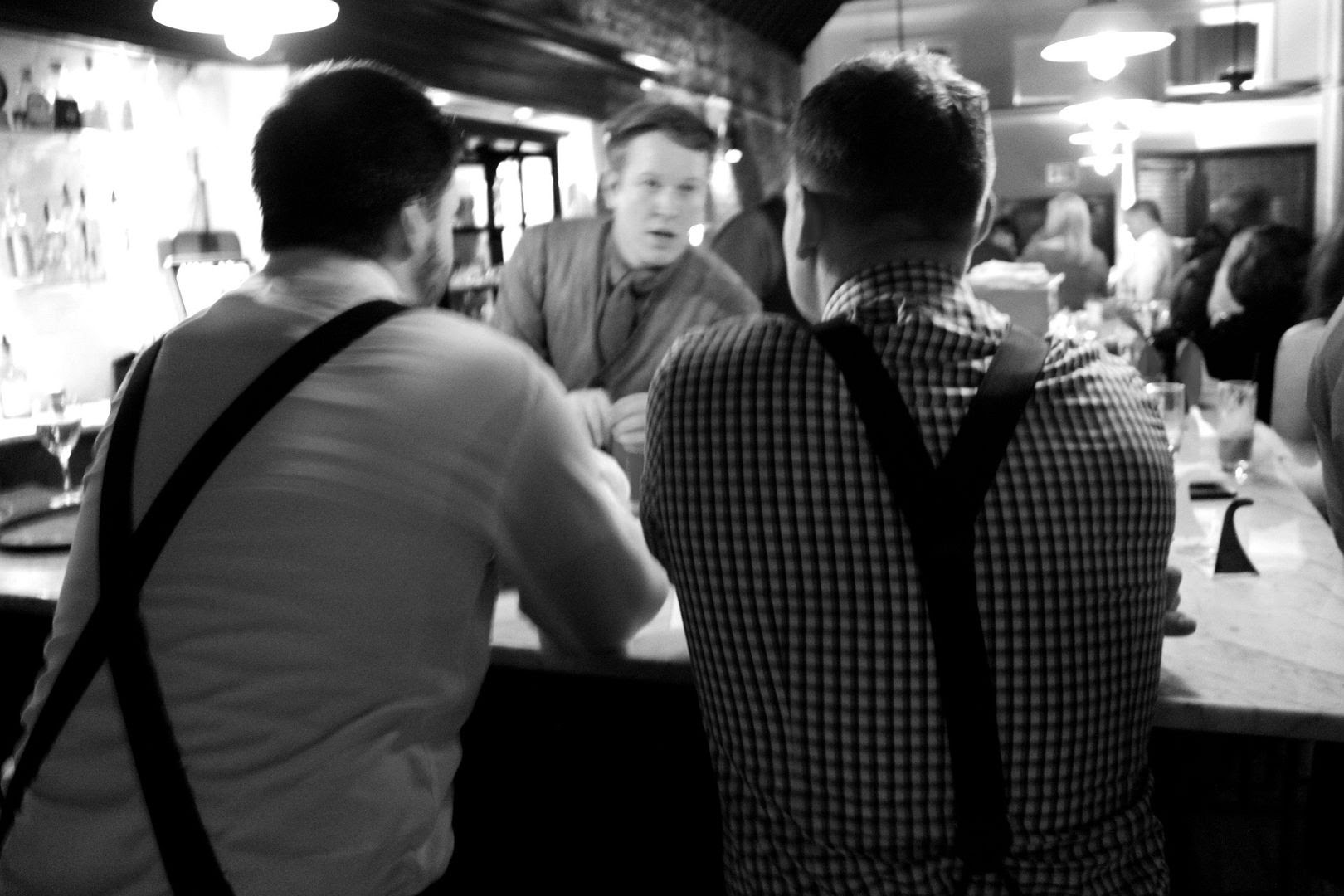 The Suspender Club.
Steven Ward (who styled all the models' hair plus my own!)
striking a pose on the moon. Meowwww.
(photo: Kelly Oliver)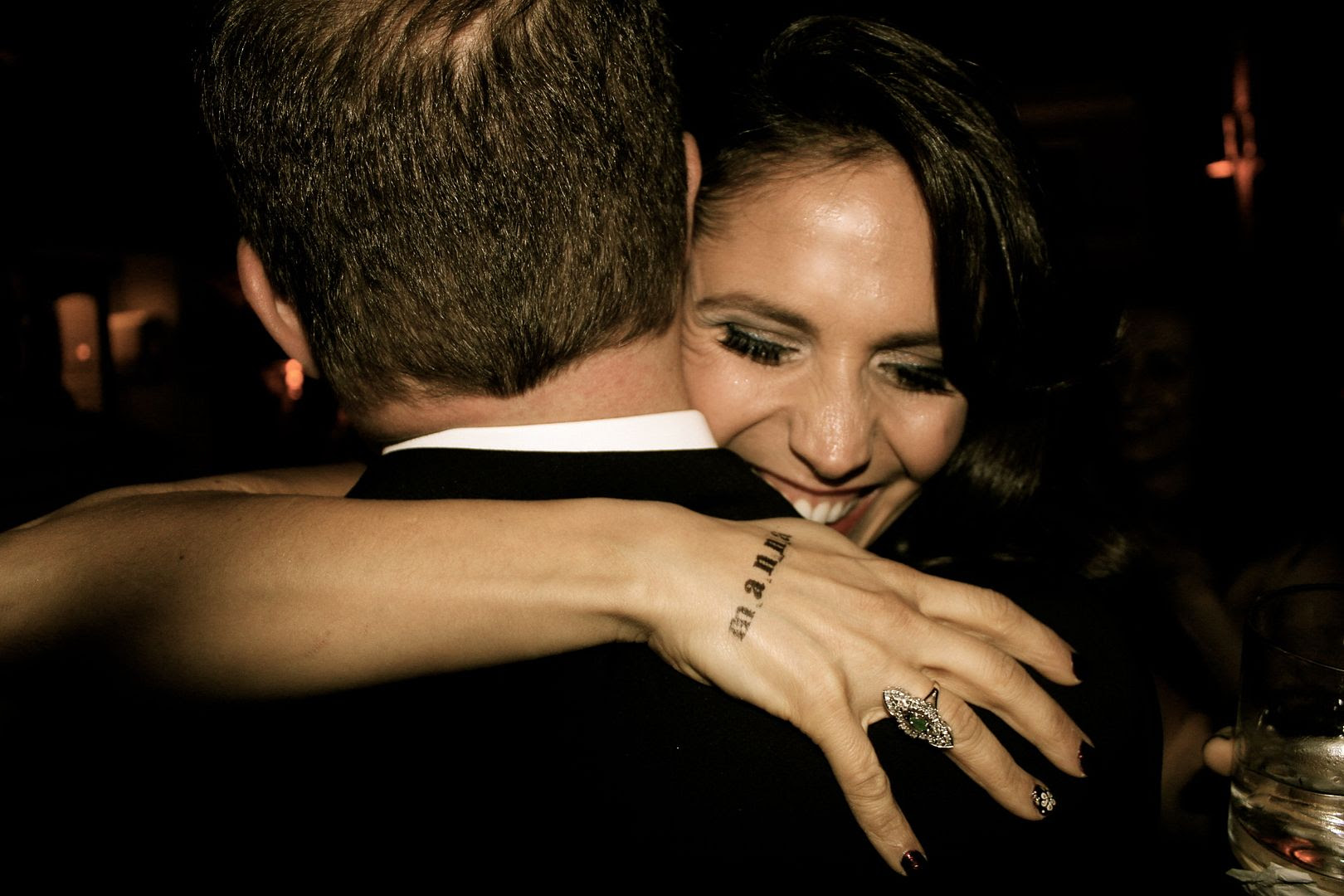 Lovebirds Oz and Mike Nichols shortly
after midnight. Happy New Year!
To see more photos
from Manna's 1940's Noir
New Year's Eve Party,
Click HERE.